Read It Once and Know Disabled Fb Account Is No Longer Stressful
Updated On February 2, 2023 | by Manpreet Kaur Sandhu
Facebook is strict about its policies and any sort of violation would not be entertained. So, whenever a user does something out of line, he/she has to bear the consequences which generally occur in the form of a disabled FB account.
If something like this has happened with you, we have a guide that can save your day. Read every detail with all care and attention, and retrieving your account will be no hassle.
Reasons for Disable FB Account Are:
If you are posting content that disobeys the terms of Facebook
Accounts with fake profile name are vulnerable to disabling
If you are Impersonating someone
Continuous violation of Facebook terms and conditions, even after a warning.
Now following FB's community standards.
Your approach to other people includes harassment, advertisement, promotion, or other behavior that is not appropriate
If other people report your profile, your account is likely to be disabled forever.
How to Find Out the Account Has Been Disabled?
If your FB account has been disabled, the brand will inform you by posting a message on your login screen, stating that your account is disabled. If there is no message on the screen, you might have a different issue.
Let's know more:
Facebook follows a hierarchy and hence disable accounts temporarily when there is a scope. Whereas for severe violations, the account gets permanently disabled by Fb.
Temporary Disabling:
If your account is temporarily disabled, the screen will appear like this. In such cases, the recovery can be performed.
Permanent Disabling:
When you get the message of permanent disabling, there is no way with which your account can be recovered. In such cases, you will get this message on your screen.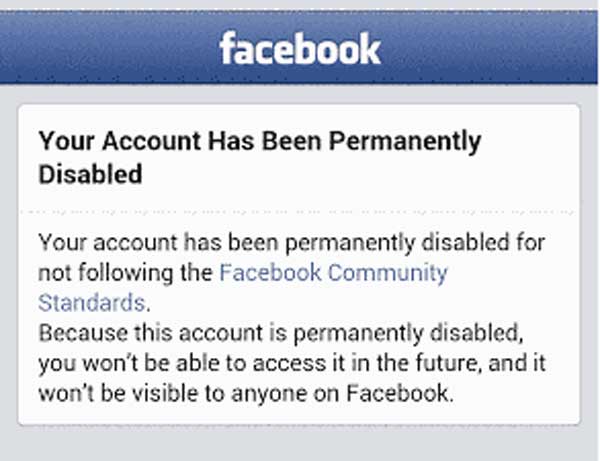 Methods to Recover Disabled Facebook account
There are particularly two forms available to get your temporarily disabled FB account. You can pick any form of your choice. Form 2 is apt for those who want to deliver their message to FB as it includes the option of "Additional info" where you can open your heart and state your justification.
Important Note: To retrieve your disabled account, you need to show proof of your identity. The document you are using must be on your name. There are numerous options to choose from, but if your FB account consists of any fake information that is not available on your proofs, there is no chance to get back the access to your account.
Form 1: https://www.facebook.com/help/contact/260749603972907
This form is meant for those who are aware of the Facebook terms and conditions violation they have done. But if there is any other reason that is keeping you from accessing from your account, opt for another method of recovery.
First, enter the email address or mobile number associated with your FB account.
Now, type your full name
Click on "choose files" and then select the ID proof from the list.
Form 2 : https://www.facebook.com/help/contact/317389574998690
Type the Full name
Select Date of Birth
In the "additional information" option, enter a justified reason
Next, enter the email address or phone number
Hit Send
List of Proofs:
Proofs you can use to attach with the appeal form:
Any 1 Proof will be enough in the list of below (Group One) examples,
Set 1:
The proof you are attaching should include your name, DOB, and residence mentioned over it. And, the details should match with the information you have given to Facebook, or else the account would not be recovered.
Passport
Personal or vehicle insurance card
Marriage certificate
Driver's license
Voter ID card
Birth certificate
Tax identification card
Official name change paperwork
Green card, residence permit or immigration papers
Set 2:
If you don't own government-issued proof, mentioned in the "Set 1", you can send two different proofs from the below-given list. Both of them should have the same name and other details mentioned over them.
Bank statement
Transit card
Check
Credit card
Employment verification
Library card
Medical record
Membership ID (ex: pension card, union membership, work ID, professional ID)
School ID card
Social Security card
Utility bill
Contract
Family registry
Diploma
Certificate of registration for accreditation or professional
Professional license card
Polling card
Health insurance
Address proof card
To know more about proofs go to https://www.facebook.com/help/159096464162185/
Form 3: https://www.facebook.com/help/contact/313733425335072
One more form is available but this form works for the account which is disabled due to long inaccessibility of years. When you don't open an account after Fb temporarily disabled your account, this form is the best platform to retrieve your account.
Open the form and add the required details and click send. Attach the document and wait till FB reactivate your account.
After filling the form:
It will take around a week to review your account. So, after submitting your proof, make sure you wait for at least a week.
Keep checking your email as FB can send you activation status anytime after you submit the appeal. Alternatively, try to log in at regular intervals of time to check whether your account is reactivated or not.
Not to do:
Do not send the appeal form more than once, as it will make you look like spam. So, give a week to get back your account.
How to Reactivate a Self-Disabled Facebook Account?
Make sure you have not disabled your account on your own. If you yourself have deactivated your account, it is called the self-disabled account which you can recover using the respective recovery method.
If you have set up your account for disability, then you get only 14 days to recover it, or else your account will be permanently deleted. Once the time period of 14 days is over, you won't get any option to reinstate it.
It is quite easy to receiver your self-disabled account by following the steps given below:
Go to the Facebook login page:
Now Enter your email address and Password.
Click on Cancel Deletion, from the two-options namely cancel deletion or confirm the deletion
The Cancel Deletion option will save your account and retrieve it back. But make sure you do it in the specified time period.
You May Also Interested In:
---
Related Post