16 Simple Methods to Fix Facebook Stoppage Issues for Android
Updated On July 12, 2021 | by Manpreet Kaur Sandhu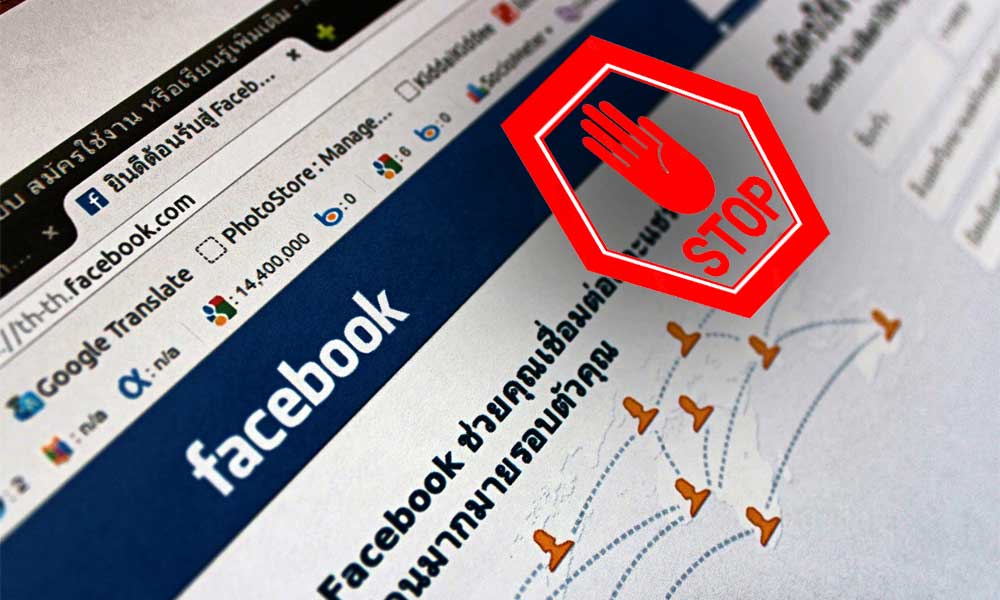 Hooked to social media applications? Well, our educated guess is that the first thing you do after waking up is to check your news feed and scroll up and down your timeline for updates.
Facebook is by far the most popular social media platform and is used by millions of people to chat, interact, meet new people, and even show off their social status at times too. A major part of the platform's success is the brilliant user interface which makes it easy for non-tech savvy users to access their accounts.
But the platform of Facebook is not exactly flawless. Although there have not been many complaints when it comes to the computer version, however, the mobile app of this platform is a whole different ball game in terms of errors.
The company Facebook has been under heavy fire due to the errors that cause severe inconvenience to mobile phone users, especially the people who have devices that run on android operating systems.
But worry not as we have the perfect solutions for you guys so you can enjoy your social life without interruptions. So, let us begin with the list of methods that can help you to fix these Facebook issues.
Effective Methods to Fix When Facebook Is Not Working (Android 2021)
1. Check your internet connection
This is the foremost thing that one should check if he or she is facing this "Facebook has stopped" issue, to begin with. Checking your internet connection is not a big thing as all you need to do is to try to access any website and if it does not open up smoothly, then you will need to fix the problem of your internet connection or you can simply switch to a different service provider.
2. Restart your android device
In case you are facing the "Facebook keeps stopping" error quite often, simply restart your device as this will give it time to cool down which can further solve this error with relative ease. Simply press and hold the power button of your device and select the restart button to complete the proceedings.
3. Update your Facebook app
One of the simplest yet most common mistakes that users do is this. People tend to forget to update their applications from time to time and it is very well-known that older versions of applications have several bugs and errors.
You can use the simple steps given below to update the Facebook app to the latest version just in case you didn't know how to do it.
Open Google Play Store on your device, to begin with.
Once you have done so, tap on three horizontal lines from the top right corner of your screen.
Next, you will need to click on the "My apps" option to find the Facebook app and click on update if there is a new version of the app available.
4. Clear cache and data of Facebook
Another method that doesn't require much effort is where you clear your data and your cache from the device. Follow the steps that are given below to carry out this method.
Open the settings of your device.
From there, select the more tabs option and then click on the application manager option to proceed further.
Next, you will need to click on the "All apps" option.
Locate the application of Facebook and then click on the clear data and clear cache option to finish with the process.
You can try to check to see whether or not the error has been solved.
5. Uninstall and reinstall the Facebook app
The simplest of ways to fix when the Facebook app is giving you trouble is by removing the app from your device and then reinstalling it. All you have to do is to locate the app from the settings or you can simply press and hold the Facebook icon from your menu to uninstall it. After you have done so, simply visit the play store and install the application again.
6. Restart the application of Facebook
There may be a possibility that the app may give you problems if it has been running for a long time. You can try to restart the app by visiting the settings option of your device and navigate yourself to the applications tab to select Facebook from there.
All you need to do now is to click on force stop. Wait for a couple of minutes and then run the application again to check if the error still exists or not.
7. Check the servers of Facebook
It may be possible that the servers of Facebook are down which is why you are facing these errors time and time again. To check the status of the servers, you can get your hands on the down detector. It is a simple app where you can check the status of servers of different apps to keep track of outages. Simply select a specific country and you can even check the past issues here.
All you need to do is to open down the detector and then search for Facebook to see if there is any problem with the servers of Facebook. If everything is fine, a pop-up will appear saying "no problem at Facebook", stating that this is not the root cause of the error that you are facing.
8. Other app conflicts
In case you get the message that says "unfortunately Facebook has stopped" after you have installed a new application on your device, then you need to uninstall the application as there might be some sort of conflict with the recently installed app.
You need to delete that app or apps for that matter. Simply uninstall them and once you are done, click on restrict data usage. Switch the WI-FI and the mobile data on as well and then check to see if the errors still exist.
9. Reboot your device
While we are out here looking for answers to get rid of these errors, all your device may need a simple reboot to get things in order again. You can force reboot your device and check if that fixes the issue.
If you do not know how to force reboot your device, simply press your power button and your volume down button and hold them until the device reboots. You may have to move on to the method if for some reason the error still exists.
10. Clear the RAM
There are a wide variety of ways in which one can clear their RAM. For starters, you can close all of the applications and open Facebook to check if it is working perfectly or not.
For flagship or premium devices, you have more credible options like visiting the settings section of your device and then locate yourself in the device care tab. There, you will be able to find the "RAM option". Simply tap this option to give the RAM a boost which will further help you in fixing this issue.
11. Restrict mobile WI-FI and Data usage
Newer Android devices have an option of data restriction that allows you to control all of the installed apps to use data and WI-FI to connect to the internet. In case you have given the application of Facebook this access, then it may crash from time to time.
You can fix that by opening the settings on your device to visit the installed apps tab and search for Facebook in that tab to open it.
Now, click the restrict data usage option and then check to see whether or not the mobile data and WI-FI are on, if not then you will need to turn them on.
12. Reset application preferences
Resetting all of the app preferences might just be the solution to your problem. This will simply change your settings back to default. No need to worry about the fact that you will lose your data once you reset your preferences as your data will remain safe.
You can follow the steps given below to reset the preferences for your android device.
Open the settings option and click on installed apps, to begin with
From there, you will need to click on the three dots from the top right corner of your screen to select the reset app preferences option.
After this, all you need to do is to reset apps, and you are done.
13. Take a look at the battery saver mode
Battery options may affect the performance and working of applications in some way or the other. If you feel like you need to close the battery saver mode, you can simply check it and do the deed as it will also make sure to close all of the apps that you use regularly.
You can carry out the steps given below to do the same.
Open the battery and performance tab from the settings option of your device.
Next, click on choose apps.
Locate the app of Facebook and make sure that it is not set to aggressive mode. If it is, then switch it up.
14. Factory reset
If none of the aforementioned methods are of help to you, you will need to factory reset your device. But you need to make sure to backup all of your data before you move forward with this as all of your data will be wiped after the reset.
Here are the simple steps that can help you to carry out the factory reset.
Open the settings option of your device.
From the settings, you will need to open the backup and reset option.
Now, simply click on the factory reset option and then on the Reset device option. Once you have done this, tap erase all data to finish.
You will now need to start from scratch as everything in your mobile device gets wiped out.
15. Install an older version
It is often seen that the newer versions, mostly beta versions of apps, are filled with bugs and issues which may cause several problems for the users. If you are facing the same issue, you can download the older version of Facebook to get rid of this issue.
Although you need to keep in mind that you won't be able to install the older version of Facebook on the play store. For that, you will need to access any of the websites that offer APK files for older versions of Facebook.
Even if you install the older version, you need to keep in mind that it is not a permanent solution and eventually you will have to update to the latest version, or in some cases, the applications are automatically updated.
16. With the use of an android repair tool
This is your last resort and if this doesn't get the job done for you, then you will need to seek the help of a professional. Android repair tools usually come in when there is something seriously wrong with the operating system of your android device.
Not only does the android repair tool help the users to fix when, unfortunately, Facebook has stopped working on their android devices, it also can help with several other major issues such as black/white screen, system update failure, boot loop issues, the apps also keep crashing, and OTG update for android failed along with many others.
Here is a list of some of the best system repair tools in the year 2021.
Reiboot for Android
Greenify
WI-FI analyzer
System repair for Android
Here are the steps that you can carry out to use the android repair tool with relative ease.
First off, connect your phone to your computer, to begin with.
You will need to download the android repair tool with your computer and then install, run the tool to click on repair. After you have done all of this, connect your phone to the computer with the use of the USB cable and then look at the options available and select "android repair" to proceed further.
In the next window, you will need to enter all of the right information regarding the mobile phone such as carrier, model, country, brand name, etc. You can continue with the process after clicking on the warning message to confirm it. The tool may likely delete all of your data from the mobile device during the repairing process.
Enter the download mode for repairing the android device
Make sure that you boot your phone in download mode before you begin the repair process. Now, let us take a look at the steps on how to boot an Android device.
For android devices that have a home button
Turn your android device off, be it a tablet or a mobile.
Next, you will need to press and hold the volume down+home+power button for 5 to 10 seconds to proceed further.
In the next step, you will need to press the volume up button once you have released all of the other buttons to enter download mode.
For android devices that have no home button
Similar to devices with home buttons, turn your device off, to begin with.
Next, you will need to press and hold the volume down+bixby+power for about 5 to 10 seconds.
Now, release all of the buttons and press the volume down button to finish entering the download mode
After you have done so, simply hit next and the software will start downloading the firmware for your specific android device. The software will automatically start repairing the operating system for your tablet or mobile device once the firmware is downloaded and verified.
All you need to do now is to wait for a few minutes and you will see that all of your android system issues have been fixed.
Conclusion
Social media is an inseparable part of people's lives in the modern world and among these platforms, Facebook is at the top of the pile.
Facebook issues are pretty common and one should not panic if he or she ever encounters one of the many possible issues. The methods mentioned above can simply help the users to get rid of these errors and if it all falls, you have the android repair tool at your disposal to help you to fix the error that is in question here.
Keep in mind to make sure that you have taken a backup of the data of your device before you proceed with such tools to make sure that once the issue gets resolved, you can simply restore your data to carry out your day-to-day activities smoothly.
So, you can go on with your social lives without having to worry about what comes out of Pandora's box by the time your Facebook stops working.
---
Related Post