How and Why to Delete or Deactivate your Facebook account?
Updated On December 21, 2022 | by Manpreet Kaur Sandhu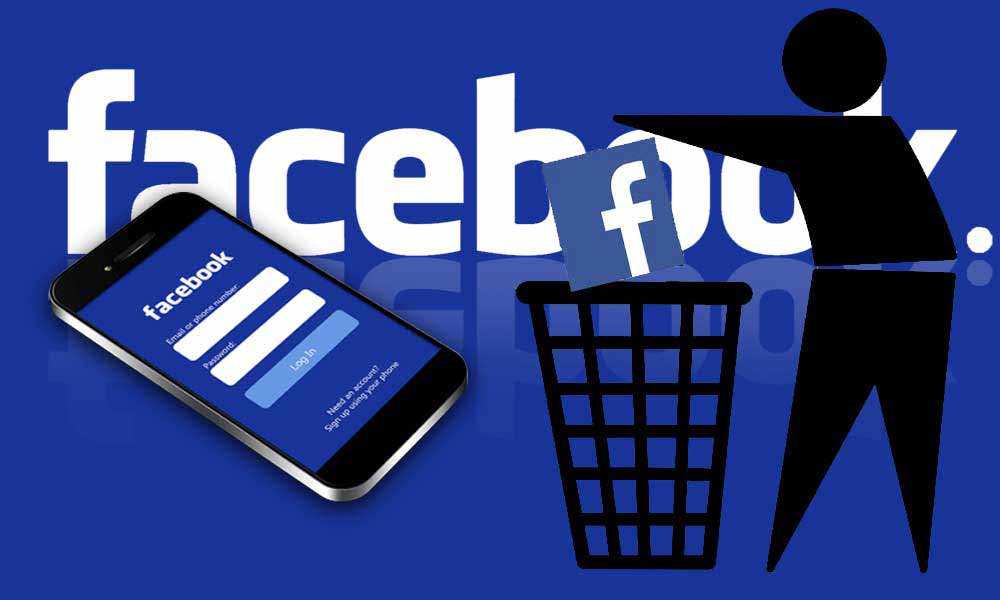 Facebook was said to be a blessing when it was first introduced. But then Facebook very smoothly slipped into our lives as a necessity rather than as a privilege. Social media platforms are likely to become addictive if you lose track of control. We live better in the online world than that of the real one. Even the online world is pushing the masses towards depression as you have no control over the activities happening online; unpleasing or pleasing, you come across everything and it affects your state of consciousness. There can be a struggle among people to balance online and real lives. However, if you are professionally associated with Facebook, you are doing it right and there is no harm in it. Even the controlled use is perfect, but overuse of anything can be disastrous and FB is no exception. So, this can be the time to give yourself a break from Facebook and spend your time in something more productive.
You can either deactivate your Fb account or delete it to distant yourself. Though the process is quite tricky, we have made a fully dedicated guide to deactivate or delete your FB account with the simplest steps.
Deletion or Deactivation of Facebook account
Do you still feel that excitement when you get a notification from Facebook, like old teen days? No!! At least I don't and can't even figure out the reason why I am on Facebook. If I am using my Fb for any good reasons? Unfortunately not! However, advertisers and promoters are making the most out of FB and common people are just increasing their screen-time by scrolling the news feed. If I calculate, I spent my most precious time on Facebook doing nothing. This was my story that triggered the idea of deleting FB accounts. But there are many other people who have their own reasons to quit Facebook- Some are fed up with illogical political crashes among people, Celebrity-shaming, Racism, or any such not-so-pleasing activities taking place on Facebook. I am sure Mark Zuckerberg wouldn't have thought that the platform he made to meet people or improve globalization will be used for spam or impersonating. Even there can be witnessed a fall in the interest of users towards Fb and continual migration of users to Instagram. This is why many people have started avoiding FB and preferring other social-media platforms.
There are people who just need to or want to stop using Facebook and thus collecting strength to deactivate their Facebook account. So, there are two ways to stop using Facebook: One is "Deactivating" and the other one is "deleting". Where the deactivation is temporary disabling of your FB and the Facebook account can be reactivated at any point in time, "Deleting" refers to the permanent removal of the FB account. If you just need a break, go with "deactivating" but if your decision is quite more firm and you don't want to keep a Facebook account, you can opt for deleting FB account permanently.
When you deactivate your account, you will be no longer visible to other people, no one can send you messages or view your profile but the previously sent messages will remain accessible to the people whom you sent. On the other hand, after deleting your account everything of your Facebook account will become ash and you will be completely out of the Facebook world, your data will be no longer accessible, but Facebook gives you few days to re-evaluate your decision and restore your account (Yeah, the kind Facebook or…. the greedy one- We will think this later). Facebook keeps the backup of your data for 90 days; if you make a move and re-activate your account, you can access your data but if you don't it will be gone forever.
Deactivating Your Facebook Account: the Temporary Option
Just to make you know; you have made a safe move. You can temporarily disable facebook account and regain the access back whenever you want. But remember, you got only 90 days to reactivate your FB account once it is deactivated. Walkthrough the steps:
First, log in to your Facebook account
Now from the top-right corner of your screen, click on the downward arrow and select "Settings" from the menu.
Go to "Your Facebook information" and then "Deactivation or Deletion"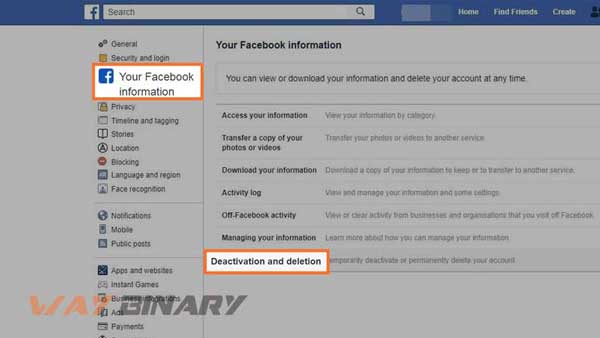 Click on "Deactivate your account" then confirm it.
Fill the required information
Then, click "Deactivate"
This is how you can get a short break from Facebook and its activities. The steps are quite simple to execute. You can even continue with the Facebook messenger on deactivating your account. If you want to continue recovering the emails from Facebook, make sure you select the option on the deactivation page. Hence, deactivation is not that scary as you get little leverage.
I Want to Permanently Delete My Facebook Account:
Though it is hard to admit, permanent deletion can affect your social life as it can keep you from contacting the distant people and make you lose your data. But if you are not concerned about these things and simply want to get away from FB, deletion is a fair deal.
So, there are two possible ways to close your Facebook account forever, one is the same method we mentioned for deactivation, just you need to select "Delete my account" instead of choosing "deactivate".
Another way to delete your Facebook account is following the steps given here:
Important note: before beginning the deletion process, it is highly suggested to backup your data on a hard drive, so that you don't lose the crucial information stored on your Facebook account.
Make sure you are login to your Facebook account
Next, open your browser and go to https://www.facebook.com/help/delete_account/
You can choose any option to do the suggested measures like you can download your information for future reference, deactivate only messenger or edit the admin settings of your page, but if you want to skip all, just click ok "Delete Account"
Enter your password and click "Continue".
How to Reactivate the Facebook account?
So, this is how you can delete your Facebook account with minimal efforts. But that wouldn't be fair if we won't talk about "Reactivation".
To reactivate the temporarily deactivated account, you got the entire life. You access the account back at any time. Just keep the recovery methods handy; make sure you can receive the code for re-activation. Go to the browser, log in with your Facebook username, and enter the password, you will receive the code on your phone or email, provide the code and you can access your FB account again. You can recover your Facebook password if you can't remember it.
But if you have permanently deleted the Facebook account, you got only 90 days to recover it back. If you change your mind within 90 days, you can get it back the same way as you do for deactivation.
---
Related Post