How to Recover Forgotten Facebook Password: An Explanation
Updated On December 22, 2022 | by Manpreet Kaur Sandhu
Password managers are not everyone's cup of tea, but if you don't use one, it becomes very hard to remember them all. Let's talk about Facebook's password- the most commonly used one. Facebook is part of our daily routine, even we consider the day as incomplete if we don't scroll FB newsfeed. Well, forgetting Facebook passwords is also a problem that we all encounter on one day or another. But Facebook is very supportive and offers plenty of ways to recover and reset your Facebook password if you can't log into Facebook.
No matter whether you have forgotten your password or someone else has changed it, there is a solution for everything, and recovering Facebook passwords is also one of them. Let's be clear here, FB password recovery or resetting is totally different from changing passwords. We will here unshroud the ways to recover forgotten Facebook passwords.
If you are logged-in somewhere:
Before beginning the recovery process, there is this trick that can save you from a whole lot of hassle. If you are logged-in somewhere already, all you need is to create a new password by changing the previous one. But if there is no platform where you're logged in, you need to reset the password. Recovering your Facebook account can be done in a number of ways. We will here introduce the easiest one.
The Traditional Facebook Account Recovery Methods:
Method 1: Recover Using the Email Address:
Go to the official log-in page of Facebook.
Enter your email address and then click "Forgotten account"
Now, you need to enter an email address that is associated with your account. Then, hit the "search" button.
Select "send code via email" and then Continue.
Enter the code you recieve on your email address or click the Change password button. The email will look like this: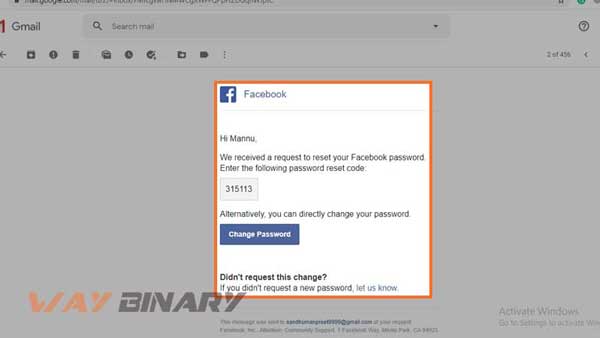 Now, create a new password for your account, on the next screen.
Now logout from all the other devices you are logged in at, to stop the misuse of your account.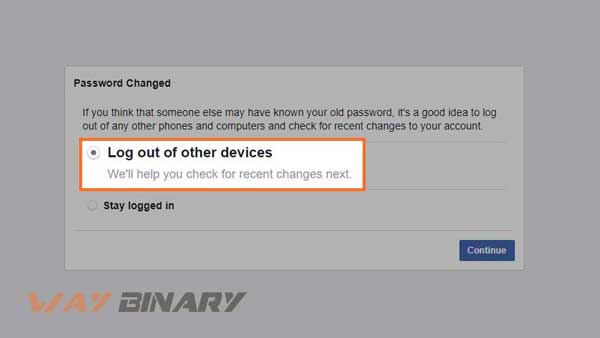 And, this is it. Your password for your Facebook account is now recovered and changed to a new one.
If this method is not helping you out. You can go to another one.
Method 2: Recover Using the Phone Number:
This method of recovery is very much similar to method 1. The only difference here is that you need to select "sent code on phone number" instead of the email address. Let's have a look at the steps to on how to recover Facebook account with this method:
Go to the Facebook sign-in page and enter your email address.
Click on the "Forgotten account" option, as we did before.
Now, enter the mobile number instead of typing the email address.
If you have two accounts linked with one mobile number, select one which you need to recover.
Click on "Send code via SMS" (on your number).
Then, you need to enter the code you received via SMS on your mobile number.
You will be prompted to create a new password for your Facebook account and you are all done.
Method 3: How to Recover Facebook Password without Email and Phone Number:
Recover Your Account from its Profile Page:
To use this method, one must have an alternative FB account or any FB account which can be used to recover the account with "forgotten password". For this, you first need to search the profile that you need to recover, on Facebook from. Now, click on the three dots on the right corner of the profile and select Find Support or Report Profile.
Now from the prompted menu, select "I can't access my account". And click Next.
Now you will be asked to log-out from the account you are using currently and begin the recovery process. Click Done.
Click on "recover this account" and then Done.
On the next screen, you will be asked to reset your password by providing the code you recieve on your email address or phone number as we did in method 1. At last, you will be asked to create a new password. After all this, you can recover your Facebook account which became inaccessible due to a forgotten password.
Method 4: Recover Using Trusted Contacts:
Open the Facebook sign-in page and then click "Forgotten account".
On the next screen, click "No longer have access to these".
Then, you need to enter the email address and phone number and then hit the "continue" button
On the next screen, select "reveal my trusted contacts" and then provide the name of the contact you have added to your account as "trusted contacts"
All your trusted friends will receive the link, ask them to follow the link and share the code they received
Enter the code on the recovery page and your account will be recovered.
So, these were the three possible ways to recover a Facebook account. But there are few other things that you must consider after changing the password as they hold great importance in maintaining your convenience and security on Facebook.
A Practical Security Measure that Cannot Miss After Recovering FB Password
Log-out from all active sessions after changing the password.
Once you are done creating a new password, Facebook will ask you whether you want to log-out from the other devices on which your account has been used; you must log-out. Make sure you choose to "stay logged-in" for the cases where you are totally sure about the safety of your account and you were resetting the password because you actually forgot that. But if you have the slightest doubt, clear all the active sessions by logging-out. Also, using your Facebook account on multiple devices is surely malpractice and can affect the security of your account.
Opt for better security:
There are various security measures that can definitely give a boost to the current safety of your account. Some of those are setting up two-factor authentication, selecting the authorized devices on which you can sign in (mostly), and adding the name of some trusted contacts, that will also help you recover the old Facebook account.
---
Related Post