SOOMUS Review: No.1 Tool to Record PPT Presentation for Teaching
Updated On September 15, 2023 | by Louise Simon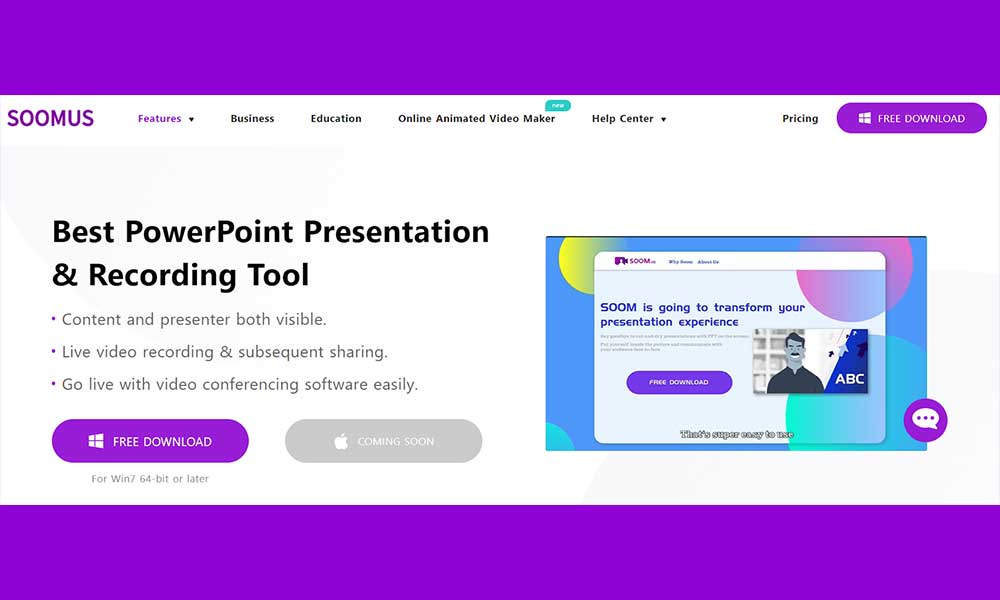 PowerPoint Slides make an excellent way to present thoughts and ideas as a project for the entire classroom. However, they have a lesser viewership than recorded video and audio formats because not everyone has access to or uses PowerPoint tools like Microsoft Office on their e-devices.
That is where SOOMUS comes in to convert PPT presentations into easily accessible videos.
SOOMUS – The Unbeatable Software to Record PowerPoint Presentations
SOOMUS is an interactive, well-defined platform to give your PPT presentation right along with an online class. It connects with your preferred video conferencing software to begin an online course on the go.
Unlike in traditional applications, SOOMUS can access your device's webcam so that both you and your learning materials become visible on the screen. You can teach live in an online classroom or record a video presentation to share with your students.
The software makes presentations more engaging and attractive with the available templates and background options. You can also adjust the camera settings and change the speaker's position on the screen as you like.
SOOMUS has a simplified U and free tutorials. It takes a few minutes to complete a recording and share it on social media. For more information about how the application works, open this link to check it out and have first-hand experience.
How SOOMUS Video Presentation Helps in Teaching
Since the Covid pandemic, we have witnessed a sudden digital shift, transforming and inspiring how we teach. Most learning institutions and tutors have embraced online lessons to connect with students in an interactive virtual classroom.
Video presentations are becoming popular due to their substantially increased engagement that allows students to visualize the ideas of their teachers. As that becomes the new normal, there is a growing need for better presentation methods to empower teaching in such a setup.
Here are the advantages of utilizing SOOMUS for teaching purposes:
Teaching Courses
As a teacher, SOOMUS is very reliable, especially when conducting an online presentation or class session. It helps to gain more attention by showing the course content to your students in an immersive learning scenario.
Explaining Assignments
Using the live presentation option, tutors can benefit from using SOOMUS to explain assignments by talking to their students in real-time. It helps in refreshing students' memories and making them achieve better outcomes.
Exam Preparation
By allowing you to record, save and share the main course content, students can benefit from it. It helps with test preparations as students can go through the content repeatedly until they gain the required knowledge.
Course Feedback
You can bring your online courses to life as it is possible to get student feedback on your teaching, especially during an online video meeting class setup.
What Makes SOOMUS Unique?
Many things make SOOMUS stand out from the crowd. Teachers can rely on the tool for almost all their online class teachings as it helps them finish classes successfully. Also, it makes it more fun and interesting to teach, as we can see below:
Virtual Background
Conducting online lessons from home can have privacy issues, especially when it comes to the background of your presentation. However, you shouldn't get concerned because SOOMUSdevelopers had that in mind. The tool has a vast selection of virtual backgrounds, and you can even use a picture from your device.
100+ Templates
Make a presentation with the style and theme you prefer. You don't have to spend a lot of time designing templates because you can choose a perfect template from SOOMUS's massive collection. Your work is really simplified as all the hard parts are already done.
Ease of Use
Using the SOOMUS software is a piece of cake, and anyone can make PPT video presentations without prior experience. It is a straightforward tool with easy-to-follow tutorials to guide you and help whenever you feel stuck.
Free Presentation Settings
There is no good presentation if it doesn't meet and satisfy your requirements. SOOMUS allows you to switch presentation modes as you like for more interaction with the audience. You can put yourself on full-screen or confine your image in a small window to place it anywhere on the screen for better illustrations.
How to Record a PowerPoint Presentation with Audio and Video
SOOMUS is a straightforward tool that is easy to use. All you need is to download the software and install it on your computer. It is small in size and will complete the installation in no time so you can begin your work. Here are the steps to use the software:
Step 1: You need to download the app from SOOMUS official website and install it. Launch the app to create an account or sign in, then pick a recording method between "Create a New Video" and "Import PowerPoint."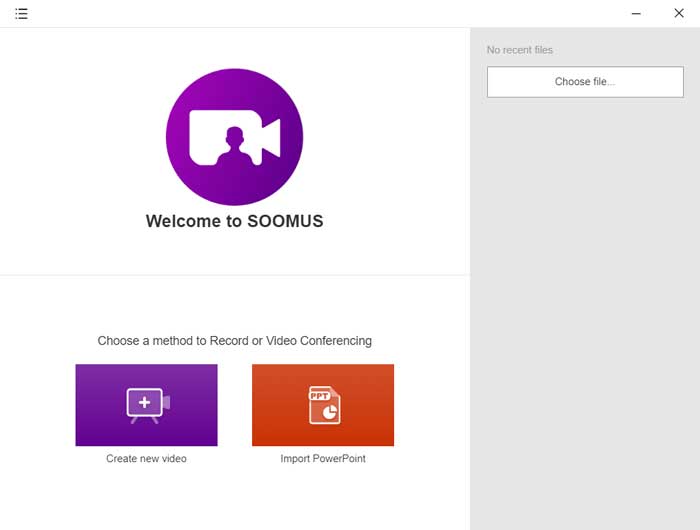 Step 2: After importing your PPT, select a presentation template from the right side of your screen for individual slides. You can also choose to add text, images, graphics, or animation as you prefer.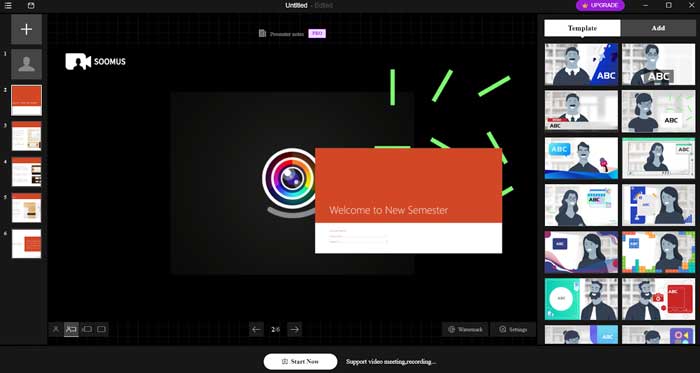 Step 3: Click the "Start Now" button at the bottom of the page to begin. Wait for it to finish to save and download the video format. Voila! Your presentation is ready, and you can use it how you want.
Conclusion
SOOMUS offers you a one-of-a-kind teaching experience by eliminating the need for unnecessary travel only to go and give a presentation. It also helps deliver data and ideas more easily to students, even in a remote classroom setup.
When using SOOMUS, you don't have to be concerned about your privacy, as you can alter the virtual background to something that best suits your presentation needs. Even better, the software is compatible with all online meeting tools so that you can teach your students from anywhere and at any time.
Next, you can read about: Best Web Conferencing Software Tools for Online Meetings
Related Post