Review of the Acer Predator Helios 500: Incredibly Powerful Laptop
Updated On January 6, 2023 | by Gaurav Kumar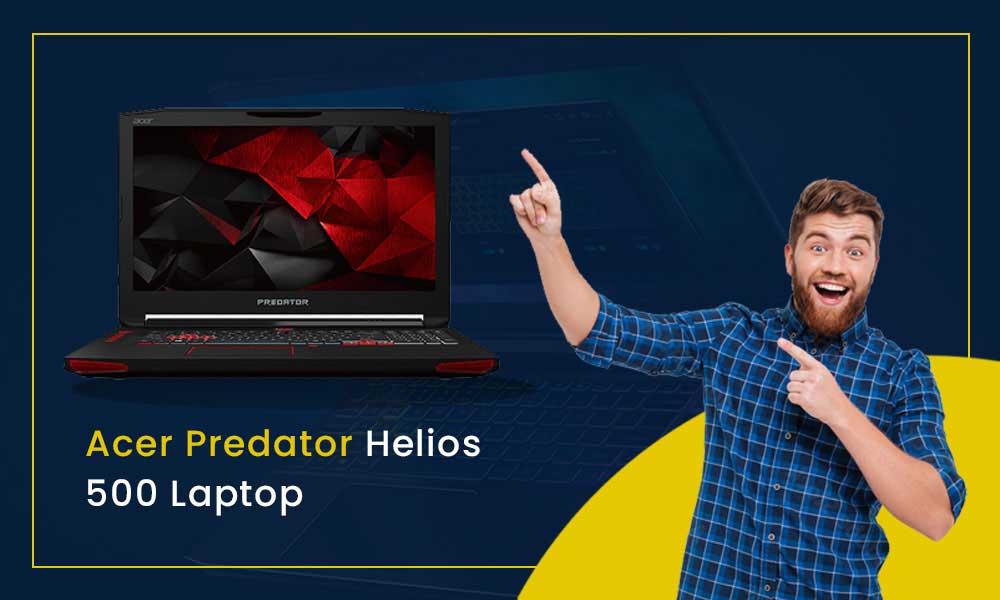 Acer's line-up of gaming laptops is capped off by the Helios 500. You can tell you're going to be playing some serious video games as soon as you turn on the "big blue" Acer Predator Helios 500 17 AMD. The 17-inch Helios 500 model (PH517-61-R0GX) we're discussing is decked up with RGB lighting that runs from the keyboard to the touchpad, and every time you turn it on, the speakers emit a swooping shriek to signal the arrival of the Predator.
Specifications
Some of the major specifications of Acer predator helios 500 are listed down below:
16GB Memory 256 GB SSD
2 x USB 3.1 Gen 2 Type-C (up to 10 Gbps, Display Port over USB Type-C & USB Charging)
AMD Radeon RX Vega 56 8 GB HBM2
AMD Ryzen 7 2nd Gen 2700 (3.20GHz)
17.3″ 1920 x 1080 IPS Display, FreeSync, 144 Hz Refresh Rate, 72% NTSC
16.85″ x 11.73″ x 1.52″ 9.37 lbs.
1 x DisplayPort 1 x HDMI 2.0
Design
You currently own a sizable gaming laptop that stands out from the competition. The Acer Predator Helios 500 17 AMD differs from most gaming laptops in that it features a black chassis with spots of blue paint and AeroBlade 3D fans for cooling. Other than the distinctive blue color, everything else appears to be conventional for gaming.
Read to Know: Can You Safely Replace Your Laptop's HDD With An SSD?
Given that rival laptops like the Asus ROG Zephyrus S and Razer Blade 15 have metallic bodies, the chassis' plastic construction strikes us as very unusual. Unfortunately, this item does not have an aluminum body as we would anticipate from anything that costs more than $1,000, and it also does not have a deal breaker.
The Predator Helios 500 PH517-61-R0GX is a somewhat large laptop, but at 1.5 by 16.9 by 11.7 inches (HWD), it is within the range of comparable 17-inch gaming laptops in terms of size. When compared, the Alienware 17 R5 (17-inch model, 1.18 by 16.7 by 13.1, is somewhat thicker and weighs about a pound more than the Helios 500, which weighs 8.82 pounds.
Trackpad
The trackpad is not the largest available at 105 x 65mm, and it is coated in plastic as opposed to glass, but it is flawlessly responsive, and the distinct click bars below it are flawless.
Ports
The Helios 500 delivers the kind of significant port freedom that comes with larger laptops. Two USB 3.0 Type-A ports, separate headphone and microphone jacks, and a Kensington lock slot are all located on the right side of the device.
Two USB Type-C 3.1/Thunderbolt 3 connectors, an Ethernet jack, and one USB 3.0 Type-A port are all located on the left side of the device. You may connect up to three additional displays to the machine's video outputs, which are located around the rear of the device and include HDMI, DisplayPort, and a USB Type-C port.
Keyboard
Asus ROG Strix Scar 17 and 17.3-inch Alienware computers both have mechanical switches, but the keyboard on the Helios 500 doesn't, despite the fact that it's still extremely good. With lots of key travel and a complete numeric keypad, it is both quiet and reliable when in use. Above the keyboard, just above the numeric keys, are substantial Turbo and power buttons, which are out of the way. This location also houses the dedicated key for the Predator Sense app launch.
The WASD and arrow keys can be replaced with aluminum MagForce and Racing keys, which is the highlight of the keyboard. The former, which increases key travel to 3.1mm and allows you to move more quickly or slowly depending on how firmly you press the key, was the one used by us for the review. To prevent the loss, Acer includes the replacement keys and the plastic removal tool in a couple of durable zip cases.
Audio
The sound system isn't totally out of Acer's mind, either. The speakers' maximum volume at a one-meter distance was 78 dB. Since the speakers won't be overpowered by the noisy fans, that's a relatively loud volume. However, there aren't a lot of basses, and the sound is somewhat brittle. Frankly, you would anticipate more value for the money. Having said that, anyone who can afford the Helios undoubtedly already owns a strong 2.1 speaker system and an excellent set of headphones.
Display
A 4K (3,840 x 2,160) Mini LED IPS display with a top refresh rate of 120Hz is a highlight of the Helios 500. The Acer screen has 4,608 LEDs divided into 512 zones, each of which can be independently dimmed or brightened. Mini LED technology lights the screen with thousands of backlight LEDs. The benefits include significantly enhanced high dynamic range (HDR) performance and a vivid display. Apple uses the same technology in its iPad Pro and MacBook Pro screens. Additionally, with deeper blacks and a greater contrast ratio, it makes an IPS display resemble an AMOLED panel more.
The panel of the Helios 500 is undoubtedly bright. In ordinary mode, we measured a peak brightness of 656cd/m2, and in HDR, it was 853cd/m2. In SDR, the contrast ratio was 3,753:1, while in HDR, it increased to 10,908:1. It should come as no surprise that the panel effortlessly covers the sRGB color space (99.8% coverage is the best you can hope for), and it also performs admirably in the DCI-P3 color space (92.3% coverage). The screen isn't as color correct as it could be, with an average Delta E color variance of 5.02, but recalibration shouldn't be a problem if you want to do some professional image or video editing.
Price
The price of the new 17.3-inch Helios 500 is a princely £3,799, which includes a £200 discount that all UK retailers are currently offering. It is only available in one model. Naturally, every competitor is either somewhat or much less expensive. With a great mechanical keyboard, a Full HD display with a maximum 360 Hz refresh rate, and an overclocked AMD Ryzen 9 processor, the Asus ROG Strix Scar 17 G733 is another enormous 17.3-inch gaming beast. Even though it costs £3,500 less than the new Helios, it weighs 2.7kg less.
Lenovo's Legion 7 is slightly larger than the x15 but still a smidgeon in comparison to the Helios 500. You can obtain a top-notch monitor, sound system, and RTX 3080 GPU for less than £2,000 on average. The variant we tested has 16GB of system RAM and 1TB of storage, but you can easily pop the bottom out and expand both to the Helios' specifications.
Performance
One of the first Helios 500 models that stray from Intel and Nvidia technology is the Acer Predator Helios 500 17 AMD model that we're reviewing. Instead, it is entirely powered by top-of-the-line AMD components, and it will undoubtedly give its Intel rivals a close run. It has an eight-core, 16-thread AMD Ryzen 7-2700 desktop processor, which has a base clock speed of 3.7GHz and a maximum boost speed of 4.3GHz when Turbo Boost is enabled. Windows 10 Home is run on a device with an AMD Radeon RX Vega 56 graphics processor and 8GB of HBM2 memory.
With such a potent CPU and a decent graphics card, the Predator Helios 500 stands out as the ideal desktop replacement laptop, allowing you to utilize it simultaneously for media creation, Photoshop, and gaming. Additionally, the Acer Predator Helios 500 has a 256GB PCI Express NVMe solid-state drive (SSD). Its 16GB of RAM is typical for a mid-range to high-end gaming laptop in 2019.
Gaming Performance
Despite its strength, the Helios 500 outperforms its more powerful rivals, some of which employ faster CPUs or GeForce GTX 1080 graphics processors, in contemporary games. In 1080p, High settings, it achieves an average frame rate of 122 fps, but in Ultra settings, it slacks off slightly to 109 fps. The Helios 500 achieved an average frame rate of 103fps in Grand Theft Auto V on Medium settings, compared to 82 fps on High graphics.
PredatorSense software, which is already installed on the Helios 500, makes it simple to overclock the GPU when necessary. It typically features three overclocking settings: Normal, Faster, and Turbo, which you can use to increase the frame rate. PredatorSense software on this system enables you to regulate and personalize your gaming experience, including lighting, fan speed, and game settings.
Rarely will you bump up a game against the Helios 500's 144Hz refresh rate display, even with the reasonable frame rates. The majority of games will run between 60 and 130 frames per second, while less taxing non-AAA games should run at frame rates of at least 144 even without changing the settings.
Acer Predator Helios 500 Pros
A few advantages of this model are given below:
FreeSync panel with a sizable 60-144 Hz variable-refresh window,
Excellent performance from the CPU, graphics, and SSD,
Remarkably quiet for a high-end gaming laptop,
The keyboard is quite Clicky.
Acer Predator Helios 500 Cons
Just like the pros, here comes a few disadvantages of this model:
Bloatware,
Very little battery life,
A darker than average display, and
Crammed Storage.
Should You Purchase It?
Although, the Acer Predator Triton 500 is a better all-around laptop than the AMD-powered Acer Predator 500, which is still likable. It costs a little more than our review model, but it has a considerably larger 256GB SSD + 1TB Hard Drive and lasts an hour longer when plugged in. With a color scheme that is a welcome change, the Acer Predator Helios 500 17 AMD delivers the highest refresh rates available, provided battery life isn't an issue. So, one should definitely purchase the reviewed model if you are looking for gaming contrivance.
Conclusion
Acer's AMD-powered Predator Helios 500 gaming laptop has a lot to recommend it. A 16-thread Ryzen 7 CPU gives it unrivaled multi-threaded productivity, and its extreme power is matched by nothing else in its class. Considering how powerful it is when gaming, it also runs surprisingly quietly. Its screen is excellent, has a high refresh rate, and is made even better with AMD's FreeSync technology. We might be looking at an Editors' Choice for 17-inch gaming laptops if only Acer could provide all this and decent battery life.
---
Related Post