Prettyscale: Is It Reliable or A Scam?
Updated On January 23, 2023 | by Prakhar Shivhare
Am I pretty? Am I ugly?
How pretty am I scientifically?
Why am I ugly? or not pretty enough?
The days of relying on your mother and Instagram followers to affirm your attractiveness are long gone. There are probably a ton of websites that claim that they can do the same for you scientifically.
One of them is Prettyscale.com, which offers a scale for measuring your attractiveness. In order to compare your proportions to the ideal proportions for a man or woman, Prettyscale measures your facial symmetry.
Today, everyone aspires to be the most attractive person in their social circle. In this world filled with insecurities, traumas, and overall low mental well-being, people are looking to get validation from different sources. There is this constant feeling of getting liked by others.
In these times when people are preaching self-love but seeking social media validation, softwares like prettyscale.com can be a major trouble for some people. Due to the high self-consciousness among people today, these websites have become popular.
So, do you really want to know about your beauty from some algorithms? Well, you can wait and read this article before answering this question and making a decision.
Before using a website, it is essential to understand everything about it, so I have tried to provide all the information you need to know. The website's benefits and drawbacks, as well as its usefulness in the modern world.
What Is Prettyscale?
Prettyscale.com is an American-owned website and has been quite popular online for many years. This is a sophisticated website that offers a measuring scale to assess your attractiveness. A scale from 1 to 100 is used to rate your attractiveness.
Both your face and your body can be measured using the prettyscale.com face test and the prettyscale.com body test, respectively. It asserts to have a beauty calculator built into its computer system that evaluates the attractiveness of your face and body.
By analyzing and comparing the positioning and dimensions of various facial features, Prettyscale rates the attractiveness of a face. The outcomes are determined by factors such as face symmetry, mouth size, distance between the lips and the eyes, and face shape.
How To Take The Prettyscale Test?
Anybody can use the website very easily because it is so straightforward. Simply upload a photo with your own face. The website will then ask you to adjust your balance according to specific instructions. For your convenience, I am going to share the steps of taking the Prettyscale test in detail.
One can easily use the website PrettyScale.com by following these steps:
Step 1: Start your web browser and access the website by typing Prettyscale on the search bar or just tapping this link.
Step 2: Select the analysis type you want to use, such as the Prettyscale.com face test or the Prettyscale.com body test.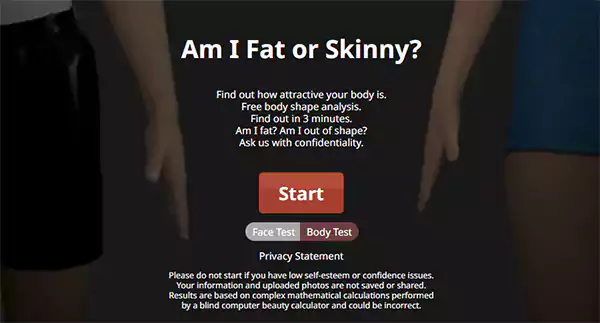 Step 3: Now, please specify your gender before uploading a picture. One can also take a picture on the website too.
Step 4: Read the instructions provided below your picture as you begin to align the measuring scale they provide. For illustration purposes, I have taken a photo of our favorite Scarlett Johansson.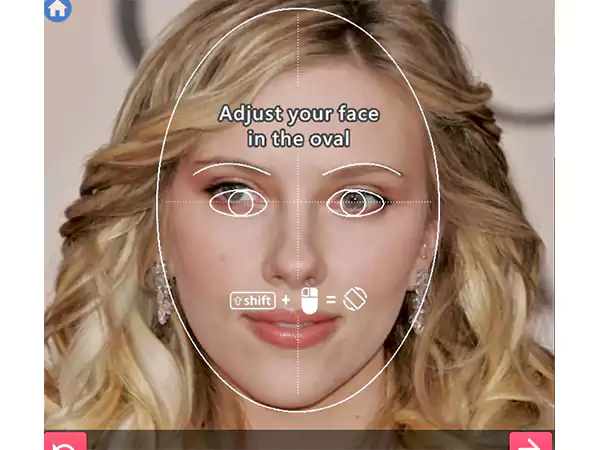 Now, you will obtain the outcome once all alignments are complete. You can read the list of your features and the percentage provided at the end of the test to determine the test's outcome.
Note: One can also use the Prettyscale mobile application for taking the "Am I pretty? Photo Test".
Pros and Cons of Prettyscale Test
| PROS | CONS |
| --- | --- |
| It boosts the self-esteem of some people who suffer from complexes. | The interface of the website is modest. |
| You can use the Prettyscale website without paying anything | Some people may feel less confident as a result, and they may also get devastated by the unanticipated outcomes. |
| Your shared or uploaded pictures are not saved or used inappropriately. | It is inconsistent with its result. |
| You can contact them by just filling out a form and asking your questions. | Algorithms are not scientific. |
| | It promotes stereotypical beauty standards. |
User Reviews
User feedback is essential for understanding a website's utility. As a result, I looked for Pretty Scale.com reviews and discovered a few. People are not particularly pleased with the measuring scale and the inconsistent outcomes on the Prettyscale.com website. Throughout the entire internet, there are very few positive reviews of the website.
A Google user wrote- "I took two photos with the same lighting and expression. I took my time to ensure that there were no mistakes and correctly aligned both images. My initial score was 95%, and my second score was 53%. Clearly, inconsistently."
Mlc2289 on Reddit:
So, at the age of 30, after reading it, I thought, "Oh God, what a terrible website." But I still have the same insecurities that I did when I was 14 years old, and 2 minutes later, I was uploading pictures. However, I conducted tests and found that different postures resulted in scores ranging from 93% excellent to 70% average. A small boost to my ego, then I realized it was a scam and that I'm a sad person for having even attempted the bloody website.
Final Thoughts
In conclusion, we can say that the website is a beauty calculator that you can use for entertainment purposes only. The accuracy of their assessment of your beauty or ugliness based on the parameters they used is uncertain.
Even the website itself warns you to not perform the test if you are someone with low self-esteem. That is one serious red flag 🚩 right there.
Therefore, we advise only using it for fun and not evaluating yourself based on the outcomes. More significant than outer beauty is inner beauty. Also, go through the following quote by Confucious whenever you feel insecure about yourself.
" Everything has beauty, but not everyone sees it."
Frequently Asked Questions (FAQs)
Q. How is beauty level calculated on Prettyscale?
The placement and sizes of various facial features are examined and tested by PrettyScale to determine the face's overall beauty. Depending on how you apply the lines and dots to your face as directed, the results may vary.
Q. How accurate is Prettyscale?
Prettyscale is inaccurate because it uses images, and an image doesn't accurately represent how you actually look. Plus, the outcomes are pretty inconsistent on the website.
Q. Is Prettyscale Safe To Use?
With respect to privacy, they claim it to be safe. They request that you upload your photo and assert that it is not shared with anyone else or saved in their database.
But at the same time, it is not safe for your mental health. It cautions those who lack self-confidence not to take the Prettyscale test because they might be shocked by the results.
Q. What is the unit of beauty on Prettyscale?
Helen is regarded as the standard for determining beauty. It is a funny unit based on the legend of Helen of Troy (or Helen of Sparta). She was regarded as the most beautiful woman in the entire world in Greek mythology.
Although Helen is a very large unit, in actuality, the smaller unit micro Helen is used. If your face receives an 80 micro Helen rating on prettyscale.com, that means your face scored 80%.