MacBook 12in M7 Review: Is It Worth Investing?
Updated On September 15, 2023 | by Gaurav Kumar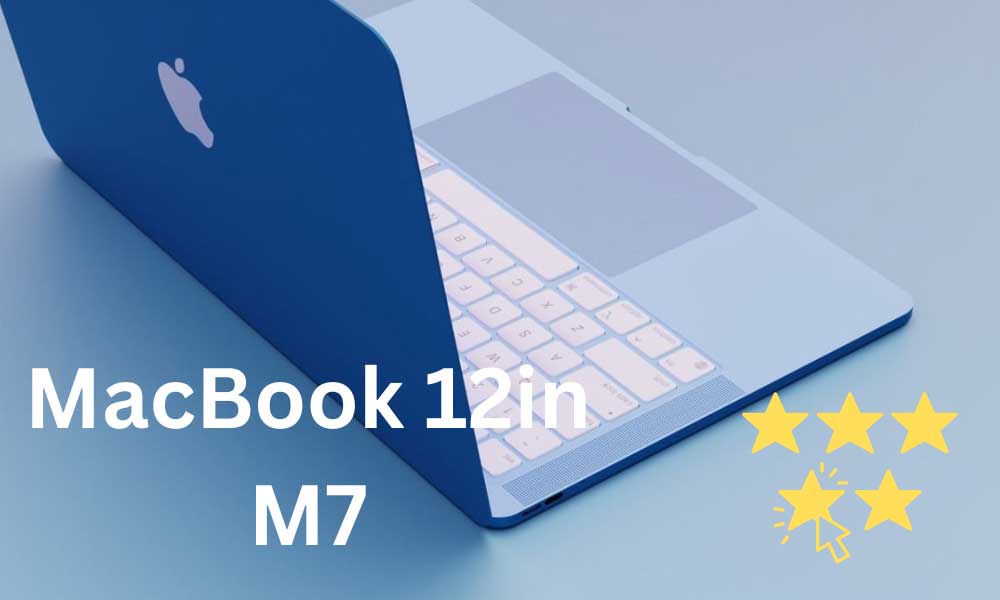 It's been more than a year since Apple made a significant change in its product line when it introduced the 12-inch MacBook. It is actually a pretty good option for those who prefer handy products that are easy to carry and light-weighted. 
Yet, it isn't the biggest change in the Apple MacBook series. The biggest change has to be the latest processor that has been updated to the 7th generation Intel Core m7. So if you are wondering whether it's the right choice, you'll get to know it all in this MacBook 12in M7 review.
Let's dig in!
Key Specification of MacBook 12in M7
| | |
| --- | --- |
| Name | Features |
| Release Date | October 2016 |
| Processor | Dual core, 1.3GHz, 4MB cache |
| Operating system | Apple macOS 10.12 |
| Network | Wi-Fi: 802.11ac Wi-Fi wireless networking; IEEE 802.11a/b/g/n compatibleBluetooth: Bluetooth 4.2 wireless technology |
| Memory | 8GB DDR3 System Memory (RAM) |
| Chipset | Intel Core m7 |
| Battery | 6-cell Lithium Polymer Battery with up to 9 hours of use |
| Storage | 256 GB Solid State Drive (SSD) |
| GPU | Integrated Intel HD Graphics |
| Keyboard | Backlit Standard Keyboard and Multi-touch Trackpad |
| Charging | Energy Star Complaint |
So these were the key specifications of MacBook 12in m7, let's now have a deep look at its attributes.
Also, Read: How to Reset MacBook Pro to Factory Settings? Mind these Conditions Before You Do That!
Battery Life
I think the battery is something that affects a device more than anything. Nothing can be more disheartening than finding out your laptop's battery is dead when you need it the most. This is why Apple introduced the MacBook 12in M7 whose battery lasts up to 10 hours. This means you can work all day without worrying about your MacBook's battery.
However, it may take up some time to get charged but all you have to do is charge it once and you are all set for the day.
Processor
Another major aspect to look for in a device is its processor. The MacBook Air comes with an Intel Core i5 processor. The best part about this feature is that it is quite challenging to find a laptop with such features at an affordable price. This makes one of the strongest selling points for MacBook 12in m7.
And not just that, you also get 8 GB RAM, which is actually double than that of any other competing laptop than this one. But if you are looking for something more powerful and assertive, you can opt for MacBook Pro or the more expensive ones.
Storage
As the MacBook's memory is welded to its motherboard, it is not upgradeable. You can say that this one is one of Apple's entry-level devices, so it only has 8 GB of RAM. The ones with flash storage of 128 GB are often insufficient for the users.
Although a MacBook's memory can be expanded, that can only be achieved by purchasing more memory from third-party independent vendors or by replacing its individual parts, but also remember that replacing MacBook's individual parts will probably void your warranty.
And if you are looking for a device that can run numerous apps simultaneously and have a large amount of storage, this might not be the right device for you.
Keyboard Specifications
If your work includes lots of typing for the day, this might be the right device for you. The keyboard is large enough to give you a comfortable experience while typing. In fact, despite the fact that it has limited keys, it is still perfect for gamers, editors, and writers. Hence, for people who prefer laptops for playing games, this is quite handy and comfortable.
Price and Discounts
Most people might not know this but after one year of its launch, Apple discounted the MacBook 12in m7 and replaced it with MacBook 12in m8. The m8 was featured with a slightly faster processor which was pretty impressive for the users who were looking for a comparatively faster processor than m7. Other than the processor, it is totally identical to the m7. And since the m7 was a popular laptop, it came to be a big surprise for the users.
The Apple MacBook 12in m7 when launched for the first time cost $100. But as of now, it can be purchased easily online on different domains for around $500.
Other Features
Here are some other features of the MacBook 12in m7:
The MacBook comes with a 480p FaceTime Webcam 1 USB-C port for communication.
It comes with Bluetooth 4.0 standard AirPort (802.11AC) which is backward compatible with any older Bluetooth device as well. It even delivers optimal low energy utilization for rapid PAN (Personal Area Network) connections and other transfers.
It has external audio equipment such as headphones and microphones that can be connected via optical digital audio in/out.
It has a full-size backlit keyboard that comes with a force-touch trackpad that lets the user force-click by pressing down on the trackpad and then pressing harder.
At the moment, MacBook 12in m7 might not be Apple's most conventional or the most in-demand product, but this is by far the most reliable one. The performance speed it renders its users with is totally remarkable.
For the ones that are looking for a device for completing the most basic tasks, MacBook 12in m7 is undeniably the most appropriate device.
Read This Also: What to Do When Mac Boots Up to Black Screen?
FAQs
Here are some frequent;y asked questions about Apple MacBook 12in m7:
What are the features of the Apple MacBook 12in m7?
It has a 1.3GHz m7 Intel Core processor with 8 GB RAM and 512 GB internal storage. It also has a display resolution of 230×1440 megapixels. With a 41.4-watt lithium battery that can give a backup for more than 10 hours, it is truly one of the best products by Apple.
What kind of customers should buy the Apple MacBook 12in m7?
First-time Apple users often opt for the most basic products, and the MacBook 12in m7 stands with one of them only. Plus it comes at quite a pocket-friendly price, hence, is often preferred by most users.
---
Related Post