Boosting Efficiency on a Budget: Exploring the Power of WPS Office and Microsoft Office Free 
Updated On October 16, 2023 | by Austin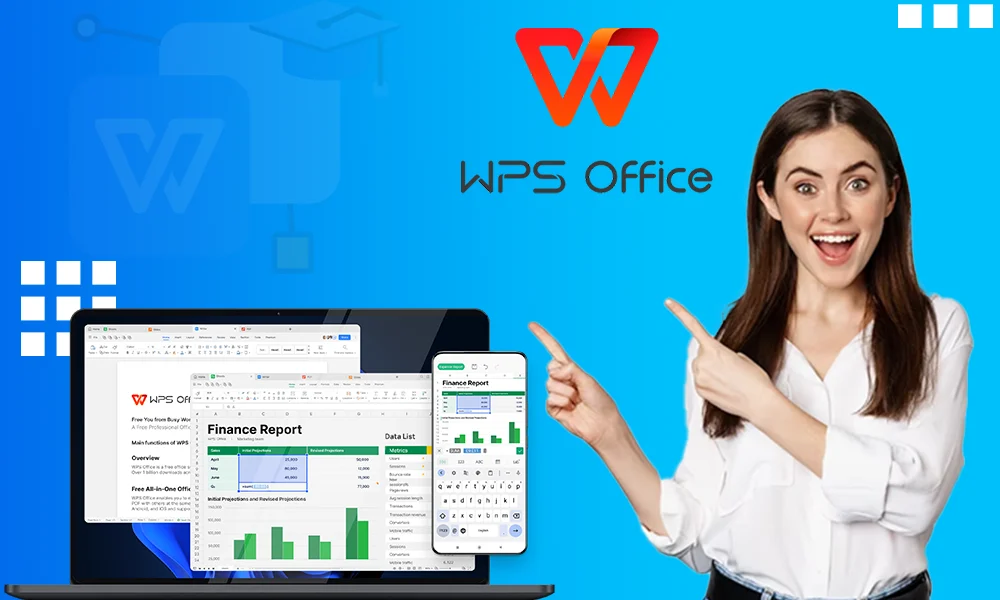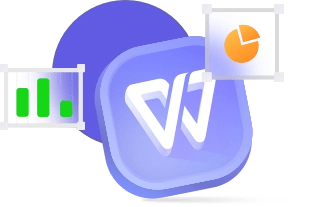 WPS Office has emerged as a formidable contender in the world of professional software. It offers comprehensive tools and features for its users. It is designed to be utilized for your personal and business needs.
At its core, it offers four main key functions that make it valuable to play in the realm of productivity software. Let's delve into these functions and explore why they matter.
In this article, we will learn how these budget-friendly software options can boost your efficiency and help you in achieving your goals.
The Rising Demand for Budget-Friendly Alternatives
As the digital landscape develops, the need for efficient and affordable official software has grown exponentially. Many individuals, startups, and small businesses can't justify the high cost of a WPS Office subscription, which can run into hundreds of dollars per year.
This has led to the search for alternatives that are cost-effective and feature-rich.
WPS Office
WPS Office has emerged as a formidable competitor in the world of management productivity software. It offers applications including Writer, Presentation, and Spreadsheets, similar to Microsoft Word, PowerPoint, and Excel. Here's why it is the best software for official purposes.
Familiar User Interface
WPS Office adopts a user-friendly interface that closely resembles Microsoft Office. It's made the suite seamless, with minimal learning for customers.
Compatibility
WPS Office supports many file types, including those used by Microsoft Office. This means you can open, edit, and save documents without worrying about compatibility issues.
Cost-Effective
One of the most relevant advantages of WPS Office is its affordability. There's a no-cost version available, but even the premium version comes at a fraction of the cost of a Microsoft Office subscription.
Feature-Rich
Despite its lower price tag, WPS Office packs an impressive set of features, rivaling those of its more expensive counterpart. Professionals can create professional documents, presentations, and spreadsheets with ease.
DO YOU KNOW
WPS Office supports a wide range of file formats, including DOCX, XLSX, and PPTX. It minimizes compatibility issues for businesses and students.
The Four Key Functions of WPS Office
Let's explore its functions and benefits to improve your work.
Word Processing with WPS Writer
WPS Writer supports an array of file formats, ensuring compatibility with other trendy word-processing software. Even if you're drafting a simple memo, crafting a detailed report, or designing a visually appealing brochure, it offers a range of formatting options, templates, and collaboration details that simplify the process.
Moreover, its intuitive interface ensures users of all skill levels can harness its power.
Number Crunching with WPS Spreadsheets
WPS Spreadsheets, akin to Microsoft Excel, is the second function that WPS Office brings to the table. This spreadsheet application provides a flexible and efficient platform for organizing, analyzing, and visualizing data.
Professionals can create intricate spreadsheets with ease, employing advanced functions, formulas, and pivot tables. Its compatibility with Excel files allows for easy data sharing and exchange, making it an attractive option for businesses and individuals.
You can easily manage your personal finances or compile business reports, with WPS Spreadsheets.
Captivating Presentations with WPS Presentation
WPS Presentation function allows users to design stunning visuals that effectively convey their ideas. It offers a wide range of templates, animations, and transitions, empowering customers to craft professional-quality presentations.
It supports multimedia integration, enabling the inclusion of videos, audio, and images to enhance the impact of your slides. When you're pitching a project, delivering a lecture, or showcasing your creativity, it helps you leave a lasting impression.
Seamless PDF Management with WPS PDF
PDFs are a universal format for document sharing and data storage. The WPS PDF is the fourth core function of WPS Office which simplifies PDF management with its comprehensive set of tools.
WPS PDF allows workers to create, edit, and convert PDF files effortlessly. You can merge multiple documents into a single PDF, extract specific pages, or add annotations to enhance collaboration and communication.
Moreover, it ensures the security of your PDFs with encryption options, making it a reliable choice for handling sensitive documents.
Exploring Microsoft Office Free
While Microsoft Office rarely deserves the word "free," there is a version that doesn't require a subscription: Microsoft Office Free. Here's why it's worth considering:
Online Access
Microsoft Office Free provides online versions to its customers. These are well-known applications, including Excel, Word, and PowerPoint. This version is accessible to anyone on any internet-connected device, providing you with better flexibility.
OneDrive Integration
Microsoft Office Free seamlessly integrates with OneDrive, Microsoft's cloud storage service. It means you can store and access your documents from anywhere, and it offers generous storage space.
Limited Feature Set
It's significant to note that Microsoft Office Free does have limitations compared to the paid version. While it provides basic functionality, some advanced features are only available with a subscription.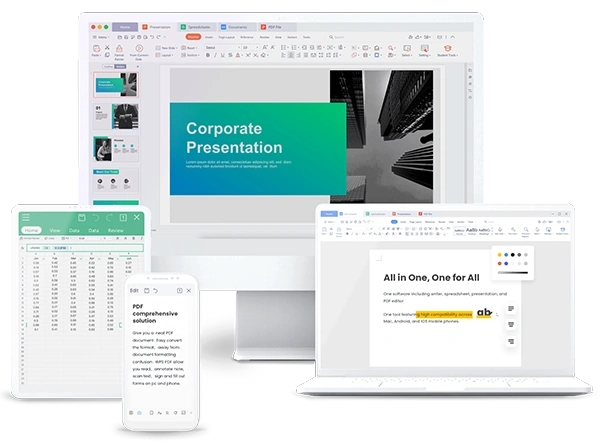 WPS Office vs. Microsoft Office – Which Will You Choose?
In recent years, alternatives like WPS Office have emerged, offering a compelling unpaid option. Let's compare the two giants: WPS Office and Microsoft Office Free, helping you decide which one suits your needs best.
Round 1: Price
The first feature is all about the pocketbook. Microsoft Office, while undeniably powerful, comes with a price tag that can be tough for individuals and small businesses.
WPS Office, on the other hand, offers a robust no-payment version alongside a premium paid option. If you're on a tight budget, WPS Office takes an early lead.
Round 2: User Interface
A user-friendly interface is vital for efficiency with agility. Microsoft Office is known for its familiar interface, which many users find comfortable and intuitive. However, WPS Office mimics this interface closely, making the transition easy.
It even offers customizable themes, letting you tailor the look to your liking. It's a tie in this round, as both options excel in user-friendliness.
Round 3: Features and Compatibility
Microsoft Office boasts an extensive set of elements, catering to every conceivable need. It's the industry standard and is known for its seamless compatibility with other Microsoft products.
However, WPS Office impresses with its compatibility too by meeting their requirements conveniently.
Round 4: Collaboration
WPS Office tools make it a top choice for businesses and teams working remotely. It does offer some collaboration qualities, like document sharing, but it's not as robust as Microsoft's ecosystem.
Round 5: Updates and Support
Microsoft Office enjoys frequent updates and a high level of support, thanks to its paid model. WPS Office's free version receives updates but might not be as prompt or extensive as Microsoft's.
If you prioritize staying up-to-date with the latest features and security patches, Microsoft Office is the safer bet.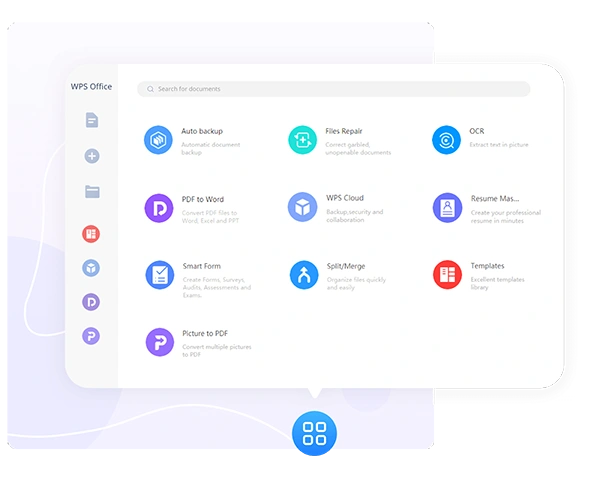 Making the Right Choice
When opting between WPS Office and Microsoft Office Free, the decision ultimately boils down to your specific needs and budget. If you require advanced features and have the budget for it, WPS Office might be the right choice.
The graph below shows that the demand for WPS Office in different sectors of businesses has increased. Out of the overall distribution, 8% are small, 9% are medium-sized and 43% are large businesses.
WPS Office is a cost-effective alternative that closely mimics Microsoft Office. It is an excellent option for many considering either shifting to another similar software or enhancing their creativity and productivity as per their specific business.
Conclusion
Boosting efficiency on a budget is not only possible but practical with options like WPS Office and Microsoft Office Free. Both alternatives provide a powerful tool that helps you accomplish your all tasks without incurring hefty costs.
Try out WPS Office suites, evaluate your requirements, and make a better choice to enhance your productivity. without compromising on your financial goals.
---
Related Post