Duplichecker Binary to Text converter
Updated On November 1, 2021 | by Louise Simon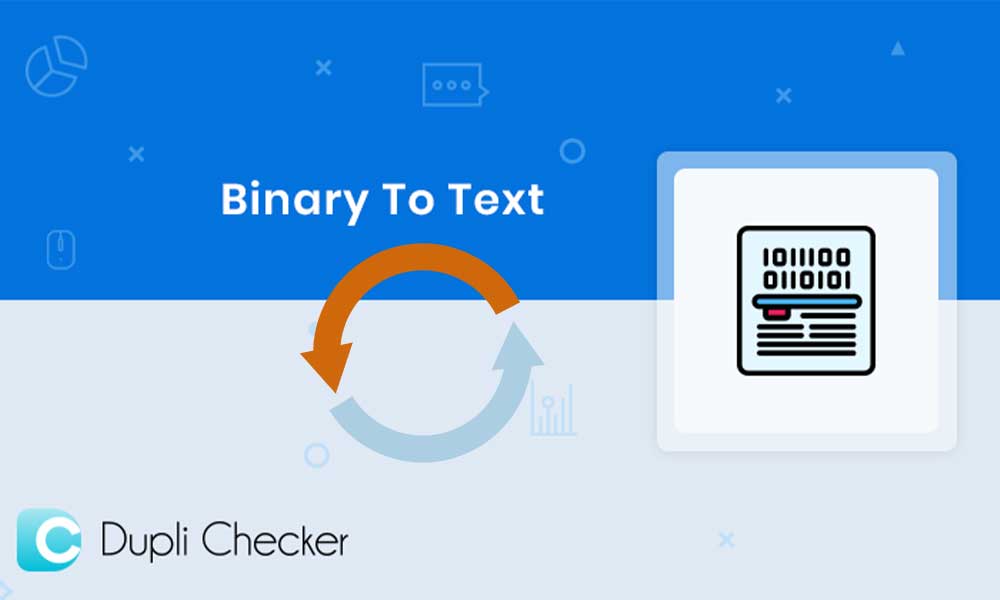 Binary to text converters are in trend these days. If you are planning on into getting the web development fraternity, then the first thing that you need to know is that all kinds of text, images, and other data are converted into binary numbers because the computers can only understand the binary language. The binary language consists of two numbers which are 0 and 1. You can also call this code on & off. In binary code, A is equal to 01000001. In the same way, every alphabet, punctuation, and even space has its binary value.
You need to be insanely genius and have a mega mind to convert a binary code to text, as it would be so complex and huge. It was nearly impossible to convert a binary code to text as it required certain information about every letter and character in the past. Plus, it took hours and sometimes even days to convert a small passage to a textual format. But today, conversion of binary to text has become very easy because of the online converter. You can translate any code you want with the best binary converter cum translator.
In this post, we will tell you about the most famous and reliable binary-to-text converter by Duplichecker. If you have never used an online binary text converter before in your life and are looking for the best option, then you will surely find this post helpful. Read on!
Also Read: Watermarking your PDF Documents with PDF Bear
Binary to Text Converter by Duplichecker – All You Need to Know About It!
This binary text converter is one of the most brilliant utilities that you can find on the web these days. The binary codes are filled up with zeros, which is why it can be very confusing for a common user to understand and change the code to text. The converter can easily understand the code and can change it in less than seconds. You don't need to worry if you have never used an online binary-to-text converter.
You can follow all the procedures we have discussed below:
The Process to Convert Binary Code to Text with Duplichecker
For changing binary code to text, you have to open the binary to text converter on your browser. You don't need any skills or experience to change binary codes to text; you need a browser and a strong web connection to do it.
After access to the converter, you see the input box in which you have to add the binary code. You can manually copy and paste the binary code into the empty box or upload the file with the code in it. After providing the input data, you have to select the to and from format from the drop-down options. You have to select "BINARY TO TEXT" and click on the 'convert' button.
The tool would take a few seconds to analyze the code you have just entered and change it into text for free. You can copy the converted text or download the TXT file from the interface of the tool without any restrictions. This is how easy it is to convert a binary file to text format without any hassle.
Reasons as for Why You Should Use the Binary to Text Converter by Duplichecker!
If you are wondering why you need to use the binary text converter, you should simply go through the reasons listed below.
If you go for manual conversions, you need to be an expert on binary codes or hire an expert to make the conversion for you, which is very costly these days! The binary text converter is free to use, so you don't need to worry about your pocket's added expense and weight.
Using the binary-to-text converter, you have to save a lot of your time. It can easily change thousands of lines worth of code in less than ten seconds which is a pro about it.
There are no restrictions to using this converter, and you can convert as many binary codes to text.
You can also convert binary code to hexadecimal format and vice versa with this binary text converter.
You can use binary to text converter on any device you want as long you have chrome installed on it. It is a cloud-based tool, so you don't need to worry about any restrictions.
Final Words:
These are the top five reasons why you need to use the online binary converter. We suggest you get this converter bookmarked on your browser if you have to work with binary code and need to convert them now and then!
Related Post