Secure Your Data: The Top 5 Free Online Backup Services of 2023!
Updated On November 29, 2023 | by Olivia Smith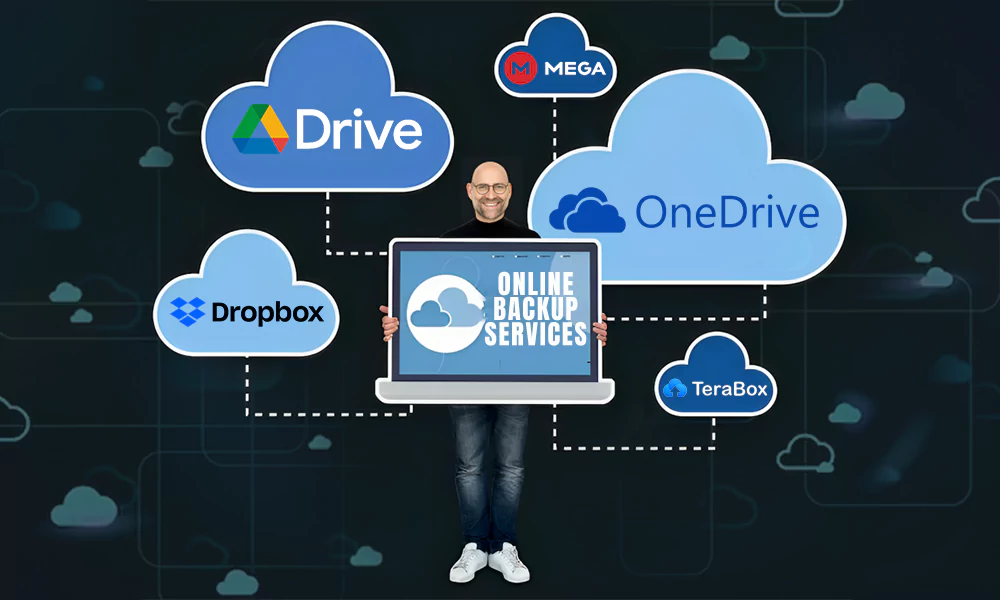 In the modern era of technological advancement, our lives are intertwined with a myriad of gadgets, ranging from handheld mobile phones to sleek tablets, versatile laptops, and powerful desktop PCs.
Within these devices lie the treasures of our existence – files, documents, cherished memories in the form of photos, and a wealth of other indispensable data that we must guard against the threat of loss.
Alas, the perilous nature of data transfers between these devices, exacerbated by limited storage capacities or unforeseen glitches, introduces the risk of data loss, an unfortunate phenomenon with multifaceted causes.
Nonetheless, a beacon of hope emerges from the digital haze – the lifesaver that is online data backup. This fortuitous solution offers a lifeline to protect our valuable information from the clutches of oblivion.
Yes, you can use free online backup services to keep your important data in the cloud and avoid the risk of losing it altogether. In the contemporary digital landscape, a plethora of free cloud storage providers have emerged, extending their services to safeguard and fortify your vital data and files.
Abundant options generously accommodate sizable video files and photos, effectively eradicating the necessity for archaic physical data storage devices such as USBs when transferring data.
Embracing these cutting-edge cloud solutions not only ensures data security but also streamlines the storage process for your invaluable information. 
Diving deeper into the realm of backup services, let's unveil the crème de la crème of free online storage services for the year 2023. Discover the finest five options that promise to safeguard your data with utmost precision.
What is an Online Backup Service?
Embracing the marvels of modern technology, online backup, also known as cloud backup, grants individuals the ability to safeguard their valuable files, folders, and entire hard drive contents by entrusting them to far-off data repositories.
This innovative approach empowers users to routinely create duplicates of their data, finding a safe haven in the protective arms of cloud-based storage, all conveniently accessible through network connections.
Advantages of an Online Backup
Using free cloud backup for your storage needs gives you the following advantages.
Data transfers are executed flawlessly, free from the hazards of human errors, hardware malfunctions, compatibility hiccups, or storage inadequacies.
Convenient accessibility to your data is guaranteed across all your devices, unrestricted by time or location.
Embrace peace of mind as automatic backups and synchronization maintain your data's current state consistently.
Explore the realm of versioning and file recovery, empowering you to preserve numerous iterations of any given file.
Foster seamless file sharing and collaboration with both your colleagues and peers, fostering a harmonious work environment.
In addition to these benefits, opting for the finest free online storage solution grants you access to a vast expanse of cloud-based storage, measuring in terabytes. This generous allocation should prove more than sufficient for the majority of users, thereby obviating any need for incurring supplementary expenses in order to uphold off-site backups.
Unraveling the Secrets of the Finest Free Cloud Backup Service
Amidst the plethora of service providers extending complimentary cloud backup services to their users, it becomes imperative to discern the finest and most trustworthy among them.
The question arises: What elements define the epitome of a free cloud backup service? To unveil the answer, one must consistently seek out these three distinctive features in any service provider.
Feature 1: Amount of Storage Space
As technology continues its relentless advancement and digital files grow in size, the necessity for ample storage capacity in your cloud repository becomes paramount.
Engaging with a service provider that fails to furnish adequate space to match your requirements would render their services utterly futile.
Thankfully, a multitude of top-tier free service providers have stepped up, generously offering up to 1TB of free cloud storage space to safeguard your files and folders in a secure offsite backup.
TeraBox shines brightly among these providers, standing tall as a dependable and trustworthy option for accessing free solutions.
Feature 2: Backup Speed
When making a choice about a free cloud backup service, one major aspect to take into account is the speed of backups. The efficiency of uploading large data quantities to the cloud hinges on the swiftness of this process.
Moreover, faster backups contribute to minimizing downtime, allowing for a prompt return to productive tasks. Besides, quicker backup speeds ensure that your files become accessible from any location, facilitating instant sharing with others as soon as they are ready for dissemination.
Feature 3: Privacy and Security
Security is a paramount worry when it comes to utilizing solutions. Ensuring the utmost safety of your data during off-site backups is non-negotiable. The chosen cloud service must offer a fortified environment to guarantee protection and peace of mind.
Moreover, incorporating advanced privacy features becomes indispensable to fend off any unauthorized attempts to breach your valuable information.
To bolster security, the service provider should diligently adhere to established and stringent security protocols, safeguarding data transfers between your device and the cloud.
Moreover, enforcing password protection measures for both your account and individual data folders adds an extra layer of defense, reinforcing the overall security of the service.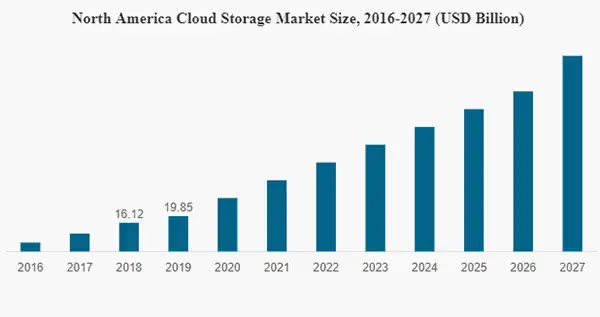 This graph shows the expected market growth of cloud storage in the United States of America from 2016 to 2027.
Leading 5 Free Online Backup Services Offering Free Online Storage in 2023!
Are you determined to find a dependable free provider to safeguard your online backups? Look no further, as we've compiled a comprehensive list of the five best free service providers that deserve your consideration in 2023.
Google Drive
Google Drive stands as a renowned titan in the realm of complimentary service and data backups. As a peerless service, it excels, particularly in the domain of file sharing, boasting seamless integration with the acclaimed Google Docs platform.
Bestowed upon users are a bountiful 15 GB of complimentary storage, coupled with the reassurance of Google's vigilant guardianship, safeguarding data from the clutches of malevolent intruders.
Remarkably swift backup operations further enhance the user experience, so long as one enjoys the luxury of a stable internet connection.
OneDrive
In the realm of online backup, Microsoft presents OneDrive as its counterpart to Google Drive. With a cloud backup service akin to Google's, OneDrive offers a smooth and secure experience, ensuring your data is safeguarded.
Nonetheless, in the aspect of complimentary storage, it falls a tad short, granting a modest 5 GB allocation.
Dropbox
Dropbox, renowned for its free services, consistently ranks among the leading providers. With exceptional sync functionality, Dropbox stands out as an outstanding solution. Enjoy remarkable backup speeds and utmost data privacy.
Nevertheless, the free storage allocation is limited to a mere 2 GB.
MEGA 
Dubbed with the name MEGA, this service generously grants you a remarkable 20 GB of complimentary storage space, specifically tailored for safeguarding your valuable online backups.
Enhancing your free storage allocation is made possible through the accomplishment of effortless milestones, such as the installation of their mobile and desktop applications, and the establishment of a 2-factor authentication on your mobile device.
Allaying any security concerns, MEGA employs the cutting-edge technology of zero-knowledge encryption. However, a notable area for improvement lies in the speed of the backup process.
TeraBox
When seeking complimentary online storage, TeraBox stands out as the supreme option, surpassing its competitors. The remarkable application gifts users an unparalleled 1 TB without any cost, an offer unmatched by any other provider.
However, TeraBox doesn't rely solely on this advantage; it boasts cutting-edge security features, such as end-to-end encryption and privacy safeguards that ensure utmost protection for your necessary files, secured by a robust password.
Moreover, TeraBox offers an array of additional functionalities like remote upload, seamless transmission of large files, automated backups, and the convenience of previewing photos and playing videos online. TeraBox is the preferred choice among a vast majority of users.
Final Thoughts
In the quest for the ultimate remedy for safeguarding your digital treasures, behold TeraBox, unrivaled in the realm of free online backup solutions. Bestow upon yourself the boundless capacity of 1 TB in online storage, liberating you from the shackles of data loss due to insufficient space.
Be it your cherished files, immortalized snapshots, or captivating videos, entrust them all to the secure embrace of TeraBox's free sanctuary. Embrace the convenience of accessing your digital trove from your TeraBox account, unbound by temporal or geographical limitations.
Delay not, for the time is ripe to acquire the TeraBox APK and commence your odyssey of preserving your digital legacy, without spending a dime.
---
Related Post