Troubleshooting Tips to Fix when WI-FI keeps Disconnecting in Windows 10
Updated On September 17, 2021 | by Khushboo Chhibber
Windows operating systems are commonly used worldwide. The latest addition to the Windows world, the Windows 10 has been in the limelight, but for all the wrong reasons. Users have reported that the Wi-Fi keeps dropping in Windows 10 and they are left with no internet in times of desperate need.
"Windows 10 is reliably unreliable." These are the words of the famous public figure Steven Magee. The error where the internet disconnects randomly in windows 10 started way back in 2020 and has been on the rise ever since. Even though the issue seems quite serious, it can be fixed easily, provided that you know about the cause of this issue.
If you are one of the many users who are facing this error and are looking for a viable solution, you can read our blog till the end as we will be discussing the troubleshooting tips for when the Wi-Fi disconnects and won't reconnect in Windows 10.
This issue in Windows 10 can occur due to a variety of reasons, such as;
The software driver of Wi-Fi has not been updated. Make sure of the fact that the drivers are always up to date so to fix any bugs, compatibility issues, and so on.
The drivers that are available to you are not compatible with the current version of Windows 10. In case updating the drivers does not do you any good, you can try to download the latest version of Windows 10 and update your system as well.
A power management issue can also lead to this error.
These were some of the general reasons that can lead to this error.
Major probable causes as to why does the Wi-Fi keep disconnecting in Windows 10?
Wi-Fi Sense
Windows 10 has introduced a new feature by the name of Wi-Fi sense. The feature was specifically designed to make it easier to connect to other Wi-Fi networks, but the feature often backfires as well. The feature allows the users to automatically connect with an open wireless hotspot to which another Windows 10 user has previously connected to and shared.
The downside of this feature is that it will automatically disconnect from the current Wi-Fi network and will try to connect with a nearby network that has never been connected successfully to your system ever before.
Power Management
Since Windows 10 is also quite popular among laptop users, Microsoft came up with several ways to reduce power usage with the ultimate goal to increase the battery life of these devices.
Among these, there is also an option that offers the users the ability to disable hardware automatically when the power usage hits a specific amount on your operating system. There is also a possibility that this feature turns off the Wi-Fi adaptor, which in turn is causing the system to frequently disconnect from the network.
Damaged or Outdated Drivers
These are some of the most important components that one can have as they simply take care of the functionality of your connected hardware along with much more. If for some reason, your drivers are outdated or damaged, they will not function the way they are supposed to, which can cause a lot of problems.
Configuration of Wireless Adaptors is Poor
It is possible that settings just like the channel frequency range detection are changed from your wireless adaptor configuration. Even though these may seem quite insignificant changes, they can ultimately cause your Wi-Fi to keep disconnecting time and again.
The router is Damaged or the Placement is Poor
If for some reason, your router isn't working properly, it may further cause you to lose access to your Wi-Fi network. You can either optimize the placement of your router simply by bringing it close to your device or you can replace the router with a different one in case it is damaged.
Now that we know about the basic reasons as to why this Wi-Fi error occurs. Let us now take a look at the general troubleshooting tips that one can use to fix when the Wi-Fi disconnects on its own.
General Troubleshooting to Fix When Internet Connection Randomly disconnects in Windows 10
Here are some of the possible fixes in case your internet connection randomly disconnects on Windows 10. You can begin with these simple troubleshooting tips to simply restore your internet connection without breaking a sweat.
Simply restart your router or you can reset it to the default settings. Restarting your PC is also an option for you.
You can try to update your Wi-Fi adaptor drivers and Wi-Fi firmware drivers. Make sure of the fact that you only download firmware drivers from the manufacturer's website to avoid malware or any outdated products.
You can get in contact with your internet service provider (ISP) to check if a connection area is available within your location.
If these do not get the job done for you, you can take a look at the advanced troubleshooting that is mentioned in the later segments of this article.
But before we get there, let us take a look at the essential requirements that you need to fulfill to make sure that the repair process for this error goes smoothly.
Conditions to keep in mind before you begin with the advanced troubleshooting
Take a backup of your data
This is optional for the users. Although it is highly recommended for you to save all of your important data on an external storage source before you begin with the proceedings of fixing this issue. This is because some of the methods that are mentioned in the latter part of the article need the users to manipulate account settings, which in some specific cases can lead to the loss of data.
Offer access to an administrator account
Some of the methods that are mentioned below will require you to give administrative permissions. This further means that you will need to use a local account that has been assigned the role of an administrator. You can take a look at some of the guides that are available on the internet for Windows 10.
As we now know about the conditions that a user needs to fulfill before he or she begins with the troubleshooting process, let us get started with the fixes to this error for Windows 10.
Advanced Troubleshooting Methods to Fix Wi-Fi Error in Windows 10
Method 1- Set your home network as private instead of public
It is often the case that Wi-Fi settings are at fault when it comes to frequent issues that are related to the internet connection. It has also been reported by some users that making your home network public may lead to some issues with the internet connection. You can use the steps given below to fix this issue by setting your Wi-Fi networks to private with relative ease.
First off, you will need to click on the "network and internet" icon that is available on the bottom right corner of your screen. In case you are unable to locate this icon, you can simply try to click on the arrow pointed upwards as that will reveal all the hidden icons.
From there, click on the network that you are connected to, and hit the properties link to proceed further.
Now, you will need to find the heading that says "network profile" and in this section, you need to make sure that you change the connection to private from the public. Keep in mind to only move forward with this when you are connected to the networks that you trust.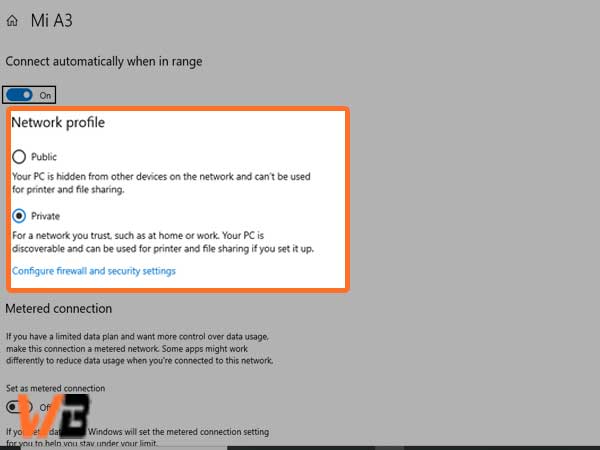 Now, check to see if your Wi-Fi keeps disconnecting or not once you have made this change on Windows 10.
Method 2- Disable Wi-Fi Sense
Although it is a great feature, it can become pretty problematic by diverting from what the feature was made for. It is recommended for you to disable this feature to check if it causes any interference with your network.
Note: About the 2021 update, Wi-Fi sense is no longer available in Windows 10's version 1803 update. The reason behind the removal of this feature from all the computers has been given in the blog written about the Windows 10 preview build.
If for some reason, you are using an older version of Windows 10 where the Wi-Fi sense is enabled, you can simply follow the steps that are given below to simply turn off this feature so to potentially fix your internet connections;
First off, hit your windows icon from your taskbar to open the start menu, to begin with. From there, you will need to click on the "settings" option or you can simply press the Windows+I key together to open settings.
In the settings window, you will need to click on the "network and internet" tab.
Now, simply use the menu that is on the left-hand side of your screen to switch to the Wi-Fi section. From there, simply click on the "manage Wi-Fi settings" link that is just under the details of your current connection, as shown below.
In the next tab, simply move down a bit to reach the Wi-Fi sense tab. Turn the switch that is under the connection to networks shared by my contacts off to make sure that the feature is disabled in an appropriate manner.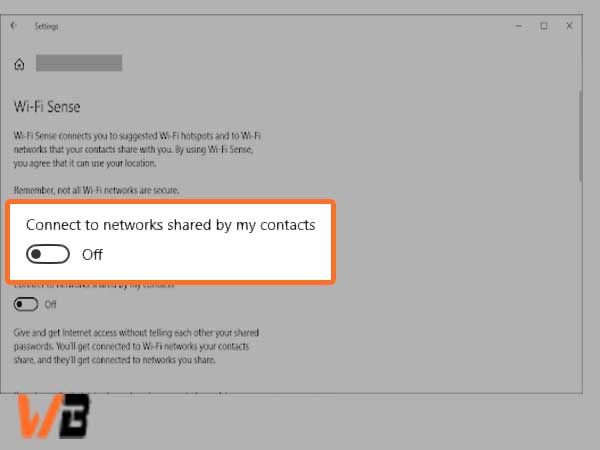 Once you have done so, check to see if your internet connection is still giving issues. There is also a chance that you may need to restart your computer before the changes are made permanent.
After you have done all this, check to see if the Wi-Fi still disconnects from the network on your computer.
Method 3- Fix your power management settings
There is a possibility that your power management settings may be the reason behind the disabling of your wireless adapter from time to time, which further leads to the adapter disconnecting temporarily.
All of this can be fixed simply by making a single small adjustment with the steps given below;
Press the Windows+X keys together from your keyboard and from the options that come up, select the device manager.
Now, in the device manager, simply click and expand the network adaptors tab by clicking on the arrow available on the left side of it.
Next, start by double-clicking on your adapter and then simply switch over to the power management tab in a new window. You will need to untick the box from this window that says "allow the computer to turn off this device to save power" and then click on ok to proceed further.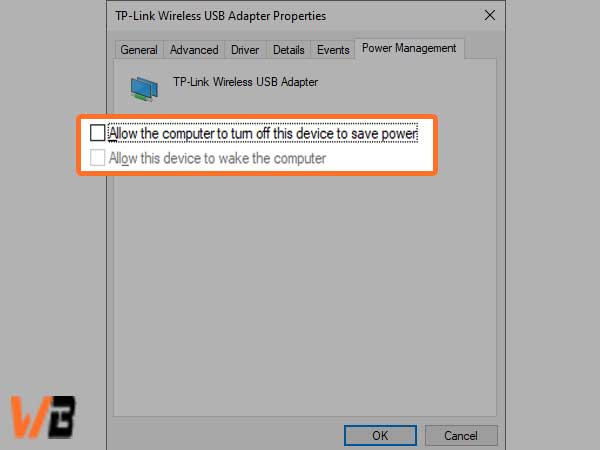 After you have unchecked the box, you will simply need to restart your device and check to see if you still have any issues.
Method 4- Run the network Troubleshooter to fix this issue
Tons of troubleshooters are available in Windows 10 to get rid of issues and bugs without having to take assistance from customer support. So, the troubleshooter may also be able to find and fix your Wi-Fi issues automatically with relative ease.
Use the search bar and enter run or you can simply press Windows+R keys simultaneously on your keyboard. Doing so will bring up the run utility feature on your screen. In the run search bar, type control and click on the ok button.
Now from the control panel that opens up, you will need to set your view mode to large icons and after that, choose the troubleshooting option to proceed further.
In the next window, simply click on the "network and internet" option.
From the next window on your screen, select the network adaptor and simply follow the instructions to automatically repair any of the errors that are detected.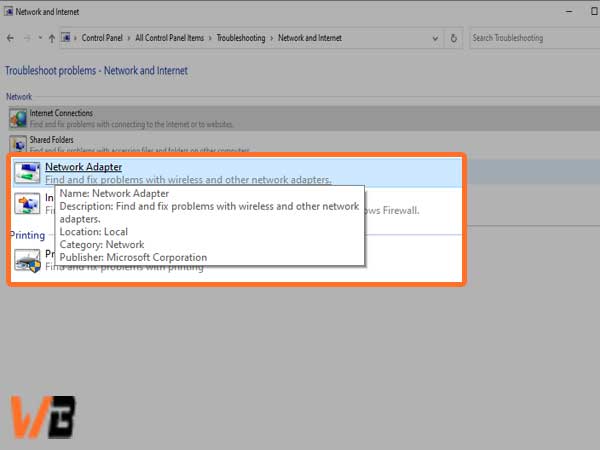 Simply restart your device now and check if the Wi-Fi issues are resolved or not.
Method 5- Reset the Wi-Fi Autoconfig service
The reason behind your Wi-Fi behaving unexpectedly can be due to a disabled service. All you need is a simple fix, that is to reset the problematic service and one can do so with the steps given below;
Open the run utility feature on your system by pressing the Windows+R keys together. Once the run dialogue box opens up, enter "services.MSC" and click on ok to proceed further.
From the next window that opens, locate the WLAN Autoconfig entry from the services window and then right-click to open the properties tab.
Next, you will need to change the startup type to automatic and after you have selected it, click on the apply button. Close this window by clicking on ok after you are done.
Now, simply click on the "apply" button and then close the window by pressing the ok button.
In case you still face Wi-Fi issues after testing, try to restart your computer and try this method again.
Method 6- Update the drivers of your Wi-Fi
If you are using outdated drivers, it can cause you a lot of trouble with your system. This can be fixed if you simply update them regularly to avoid facing any issues on Windows 10
Similar to other methods, use Windows+X keys together and then click on device manager from the list of options that appear on your screen.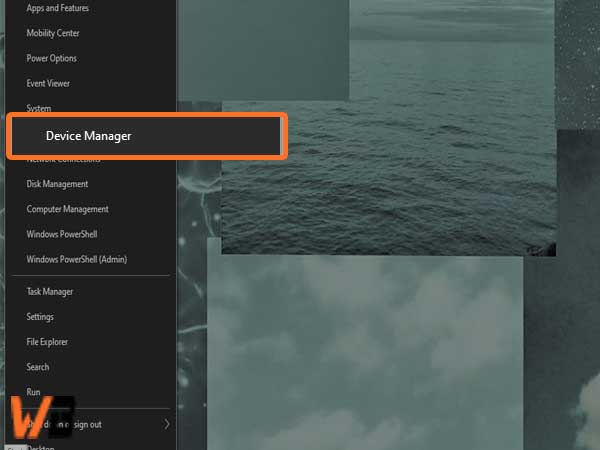 Now, click on the arrow from the left side of the "network adaptors" option to expand the tab.
Tap twice on your adaptor and a new window will appear where you will need to switch to the Driver tab. Simply click on the update driver option after you have done the above steps.
Now, Windows 10 will look for the newest driver on your local computer or online and then follow the instructions given on your screen to install the update on your device.
It may be quite possible that your Windows 10 does not detect any driver updates, which is why it is good to check the manufacturer's website to check for possible updates. If you find an update for your driver, you can install it manually as well.
Now, restart your computer and test to see if the Wi-Fi is still getting disconnected.
These are some of the best methods that one can use to fix when your Wi-Fi won't stay connected on Windows 10.
Conclusion
Windows 10 is not the best operating version when it comes to bugs and errors.
The Wi-Fi disconnects quite frequently in Windows 10, generally in the older versions of Windows 10. Although the issue can be fixed with relative ease, thanks to the methods that have been mentioned above. You can use any of these methods to fix when your Wi-Fi keeps disconnecting from the network on Windows 10.
---
Related Post