How to Get & Use Discord on PS5 [Without PC] 2023?
Updated On August 10, 2023 | by Vedwik
It is amazing to communicate and hear your friend's voice while playing games. Whether you're playing any game such as Call of Duty (COD), GTA V, or more, you can secure a seat on a video or voice channel and boost gaming performance and enhance your experience.
So, Discord is an application that allows users to communicate over video, voice, and text while playing online games. You can send or receive messages with the Discord app and connect with your friends anywhere in the world just by logging into the app. It is even possible to stream Netflix content on Discord, and the same can be done with your PS5.
The Discord app is available on any Windows, Mac, iOS, or Android device. Now, you can connect with your friends and hear their voices by using Discord on your PlayStation 5. In this article, we will know how to use Discord on your PS5 without a PC in simple ways.
Is Discord on PS5?
Yes, Discord is now available for voice chats for PS5. So all PS5 users can use voice chats while playing PlayStation 5. Before this, gamers used the Discord beta on PS5 starting in February 2023. But after the Discord PS5 release date, you can now easily use voice chats and communicate with your friends easily and upgrade your gaming experience from smartphones and desktops.
How to Use Discord on PlayStation 5?
In this guide, you will get the simplest ways to use Discord on PlayStation 5. So just keep reading and use the method that suits you better.
Update PS5
Before using Discord PS5 Reddit, ensure your PS5 is updated to the latest version. If you have allowed automatic PS5 updates, then you'll automatically have the latest PS5 version. So you have to follow these below-mentioned steps to take for a manual PS5 update:
Open PS5 settings.
Go to System and click on System software.
Tap on System Software Update and Settings.
Hit on the Update System Software button.
Now click on Update Using Internet.
At last, click on confirm by clicking on the Update button.
Grant Permission to Discord
PS5 privacy settings are automatically arranged to prevent your activities from others. To give the right permissions to use Discord on PS5.
Open PS5 settings.
Then go to User and Accounts.
Tap on Privacy.
Tap on View and Customize your Privacy Settings.
Scroll down to Your Activity.
Choose Anyone on Who can see your online status and what you are currently playing.
Link PS5 & Discord
When you link PlayStation and Discord, then you can use voice chat on PS5 and let other players know about your game. To link your PS5 with Discord, follow the steps mentioned below:
Firstly, go to the Users and Accounts.
Then Linked Services.
Now click on Discord.
Tap on Link Account.
Then click Accept and Continue.
Now a QR and digital code will occur on the screen.
This QR code can be scanned through your mobile phone.
After, when you link PS5 and Discord, a success message will show up.
Connect Discord Channel With PS5
After you link both services now, you must ensure to choose PS5 while joining a voice chat from Discord app on your phone. Here are the steps to link the Discord channel with PS5 and transfer voice chats.
Choose the Discord Server you want to choose.
Pick the voice chat you'd like to join.
Now Scroll Up rather than click on Join Voice.
Click on Transfer to PlayStation.
Ensure to select your PS5 console.
After these, you'll get a message regarding joining Discord Voice Chat.
Now you can control Discord from PS5 and do several things, such as control a player's volume, mute other players, or maintain a balance between the game and audio chat.
Suggested Read: How to Sync or Connect Controllers to PS4
How to Use Discord Voice Chat on PS5?
Just make sure to resolve any slow internet issues, and you can easily configure Discord voice chat on PS5 by following the steps mentioned below:
Hold the PS button.
Proceed to your Parties.
Choose your Joined Party.
Now you'll get numerous options:
These options will allow you to:
Adjust the volume of the audio.
Can access voice chat settings
If you want to access the advanced voice chat settings, hit the three dots and select "Voice Chat Settings".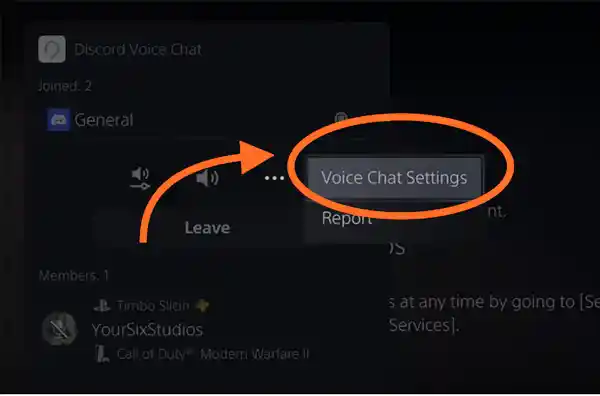 Now a list with more settings will appear on your screen.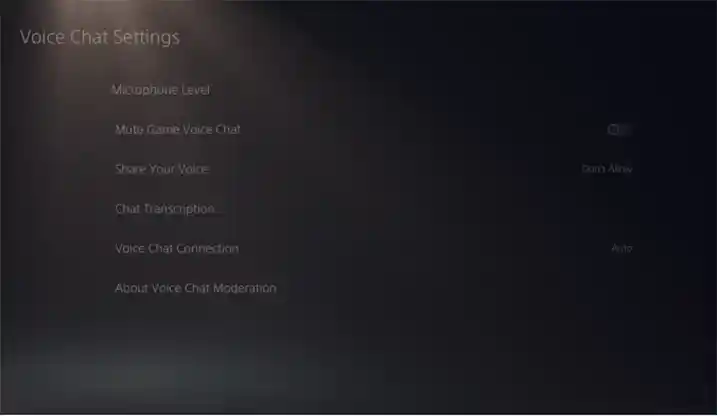 Read Next: Can You Use a PS5 Controller on a PS4? Learn How to Connect It
FAQs
Here are some of the most asked by users related to joining Discord on their PS5.
When Will Discord be on PS5?
On Discord on PS5 release date 8th March 2023, you can set up Discord app on your PS5. Now you can access Discord voice chats on your PlayStation 5.
Why Can't I Use Discord App on PS5?
If you aren't able to use Discord only on PS5, make sure your PS5 must be updated to the 7.00 firmware. If you have not enabled the PS5 auto-update, then go to settings and check for updates and download them.
Can You Use Discord on PS5?
Yes, you can use Discord voice chat on your PS5 and communicate with your friends on the web, desktop, console, and mobile devices.
Where is Discord on PlayStation 5?
To stream Discord on your PS5, just go to users & accounts > linked services > linked services on PS5 > click on Discord > linked services > Discord on your PS5.
Sources:
Related Post