How to Fix PS4 Won't Connect to Wi-Fi? – 5 Quick Ways
Updated On July 11, 2023 | by Vedwik
Sony's PlayStation 4 is the most popular gaming console all over the globe. The immersive gaming experience, the mesmerizing graphics, the wide and exclusive range of games, and the added bonus of a fantastic VR kit-all of these have earned the console its befitting fame.
However, at times, your PS4 may encounter connectivity issues where PS4 won't connect to the Internet. Without internet connectivity, it is not possible to enjoy all the amazing features of this gaming master.
If you are one of those gamers, who is seemingly frustrated with these sorts of online connection issues, you have come to the right place. This post is going to offer you solutions to your problem, along with explaining why your PlayStation won't connect to Wi-Fi.
So, read on and follow the steps, and your PS4 will be ready for the best 2023 video gaming has to offer, in no time.
Now let us begin our discussion on fixing the issue at hand, starting off with understanding the possible reasons why your PS4 won't connect to Wi-Fi or the Internet.
Why Won't Your PS4 Connect to Wi-Fi?
Sony's Play Stations are known for being exceptionally efficient in the field of gaming. The company has revolutionized the gaming industry from the beginning. And PS4 has been reported to be their best, with globally 117.2 million units sold to date.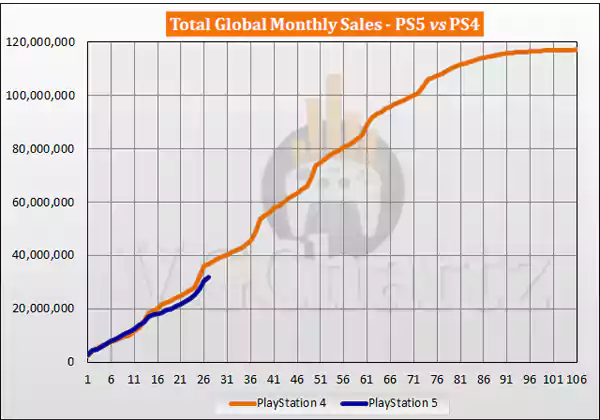 The features, technology, and incredible games that are included in PS4 make it the current uncrowned king of the gaming kingdom. You can play solo or join a virtual battleground with friends or strangers across the globe in multiplayer online games. There are so many choices.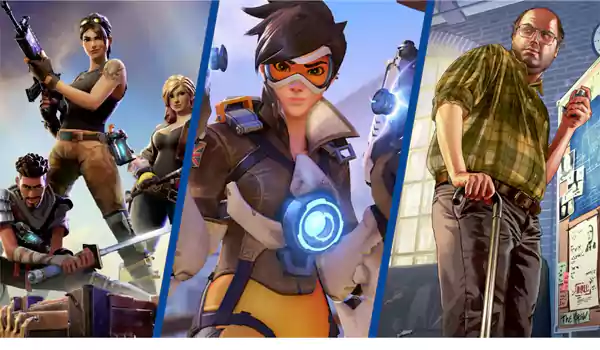 Few of the games available on PS4 can be played offline. However, all the multiplayer games need an internet connection to run. In case you encounter issues with your internet connection or your PS4 won't connect to the Internet, your games won't load at all.
There are many factors that contribute to this kind of issue. Let us now get to know the underlying causes of this:
Your PlayStation may have lost its connection and is offline.
If you are using Wi-Fi, your router could have lost connectivity. Or your Internet might be down.
The username or password might be incorrect.
Your DNS server settings need to be changed.
There might be some distance between the Wi-Fi router and the console, causing signal loss.
Now that we are familiar with the potential causes, it is time to fix them all.
How to Solve The Wi-Fi/Internet Connectivity Issue for a PS4?
All of the causes mentioned above require different approaches to deal with them. We will now present measures for each of the issues, with thorough explanations and steps to help you handle the trouble you are facing with your PS4. Read on and find out how to solve the issue of PS4 not connecting to Wi-Fi.
Starting off with checking the connectivity of the PS4 and fixing issues, if any. Once your PS4 is securely connected to the internet, you can enjoy the top-rated video games in the US market and even have gaming marathons with your friends.
The PlayStation Network (PSN) Error
PlayStation Network is the digital media service that enables all the functions of the console, like online gaming, entertainment, sharing or playing games with friends, and exploring the PlayStation Store. The PlayStation's network needs to be intact for it to work. If your PS4 is offline, then no other measure is going to work.
To fix this, the first and obvious step is to reboot your console. This seems to reset a lot of issues on the console.
To reboot your PS4, follow these steps:
Press and hold the PS button on the PS4 controller.
This will launch the 'Quick Menu'.
Now, click on 'Power'.
Then follow by clicking on 'Restart PS4'.
Note: Do not tap on 'Enter Rest Mode'. This will activate a low-power mode rather than rebooting the console.
If this doesn't work. We would have to move on to the next few steps.
Monitor your PlayStation's online status. If the network connection is secure, yet the features don't seem to function, the problem lies with your PSN.
To check your PlayStation Network Status, follow these steps:
Google PlayStation Status Page.
Go to Settings.
Select Network.
From the drop-down menu, select View Status of PlayStation Network Services.
After following the steps above, you will be able to view the status of your PlayStation Network Services. If the status is shown like above, with a green check mark with "All services are up and running" written alongside, Your PSN is connected. In this case, you move on to the other solutions.
However, if the PlayStation Network is down, it is better to wait until the signal is back on.
The Internet Connectivity Error
More often than not, the issue lies in the internet connections, and people keep scratching their heads when nothing works. If your PSN is running perfectly, your next step is to check out your Internet or Wi-Fi connection.
If you have any phones, laptops, etc., that are using the same network, inspect their connections. Are they facing the same sort of issue? If so, then it proves your network's inconsistency. Either move your router a bit to catch the signal or wait for some time.
There are 4 things that you can do that might help resolve the point in question:
Restart: When dealing with any electronic device default, rebooting the system is the first and foremost option. So, trying this go-to move might work for you as well.
Relocate: One of the plausible yet often overlooked causes of network hitches, is the position of both the network device and the console. If these are placed too far apart, it would be difficult to catch the signal. Set the router and the PlayStation in close proximity, preferably in a straight line. Additionally, steer the space clear of any huge furniture or appliances.
Congestion Clearing: When multiple devices are using the same network connection, the internet speed can drop due to low bandwidth. Try disconnecting some of the gadgets so that your PS4 can connect to the internet easily.
Get Ethernet: Sometimes, using a wireless network may result in the merging of frequency channels, time lapses, and the inconsistency of signals. That's why, using a wired connection strengthens the network. A hard-wired alternative, such as an Ethernet connection, is more likely to ensure more secure and reliable connectivity.
If both of these options fail to solve your issue and your PS4 won't connect to the Internet, we have even more solutions up our sleeves.
Error with the Wi-Fi Username or Password
This is also one of those silly slip-ups that are pretty common and recurrent. People enter the wrong Wi-Fi password and keep waiting for a connection. So, it is advisable to recheck your Wi-Fi password whenever there's any connectivity error.
To check whether the password is valid:
Try connecting some pre-linked devices to the same Wi-fi network.
If it connects and works fine, try to check the WI-Fi password on that device.
Or disconnect it and reconnect using the password you remember. If the device still fails to connect, the entered password is incorrect.
If the matter seems to be a password mishap, do the following steps with the right password.
Go to Settings.
Choose a Network.
Now select Set Up Internet Connection.
Click on Use Wi-Fi.
Select Easy.
After you see your Wi-Fi network in the list, select it and enter your Wi-Fi password.
Moving on to our next set of steps that will fix your DNS server-related error in case the methods do not fix your issue.
The DNS server Error
DNS, Domain Name System, is sort of a translator between the user and the machine. It converts domain names searched by users into numerical IP addresses that the computer will understand. Hence, the exchange of information between humans and computers is completely dependent on DNS.
From the aforesaid information, it is clear that, just like any other machine, your gaming console is also dependent upon DNS.
While trying to get your PlayStation started, if your screen displays messages like NW-31205-1, NW-31254-5, NW-31253-4, or NW-31246-6; this is clearly a case of DNS server malfunction.
Before beginning the troubleshooting process, it is vital to understand each of these messages. This will help track down the actual reason behind the glitch.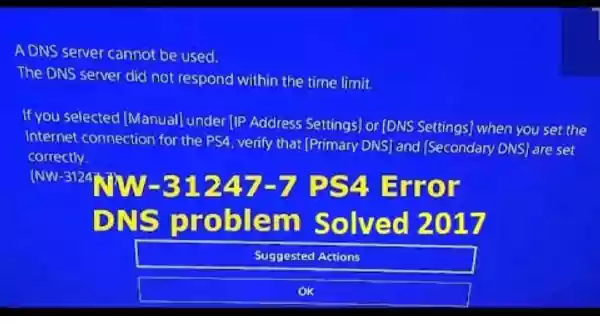 | | |
| --- | --- |
| If it shows | It means |
| NW-31205-1 | Your PSN server isn't receiving a reliable network signal |
| NW-31253-4 | Domain unavailable or browser not connected to the internet |
| NW-31254-5 | Domain unavailable or browser not connected to the internet |
| NW-31246-6 | DNS settings are invalid |
The above chart will help you understand the actual reason for the trouble you are facing. Depending upon the exact cause, you can try out any of the protocols listed below.
The most common approach would be to reconfigure your Modem.
Switch off all the devices connected to the network.
Disconnect devices from the power source.
Reconnect after a minute.
Restore internet connections as well.
When rebooting doesn't solve the problem, you might be facing DNS Misconfiguration. To resolve this, follow the next steps:
Go to Settings.
Now, go to Network Settings.
Click on Set Up Internet Connection.
Choose the network.
For IP Address Settings, choose Automatic; for DNS settings, choose Manual.
Now you have to insert values for primary and secondary DNS.
For Primary settings– input 208.67.222.222 or 8.8.8.8.
For Secondary Settings– input 208.67.2020.2020 or 8.8.4.4.
Follow by clicking on Next.
Now choose Automatic -> Do Not Use.
It is possible that the issue lies with your gaming console's hardware rather than the DNS settings. In this case, a system reset will set things right.
Switch off your PlayStation.
Unplug all sorts of cables.
Restore the power source connection.
Now press and hold the power button to activate Safe Mode.
Next, connect your controller via a USB cable.
These steps will solve your DNS-related errors. Once done, your PS4 will run smoothly, and you will be able to enjoy all those games you have been planning to explore.
There is one more snag that might be hindering your PS4 performance. It is the distance between your Wi-Fi router and your gaming console. Let us discuss this one now.
Potential Signal Loss Due to Position of the Devices
The placement of your gaming console is often not considered while fixing errors with network connectivity. People keep looking for complex technical problems and their solutions, while the issue might be solved with some simple changes in the position of the device.
Move your PlayStation closer to your Wi-Fi router. If the devices are far away from each other, it might result in intermittent signal loss. Also, ensure that there is no other physical object between the router and the console that might be hindering the signal.
We have listed all the possible steps to be taken to enhance your PS4 network connectivity. For further assistance, we are also listing some additional measures that can help in case the above-mentioned ones don't.
Additional Measures
There might be some situations where all the above methods may not work because the issue might be the one listed earlier. Although the above-mentioned reasons and their solutions are the most common that people encounter and pursue, there can be some other tricks that could work.
The tricks are:
Running a Network Test on your PS4. Go to Settings > Network > Test Internet connection.
Cut down on any additional devices that are using Wi-Fi or internet connection. This will help dedicate all the data and speed to your PS4 only.
Switch to your router's guest network. If you seem to face connectivity issues from your Wi-Fi, try using your router's guest mode. All you need to do is sign in with your guest mode password and you are good to go.
Do remember to switch back to your original Wi-Fi network as the guest mode session might end after some time.
When all fails, Factory Reset your PS4. Do remember to save your games and scores beforehand, so as not to lose your progress.
At last, the ultimate course of action would be to contact customer support. Dial the PlayStation toll-free customer care number, 1-800-345-7669 to get assistance from their experts.
Likewise, you can also visit the official page of Sony PlayStation to report your concern. You will be provided with the necessary solutions.
Final Thoughts
Gaming has been our source of entertainment for ages. Loaded with many fun features, quests, and aesthetically pleasing and intricate details, online games have a world of their own. And Sony's PS4 is well-known for offering an extensive range of exclusive video games.
Just a smooth and uninterrupted internet connection, and you are ready to embark on the exciting journey of the virtual world of awesome games. We have tried our best to help you resolve any kind of network connectivity issue that might be hampering your gaming experience.
Hopefully, you will be able to successfully solve your PS4 nuisance with the measures mentioned. If the complications persist or flare up frequently, your console might be too old and need to be replaced.
Sources:
Also Read:
---
Related Post