How to Prepare for a Webinar and Present Like a Professional
Updated On November 1, 2023 | by Luca Thorpe
So, you've got a big online presentation coming up, and you want to make sure you knock it out of the park, right? Well, you're in the right place. Webinars are awesome, but they can be a bit discouraging.
Don't worry, we've got your back with some useful little tips to help you prep and present like a total pro.
Know Your Crowd
Get to know your audience. What are they into? What are their pain points? Tailor your content to speak their language and make a real connection. The main difference between a webinar and a seminar relates to their digital and physical nature.
Statistics:
It was found in the study that 61% of webinars are done by B2B companies.
As you won't need to undertake public speaking in person (unless your webinar is being pre-recorded), you won't need to worry about stage fright as much. Your crowd will be sitting with a cup of tea close by in a comfortable environment of their own choosing, so you'll already be at an advantage.
Craft a Killer Message
Figure out what you want to say. Break it down into key points and organize it in a way that's easy to follow. A clear, concise message is the key to keeping your public engaged. Design some cool slides. Use visuals, but don't overdo it. Clear fonts, snappy images, and short bullet points are the way to go. Remember, less is more.
To make your problem easier, there are some ultra-helpful tips given by the official website of the state of Nebraska. Here are those tips and tricks listed below:
1. Choose an Attractive Title: To curate an effective killer title for your presentation, try to integrate words like "list of", "How to", "101s", "Trends" etc.

2. Follow a Proper Structure Outline for Your Content: The way you are going to shape your speech or content, should be descriptive, concise, informative, and engaging. For this, you must build an introduction, then set up the foundation for your content, then deliver the value, and finally, call to action.
3. Design Your Presentation: Designing your presentation includes picking one of the best designs for your slides, using high-quality images with meaning and reference, and using great and clear fonts and colors that are easy to read. Also, try to build a sequential structure and create simple slides.
4. Try Your Presentation Delivery: Presenting or delivering your content is not as simple as you think. To make it smooth and seamless, the first step is to choose your words wisely. Take proper pauses, and emphasize the points that are needed. Along with this, play with different vocal rhymes, pitches, tones, gestures, and paces.
With these few tips and tricks, you can make your content more understandable and engaging. If you practice these points well, you can hook your listeners and convey your message precisely.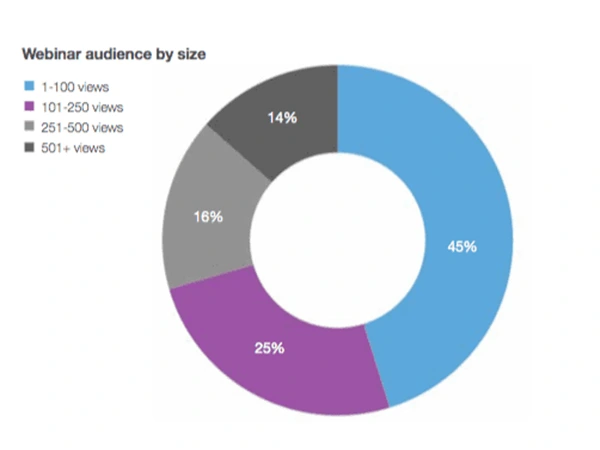 This pie chart shows the most common percentage size of the audience in a webinar.
Practice, Practice, Practice
Rehearse your presentation. Seriously, practice in front of a mirror, your cat, or your best friend. The more you practice, the more confident you'll become. Familiarize yourself with the webinar platform. Test your mic, camera, and screen sharing. Tech issues can throw you off, so make sure everything is working smoothly.
Get Interactive
Plan some fun stuff for your audience – polls, Q&A sessions, or live chats. Interaction keeps things lively and ensures your attendees stay engaged. Even though it's online, dress up a bit.
You'll feel more confident, which is key to looking like a pro. Aim for something smart and professional, no matter what the topic of your webinar might be. Your gathering will undoubtedly appreciate the effort.
Manage Your Time
Stick to the schedule. Respect your audience's time. Don't ramble on; be mindful of your time and theirs. Be confident. Smile, look into the camera, and speak clearly. Confidence is contagious, and it keeps your viewers hooked. If you look like you know what you're talking about, whilst following a structured process that covers points and specific times, you'll already be on your way to a win.
Prepare for Questions
Think about what questions might come up and have answers ready—being prepared shows that you know your stuff. After your webinar, shoot your attendees a friendly email. Thank them for coming, providing extra resources, and asking for feedback. It's a great way to build relationships.
So there you go! With a bit of preparation and a lot of confidence, you'll rock your webinar and leave your audience wanting more.