How to delete a Kik Account? Know Easy steps to delete your Kik profile
Updated On July 12, 2021 | by Manpreet Kaur Sandhu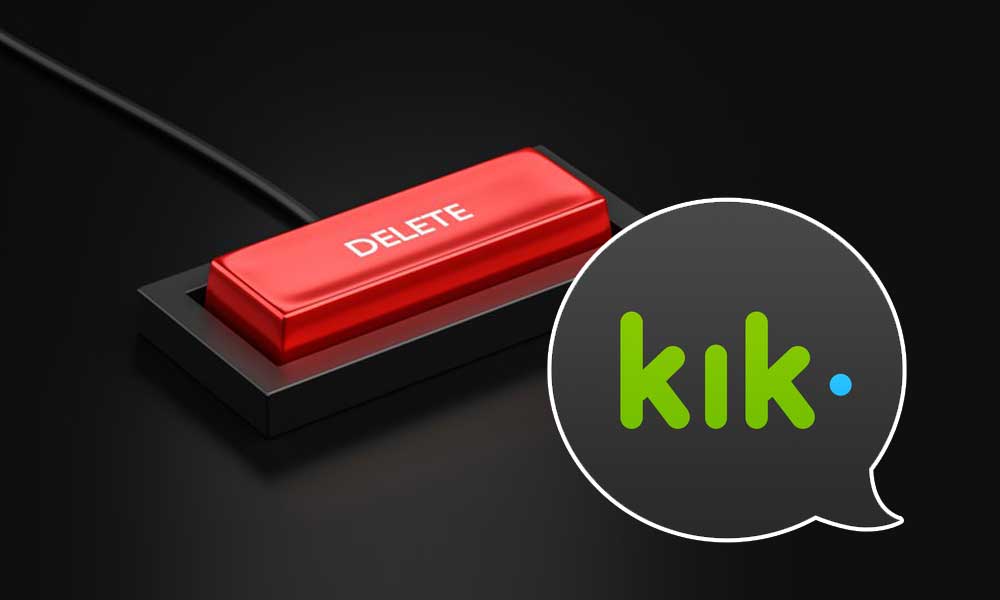 Many people have asked us the question, how to delete kik account on the phone? This has been a query for a lot of people. Therefore, today we try our best to remove all your doubts regarding the Kik account deletion process, but before that, let's know something about Kik and why people want to delete their accounts on Kik.
About Kik and why people want to delete their account?
Kik Messenger, commonly referred to as Kik, is a free instant messaging application from the Canadian company Kik Interactive, which is available for free for iOS and Android operating systems. Users through their smartphones can send and receive messages, photos, videos, stickers, emoticons, mobile web pages, and other content when a user gets himself registered and creates an account and a username on Kik. It is known for its anonymity features, such as registering users without requiring their phone numbers or a valid email address.
However, the application does not use end-to-end encryption, and the company also records user IP addresses that can be used to identify the ISP and the approximate location of a user. This information, as well as personal communications among the users, is usually provided at the request of law enforcement, sometimes without even the need for a court order.
Also Read: How to Delete or Deactivate Facebook Account
As soon as people came to know about this, the searches on the internet for how to delete kik accounts abruptly increased, because people were concerned about their personal data, photos and chat leaks, which is a major threat to their privacy and security.
Therefore, in this article, we are going to see the steps by which you can delete kik profile.
Types of Kik Account Deletion
Before going to the process by which you can get the answer to your question, how to delete my kik account, it is important to know that you can delete your Kik account in two ways, one is temporary deletion and the other is permanent deletion. Read through the following sections to know more about them.
1. What is Kik permanent account deletion?
As the name suggests, permanent deletion will delete or cancel a kik account permanently, after going through which you will not be able to recover your account. Also, after the permanent deactivation, the following are the things that will happen:
You will not receive any messages from your contacts added to your Kik account,
Your Kik account contact will be deleted from your contacts' account,
Your name will not be shown in Kik search results, and
You will lose all your data present in your Kik account, which cannot be recovered at any other point of time in the future.
2. What is Kik temporary account deletion?
If you want to delete a Kik account, then temporary deletion is preferred over permanent deletion. This is so because, if you delete your account temporarily, you will be able to recover it at any later stage of time. Whenever you recover your account after temporary deletion, your whole data will also be recovered and you will find your account in the same state in which you deleted it.
However, by deleting your Kik account temporarily, the following is what can happen:
you will not be able to access it unless you recover your account,
you will not receive any messages from your friends on Kik,
your name will not be shown in Kik search results,
your contact will be deleted from your friend's account and
all your Kik data will be lost, which can be recovered later if you again enable your account.
Processes to delete Kik account temporarily and permanently
After going through the above section, you must have a pretty good idea about how kik permanent deactivation as well as temporary deactivation of account works and what you are going to lose.
In this section, you will be knowing about the processes to delete your account permanently as well as temporarily.
1. Steps to permanently delete Kik account
Listed below are the steps by following which you will know how to delete Kik account permanently.
First, you have to open the browser on your device and visit the ws.kik/deactivate website. It is the website where you can delete your Kik account.
By visiting the website, you will see an account deletion form, where you have to fill in your Kik username and an email address.
After that, you have to choose a reason for deleting your account, from the drop-down menu. It is a mandatory field to fill, without filling it you cannot move forward.
Now, check the box present against the label which says that "I understand that I'm permanently deactivating my account and won't be able to login again to reactivate it.".
After doing so, click on the Go button.
Thereafter, you will receive an email from Kik, on the same email address provided in the form. Open that email.
There, you will see a Permanent Deactivation link. Click on that link and follow-on screen instructions to disable your Kik account permanently.
2. Steps to temporarily delete Kik account
Following are the steps by which you can know how to deactivate Kik temporarily:
In your web browser, you have to visit the https://ws.kik.com/deactivate website. This is the Kik deactivation website for users who want to delete their Kik account whether temporarily or permanently.
On this website, you will see a "Deactivate your account" window, where you have entered the email address associated with your Kik account.
Click on the Go button.
After that, you will receive an email from Kik for your account deletion request. Open that email.
In that email, you will see a link, named "Deactivate", which you have to click and proceed with some instructions on the screen to delete your Kik account temporarily.
What parents can do to delete their child's Kik account?
Deactivating your child's account means that his/her account will no longer be visible in Kik's searchers and the account will be removed from Kik's contact list who chats with your child and they will no longer be able to send the message.
Therefore, if you also want to delete the Kik account of your child, then there are two ways to do that.
When you know the username and email address
The same process, mentioned above can be followed to delete Kik account of your child, it is a little tricky as you need to know your child's username on Kik, the email address they use to sign up for the account, and you are also required to have access to that email account.
Parents can find the username of their child in the following ways:
The username is available in the Kik app. Once you launch the app, tap the icon at the top of the screen to open Settings, where you can see both the teen's username and the display name, which will be written in bold letters.
If you chat with your child on the app, then you can easily know their username by going to their profile through your account.
Kik usernames contain a combination of uppercase and lowercase letters, numbers and special characters, without any spaces.
2. When you do not know the username and email address
Kik recommends monitoring their children's activities from their child's device rather than using their own or other external devices, this is so because, as soon as the account is accessed from an external device, all the chats will be deleted from that account as Kik does not share chat content across all devices. Kik does not display or store conversations between users.
Parents who wish to monitor their children's activities through Kik, for those parents Kik have the option to disable the Kik account of their child if they think that their child is indulged in any unethical practice. To do this, they must send an email at kiksafety@medialab.la email address which will contain the deactivation request. The request must include Kik's username and the teenager's age.
Processes to reactivate temporarily deactivated Kik account
After deleting your Kik account, if at any later stage you feel you need to reactivate it, you can easily do that. It is a very effortless process to do. However, as also mentioned before, you will only be able to recover your account if you had deleted it temporarily.
But, if you had gone through the Kik permanent deactivation, then there is no way left by which you can recover your account. After permanent deletion, you lost all your data and if you want to join Kik again, then you have to create a new account. However, it can happen that you can create a new Kik account with the same old username of yours, but it can only happen if that username is not already taken by some other person.
In order to reactivate your deleted Kik account, it is required that you remember your old username and password of your account, otherwise, you won't be able to recover it. Also, when reactivating your account, you have to do this through the Kik mobile app, as it cannot be recovered through the Kik website.
Now, without talking much, let's see the steps to deactivate Kik account:
First, you have to install the Kik app from your phone's app store.
By opening the app you will see a login form, where you have to enter your username and password.
Click on the login button and see if you are able to enter your old Kik account.
By following the above steps, if you are not able to login and receive an "Account Terminated" message, then it means that your account is permanently deleted and no longer exists, therefore, you will not be able to enter your old Kik account and there is no way by which you can recover it.
Related Post