Review of HP Technical Support | Is the HP Support Service Good or Bad?
Updated On October 11, 2023 | by Raymond L. Mora
HP designs and develops a wide series of electronic and IT goods. It has a global user base and is famous for its commendable customer service. HP provides several means such as phone, social media, and live chat to contact the HP support team and channel the issue faced.
But do those mediums really work? Are the customer service reviews real? Does HP really provide quick customer support? These are some questions that always remain in mind while trusting a brand and reporting an issue. Here, we will be testing and reviewing the HP tech support services to let you know if it is worth investing your time.
HP Services on Social Media Platforms
HP technicians are experienced and readily available. First, we tried the website and social media platforms and asked queries regarding the operating system and how to update Windows 10. Next, we asked a number of questions about the battery of the laptop and the benefits of the HP audio app.
The HP troubleshooting website is a bundle of solutions that offers help to everyone and is perfect for those who are not interested in contacting over the phone or chat. We tested the HP Customer Support-Contact website to see how quick they are in responding to user queries.
To get help for your product, you first need to select the type from Printer, Laptop, Desktop, and other products and services. There is also a search bar at the bottom of the screen. The support options include registering your product, finding a service center, contacting the service head, Mailbox of the complaint and feedback, HP commercial Product SLA TAT, and HP authorized replacement centers.
The webpage also consists of a specialized support platform for Windows 10 which is named "HP Windows 10 Support Center". Also, there are several HP Communities targeting different issues, you can also join them for quick solutions.
Contacting HP through the website and the HP community was easy. Now, let's take a look at how much time HP took to respond to the issues reported on social media platforms in the below sections.
HP support on Facebook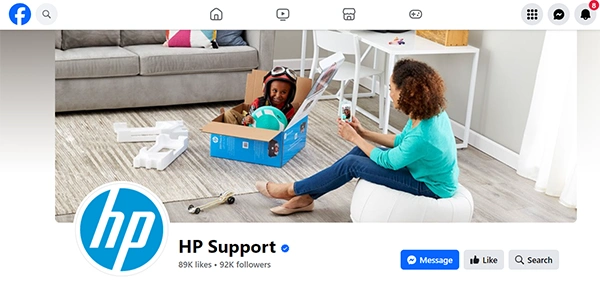 The HP Facebook Support Staff is most active between 8 a.m. to 6 p.m. on weekdays. You can use the "send message" button to get the best solution to your problem. HP support on Facebook is quite comprehensive and easy, but you first get the automated response that representatives reply to within 2 hours.
The technicians that connected with us, guided us through the official webpage to find out the matching solution, and he did a great job as we found the right solution to our concern.
HP Twitter support
HP Twitter Support is run by trained technicians and offers detailed solutions to all queries. To contact the HP support team on Twitter you need to make sure that you are logged into your Twitter account. Twitter users can make use of a support platform to get an accurate solution to your problem.
It is quite easy to get benefits out of HP support on the Twitter platform. On Twitter, the representatives were faster than they are on FB, we received a response within 20 minutes, and in no time they helped us fix the issue.
Also Read: HP Officejet Pro 9015 Printer Review
HP Phone Support
Social media is a public platform, so it's quite obvious that HP would reply quickly when an issue is reported on social media in order to save its reputation. Let's see, how much time HP takes to respond to the query reported through the call.
Phone numbers for HP support
HP contact number for home products: 1-800-474-6836
HP support for business products: 1-800-334-5144
HP Touchsmart, HDX Notebook, Envy Notebook, Firebird Desktop number: 1-866-408-5408
Palm, HP Veer, HP Touchpad: 1-877-426-3777
Palm smartphones: 1-866-935-7256
Hard of hearing or deaf customers: 1-877-656-7058
Support for Customers with disabilities: 1-888-259-5707
(Pre-sales support)
For General questions: 1-800-752-0900
Home office products: 1-888-999-4747
Business products: 1-800-888-9909
For general help and troubleshooting, you can call 888-698-3762 and for Omen (1-866-724-8628), Spectre (1-888-817-4633), and Envy (1-800-836-3963).
HP has its call center established all across the world, so reaching the support services becomes much easier for you. The calling department is open from 8 a.m. to 9 p.m. on weekdays and 9 a.m. to 9 p.m. on weekends.
Nevertheless, users need to install the app for the HP support solution. The app will redirect you to the concerned department and provide you with the contact number that you can use to call. Next, you will be asked to fill out the form and describe your issue before making a call. At last, you will get the numbers that can help you achieve live support via phone.
When we called one of the toll-free numbers, the customer care representative greeted us and asked how he could help us. HP representatives are polite and trained to deal with all types of customers, especially the ones with anxiety or temper issues.
Our Experience on HP Phone Support
The waiting time for HP phone support is 5 minutes, as we called at 10.20 and the representatives came on the phone around 10.25. The support center was located in the USA and the name of the guy was James. The issue was related to the Windows 10 update, the guy asked us to deactivate the auto-update feature first. We did the same, but it didn't help.
The next call was placed on the same day, and it lasted for 4 minutes, and we connected to John this time. We asked for the sound and bass-related issues with HP speakers. He asked to reset the audio settings using the HP Audio Control app. But before providing us with the solution, he asked for system-remote and thoroughly analyzed the problem. He was not confident enough about the solution, but then he offered the right solution to the problem.
Also Read: HP Laserjet Pro M15w Smallest Laser Printer Review
Warranty-Related Help
We wanted to check if customer care can handle the warranty-related queries. So, we called the support team and asked to check the warranty status of an HP printer and a newly bought laptop. The representative guided us through the HP Warranty Check Webpage.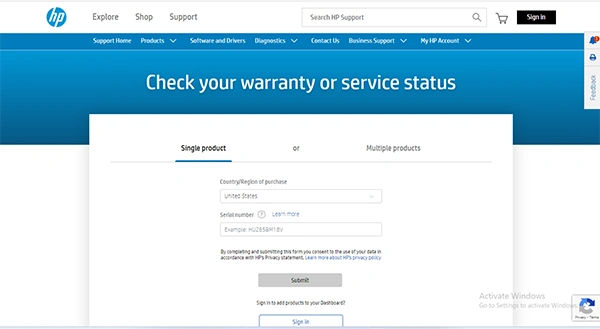 This is basically a manual warrant check page, so the solution was not any fancy, it was a very straightforward solution though. Then we were asked to provide the country and region along with the serial number and the guy did the check for us. He helped us with all he could and that was quite satisfactory.
Suggested Read: How to Contact Facebook Support? Go To Official Resources
End Note – How the HP Customer Service Can Be Improvised?
There are numerous ways available to reach HP customer care and that is really helpful for users. Also, HP support caters really well, especially to novice users. Overall, our experience was above average with HP technical support platforms. You rarely need to wait longer than half an hour, except in the case of the Facebook HP support page, as it is by default set to replies within two hours.
The representatives spend their good time listening to your concerns and doing their best to find a solution for you. Though there is nothing extraordinary with the HP support, it is very helpful for users who really want genuine and cut-to-the-chase solutions.
---
Related Post