How To Cast Apple TV to Chromecast? [A Complete Guide!]
Updated On August 18, 2023 | by Gaurav Kumar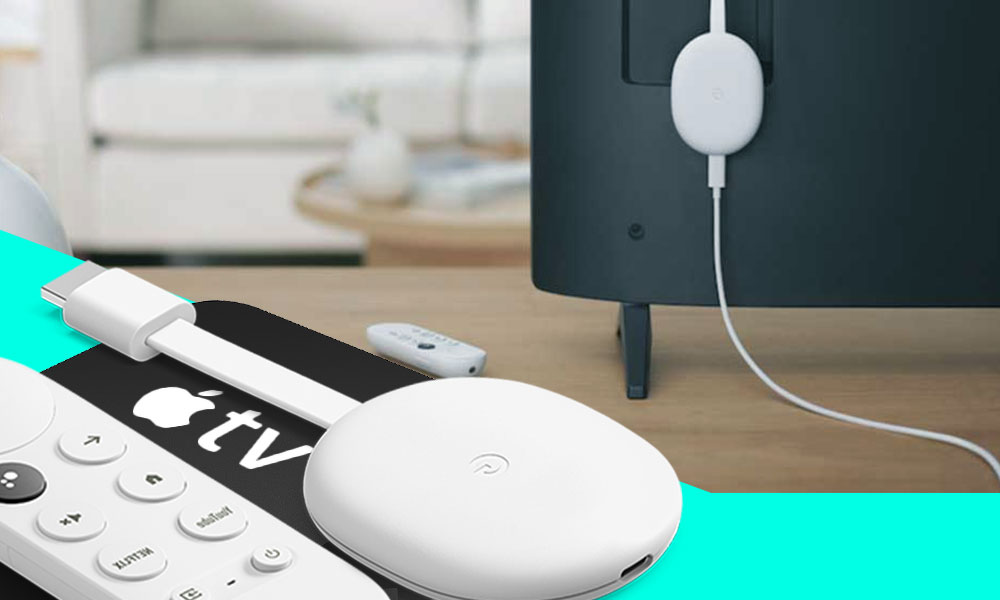 Do you want to enjoy your favorite Apple TV content on a bigger screen? Here we have come up with a guide that will resolve your queries regarding how to cast Apple TV to Chromecast.
Apple TV is a widely used app with a broad range of content. It is available on various streaming devices like Roku TV, Fire TV, Android TV, Smart TVs, gaming consoles, etc. Though you can connect Google Chromecast to Samsung TV, Android TV, etc., easily.
Google TV doesn't support purchases within the Apple TV app or Chromecast Apple TV directly. However, there is a workaround, and you can still stream your purchased or rented content on it.
If you have an advanced version of Google TV, it must have a built-in Chromecast. And even if you have an old smart TV and a Google Chromecast device, you can still watch your Apple TV content on it. Read and follow the ways to make streaming Apple TV to Chromecast effortless.
Can You Cast Apple TV to Chromecast?
Yes, you can cast Apple TV on Chromecast by using 3 methods, which are:
Chromecast with Google TV
Chromecast on Smart TV
Connect Chromecast using Airplay
These will allow you to stream both video and audio by Apple TV cast from iPhone, iPad, and Mac devices to your Apple TV and cast it to Chromecast. With these 3 easy methods, you can stream Apple TV to Chromecast and enjoy watching your favorite shows without any hurdles.
How to Cast Apple TV to Chromecast?
Before jumping to the solutions, you need to learn a few things about your Apple TV app, Chromecast, and Google TV. As we all know, Google Chromecast devices are particularly designed to cast phone and computer content, and the Apple TV app is specially designed to cast on Airplay.
Connecting both different devices and making them work can be a bit complicated, but not unattainable. Provided that, let's jump onto the solutions:
Chromecast with Google TV
Before streaming Apple TV on Chromecast with Google TV, if you don't own a Google TV or planning to buy a new one, you need to know that Google TV comes with built-in Chromecast technology. You won't need to have a separate Chromecast device. Now, let's get to the process:
Install the Apple TV app on your Google TV.
Open the Apple TV App.
Sign in with credentials and run the app.
Streaming the Apple TV app on Google TV is the easiest process if you already have an Apple TV subscription. As you cannot make Apple TV 4k purchases on Google TV.
Chromecast on Smart TV
Streaming Apple TV on Chromecast with a Smart TV manually is a bit of a knotty process, but not that hard. You can achieve your goals of Apple TV Chromecast in a few steps, and before starting the process make sure that your Chromecast device and Smart TV are connected to the same Wi-Fi network –
Connect your Chromecast device to the Smart TV.
Open Chromecast web Browser.
Open the Apple TV app, and select the Sign-In button on the top-right.
Open a movie or show and tap on the Play Episode button.
Click on the menu icon on the top right of the screen.
Select Cast.
Click on your Chromecast device.
Wait for the process to get completed, and enjoy watching your Apple TV content on your Chromecast device.
Connect to Chromecast Using Airplay
If you have an iPhone or MacBook and you want to connect your Apple TV app directly through the phone, first make sure that your TV and Chromecast are connected to the same Wi-Fi network and follow these steps –
Open your Apple TV app on your iPhone or MacBook.
Play any movie or show.
Select the Cast icon
Select your Chromecast device
And enjoy your shows uninterruptedly on the big screen. The process of Apple TV Chromecast connecting can take a few minutes; wait patiently. If it doesn't get connected, restart your Chromecast device or try reconnecting your Wi-Fi network.
How To Cast Apple TV from iPhone to Smart TV?
If you don't want to go through Chromecast settings, learn how to cast Apple TV to your Smart TV by just using your iPhone. You must install any third-party app like AirDroid Cast on your iPhone and follow the steps.
Now, open the AirDroid Cast app on your phone.
Now open your AirDroid Cast app's scanner or Copy the Code from your TV Screen.
After scanning, click on Allow.
Once you allow your TV's webpage to device casting, your TV will start casting your phone, and you'll be able to operate Apple TV and whatever content you wish to stream.
How to Display Apple TV on Chromecast Without Google TV?
If you have an older version of Smart TVs, you must connect Chromecast without Google TV. For this, you have to use Google Chrome web browser on your desktop and can navigate to Apple TV's official page and follow the simple steps mentioned below:
Firstly, connect both devices with the same Wi-Fi connection.
Open Chrome browser on your computer and search Apple TV Plus.
Then sign in to your account and click on the three dots and select "Cast" option.
In the Cast tab, you will get a list of available devices.
At last, select your Chromecast name and it will automatically cast on your TV.
How to Stream Apple TV to Chromecast Using a Third-Party Device?
You can also use a third-party device to cast Apple TV to Chromecast. One of the most popular third-party options is Roku Streaming Stick, which lets users stream Apple TV to Chromecast. Here are the steps to connect Roku streaming stick to Apple TV.
Connect with the same Wi-Fi network, and pair the Roku streaming device with your Apple TV.
Install Roku app on your iPhone or iPad.
Now open the Roku app and pick Apple TV from available device list.
Select the content which you want to stream on your Apple TV and start playing.
When the content starts playing, tap on the Cast icon in the top right corner and choose your Chromecast.
Now your content will be played on Chromecast.
What If Apple TV Not Showing Chromecast?
In case, your Apple TV does not support Chromecast, then make sure that your Airplay-compatible devices are close to each other. You should also ensure that both of the devices are up-to-date and are connected to the same Wi-Fi network. Furthermore, restart the devices that you are using with Airplay or Screen mirroring.
Apple TV+ Subscriptions and Plans
If you haven't purchased any premium plans or planning to purchase an Apple TV+ subscription, it costs $6.99/per month with a 7-day free trial period, which is quite inexpensive in comparison to other streaming platforms.
Also, if you have purchased any new product from Apple, you'll get a 3-month free subscription to Apple TV, you'll just need to redeem it within 90 days of your purchase.
FAQs
Here are some most asked questions regarding Apple TV to Chromecast Reddit.
Q. Does Google TV support iPhone?
Yes, all you need to do is open the App Store on your iPhone or iPad. Search for Google TV, and if it doesn't show up, search for Google Play Movies & TV and select Get/Open.
Q. Can we play Airplay on Chromecast?
Apple's Airplay is unsuitable for Google devices, but you can use third-party apps like Alternative, iWebTV, Replica App, etc. You can use these apps for screen mirroring.
Q. How to Cast Apple TV for Samsung TV?
Airplay provides wireless screen mirroring features to the users. To cast Apple TV Airplay to your Samsung TV, first Go to settings > Turn on Apple Airplay Mode > Go to top-right of screen > Tap Screen Mirroring > Select Samsung TV > Copy the code from TV screen > paste it to your iPhone.
Q. When will Apple TV be on Chromecast?
The latest version of Apple TV supports Chromecast since early 2023. So now you can stream all the latest shows on Apple TV such as Severance, The Morning Show, Ted Lasso, etc.
Q. Can I Chromecast Apple TV from iPad to TV?
Yes, you can Chromecast Apple TV from iPad to TV by using AirPlay because Apple apps do not support Chromecast (now officially known as Google Cast).
---
Related Post