Here's A Verified Method to Install Paramount Plus on Fire TV using cbs.com/tv/firetv
Updated On August 11, 2023 | by Gaurav Kumar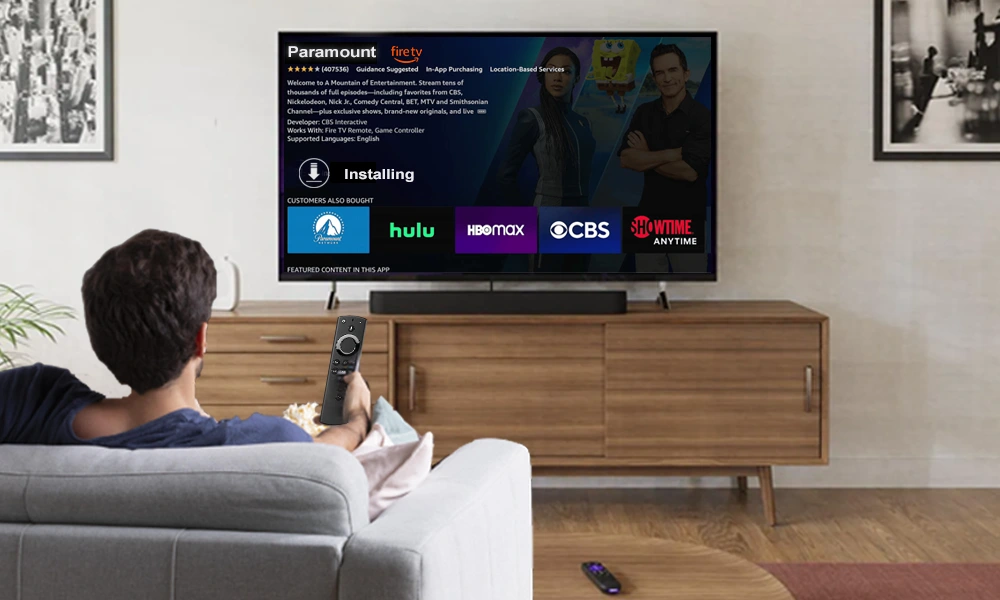 Paramount+ is a popular streaming service that facilitates streaming CBS content through streaming media players like Amazon Fire TV. Though CBS launched its All Access streaming app in 2014, the app got immense popularity after its relaunch in 2021 with the name Paramount+ during the lockdown.
As per Statista, during the COVID-19 period, the global number of Paramount+ subscribers increased steadily and reached approximately 21.4 million. You can easily stream Paramount+ on Amazon devices by entering the verification code on cbs.com/tv/firetv.
This article will help you watch Paramount Plus Amazon Prime via cbs.com/tv/firetv. Trust me; it's going to be really helpful, especially if you have recently subscribed to Paramount+ and are searching for ways through which you can stream Paramountplus Fire TV. So be prepared to explore the available options to stream Paramount+ on Amazon devices.
About Paramount+
Paramount+ was launched back in 2021 as the replacement for CBS All Access. This streaming service has around 30,000+ episodes and movies from MTV, Comedy Central, CBS, Paramount Pictures, Nickelodeon, Smithsonian Channel, etc. The subscribers of this channel get to watch a wide range of the network's own shows that air on CBS channels, including movies, sports games, and live news programming.
All the Paramount users get two viewer plans option that includes a limited commercial plan which serves ads before and during shows and a commercial-free plan which gives access to ad-free content and facilitates offline viewing by downloading shows.
The limited commercial plan costs around $5.99/mo. or $59.99/yr; meanwhile, the commercial-free plan costs $9.99/mo. or $99.99/yr. If you are struggling with the paramount plus/fire TV download and activation, the upcoming section is surely going to be beneficial for you, so read carefully to know how to stream paramount plus Fire TV.
Method to Download and Watch Paramount+ on Amazon Fire TV
You can download Paramount Plus/Fire TV in two ways, first through its Stick function and second through Amazon Appstore. I have comprehensively discussed both methods one by one below.
Amazon Fire TV Stick
Here's how you can get Paramount+ on Amazon TV Stick: –
Turn on your Amazon TV Stick and click on the search option.
Type Paramount with the help of the on-screen keyboard and select Paramount+ from below-given suggestions.
Tap on Paramount+ from the options shown in the search result.
Click on the option to Get or Download.
Open the Paramount+ app once the installation is done.
Now, Sign In to your Paramount+ account. Tap on the Sign-Up option if you have never used Paramount+ before.
Then, choose a sign-in method and carefully follow the on-screen prompts to successfully complete the sign-in process.
After signing in, you are required to select a profile.
Tap on the Watch Now option if you want to stream something.
Click on the left on the remote circle pad to open the navigation menu.
Tap on the Search bar to find a specific program, select Shows to view all TV shows, Movies for streaming movies, Live TV for watching Live TV from CBS, Sports for games and matches, and News for watching news.
Well, here you need to know that you'll get to see the Sign-Up option for Paramount+ if you don't have a Paramount+ account. Clicking on the Sign-Up option unlocks the option of streaming free episodes for a week.
Amazon Appstore
Using the Amazon App Store automatically installs Paramount+ on the Amazon TV Stick. The following instructions will guide you to download the Paramount+ on your Amazon Appstore: –
Turn on your Amazon device and navigate to the Amazon Appstore.
Type Paramount+ in the search column and select Paramount+ from the search results.
Now, tap on the Deliver to option from the drop-down list.
Select the device that you would like to use with Paramount+.
Click on the Get App or Deliver option.
Now, the Paramount+ app will get installed on your TV if the device is powered on and has an active internet connection.
Is It Possible to Watch Paramount+ on Older Amazon Fire TV Models?
Do you wonder if it's possible to stream Paramount+ on old versions? If yes, worry not because Paramount+ can be easily streamed on older Amazon TV models using cbs.com/tv/firetv if they have a compatible operating system.
Amazon Stick is popularly used by the cord-cutters to enjoy the content of their favorite streaming service on their TV set. All Amazon devices are readily available to download and stream Paramount content. The only requirement to stream Paramount Plus Amazon Prime is that the device must run the Fire OS 5 or the latest operating system. According to this, the following Amazon devices and versions are compatible with Paramount+: –
Fire TV Stick with Alexa Voice Remote
Fire (2015)
Fire 7 (2017)
Fire HD 6 (2014)
Fire HD 7 (2014)
Fire HD 8 (2015, 2016, and 2017)
Fire HD 10 (2015 and 2017)
Kindle Fire HDX and HDX WAN (2013)
Kindle Fire HDX 8.9 and 8.9 WAN (2013)
All the above-listed Amazon devices will support seamless Paramount channel streaming. If you encounter any issues like Firestick running slow or lagging while enjoying your favorite show, it could be due to some network or technical error. Such errors can be easily fixed by updating Fire Stick for optimized performance.
So now that you know which older Amazon models are compatible with Paramount+, let's quickly discuss the devices other than ParamountPlus FireTV that support streaming Paramount+ channels in the next section.
Other Devices That Support Streaming Paramount+ Content
Apart from Amazon TV, the Paramount+ service is available on a wide range of devices. You'll be surprised to know that the Paramount channel is also available on DirectTV. So if you own streaming devices other than Amazon, worry not because you can still stream and enjoy the Paramount+ content. Here's a list of the devices that support streaming Paramount+: –
Android phones and tablets
Apple devices, including iPad and iPhone
Apple TV streaming devices
Amazon streaming devices
LG, Samsung, and VIZIO smart TVs
Google Chromecast casting devices
Roku streaming devices
Xbox One and Xbox Series X gaming consoles
PlayStation 4 gaming Console
There are instances when Amazon TV Stick runs into issues and the FireTV Stick remote stops working, or it slows down. In such a situation, you can stream Paramount+ on Roku or any of the above-listed devices until the issue is fixed. Just the way you stream Paramount+ on Amazon, you can also stream Paramount or CBS on Roku and other devices through cbs.com/tv/roku.
For now, that's all about how to stream Paramount Plus Fire TV. With a huge on-demand library of approximately 479 movies, and 376 TV series, Paramount+ definitely has a vast collection. You can enjoy the large entertainment collection of Paramount Plus/Fire TV by subscribing to its services and entering the code on cbs.com/tv/firetv. Advancing to the end, let's quickly take a look at the frequently asked questions about the method to stream Paramount+ on Amazon Prime.
Frequently Asked Questions
Can I get Paramount Plus on Fire TV?
Yes, you can easily watch Paramount+ on Amazon TV by subscribing to the services of Paramount+ and downloading the app on Amazon TV Stick or from the Amazon App Store.
Why doesn't Paramount Plus work on FireStick?
Multiple factors can hinder the working of Paramount+ on FireStick. Some of them are as follows: –
Poor internet connection
Insufficient storage space
Device compatibility issues
Outdated app version
Is Paramount Plus free with Amazon Prime?
Well, unfortunately, the free subscription to Paramount+ is not included in the free services offered by Amazon Prime. But yes, you can test Paramount+ without getting charged for it because Paramount+ gives seven days free trial. Besides this, Amazon Prime offers the Premium ad-free plan for the Paramount+ channel at $9.99 per month.
Sources
Related Post