What is Carrier Hub? Everything You Should Know About This App
Updated On October 25, 2023 | by Gaurav Kumar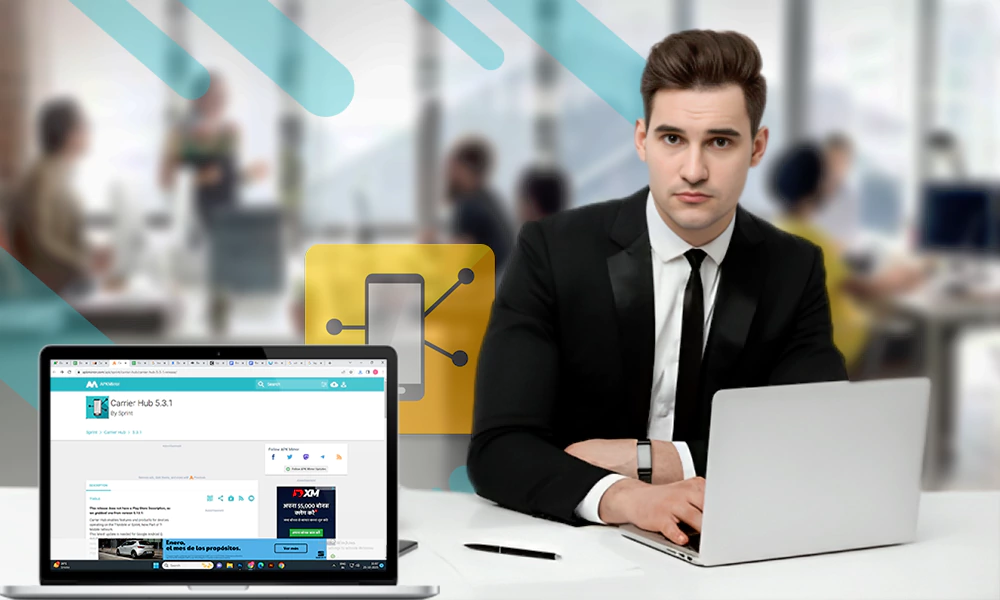 The Google Play Store now has a wide range of apps, including gaming apps, reading apps, fitness apps, plant identification apps, and so on. The Carrier Hub is one such app that is gaining popularity.
If you use the T-Mobile network, you must be aware of it since this app is by Sprint, which is now a part of T-Mobile.
Customers of Sprint and T-Mobile will benefit from this app's ability to manage their networks and services. Read more to know everything about the Carrier Hub app and whether it is worth downloading.
What is the Carrier Hub App?
Now you might be thinking, what is Carrier Hub on my phone? In a nutshell, this app will assist you in managing Sprint and T-Mobile services and networks.
Not only that, this app will also provide you with services like Voice Over Wi-Fi (VoWiFi), and help to identify your smartphone's issues through data tracking. It may be pre-installed in your phone with the same name. Voice Over Wi-Fi is a feature that allows users to make voice calls using their Wi-Fi connections.
Also read: 10 Best Spy Apps for Android and iPhone in 2023
How to Download Carrier Hub?
You might not find the app on Google Play Store, so here are the steps to download it.
Step 2 – Scroll down, and you'll see the different versions of the app available for download.
Step 3 – The app will be downloaded once you click the download button next to the version.
If you use the T-Mobile network, you may see the Carrier Hub app download notification pop up on your phone repeatedly. In that case, you will need to download the app because the notifications may become annoying.
What Permissions Does the Carrier Hub App Require?
Whenever you download an app, it asks for certain permissions in your phone to be able to work seamlessly and effectively. Just like that, the Carrier Hub Android app also requires some permission after you download it. These permissions are as follows:
Development tools
System settings
Log access
System storage
Exact GPS location
Internet access
Connectivity access
Device History
Call Information and Device ID
Before giving these permissions, you need to understand that the app can have control over a lot of things on your phone and can even manage or change your call logs. Not only that, but it can also extract your GPS location and track your phone.
Potential Issues With the Carrier Hub App
Many users have complained that the app is causing numerous issues on their devices. Despite the newly updated version being available, the app is still not working properly. Here are some of the technical issues that you might face with the app –
Text and Call Issues
Many users have reported that they are having lots of trouble with calling and texting. They claimed that their calls would drop in the middle of a conversation.
This problem occurs with every call and occurs within three minutes of the call. Sometimes it appears as if the line is unable to connect, and other times it simply cuts on its own.
Battery Drainage 
Battery drainage is another major issue; many users complained that the app was draining their batteries too quickly. However, it's not clear what function of the app is responsible for this sudden drainage.
Alarms Going Off at Random Time
This weird issue had many people gasping for air, as many claimed that their alarms started going off at random times and in random places.
Performance Issues
After installing this app, the performance of all Android phones degrades automatically. Even when no other applications are running, the performance of the device would still be low.
Faster Data Depletion 
Data depletion was another issue that began to emerge. After the installation of the app, people noticed that their mobile data started depleting fast. This could be due to the app running in the background.
So, if you have noticed your phone's battery draining quickly and data packs emptying in an instant, it is most likely due to this app. Try deleting or resetting the app to resolve the issues.
How to Fix Carrier Hub Notifications Issue?
The Carrier Hub app is well known for its annoying notifications. It can get so irritating with the time that you'll consider uninstalling the app. But there is no need to do that, we have a better solution! Here are three effective methods for getting rid of these annoying notifications.
Disable Carrier Hub notification – This is the simplest method. All you have to do is switch off the notifications from the app settings. Go to Settings > App Manager> Carrier Hub. Now scroll down and uncheck "Allow notifications".
Force stop the app – Some apps might still be running in the background even after you close them, and thus they drain all the battery. In this case, you can force the shutdown of the app from the settings.

Go to Settings > App Manager > Carrier Hub and on the bottom, you'll see the "Force shutdown" button.
Reset Your Phone – If neither method works, you must reset your phone to factory settings, which will resolve the troubleshooting issues and app malfunctions.

To reset the phone, navigate to Settings > Backup & Reset > Factory Data Reset, scroll down to the "Erase All Data" button, and then click it.
How to Fix the 'Carrier Hub Not Responding' Error?
According to some user reviews, the app occasionally crashes and stops functioning. This may happen because of the Wi-Fi connectivity and mobile network. If this is happening to you too, then you can try these effective ways to fix the problem.
Clear Cache Data – This is one of the easiest ways, click on Settings > Apps > Carrier Hub > Storage > Clear Cache.
Restart Your Device – Switch off your mobile phone, wait for 30 seconds, and switch it on again. Restarting your phone may resolve all the issues.
Force Stop the Application – If the app is causing the issue, then forcing it to shut down will help fix the issue. Click on settings > Apps > Carrier Hub > Force Stop > Confirm.
Try to use all these methods to effectively resolve these issues. Next, we will learn how to remove the app from your Android device.
How to Uninstall the Carrier Hub App From Android?
If the app is causing issues like battery and mobile data drainage, then it's best to remove this app. Although this app is no different from the others, removing it from phone settings is the same as removing any other app. But if that doesn't work, you can also try other methods.
Method 1 – Use ABD (Android Debug Bridge)
If the app is preinstalled on your phone, and you can't see the "Uninstall" option anywhere, then you can use this third-party app to uninstall Carrier Hub from your phone. One main advantage of the app is that it doesn't require root access to your phone. Here is how you can use it –
Open Settings > System > About phone.
If you have a Samsung phone, then look for Software Information. On the same screen, tap on Build Number until the developer option is active.
Go to the developer option and enable USB debugging.
Now go back to settings and scroll down to "About phone", where you should see a new option called Developer Options. Tap on it.
Tap on USB debugging and enter developer mode on your phone.
Note: Now to complete the uninstall process, you'll need your PC for further steps.
Install ABD on your computer and navigate to the folder where you extracted the zip file.
Hold the Shift key and click on the empty space, a pop-up window should open.
Tab on the PowerShell window here and once it opens, input ABD devices.
Connect your phone with the debug mode enabled on your PC. On your phone, type in "pm uninstall -k -user 0" followed by the app name, then click on Run.
The app will now be removed effectively from your smartphone over the next few seconds. Let us take a look at the alternative method.
Method 2 – Use a System App Remover
This method is relatively simple, use the app System App Remover, which can be downloaded from the Google Play Store. The only drawback is that you must have rooted your device for it to work. Here's how you can use the app-
Download System App Remover from your app store on your rooted device.
Open the app and search Carrier Hub.
Click on the Confirm button next to it and then click on Uninstall to remove the app from your phone.
That is the end of it! The Carrier-Hub app will be removed from your Android smartphone.
Pros and Cons of the Carrier Hub App
The app is advantageous for those who have poor network connectivity in some locations. However, there are several drawbacks to this app, including the possibility of affecting your phone's overall performance. Let us take a look at some pros and cons of this app.
| PROS | CONS |
| --- | --- |
| The Voice-over Wi-Fi feature will help you get network connectivity in areas with low network ranges. | The app consumes a large amount of battery on your phone. |
| The data usage tracking will assist you in detecting and resolving any data usage issues. | The data usage is also huge. |
| | The application frequently crashes. |
| | The performance of the phone might be reduced because of all the battery and data drainage. |
Conclusion
Now that you have learned everything there is to know about the Carrier Hub app, I hope this article has made things easier for you. This app is not available on the App Store; instead, you must download the APK file. It might also come preinstalled on some phones.
The app is overall useful with its Voice over Wi-Fi feature, which is simply Wi-Fi calling. But if the app is causing problems on your phone, you should think about removing it.
Recommended Read – All About Duplichecker's Binary to Text Converter
FAQs
Q. Should I remove the Carrier Hub app?
Ans. If the app was preinstalled on your phone and is functioning normally, there is no need to delete it; however, if it begins to cause issues such as battery drain or access data usage, you should delete it.
Q. What does the Carrier Hub app do on our Android phones?
Ans. One main feature of the app is the voice-over Wi-Fi feature. This feature can help you connect in a low-connectivity area.
Q. Can I delete the Carrier Services app?
Ans. Yes, It is as easy to delete the app as it is to download it. You can either delete it through the phone's settings or use some third-party apps to delete it.
Sources
---
Related Post