A Complete Guide to Building Real Estate Websites in 2023
Updated On December 1, 2023 | by Joseph Williams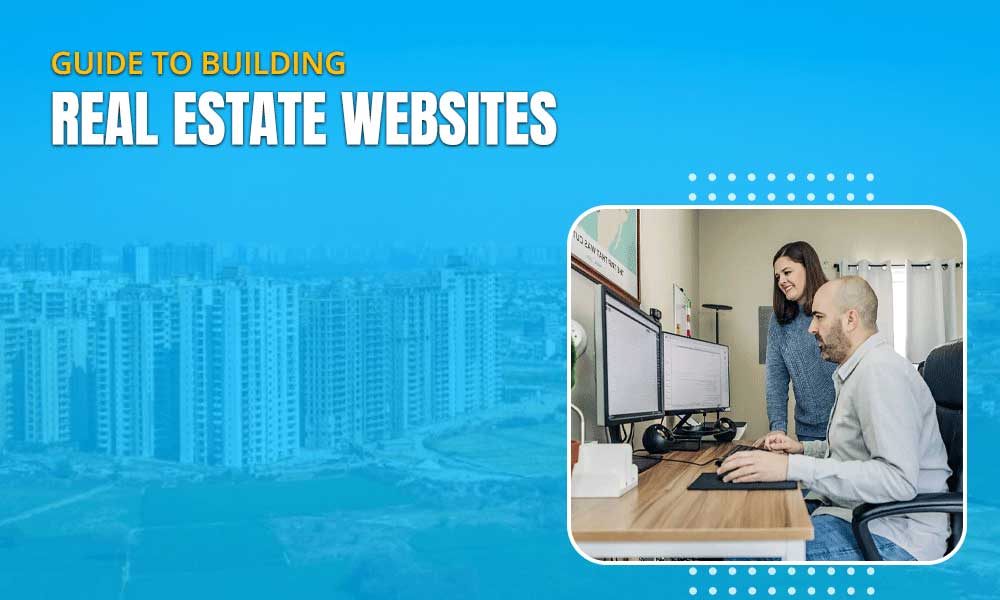 You will lose the battle if you work in the real estate sector without a website. 95% of all homebuyers, according to the National Association of Realtors (NAR) data, do their searches online.
However, having a website alone is insufficient. The majority of real estate firms have websites. Therefore, to stand out from the competition, you must produce something extraordinary.
Choosing a home is a challenging choice. People don't just swipe on cellphones, which is why. They do a comprehensive search using their computers. This information explains why creating a fantastic website is still essential in the mobile-first age.
How to Benefit from the Development of Real Estate Web Applications?
Utilizing all the benefits, prop-tech software offers your company is the main objective of real estate software development.
Also, Read: What Is Change Management In Software Development?
Automated Contact Management is Advanced
Communication with many parties—tenants, landlords, representatives, and many others—is vital to the real estate business. Thus, one of your company's top concerns for maintaining market competitiveness is precise and timely contact management.
Here, real estate web application development comes into action to assist you in taking control and automating the addition, storage, management, and updating of contacts.
Read more: https://fireart.studio/real-estate-website-development-company/
Automated Lead Generation that Works
Technology solutions include effective drag-and-drop functionality, strong account filters, shortlisting, secure deal, and collaboration rooms, and a wide range of other helpful functions that can grow your real estate firm.
Automation of Accounting and Finance
Any company should have an organized ecosystem for financial and accounting processes so that there are no gaps where money might be lost or payments made incorrectly. Your real estate firm is no different since the present market rivalry necessitates offering consumers next-level payment alternatives, which calls for perfect finance and accounting procedures.
Steps for Creating a Real Estate Website
Make the Required Inventory
Your real estate website's structure must be thoughtfully developed and constructed if you want it to be successful. So, list the fundamental and sophisticated features you want to include right away to help solve the issue. Then, attempt to define your motivation for creating a website, your primary objectives, and identify your target market.
Develop a Budget Range and Put Together a Development Team
Give a clear indication of the pricing range you anticipate the website development to fall inside after your company and personal goals have been established. Considering everything, you'll probably receive your money's worth. You might choose a software development business to work with in the meantime. Your goals will probably change a little bit after the correct group is assembled. A solid relationship, open communication, and idea sharing are essential to achieving more outstanding outcomes.
Prototypes, Mockups, and Wireframes
The framework of your website is now taking form. For a website to provide a strong first impression, wireframing, mockup creation using these wireframes, and future website design prototyping are all beneficial. Designing a high-performance website requires planning, so your logo, color scheme, photos, and other user interface components must be placed sequentially and consistently on each page. Make sure to arrange pieces so they represent the sequence in which users accomplish activities since doing so will make it easier for users to traverse your material.
Coding
All parties participating in the preparation process must be informed of and have access to all decisions taken. The cornerstone for a project's effective execution is the successful completion of all preparatory procedures. When a technical specification is released, the hired software developers Fireart Studio will choose the best tech stack after determining the required functionalities. They may also benefit from IDX, MLS, SEO, themes, APIs, and modules.
Evaluating and Ensuring Quality
Skilled quality assurance engineers must now examine everything that was done earlier. As a consequence, it is assumed that the real estate website is user-friendly and that it provides visitors—including agents, buyers, renters, and property owners—with a faultless experience. Moreover, you can also build real estate portfolio samples to show all the existing clients to the new customers.
Things to Keep in Mind When Building Real Estate Development Site 
Here are certain points that you must consider during the development process:
Determine Your Site's Target Audience 
Please note that every website is built to target different audiences. So before creating the site, you must know who you are creating for. This way, you will be able to garner more potential customers who are interested in your product and company. Before the creation process, sit down and evaluate who you are targeting.
Know About Customer Demographics
You must know about your customer's age, gender, where they live, and their preferences well enough to reach out to them. Your site will be more useful to the people who are likely to buy the real estate property. As every client has different needs, you must gather all the information to serve them with the right set of answers.
Consider Website Marketing 
Website marketing has the potential to attract many customers. After your site is built, you can make marketing strategies with the development and marketing team.
The earlier, the better, as there are many businesses out there, so you need to make your mark and present yourself uniquely and innovatively. You can also take advantage of video marketing to attract buyers.
Conclusion
Today, each agent should think about how real estate web development might assist and encourage the growth of their firm. Building trust and starting to close more residential and commercial real estate transactions than ever before while satisfying all the client's requirements and desires are becoming simpler with a bespoke website.
---
Related Post