How to Determine the Best Desk Booking Software?
Updated On November 17, 2022 | by Louise Simon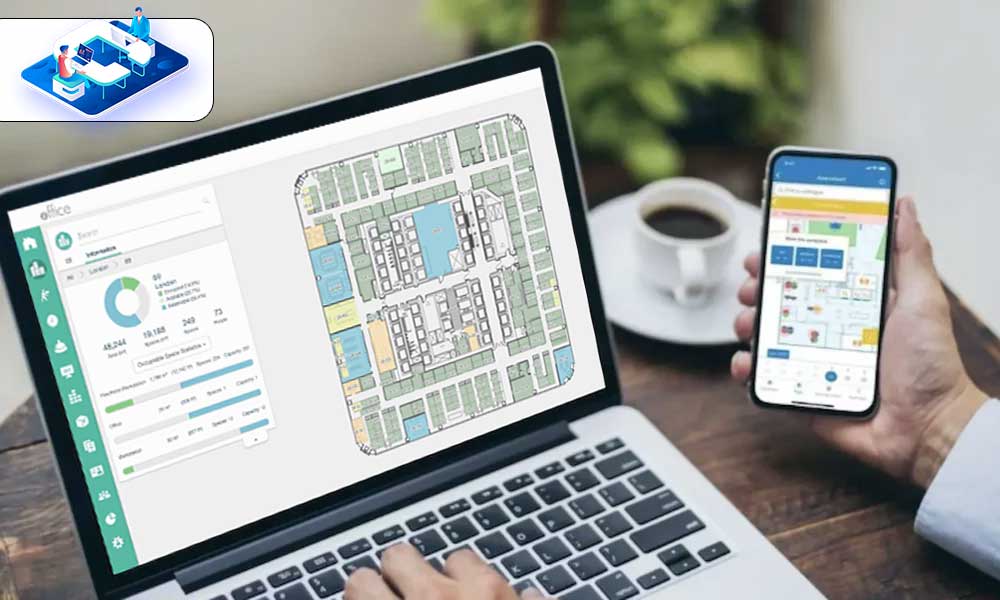 The future of workplaces will be hybrid.
As cliché as the statement sounds now, it continues to stand true. According to the Pulse of the American Worker Survey, 68% of employees want flexible working over the traditional one. And the sentiment is being resonated by employees worldwide.
However, if employees continue to rely on the workplace for collaborations and connections, they must have the appropriate resources and tools for the job. And this is a role desk booking software can fill very well.
A desk booking software allows employees to book a desk for a specific time. They can book the desk either in advance or on the same day they come to the office. Workers just need to pull up the interactive office floor plan to see the individual workspaces and find a suitable desk per their needs.
The only tricky part? Not all desk management software have the same features. That is why managers must research and review their options thoroughly.
What to Consider When Choosing Desk Booking Software?
It Should Offer Wide Reservation Capabilities
The best desk booking software is user-friendly and flexible. It should offer a wide range of reservation options to suit business-specific needs.
For example, the software should provide both hot-desking and hotelling facilities. The former will allow workers to make bookings on an ad-hoc basis, while the latter will let them book a desk in advance. With both features, employees will have greater flexibility to choose a desk and plan for work.
Apart from desks, the desk booking software should also allow employees to book resources like conference rooms and private pods. This ensures workers have full visibility of their entire day when they are coming into the office for work.
It Should Provide Easy Integrations with Other Systems
When searching for the best desk booking software, managers should not overlook the importance of easy integrations. After all, making two unsupported systems work together is tricky. This is why software options that offer advanced and scalable integrations are the most suitable.
Desk booking software that fulfills standard integration requirements work well with any system. These include:
Calendar tools like Google Calendar
HR management tools like Workday
Communication tools like Slack or MS Teams
As the business grows, so will its technical needs. So managers must choose desk booking software that is easily scalable.
It Must User-Friendly
A complex software solution usually has low adoption rates. Not to mention, employees who are not tech-savvy may find using it difficult. So, managers should enlist the use of desk booking software that are easy to use.
First and foremost, employees should be able to book a desk anytime, anywhere, with a Smartphone app or its web counterpart. And if the software approves the requests automatically, all the better.
It Must Be Secure
Data privacy should be a make it or break it consideration. This is because desk booking software contains employees' personal information and real-time space usage data. Therefore, the software should offer the highest security with enterprise-grade encryption.
It should also provide standard privacy compliance and security measures such as SSO support.
It Should Offer Real-Time Office Space Insights
To run a hybrid workplace successfully, managers need accurate occupancy data. So, they can ensure better management and allocation of the available space. This is why the best kind of desk booking software should offer real-time space usage data.
Desk booking software should collect data for monitoring:
The number of employees working in the office at a given time
Preferred workstations or neighborhoods in the office
Employee no-shows and booking cancellations
Meeting room bookings
Unused workspaces and more.
This amount of hyperlocal data can make the workplace easier to manage.
It Should Aid Company's Health Protocols
Ever since the COVID-19 pandemic, health and hygiene have come top on the list of every company and employee. In fact, a report reveals that 85% of employees consider health and safety important in a workplace. So, if managers want to prepare the workplace for hybrid employees, they should create an optimal system for sanitization. This is where desk booking software can come to the rescue.
For instance, once an employee leaves a desk, the software can notify the cleaning staff about the vacancy. They can sanitize the area, after which it can become available for reservation. Such features can help managers synchronize operations in the workplace.
It Must Be Cost-Effective
Finally, when looking for a cost-effective desk booking software, managers should not limit their selection process to subscription costs. They must factor in the implementation, maintenance, and upgrading costs. Desk booking software that needs constant technical support for upgrades may lead to a higher cost in the long run.
Similarly, managers must have a clear idea of what outcomes they want from the investment. Because if the software does not provide a customized user experience, the investment might not be worth it.
Once all of these factors are met, finding the best desk booking software becomes simpler.
Wrapping Up
The hybrid work model is here to stay, and desk booking software is a long-term investment that will quickly pay for itself. The best desk booking solution should augur the hybrid employee experience and arm managers with insights for optimum space utilization. Only then can the software qualify as the best. WorkInSync desk booking system is one such solution. It allows employees to book a desk in advance and offers managers real-time floor occupancy views for efficient space allocation.
---
Related Post