How to Choose Estimating Software as an Independent Contractor?
Updated On November 11, 2022 | by Louise Simon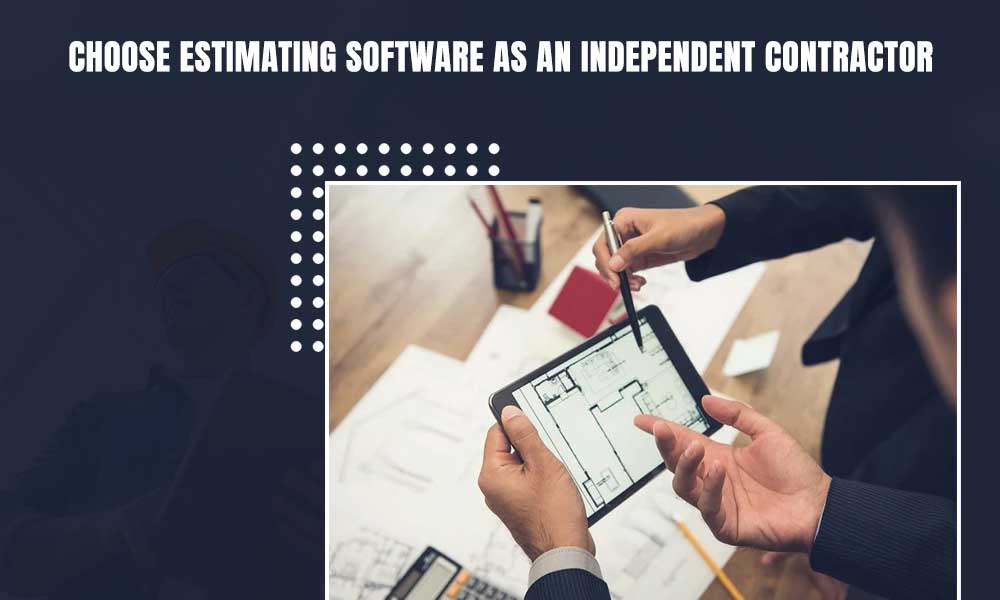 Being an independent contractor has its pros and cons. The pros of being a sole owner are that you don't have to share your earnings with anyone and don't have to pay wages. Also, you can deduct your business expenses and get tax benefits. While the major con is you have to bear all the responsibilities despite other workloads.
You should opt for estimating software to ease such cons and other work responsibilities. However, estimating software is more than just estimations, as you get several other features. A good landscape estimating software is one that gives you estimates straightaway without any hassle. So, this buying guide will focus on some points you should consider while choosing estimating software.
3 Tips to Consider While Choosing an Estimating Software
Quick Estimation
Being a contractor, you have to deal with a lot of people daily, know their requirements, and then give them estimates. Using estimating software, this drill becomes easy as a lot of tasks are automated.
If your estimates are fast, unique, and attractive, it leaves a positive impression on your business. So, the conversion ratio of inquiries increases. In addition, estimating software eliminates your manual paperwork, so the chances of generating human errors decreases, and you can make professional-looking invoices. Also, a lot of time is saved as manual estimation is time-consuming while automatic estimation is quick. Estimating software will help in making project estimates accurately with less effort. You can check out some websites that provide free software demo versions. After downloading and installing them, you can easily understand how these tools work and how they can help you in making better estimates for your upcoming projects.
Accurate Invoicing
Estimating software backs you not only while estimating but also in the invoicing process.
Manual invoicing utilizes a lot of time and effort, while software needs only to enter all the data, and you get a professional-looking invoice immediately. This saves a lot of time and energy and reduces fatigue levels when invoicing complex jobs.
With automatic invoicing, there are fewer chances of making errors when entering data into the accounting software. Even though you do so, it can be easily edited by later entering the correct data.
Furthermore, automatic invoicing allows you to receive payments faster than manual invoicing because it will automatically generate an invoice that includes all of the relevant information needed for processing payments quickly and easily.
You can set due dates to ensure you get on-time payments. In manual billing, there are chances that the client may delay your payment, so to avoid it, you can add the due date while generating the invoice and call the client to remind them to pay the due bill.
The main reason for using automatic invoicing is that it's much easier to generate. With manual invoicing, you have to remember to send out all the bills you receive. You also have to check your email and keep track of what needs to be sent out.
Automatic invoicing is better because it makes things easier for the client and the business owner. It also saves time for both parties involved in creating the invoice.
Also, you just have to access your software to get all the payment details, and you can also filter between paid and unpaid invoices. So, the estimating and invoicing software is solely responsible for generating, tracking, and storing all the invoices of your business.
Also, Read: What to Consider When Getting Software for an Enterprise
Cloud-based Platform (Access Anytime and Anywhere)
What if you are not at your workplace and a person asks you for an estimate? What if a client asks you to edit their invoice after office hours? If you are into manual work, in such cases, you will be helpless as it is not feasible every time to travel to your workplace and get the job done, as time and distance will always be the constraints.
As a solution to this, you should use estimating software that works on a cloud-based platform. One of the major pros of using a cloud-based platform is that you can instantly access it anytime and anywhere and satisfy your customers' needs.
Also, cloud-based platforms are responsible for saving and protecting your data in their cloud storage. These backed-up data can be recovered in case of any technical issue, natural disaster, or any such mishappening. So, along with estimation, estimating software is helpful and takes care of your data storage and data security.
Conclusion
In a nutshell, opting for estimating software could be a wise decision as you get an all-in-one accounting software at a single price. You don't need different software to perform different tasks. With cloud-based estimating software, you can send professional-looking estimates and invoices, and that too in a few clicks. You can save hours of your business time and utilize the same for focusing on other tasks.
Next, Read: BigTime Software is a Wonderful Tool; Here's Why
---
Related Post