Best Apps of 2023 to Chat with Strangers: Texts, Calls, Videos and More
Updated On September 15, 2023 | by Austin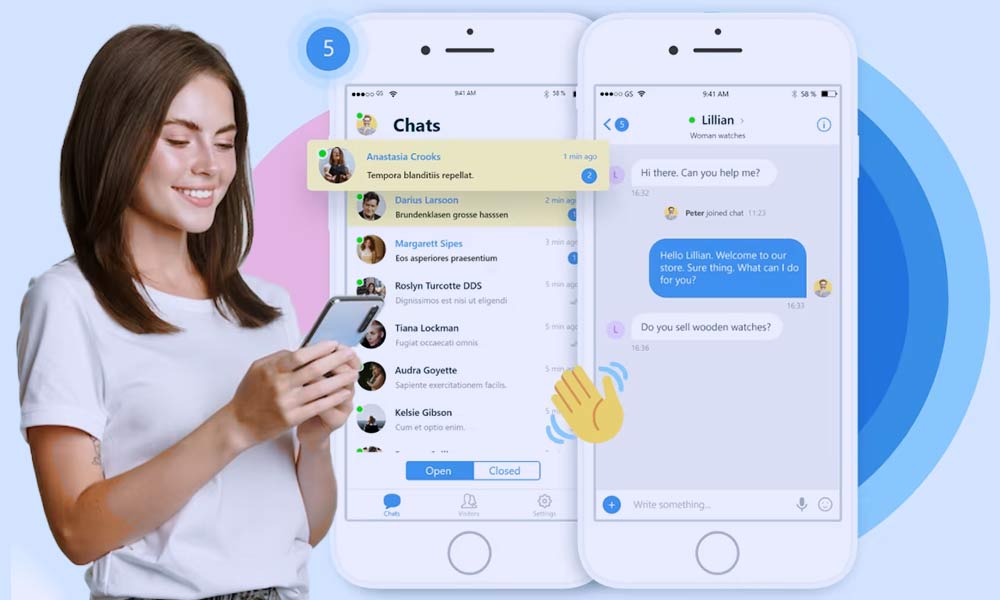 We all stuck in our houses to prevent the spread of the Coronavirus pandemic. As we are not meeting new people nowadays, our social skills are getting rusty, so why don't we use it? The outer world is not accessible in reality, but the online world never stops. A chat with a random stranger can light up your mood instantly when the person shares the same interests and hobbies. Even, you can reveal your darkest secrets as the other person can't unveil your identity.
So, for all our users, we have prepared a list of best stranger chat apps that can help you connect with the people you don't know and have some fun. Some chat apps even offer audio and video calls to new people; you can pick anything that appeals to you. Let's go through the list and make new friends, ask people out for a date (if you want to) or share your feelings without any fear.
| Chatting Apps | Downloads |
| --- | --- |
| Qeep | 10,000,000+ |
| Meet Me | 50,000,000+ |
| Azar | 100,000,000+ |
| HOLLA | 10,000,000+ |
| Splansh | 10,000+ |
| MICO | 50,000,000+ |
| Skout | 50,000,000+ |
| Flurv | 1,000,000+ |
| Between | 10,000,000+ |
| Waplog | 10,000,000+ |
Best Chat Apps of the Year 2023:
Qeep is one of the finest random chat apps for adults to get connected with strangers. It is used by more than 20 million worldwide users and the popularity is increasing rapidly over time. With this app, you can even share photos with your new friends. The compatibility with iOS and Android devices makes it even more intuitive as an app to talk to strangers.
Qeep will connect you with the nearby people, so that you can continue the friendship, even in real-life. It uses an interest-based matchmaking algorithm, and this way connects you with the people having similar interests and personality as yours. So, if you want to enhance your social circle, nothing can work better than Qeep.
Meeting new people is your prominent interest? Then, Meet Me has everything you desire for. It is a free app that can be used on both Android and iOS platforms. There could be a number of single people near you, looking to mingle or someone to talk with; if you also belong to the same category, Meet Me app is for you.
As friendship knows no boundaries, so does the Meet Me app, you can use different languages such as English, Hindi, Portuguese, Spanish and many more. Hence it is more than just a local chatting app. If you want to use the highly-advanced features of this app, you can subscribe to the premium account and enjoy them on your device.
Azar says "Discover and Connect". It is not only a meet and chat app but also offers video calling with strangers. It is also available for both iOS and Android devices. So far, it is downloaded by 10 million users from the various edges of the world. You can even set filters of gender and region, to make things even smoother. You can add new friends as per the matching-tendencies. Above all, the data such as chats, videos, and photos are fully secure.
This app only charges you, your device data and it allows you to make free audio and video calls to the people you add in your friend list. Next, it allows you to translate the text language so that you can communicate well with the people speaking foreign languages and make international friends.
HOLLA is the next popular and fun chatting app for iOS and Android devices. You can chat with random strangers and make a connection with them. The best thing this app contains is the search options that enable you to meet and talk with interesting and fun people. This app is designed to provide ease to the users and thus the interface is easily navigable. The suspense element of "whom you will be talking next" adds extra stars to the functionality of this app; every time you log-in, you will be connected with new people who thus you can't get bored of it.
To make friends; all you need is to swipe on live cards and you can chat, call, or talk on video-call with the online people. The chat and video are completely safe and secure and hence this app stands out in the crowd of late-night chatting apps.
Splansh is another very renowned chatting app to connect with strangers who have the same interest as yours. To make the conversation even more interesting, one can share posts and youtube videos and light up your mood by pouring your heart and reducing the burden.
Splansh has a unique ability to control the sex perverts and abusive language/content by blocking such keywords, thus it is one of the safest platforms to have a healthy talk. Even, you can add the mood of the day so that other users can communicate accordingly. Also, the app involves various blogs and tips to improve your moods and make your day. It can be used on both iOS and Android devices and hence perfect for a new experience.
Download from play store
If you are looking for someone to chat with, Mico is the best platform. It has interesting live streams and lets you get in touch with random strangers across the globe. You can easily chat, share photos, videos with them. Moreover, real-time translation allows you to chat with users from different corners of the world without any language barriers.
It has a simple and user-friendly interface, you can check the profile of strangers by swapping left or right with your fingertips. You can add 8 people at one time and start the group video chat with random or known users. Mico supports Android as well as iOS operating systems and is easily available at Google play store and iTunes.
Download from play store
In the list of stranger chat apps, Skout might be a decent application that is easily accessible for android and iOS users. It lets you connect instantly with nearby or random people around the globe. This application is used by millions of users. Hence, it has huge user data from global users. You can simply find the people and meet the one who matches your interests.
Taking about the features, keeping the user's privacy is one key feature of this application. It allows users to personalize their profiles and give control of hiding or sharing information with other users such as location, name, age, and other important details.
Flurv is an interesting random online chatting and also dating application with a huge global users' database. It has the biggest social network for meeting the people at your location. Its stunning features like Interested, Travel, Feature Me and Buzz allows you to meet with new people to do entertaining things. Flurv is a location-based app so it connects with the nearby users instantly.
Flurv has an incredible feature to view who checked out your profile, and also notify you whenever someone comes near to you. This application comes free of cost, you can also upgrade it to the premium version for more amazing and powerful features. Both android and iOS users have the privilege to use this application, so you can use the default store to download, install and use.
Between is the best option for strangers as well as the couples who are already in a relationship, as this application has lots of features like free emoticons GIF selfies that make your romantic chats even more precious. This application can help you find the love of your life. It has a global users' database so you can effortlessly connect with strangers and start chatting with them and also share photos and videos.
This video chat application is also available for android and iOS users. Moreover, this app allows you to see who has visited your profile so that you can stalk users who show interest in you.
Waplog is one of the fastest-growing dating applications in the world with more than 90 million global users. This application lets you connect with nearby friends to chat, video call and other things.
It is considered as the safest dating application which allows you to chat and flirt with random people. With the Waplog stories, you can share your memories with them. Moreover, it breaks the barriers of languages with its live translator during the chat and video calls. Waplog is the complete app where you can chat, comment and even like the photos of another friend. A single swipe can meet you with the love of your life.
Download it from the Apple store and Google play store as it is available for both Android and iOS users.
Everyone loves getting great results with minimal effort; Camgo makes this happen with online social connections. You can sign up for free with as much or as little information as you want, and get started almost instantly. Webcam chats are popular, but Camgo offers a text chat option as well for anyone who just didn't feel like brushing their hair.
Your experience on Camgo can be tailored to fit whatever you had in mind – hop from chat to chat if you just want some informal interaction, or add a few search terms for more specific matches and deeper conversations. The sky's the limit!
Also Read:
---
Related Post