Top 10 Beastly Bikes That Are a Dream for Every Rider in the World
Updated On September 15, 2023 | by Austin
Riding a bike is not for everyone. The phrase only seems a myth as in today's world, everyone wants to get their hands on bikes that are not only comfortable but are fast too.
While most people seem satisfied with average speeds, others crave more than just this which is why the need for superbikes saw a serious hike. Superbikes are quite different from the average bikes and focus more on the speed and comfort of the rider instead of the mileage and the durability of the bike.
In today's article, we will be looking at the top 10 bikes in the world that even make average cars look stupid.
Here are the top 10 fastest bikes in the world that can make average bikes look like a piece of junk when it comes to being fast.
Disclaimer: We do not promote the riding of these bikes at high speeds in any manner and we also advise you to ride safely as rash driving may cause you serious injury and can even lead to death.
Top 10 Fastest Motorcycles in the World in the Year Of 2021
10. BMW K1200S
At a top speed of 174 MPH, the BMW K1200S is the first superbike on our list. The bike is quite lightweight and agile which makes it super easy to handle the bike for the rider. It has a 1157cc engine that has a four-cylindered inline along with an inbuilt transmission.
It takes just 3.2 seconds for this superbike to reach from zero to sixty. The brake system of this bike is talked about too. The secret to the brakes is the EVO brakes that are coupled with the partially integrated BMW Motorrad integral ABS which gives it the upper hand on other bikes that didn't make the list.
The bike can go up to a whooping power of 164 HP at 10250 rounds per minute with a max torque of 129 Nm at 8250 rounds per minute.
9. Aprilia RSV 1000R Mille
Even though the bike was made way back in 1998, it is still special as many people still ride it. The bike can achieve a top speed of 175 MPH, which is quite impressive considering the time that has passed. The bike has a 998cc liquid-cooled engine with electronic fuel injection.
The Rotex V-twin that is installed at 60 degrees in the engine makes it more compact. This leaves room for vibrations which is countered by Aprilia's Anti Vibration Double Countershaft, commonly known as ADVC.
The handling of the bike is extremely smooth and it can go from zero to sixty in about 3.1 seconds. When this superbike was launched, it exceeded everyone's limits and achieved a max power of 141.3 HP at 1000 rounds per minute and a torque of 107 Nm at 5500 rounds per minute.
8. MV Agusta F4 1000R
This bike is quite popular among riders and for one reason, in particular, 1000cc of raw power. The handling of this bike is as close to perfection as it can get. A light crankshaft with a short motor on this superbike makes sure that accelerating is not an issue at any time.
All it takes is 2.7 seconds for this bike to go from zero to sixty. You can experience great handling even at high speeds thanks to the 8-level traction control. The top speed of this bike is 185 MPH, which is a lot.
This superbike achieves a max power of 174 HP and a max torque of 115Nm at 1000 rounds per minute respectively.
7. Kawasaki Ninja ZX-14R
This amazing beast can go up to 186 miles an hour. The only reason for this bike to be this below in the list is that there are faster bikes out there. It is one of the best bikes in the world in terms of looks and form factor.
The engine is another story as the bike has a 1441cc with an inline-four moto which makes it a beast. The bike is smooth and easy to handle thanks to the three-level traction control system.
The best thing about this bike that even if the bike is at speeds of 50-60 on gear 6, the ride will still be as smooth as you like. It only takes 2.6 seconds for this beast to go from zero to sixty and it achieves a max power of 108Kw at 10500 rounds per minute.
6. BMW S1000R
This flagship superbike has a 999cc 16-valve motor engine with the addition of a new intake cam along with lighter inlet valves when compared to the previous flagship model. The bike has a light frame, which helps it in achieving fast speeds.
Around 4kgs has been cut from this superbike and it also has the updated semi-active suspension pack of the HP4's Dynamic Damping Control. The power curve helps the rider in turning with relative ease. It can achieve a maximum speed of 190 MPH and goes from zero to sixty in 2.7 seconds.
The big is street-friendly too with the help of features like ABS and cruise control. The BMW S1000R achieves a max power of 195.2 Bhp at 13500 rounds per minute.
5. Honda CBR 1100XX Black Bird
One can experience a trip down memory lane when talking about this bike. Ever since its inception way back in 1996, the bike is back to its personal best if not better like the rest of the bikes on this list. This bike tops out at a speed of 190 miles an hour.
The bike packs a punch with a 1137cc liquid-cooled inline-four cylindered engine which leaves no room for the rider to compromise with speed. It can hit the 0-60 mark in a whooping 2.8 seconds which is quite impressive considering how old this piece of machinery is.
It may not give a rider the best of ride quality, it sure does not leave any room when it comes to the build and reliability. The bike can achieve 153 HP at 10000 rounds per minute in terms of speed.
4. Kawasaki Ninja H2R
This bike is an overall beast. It comes with a 998cc liquid-cooled, 4-stroke, inline-four, DOHC, 16-valve engine. The bike is fast enough to be one of the top bikes in the world in terms of speed. The engineers even managed to install an electronic rider support suite.
As for protection, the bike has KTRC (Kawasaki Traction Control), KIBS (Kawasaki Intelligent anti-lock Brake System), KEBC (Kawasaki Engine Brake Control), and KLCM (Kawasaki Launch Control Mode).
All these systems ensure a smooth ride apart from protecting the rider. All it takes is a mere 2.5 seconds. The bike can achieve a max power of 197.3 Bhp at 11,000 rounds per minute. The top speed of this Ninja model is 222 miles an hour.
3. MTT Turbine Superbike Y2K
At a top speed of 227 miles an hour, the Superbike Y2K is one of the most powerful motorcycles to ever be built. This amazing bike takes no more than 2.5 seconds to go from zero to sixty. This time lap is faster than the time a normal human will take to read this sentence.
The bike has the Rolls-Royce 250 C-18 turboshaft engine with a 2-speed semi-automatic transmission which makes it fast. The bike hits a max power of 320 HP at 52000 rounds per minute.
2. Suzuki Hayabusa
A four-cylinder 1340cc with a short stroke and DOHC 16-valve engine. All this sure does live up to the hype that was around this beast of a bike. The Suzuki dual throttle valve makes sure that the rider gets the best out of this bike at all times.
The ride by wire system combined with the Suzuki Drive Mode Selector gives the rider an option to tweak the settings for optimal performance. The bike can hit zero to sixty in just 2.6 seconds and has a top speed of 248 miles an hour.
The rider experiences reduced torque thanks to the Suzuki Clutch Assist System and can hit a max power of 197 HP at 6750 rounds per minute.
1. Dodge Tomahawk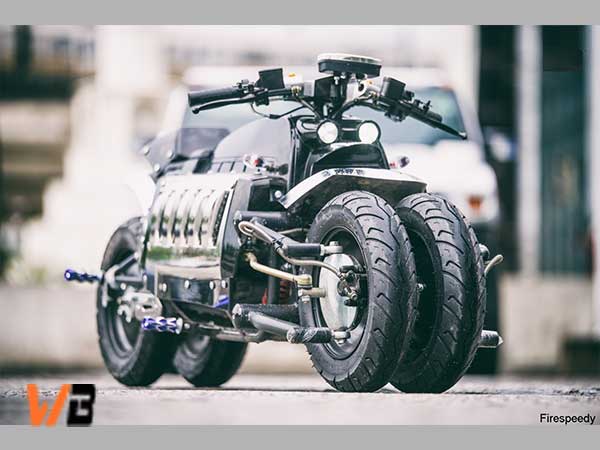 The number on our list is a bike that even gives cars a run for their money. The Dodge Tomahawk is the world's fastest bike at a top speed of 350 miles an hour. This dream bike has an 8277cc 10-valve four-stroke engine which sounds like a fairy tale for riders.
Read more – Benefits of Bike Covers
The bike has a total of four wheels, each with a suspension of its own. The bike has the same engine that can be found in a Dodge Viper. The bike has a traditional chain and sprocket system along with a two-speed manual toe-shift transmission.
The bike has a throttle intake at the place where usually headlights are and it also has a cooling system that is placed just behind the intake manifold. This bike has no match and remains a sole winner in terms of speed but due to four wheels, the bike is not legal to ride in many countries.
The bike can go from zero to sixty somewhere in between 1.75-2.5 seconds and hits a max power of 500 HP at 5600 rounds per minute making it the number 1 bike in the world in terms of speed.
These are the top 10 fastest bikes in the world as of this year. The record may or may not change depending upon the launch of new and faster bikes all over the globe. The speed of these racing bikes is what separates them from an average model.
---
Related Post