The Best Video Conferencing Software to not Postpone Your Meetings
Updated On July 5, 2023 | by Manpreet Kaur Sandhu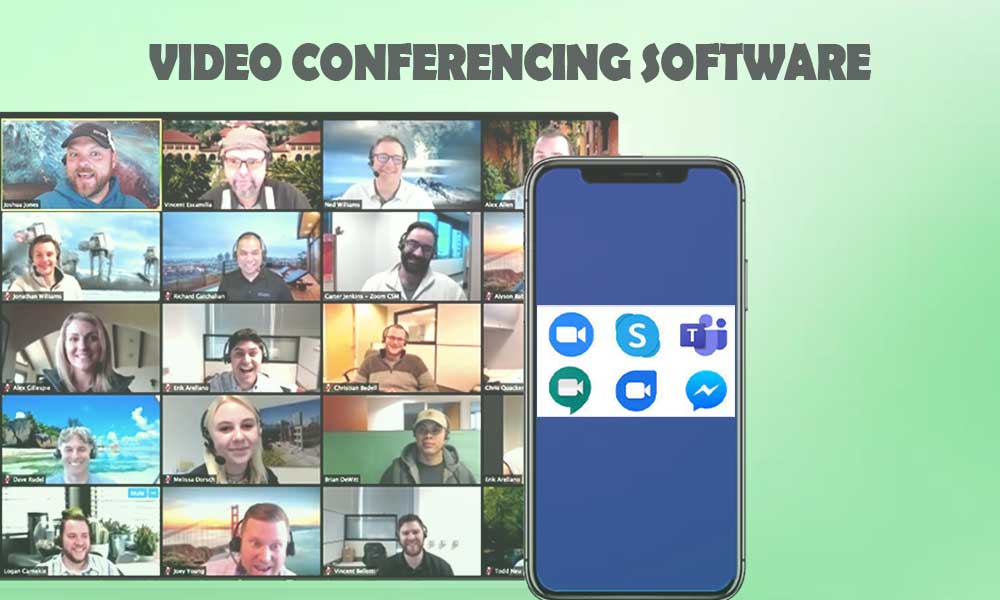 The times are changing, so is the technology but in a notably positive manner. It is making everything smoother than we can imagine. Well, let's come to the point, hereby we will be discussing the video conferencing technology that has become the need of the hour due to adverse conditions.
What Do You Understand By Video Conferencing Apps/Tools?
Video conferencing apps, tools or software (whatever you name it), is a way to conduct the conferences virtually when the real-time meetings are not an option due to any possible reason. With video conferencing software you share your voice, and text on a real-time basis, to an entire group of people. This is the best way to get in touch with all your professional contacts at once. Even, national meetings are taking place just because of video conferencing facilities, henceforth it is a boon for mankind.
There are various simple and high-tech video conferencing tools available in the market, but it is important to know what you need and where you can get. Puzzled? No need to be! We have got a list of best video conferencing software that can save your business from drowning.
How To Choose The Right Video Conferencing Service?
Choosing the right video conferencing tool is as important as any other business deal. You need to take several factors into consideration while picking a video conference app. We are here educating with the ways to choose a video conference app:
The number of participants: Consider how many participants are going to attend the conference. So, check if the software has any limitation of active members and choose accordingly.
Video feeds: Check the number of videos that are allowed to share with the software. If there is any limitation, look for the video quality it serves.
Ease-of-use: The software must be handy for everyone who is going to install it. And, thus it is important to go through the features and functionality of the software before suggesting it to the entire staff.
Types of meetings: Look for the meeting rooms the software is offering. Is the open-forum feature available? Can the participants be muted while you are giving the presentation? Check all the types of meetings it is offering to its users.
Mobile-experience: Device compatibility is the major aspect that is needed to be considered while choosing free or paid video conferencing software. The software should be compatible with mobile devices as not everyone may have access to computing devices.
Video and audio recordings: Sometimes, you need to record what has been said and thus recording facility plays an important role. So, if the recording feature is missing, you may need to think twice.
Screen sharing: Screen sharing is another powerful feature that makes a video conferencing technology ideal. So, to make a presentation or meeting more effective, screen sharing is a required feature.
Here below, we are sharing the list of the best free as well as paid video conferencing tools that can make your meetings and conferences possible in these tough times. Go through the list and pick the one that can fulfill your requirements.
Best Paid Video Conferencing Applications:
GoToMeeting
GoToMeeting is an outstanding video conferencing service provided by LogMeIn. It is leading the video conferencing market with its incredible features. It is trusted by millions of users all around the globe.
GoToMeeting allows users to talk face to face (virtually), share documents and chat with their colleagues with just one click. It is a simple, fast and reliable solution for every user who needs an easy-to-handle video conferencing tool. This application is user-friendly and mobile-friendly as you can install, set up and start using the application without any struggle. This award-winning application can boost the productivity and growth of any company. However, it allows only 3 users at a time.
The basic features of this tool are available free of cost. Furthermore, the most standard plan may cost you $14 per month, or $12 per month with annual payments- the standard plan offers you a 150 participant limit that is quite impressive. Next, the Business plan is available at $19 for a month with 250 participants and few admin features, drawing tools and mouse sharing. Furthermore, the Enterprise plan allows the 3000 participants at a time.
CyberLink U Meeting
CyberLink was designed by the Taiwanese software company in 1996. It is the finest solution for video conferencing. It offers both free and paid options, however, the free plan may lack in few advanced features, but perfect for a simple video-calling among 25-30 participants.
This won't disappoint any of the users as it is very convenient and you don't need to download it on your device, neither any other extra supported software is required.
The "Pro 50" plan costs you $29.99 per month that offers 50 member participation round the clock, along with meeting, admin tools and PerfectCam. Whereas, the pro 100 plan will cost you $49.99 per month for 100 particpants.
Zoom Meetings
Zoom Meetings is a simple and effective solution to video conferencing and messaging. It is compatible with all desktop; mobile devices offer great features at a reasonable cost.
It provides the HD audio and video calling and also supports the 49 videos on a single. Hence, best for huge gatherings.
Users can easily set and install the application in their devices, also meetings can be saved in local disk or to the cloud.
Even better, it offers a feature-rich free version to the users. And, it can accommodate up to 100 people for 40 minutes. In order to get the advanced benefits, you need to purchase a plan that starts from $14.99 a month to $19.99 a month.
BlueJeans
BlueJeans is a famous video conferencing platform for modern organizations. It brings video, audio and web conferencing together with the associated tools for every-day uses. It was founded in 2009 and has its headquarters in California. It is one of the first applications that connects the cloud service to desktops, mobile devices and room systems for video conferencing. It makes the video conferencing a fast and simple task for users that helps to work productively.
There are different options available to choose a plan. Likewise, the 'My Team' plan is available at $19.99 per month per host and it includes 10 hours of cloud meeting recordings, command center dashboard and up to 75 participants at a time.Next, the 'My Company' plans consists of all the features of the other plans and additional ones like- connection H.323//SIP room systems, room system calendar support and up to 150 participants.
Best Free Video Conferencing Applications
Zoom Meeting
While talking about the video conferencing software, Zoom Meeting surely is on many companies' lists. Zoom is a cloud-based video conferencing platform that is used for video conferencing meetings, audio conferencing, webinars, meeting recordings, and live chat.
The free version of this tool gives you the 40-minute limit on group meetings. Users can share multiple screens at the same time that makes it easy to work together remotely.
Read Also: Zoom Video Conferencing
Skype
Skype is quite a common name in the niche of video conferencing. It has been serving the users for a decade with its incredible features. This application can be used in a browser, and it allows users to use the application even without installing the app. This application can support the group video calling for up to 50 people. Moreover, you can invite people by using the email address.
Read Also: Know How to Make Skype Conference Call?
FreeConference
FreeConference simplifies the video conferencing for users by not requiring any additional software to support. It has plenty of features that allow you to take part in text or video chats and others. However, only 5 participants can take part in a video conference at one time, that makes it suitable for small business.
Google Hangouts
Google has plenty of messaging services and Hangout is one of them that offers a range of chatting options. Hangout is available for G Suite users and an effective application to meet the video conferencing requirements. Hangouts only allow 10 participants in video calls. It can be used in your browser, and with the application that supports the Chrome OS, iOS and Android.
Cisco Webex Meetings
Cisco Webex Meetings is one of the finest video conferencing solutions because of its free plan. It offers 1 GB of cloud storage and allows you to add almost 50 participants in one meeting.
Its real-time polling features make it even handier that helps you make an important decision while meeting. The Cisco Webex Meetings has been made with years of innovation to make video conferencing as simple as cake-walk.
---
Related Post