Top 23 Best Sports Streaming Sites of 2023 | Ultimate Guide for Free Live Sports Streaming Sites
Updated On September 29, 2023 | by Gaurav Kumar
Keeping pace with your favorite sport can be expensive, that's why we are here with the best sports streaming sites of 2023 to quench your thirst for a free sports streaming site. The sites mentioned in the list broadcast a wide range of games all around the globe, including college basketball streams, live football TV, etc. So it doesn't matter if you are a basketball, cricket, football, or soccer fan, the websites mentioned in the list cover them all. And to make sure you enjoy every exhilarating moment to the fullest, consider the role of the Best Laptops to Stream Sports.
Disclaimer: This article is for informational purposes, and we don't support piracy. Remember that streaming copyrighted content with free sports streaming sites is an offense in many states, so before using the free streaming sites please check the law in your state, otherwise, you may face legal sanctions. Furthermore, we recommend using a VPN as a safety measure while using the free sites.
Top Sites for Free Live Sports Streaming
Almost all cable and satellite television providers offer live-streaming of matches, but it's not necessary that you'll be able to make it to watch every match on TV. Furthermore, with the evolution of the entertainment industry many online streaming platforms like Sling, HULU, etc. also feature many live sports streams to facilitate streaming anywhere at any time, but their subscription price can burn a hole in your pocket.
The hefty subscription charges of online streaming services compel people to search for free sports streaming sites. But finding a website that streams live sports for free without violating copyright law is a tough nut to crack, and that's why we are here to ease this task for you.
Here's a list of the websites that stream live matches for free, however, some of them may violate the copyright law of some states, so it's better to check the law in your state before using them.
Let's quickly compare the best streaming service for sports websites through a table: –
| | | | | | |
| --- | --- | --- | --- | --- | --- |
| S.No. | Website | Ads | VPN Supported | Free Trial | Price |
| 1. | ESPN | Yes | Yes | N/A | Free |
| 2. | BossCast | Yes | Yes | N/A | Free |
| 3. | BBC iPlayer | Yes | Yes | N/A | Free |
| 4. | Facebook Watch | No | Yes | N/A | Free |
| 5. | CricFree | Yes | Yes | N/A | Free |
| 6. | Stream2Watch | Yes | Yes | N/A | Free |
| 7. | BufferStream | Yes | Yes | N/A | Free |
| 8. | FITE | Yes | Yes | N/A | Free |
| 9. | Sony Liv | Yes | Yes | 30 Days | $3.83 per month |
| 10. | Fubo TV | Yes | Yes | 7 Days | $64.99Per month |
| 11. | Vidgo | Yes | Yes | N/A | Free |
| 12. | FootyBite | Yes | Yes | N/A | Free |
| 13. | Fox Sports Go | Yes | Yes | N/A | Free |
| 14. | VIPRow Sports | Yes | Yes | N/A | Free |
| 15. | Batmanstream | Yes | Yes | N/A | Free |
| 16. | SportSurge | Yes | Yes | N/A | Free |
| 17. | Live Soccer TV | Yes | Yes | N/A | Free |
| 18. | Reddit Sports | Yes | Yes | N/A | Free |
| 19. | Laola1 | Yes | Yes | N/A | Free |
| 20. | Streamwoop | Yes | Yes | N/A | Free |
| 21. | Tubi | Yes | Yes | N/A | Free |
| 22. | Hulu | Yes | USA/Japan | 7 Days | $64.99 per month |
| 23. | Paramount+ | Yes | Yes | 7 Days | $4.99 per month |
ESPN
ESPN has the maximum number of sportstream from College Basketball streams to live Football TV, it has everything. This is one of the best streaming services for sports out there, but unfortunately, it's not completely free. You can watch some matches for free on Watch ESPN with the help of your login ID, but to get access to the exclusive content you need to get a subscription to ESPN+.
BossCast
If you are in search of free sports streaming sites, BossCast is the ideal option for you. BossCast features many national and international tournaments and matches, so if you are a true sports enthusiast, BossCast has a buffet of matches to choose from. They give vast coverage and almost cover all the major tournaments and matches, so here you can expect to find the stream you are searching for.
BBC iPlayer
BBC iPlayer is another celebrated name in the world of information and entertainment. We all know the BBC for broadcasting important news and events, but now it also covers games and sports events. You can watch free sports streams on BBC television channels without getting interrupted by advertisements. On top of this, it also allows you to download programs for offline streaming.
Facebook Watch
With Facebook Watch, Meta is all set to establish its foot in the video streaming industry. The social media giants have permission and authentication to stream various matches and sports events, which makes it the best free live sports streaming platform. Facebook Watch has college Basketball streams, live Football TV, Soccer live streams, etc. Really, you name it and they have it. This platform is perfect for hardcore sports lovers.
CricFree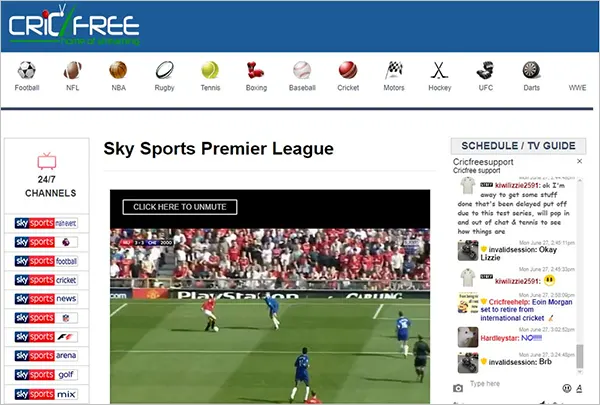 CricFree is another free sports streaming site that brings the best of the options to you when it comes to tournaments and leagues. As the name suggests, this website lets you watch many sports including Football, Rugby, Golf, Motorsports, Cricket, Basketball, etc. for free. However, you may see some intrusive pop-ups which can be really irritating, but as long as you are ready to bear those pop-ups, CricFree can help you stream all your favorite leagues and tournaments.
Stream2Watch 
Stream2Watch is another popular yet free sports streaming site that gathers streams from other websites. It features all the prominent leagues and games like Football, Basketball, Baseball, Soccer Reddit stream, Tennis, etc. Similar to other sites that embed matches from external sources, it also has some intrusive pop-up ads.
So you have to be very careful to not click on such pop-ups while watching a match on this website. This site doesn't have any authentication rights, due to which sometimes it gets offline, at that time you can use these Stream2Watch alternatives to follow your favorite matches.
BufferStream
BufferStream is a comprehensive sports streaming site that can help you find any sports league. This website is so vast that Crackstreams incorporated it after the ban. The incorporation of Crackstreams in BufferStream means that you can watch all the Crackstreams special shows on BufferStream.
With such a huge video database, this website is perfect for meeting all your game needs. However, if you don't want to use BufferStream for Crackstreams exclusive shows, you always have the option to move to the Crackstreams alternatives.
FITE
FITE is your one-stop destination for all kinds of games and fighting matches. It features Boxing, Pro Wrestling, MMA, Soccer, and many more tournaments for free. Besides this, it also has a huge video-on-demand gallery that allows you to watch your favorite show anytime and anywhere. This site is completely free and also supports replay, so you can watch your favorite Boxing or Wrestling moves as many times as you like.
Sony Liv
If you are afraid of legal sanctions and don't want to get in trouble for watching your favored match, Sony Liv is the best option for you. You can download the Sony Liv app on your phone and enjoy your dearest shows without getting fear of being caught. The Sony Liv has multiple entertainment options as it is a wholesome content package that has movies, series, sports, and everything in one place.
Fubo TV
Fubo TV is another classic name in the industry of free sportstream sites. It has a collection of all the major sports streams across the globe. You can install and watch Fubo TV on Samsung TV or any other smart TV to watch your beloved players on the big screen. This has one of the widest array of sports channels, so there's a high probability that you can find all your favorite games and events at Fubo TV.
Vidgo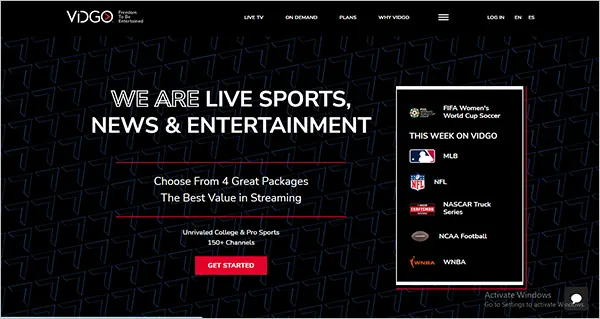 Enjoy 100+ channels of live sports and entertainment with Vidgo. On Vidgo you get to see the matches and tournaments from all the corners of the globe. This platform is bilingual and has plans in English and Spanish language. It brings a bumper package of games, entertainment, and news to your table. The wide entertainment collection of Vidgo will never let you get bored. And the best part is you can rewind and pause your favorite move as many times as you want on Vidgo.
FootyBite
FootyBite is another free sports streaming site that focuses on global coverage of Soccer games. Apart from Soccer, you can also enjoy other games like Cricket, Soccer Reddit stream, Football, Basketball, Rugby, Reddit college Basketball streams, etc. FootyBite is a free streaming website that doesn't need any subscription. It has a vast on-demand library that unlocks the door of unlimited matches and events for you. If you are a hardcore Football or Soccer fan, this website is definitely going to keep you occupied.
Fox Sports Go
Fox Sports Go is another cherished website that lets you enjoy all your beloved games for free. It's a premium site that allows you to add your favorite shows, players, teams, and news to your gallery. It's an authentic website and one of the ideal options for enjoying your favorite tournaments and matches without getting worried about piracy. This website features live-streaming videos, stories, news, the latest scores, and player profile.
To access your favorite content on mobile phones, you need to download the Fox Sports Go app. Both site and app are free, but you need to get a subscription in order to access the premium content of Hulu, Direct TV, Dish, Verizon Net TV, etc. You can enjoy the latest content by installing and activating Fox Sports TV on your entertainment station.
VIPRow Sports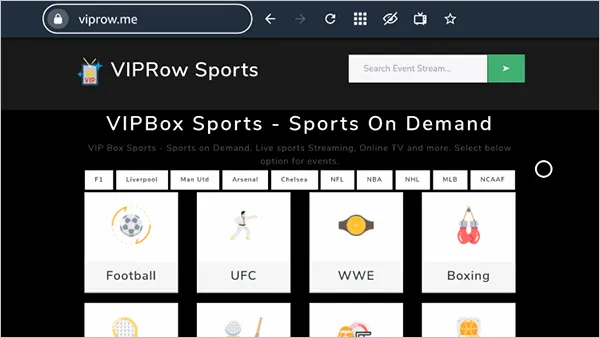 VIPRow Sports is the ultimate gaming treasure for all sports enthusiasts. This platform has the best video links that allow users to watch match videos in HD quality. You'll find multiple links to a game on this website, the administrators of VIPRow Sports do this on purpose, so that you don't miss your favored games and have a backup in case of a broken link. Enjoy the national and international games in HD quality with one of the best free sports streaming sites.
Batsmanstream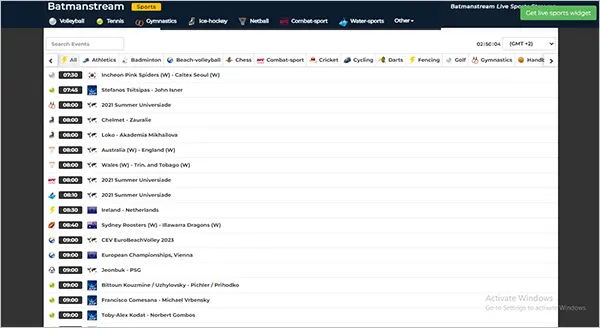 Batsmanstream is the ultimate website to get live links to sporting events. See this platform doesn't broadcast gaming events and matches, instead, it provides live links to those events and also lists sporting event schedules so that users don't miss any important matches. It has partner sites, and you can enjoy the content of those partner sites by clicking on any event link. So get, set, and enjoy your leisure time by watching live matches on Batsmanstream.
SportSurge
Enjoy all your loved players and games on Sports Surge. This platform has a comprehensive schedule of different games and leagues that lets you see current events and upcoming events. It has a simple-to-use interface that lets you watch all the sporting events in HD quality.
This website features multiple game events, a live schedule, and HD-quality videos. And the best part about using this platform is that it has minimum intrusive ads. However, this site can be offline sometimes due to technical issues, but worry not, you got the back of the Sports Surge alternatives at the time of trouble.
Live Soccer TV
Live Soccer TV is another champ of the sports streams that unlocks unlimited games and fun for free. Here you can watch Soccer Reddit stream, Rugby, Football, Basketball, etc. Apart from this, you can also get information about upcoming sports events on this platform. Live Soccer TV features sports news, tweets, events, major Soccer events, popular games, and updates about upcoming matches and leagues.
Reddit Sports
Reddit has everything, be it sports, memes, or entertainment. Reddit Sports is more like a sports news channel of social media. Here, users can freely post live stream highlights of a game. This platform covers all the major sports and leagues, including MLB, NHL, MLS, Soccer Reddit stream, NBA, Reddit college basketball streams, etc. Reddit Sports features games news, social sharing, and live stream highlights. On this platform, users can chat with each other and share their collective love and feeling for a particular game or player with others.
Laola1
Stay updated about your favorite match or game with Laola1. Being one of the best free sports streaming sites, Laola1 gives you access to live matches of Handball, Basketball, Hockey, Cricket, etc. Here you can also see other games-related channels and enjoy their content for free. However, this is a free website due to which it gets offline occasionally, in such case, you can stream sports on other famous sites like NFLBite or the alternatives of NFLBite.
Streamwoop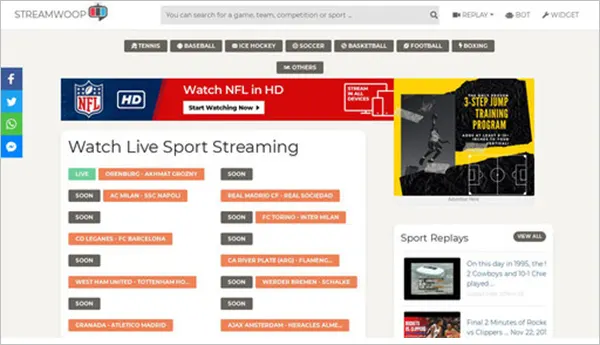 Streamwoop is among those few free live sports streaming platforms that cover all the major sports. It brings a variety of content for your entertainment and the best part is you can enjoy it without paying a single penny. This platform features live sporting links in HD quality, highlights, updates, and upcoming sporting events and matches. You can start and enjoy different matches and leagues for free with Streamwoop.
Tubi
Tubi is a largely admired online content streaming platform in the US. This platform has a beginner-friendly interface, and it works seamlessly on all devices. Tubi gives multiple entertainment options including movies, series, and games. The best part is this platform is completely free and safe. Yes, Tubi is a hundred percent legal website, so watching games on Tubi won't get you in any legal trouble. Therefore, you can enjoy all your favorite shows and matches in high resolution with Tubi.
Hulu
Hulu is another celebrated online streaming platform in the US, owned by Walt Disney and Comcast. Other than sports, this website has multiple entertainment options. Here you can enjoy movies, web series, drama, and games. It has 75+ live and on-demand channels for sports, so you can consider it a paradise for sports lovers.
All the major sports channels NFL, NBA, NHL, MLB, etc. are available on Hulu, you don't need to navigate to multiple sites or open different links in order to find your favored match. Hulu is not free, but if you want to remain safe while streaming and skip the hustle of searching HD quality links, Hulu is the best option available.
Paramount+
Paramount+ is the home to one of the largest content-streaming galleries. You can get all the trending matches, movies, and drama on Paramount+. Catch all the sports action along with highlights, unlimited replays, and expert analysis only on Paramount+.
Paramount+ is a channel that is available on DirecTV. You can enjoy watching the premium content of this channel if you know what channel is Paramount on DirecTV. Similar to Hulu, Paramount+ is also a paid platform, but yes it's worth investing in as it unlocks the doors of unlimited entertainment for its users.
So these were some online streaming sites for unlimited sports streams. You can use any of them to keep track of your favored game. Moving on, let's talk about the legal status of these websites in the subsequent section.
Are Free Sports Streaming Sites Legal?
Free sports streaming sites are pirated websites, so using them can put you in legal trouble. Different states have different regulations regarding piracy. Some states are liberal, while states have very strict provisions if caught for piracy. So we will suggest you check the legal provisions before using such sites for sportstream.
Furthermore, we also recommend taking caution by using VPN while using such sites. If you feel this site is not safe or a site appears to be illegal, don't use it. And most importantly, avoid clicking on the pop-up ads on free websites for safety reasons.
Final Words
So these were the best sports streaming sites of 2023. As mentioned above, using free streaming sites causes a violation of copyright laws. To avoid such violations, we will recommend you to opt for paid video streaming platforms or use authentic sources like FaceBook Watch, Tubi, etc. or you can use the VPN for being on the safer side.
---
Related Post