Know What WPS on Router Means, Its Function, Working Process, Pros and Cons, And Much More
Updated On May 18, 2023 | by Gaurav Kumar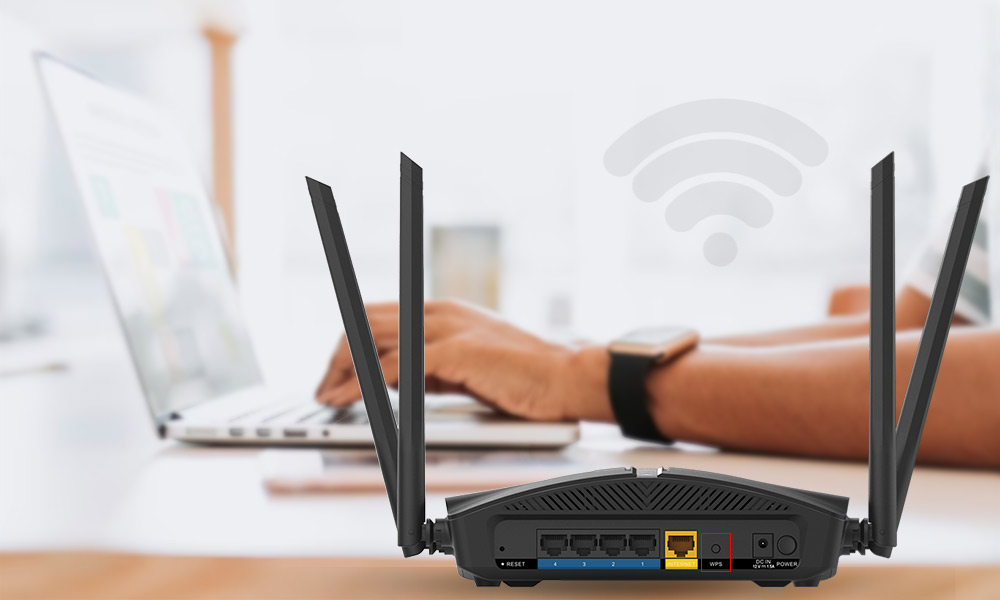 Don't get nervous if the term WPS is unfamiliar. However, you must know its essential information because it is an integral part of your router, and whenever you face any issue, you can troubleshoot it quite easily.
If questions are coming to your mind, say, what is WPS on a router, what does WPS mean on a router, what does WPS button do and much more, then relax because I will be providing all the required information for it chronologically. So let's stop the basic introduction here and jump directly into this insightful article to learn about WPS on routers.
What Does WPS Mean on My Router?
WPS (Wi-Fi Protected Setup) connects devices to a wireless network in a simplified way; hence, it is known as a network security standard. Using this, you don't have to provide long password keys. You can skip this step, undoubtedly, and add your devices to Wi-Fi networks quickly.
However, you have to remember that WPS has nothing to do with the Wi-Fi connection, as it is solely responsible for handling the transfer of connections between a router and a client device.
WPS was launched in 2006 by the Wi-Fi Alliance, and since then, almost every manufacturer producing Wi-Fi equipment has adopted the idea. Therefore, you can see how primary this feature has become today, as every wireless router has WPS on it.
What Does the WPS Button Do on a Router?
Whenever you are trying to connect any of your devices, including a smartphone, tablet, or laptop, to a Wi-Fi network, the correct password of the required network has to be filled in.
You can't skip it, as without a password, you can't access the Wi-Fi network at all. However, WPS allows you to connect to any wireless network without filling in the security password.
Therefore, using WPS, you will be able to simplify things to a large extent. Let's see how:
Simply move towards your router and press the WPS button on it. Doing this will turn on all the available new devices. Choose the name of your device and select the network which has to be connected.
Hurray! You will get your device connected automatically at the end.
The second method involves entering an eight-digit pin. You will find that Routers with WPS has an automatically generated PIN code on the WPS configuration page.
However, some specific routers that don't have a WPS button ask for that PIN code, and you are supposed to enter it manually. After you enter the code, the router will authenticate the device, and once it is completed, it will connect with the device through a wireless network.
What Does WPS PIN Mean on Router?
The WPS PIN is an eight-digit code that is either generated when the client is trying to connect his/her device to the router or when the router itself is managing the Wi-Fi network.
To understand it with an illustration, look at the screenshot of an ASUS below: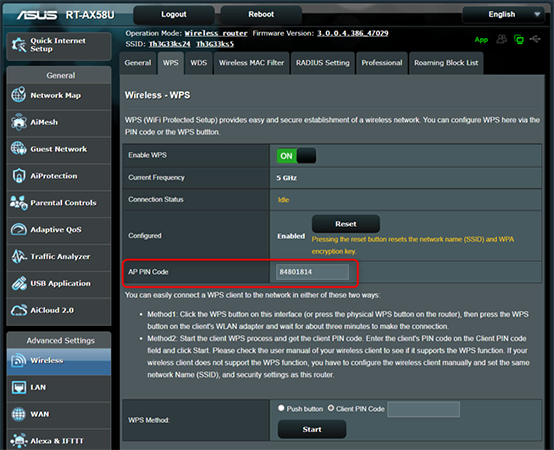 You can use the eight-digit PIN in the connection wizard of the device so that it can access Wi-Fi.
WPS Password Security Requirements
WPS (Wi-Fi Protected Setup) works for only wireless networks that need a security password and are secured with either WPA/WPA2 or WPA3 Personal security protocols.
It is not available for those wireless networks that don't favor WEP security. The reason is that these weak networks are straightforward to track for unauthorized hackers with a basic set of skills and tools.
Also Read: Online Data Protection: 6 Tips for Better IT Security
Where Can You Locate the WPS Button on Router?
According to the different models of the router, you will find that the appearance, size, and location of the WPS button vary. You can spot it quite easily on some specific models, as all you need to do is to look up the Burton labeled as, "WPS" and press it. While discovering, you will see it at the back of the unit.
Remember that you won't always find WPS in written form. Instead, you will see the "WPS symbol." Its symbol is two arrows pointing to each other in an oval shape. Alternatively, some models use another term, "Wi-Fi Protected Setup," and it is nothing but the full form of "WPS."
Every form of WPS will work in the same way as the regular WPS button does. Therefore, don't mind if you find your WPS label different from normal.
How to Connect WPS on Router to the Wi-Fi Network?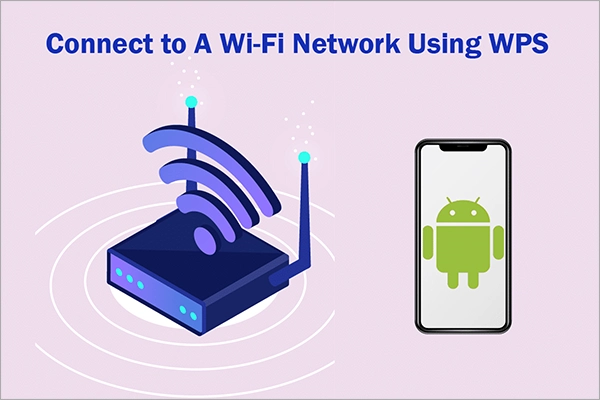 Now, one thing to note here is that not all Wi-Fi devices can connect with WPS. Those designed before the introduction of WPS can't get into the mechanism; hence, only modern-day devices can relate to it.
You will know automatically whether your device is compatible with WPS or not. If you can connect your device with WPS, you are all set to go; if the opposite is the case, you can't proceed further.
Yet, I am assuming that your Wi-Fi device supports WPS. To know how you can connect WPS on a router to the Wi-Fi network, go through the below-mentioned steps:
Select the router that you want to connect with your device.
Move towards your router and press the WPS button.
Doing this will allow the router to search for the devices around it, and sooner or later, it will locate yours and connect with it without even asking you to enter a password.
Is WPS Button on Router Secure?
The actual answer depends on the exact location of your router. Suppose you are suspicious of any intruder and think that the unauthorized user may attack your router using the WPS button of your router on your network.
In that case, it's high time that you take some action to configure your router's settings and disable the WPS button.
However, let's assume you want constant visitors after a set of intervals and want them to connect with your Wi-Fi. Herein, it would be better to arrange a separate guest network to be used by them. In this way, users can connect to your web connection quickly without compromising the privacy and safety of your network.
Note: The sole function of WPS is to get new devices online and nothing else. After the devices are connected, there seems no point keeping the WPS button active.
Advantages of WPS
Using WPS to connect devices to the Wi-Fi network will reap numerous benefits. Read the following points, and you will know how beneficial it is:
It's processed quickly, especially when you just have to use the WPS button on your personal device and the router.
The process is extremely straightforward, as you don't need any specific technical skills. Merely pressing the WPS button on both the client device and the router will get your aim accomplished.
Almost every router and networking device supports WPS, and hence it has relatively large support. Besides, you will be glad to know that all the major operating systems, say Windows, Linux, and Android, support WPS and thus help establish instant Wi-Fi network connections.
Disadvantages of WPS
Apart from advantages, you can see that there exist some significant downsides to WPS as well. Let's see what are those:
It's not completely secure: You will find that PIN-based WPS connections are extremely vulnerable to cyberattacks. Therefore, it becomes quite easy for any fraudster to gain access to these WPS-based Wi-Fi networks.

Anyone can start using WPS to connect with your network, and thus your consent seems of no significance. If you plan to take advantage of WPS, also make sure to take care of your Network Vulnerabilities so you are safe from any Cyberattacks.
You can't connect your Apple devices to WPS: Let's say you have an iPhone, iPad, or Mac. Herein, WPS won't support you to connect with Wi-Fi.
Do you know why? Because Apple is excessively cautious of its privacy policy and since WPS lacks enough security, Apple doesn't support any of its products. While this may not be such a big problem, it will limit what users can do with their Apple devices. Doing advanced tasks like casting Apple TV to Chromecast or other devices won't be possible.
Should You Turn WPS On or Off?
You will find most of the routers already have WPS enabled to make it easy for users. They can set up their network quickly and connect their devices to Wi-Fi.
Thus, after setting up the network and adding all the required devices to the Wi-Fi network, you can turn the WPS off as it will secure privacy, and no third party or unauthorized user will be able to access your network. It will be good if you disable your WPS button on your router then.
Conclusion
In conclusion, WPS seems a quite convenient way to connect devices to the internet. Using it, you can allow others to access your network without requiring them to enter the credentials.
At first glance, the idea appears extremely wonderful. However, the process is open to security issues. Due to its feeble design, it can be easily attacked by unauthorized users. To remain on the safe side, you must turn your WPS off after the devices get a stable connection. Doing this will prevent the possibility of dangerous security breaches.
FAQs
Q. What will happen if I press the WPS button on my router?
Ans. Once you press the WPS button on your router, it will establish a connection within a few minutes.
Q. What is the full form of WPS?
Ans. The full form is Wi-Fi Protected Setup (WPS).
Q. How is WPS different from the Wi-Fi button?
Ans. The WPS is not responsible for the Wi-Fi connection. Likewise, WiFi is. However, WPS manages the data properly that is to be transferred between the router and the client's device.
Q. How can I turn off the WPS button?
Ans. Visit a web browser on your device.
Sign in to the Admin console using your credentials.
Click on: "Advance Setup >> Wireless Settings."
Locate the head "Wi-Fi Protected Setup Settings," and check the option under it that says, "Disable Router's PIN."
To save your changes, click on "Apply."
Sources:
---
Also Read:
---
Related Post