How to Use Chromecast Without Wi-Fi? [5 Best Ways]
Updated On March 22, 2023 | by Sejal Mehra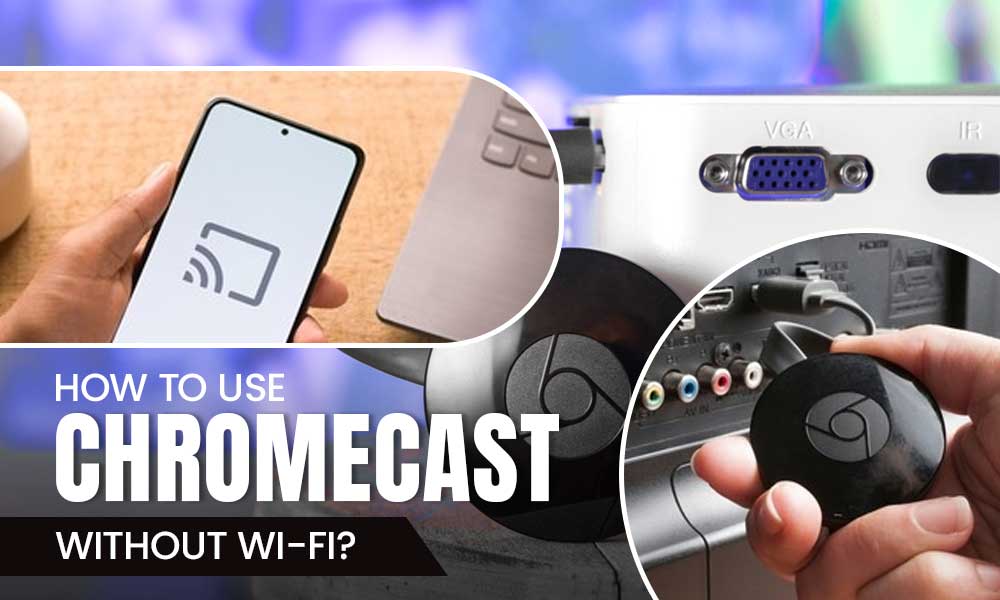 Don't have a Smart TV but want non-stop entertainment on your television? The Chromecast device can be your best friend. With a Wi-Fi connection, HDMI port, and a phone, you can turn your TV into a Smart TV using a Chromecast device. But what if your Wi-Fi does not work, or you are traveling? Well, the good news is that you can still set up Chromecast without wifi. There are several ways to use it without the internet, which you will learn from this blog. Keep on reading to understand different methods to connect to Chromecast without Wi-Fi.
But first, let's answer the question that is asked often – can Chromecast be used without Wi-Fi?
Can You Use Chromecast Without WiFi?
Yes, you can definitely use Chromecast without WiFi. You are unfamiliar with this because you usually connect Chromecast with WiFi due to its strong internet connectivity. However, if your Wi-Fi connection is spotty or your Wi-Fi is not working. You can still connect to Chromecast. Refer to the next section to know all the methods of how to set up Chromecast without WiFi.
How to Setup Chromecast Without WiFi?
Setting up Chromecast without WiFi is easy. In fact, there are numerous methods that you can choose from. Let's go through each of them.
Mirror an Android Device
You can mirror your tablet, phone, or laptop without Wi-Fi. Google states that in this method, Chromecast requires a host and the host doesn't need to connect to the internet.
You require Two devices, one for setup and one for WLAN, that are to be used to configure the Chromecast at home with an internet connection. Now turn on your smartphone's hotspot to a second device (a Laptop, tablet, etc.), configure Chromecast using the second device, and then turn off the second device. The Chromecast is now set up to connect to the hotspot (WLAN) on the phone.
The TV will report that the internet connection has been lost when using the pre-configured mobile hotspot to connect to the Chromecast while on the go. Ignore the alert and choose Mirror from the Home app on your smartphone and follow the steps listed below to mirror your Android phone to Chromecast:
First, unlock your Android device and go to the Google Home App.
Then, click on the three horizontal lines in the top right corner of the Google home app.
Tap on Cast Screen/Audio.
Choose your Chromecast name to connect and that's it, you can play whatever you wish to.
Mobile Hotspot
Another method for this is by connecting chrome to your phone's hotspot. This way, your mobile phone will act as your Wi-Fi device.
As you know, while traveling you can never access stable Wi-Fi connectivity, the only option you will be left with is connecting Chromecast using a hotspot or hotel, or any store Wi-Fi. However, a phone hotspot is a better and safer option to consider.
iPhone Hotspot to connect Chromecast without WiFi iPhone
In order to set up a Wi-Fi Hotspot on an iPhone, follow the steps given below:
Open the Settings application and go to the Personal Setting section.
Turn on the button to invite Chromecast devices.
Now choose Google Chromecast from the list of devices.
You can then broadcast to your TV once the Chromecast is connected.
If you have a Chromecast with Google TV, you can stream content straight from it by connecting it to a Wi-Fi hotspot.
Connect Chromecast without WiFi Android Hotspot
Android users can follow the steps that we have listed below to turn on their mobile hotspot to connect Chromecast without WiFi:
Open the Settings application.
Navigate to Other Wireless Connections.
Then click Personal Hotspot.
Toggle the Personal Hotspot button to the right.
The hotspot feature can be turned on and off using the options on this screen. You can also modify the network name, security level, passcode, and other things.
You won't be able to use Chromecast with a mobile hotspot if it lacks stable network connectivity. You can however choose to connect to Chromecast in Guest Mode.
Guest Mode
Google recently added a Guest mode option that lets Chromecast connect with another casting-capable device without any internet connection.
Basically what it says on the device box is that Chromecast Guest mode without WiFi causes your Chromecast device to release its own Wi-Fi beacon when activated. As a result, visitors can use an iOS or Android device to connect to the Chromecast without using the host's Wi-Fi network or having their password. The only problem here is that guest mode cannot be activated unless the host is connected to their Wi-Fi network.
If you're the host and haven't turned on guest mode, and suddenly you discover yourself without Wi-Fi, it can show an error in the Chromecast's connection. However, you can use a second device and connect to the internet via mobile data, a different phone's hotspot, or a different Wi-Fi network if the guest mode is already enabled on your main device.
Follow the instructions we have written below to connect as a host or guest to the Google home app:
Instructions for the Host
If you are the host, then you need to enable guest mode on the device to connect to Chromecast. You only need to do it for the first time to enable the guest mode of the Google Home app.
Follow the steps we have written below to do the same:
First, open the Google Home app and then choose your device.
Now, go to the settings section in the top right corner of the page.
Choose Recognition and Sharing from the given menu.
Here, tap on Guest mode and toggle the button to the right to turn it on.
Instruction for Guest
In case you want to connect to the host, then follow the steps given below to do so:
Unlock your Android device and go to the Settings section.
Tap on Google, then click on the devices and sharing tab.
Here, select Cast options and lastly tap on Guest Mode.
Now, open any Chromecast app, tap on the Cast icon, and search for nearby devices.
Select your device name and enter your PIN.
You will be able to stream whatever you want within a few seconds.
If you find using Chromecast Guest mode without Wi-Fi a bit difficult, you can move to the next method.
Connect Chromecast with Travel Router
You can also use a 3G/4G/5G portable router as your hotspot. These are small and easy-to-carry routers, providing secured network connections to the connected devices.
Using Google Home and your smartphone, connect the Chromecast to the hotspot. Then, connect the Chromecast to the tablet, laptop, or smartphone that you want to use with it.
Portable routers are also known as Pocket routers. When used as the internet source or WLAN network, they provide the Chromecast device with genuine and stable internet as an alternative Wi-Fi source. When your Chromecast is unable to connect to a dedicated internet connection, such as hotel Wi-Fi or office Wi-Fi, then you must find solutions to fix the Wi-Fi issues and in the meanwhile, you can utilize pocket routers in such situations.
Ethernet
If your Wi-Fi link is poor, you should consider switching to an Ethernet connection, or you can even consider buying a Wi-Fi extender and placing it at your home for better Internet coverage. Your Chromecast experience will be more fluid and your internet speed will increase. You will require an Ethernet connection and a Chromecast Ethernet adapter for this.
To use Chromecast with a wired internet connection rather than Wi-Fi, follow these instructions.
Connect your Chromecast to your TV's HDMI Port with an Ethernet adapter cable.
Now, connect your Ethernet cable to the router with an internet connection and plug the Ethernet wire into the Chromecast Ethernet adapter.
Lastly, plug your Ethernet adapter into the power outlet and switch it on. Now, cast the google-cast app on your device and start streaming.
Final Words
Chromecast is a very popular and easy-to-use device but fixing the problems may not always be simple. You need a Chromecast device and internet connectivity to stream your favorite shows via Chromecast. However, there may be times when you may not have access to Wi-Fi. In those situations, you can try different methods that we have discussed in this blog.
Frequently Asked Questions
Q. Does Chromecast Work Without WiFi?
Ans. Yes, you can use Chromecast without Wi-Fi. The most popular alternative is choosing to use guest mode with the Google Home app, or you can also use an Ethernet cable and mobile hotspot.
Q. Is Setting Up Chromecast Without WiFi Easy?
Ans. Yes, you can easily set up Chromecast without Wi-Fi. You might need a few extra things to do so, like an Ethernet cable for a wired internet connection and a second device for a mobile hotspot.
Q. How to Cast Without WiFi?
Ans. You can use the screen mirroring option for setting up Chromecast without a Wi-Fi Android device. You can even connect to a wired internet connection or use a pocket router to cast without Wi-Fi.
---
Related Post