3 Critical Elements of Data Centre Management
Updated On April 27, 2023 | by Gaurav Kumar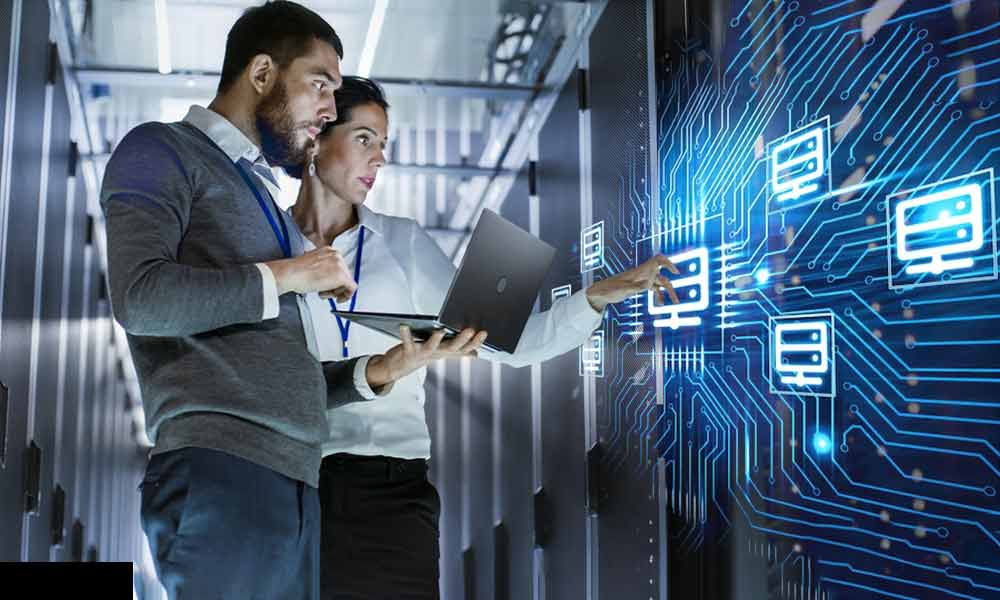 In a world that revolves around the internet, individuals and businesses have come to rely on online data storage. As of 2022, a whopping 94% of enterprises use cloud services.
In fact, data centres storing 'the Cloud' have taken such precedence over data storage that they currently use 1% of the world's energy usage. This figure is expected to rise rapidly over the coming years, a worry when it comes to the environmental impact data centres already make.
IT management software can monitor servers but doesn't look into power usage or cooling processes. Inventory management systems are great to keep track of assets, but what about asset capacity? Change management systems will give you the location and details of your servers, but lack the ability to offer any real insights. And application monitoring systems do what's on the label – they simply monitor.
To run a data centre effectively and efficiently, and counteract negative energy and environmental implications, you need a system that incorporates all data into a single platform. The answer? Data centre infrastructure management (DCIM) tools. After a shaky start, with clunky interfaces and problematic integration, next-generation DCIM has come a long way and is now changing the game for data centre management.
So, let's review the three key elements of DCIM and how together they can optimize an entire data centre environment. And what happens when you introduce next-gen DCIM?
Monitor Your Data Centre Assets
Metrics used to monitor energy usage such as PUE (Power Usage Effectiveness) provide some useful data but it's simply not enough to accurately capture the complexities of the whole data centre environment.

DCIM software offers full visibility of your critical data centre space. Before DCIM, data centre managers used limited software or even spreadsheets to monitor their assets – an outdated, slow, and inaccurate method.

With DCIM's capability to collect and maintain asset data to gauge the performance of each and every individual server and component in a data centre, operations are transformed, with automated alerts meaning data centre managers are able to act fast and solve issues before they grow into disasters. In short, proactive monitoring results in corrective action being taken immediately and a reduction in expensive downtime.

With essential insights into how the infrastructure is being used and accurate data on the performance, capacity, and efficiency of each asset, strategic decisions can be made and complete accountability can be maintained.
Analyze the Collected Data
So, you've got all your data. But what does it really tell you? How can it help you transform and optimize your operations?
The key to having all this important data to hand, from power capacity and temperature to humidity and cooling, is knowing how to analyze it. You don't need a statistics degree either, as DCIM software does most of the work for you and offers detailed analytics and reporting capabilities.
DCIM ties together diverse data into a single analytics environment, offering the opportunity for optimization in all operational aspects. Having a complete picture allows for quick decisions to be made regarding everything from idle and obsolete servers to over-cooled racks – providing great potential for huge energy and money savings!
Planned, preventative maintenance (PPM) tasks against assets are made quick and easy with the integration of data such as asset life expectancy details allowing maintenance routines to be set up and managed, with no room for error.
Visual reports and dynamic dashboards highlight real-time capacity, allowing for outages to be predicted before they even happen. Whether you need to analyze utility capacity, space capacity, or utilization of assets, DCIM can provide the critical details, enabling a complete overview for effective data centre management.
Optimize Your Data Centre Space
What are the results of monitoring and analyzing the data collected by DCIM software? The third phase of DCIM – data centre optimization.
With full and accurate insights into resource capabilities, data centres can effectively plan and utilize all assets. Whether that's enhancing cooling or guaranteeing maximum uptime, DCIM optimises ever-increasing demands on data centres and ensures that all components work seamlessly together for maximum efficiency.
Taking back control over uptime, cooling, energy usage and more allows for the potential of massive savings when it comes to reducing energy bills, boosting profits, and reaching those all-important environmental net-zero goals.
Future-Proof your Data Centre with Next-Gen DCIM
Traditional DCIM is known for its inaccurate data, offering basic asset management capabilities and flawed visibility, resulting in delayed recovery times and downtime disasters.
Businesses using outdated DCIM may actually be vastly underestimating the quantity and quality of their assets, by as much as 60%.
With the rapidly rising demand for data these days, traditional DCIM just doesn't cut it anymore. Now is the time to future-proof your data centre with next-gen DCIM.
Assetspire's DCIM is the latest, innovative software that is lightyears ahead of overpriced and outdated alternatives. Gain immediate visibility of all your data centre's assets with real-time insights into capacity, power, and cooling performance.
Cloud-based functionality, superior operations monitoring, and enhanced risk management combined with smart application and dynamic dashboard panels, Assetspire's DCIM hands back complete control over your data centre space.
Assetspire's DCIM software solution offers full flexibility, full integration with your existing systems, and on-point, fully accurate data when and wherever you need it. Optimise and future-proof your data centre today for a more energy and cost-efficient tomorrow.
---
Related Post