Sling Vs. Hulu – Which Online Streaming Platform is Good for Consuming Content?
Updated On June 8, 2023 | by Gaurav Kumar
'When people have too many choices, they make bad choices.'
The above saying by Thom Browne fits perfectly in the present context of the multiple choices that people get when selecting a streaming platform. Currently, Hulu TV and Sling are the two best options among the renowned live TV streaming services. If you are planning to cut the cord and get a new Live TV streaming service, this Sling vs Hulu comparison will definitely help you make the right decision.
Basic Difference Between Hulu + Live TV and Sling TV
Both Hulu and Sling TV are streaming devices that offer a selection of Live TV channels, but they differ in many aspects.
Hulu is not just a mere live TV streaming service but a subscription-based video-on-demand service. It is more like online streaming platforms such as Netflix. Hulu provides the option of Hulu + Live TV, which allows users to access on-demand stuff from regular Hulu and live-streaming channels in one place.
Sling TV is really focused on live TV with little on-demand content. Unlike Hulu, where you get a bundle of channels, Sling TV allows users to select and trim out unwanted channels. Sling TV is way more customizable as compared to Hulu TV and other available streaming services.
Verdict – Though Hulu provides the on-demand streaming option and live-streaming channels, it doesn't allow users to select the channels. So here, Sling TV gets an advantage because it's comparatively more customizable in terms of selecting channels.
Key Specifications of Sling TV Vs Hulu TV Live
In the debate of Sling vs. Hulu, it's hard to decide which one is the best because they both are the biggest live-streaming TV services. The key specifications between the two can help you better understand Sling TV vs. Hulu Live differences.
| | | |
| --- | --- | --- |
| Differentiating Criteria | Hulu + Live TV | Sling TV |
| Number of Live TV Channels | 85+ | 32-50 (depends on the plan) |
| DVR Storage | Unlimited | 50 hours |
| Ad-Free | Yes but only for on-demand content | No |
| Simultaneous Streams Allowed | 2 (You can also opt for unlimited screens) | Depends on the base plan |
| Local Channels | Yes | Yes |
| On-Demand TV Movies and Shows | Yes | Yes |
| Offline Streaming | Yes | No |
Verdict – Though Sling is good, here Hulu has the upper hand due to the unlimited DVR storage, offline streaming, and ad-free content. Now let's compare the price between Hulu Live vs. Sling and see which is more affordable.
Price Comparison Between Hulu Live Vs Sling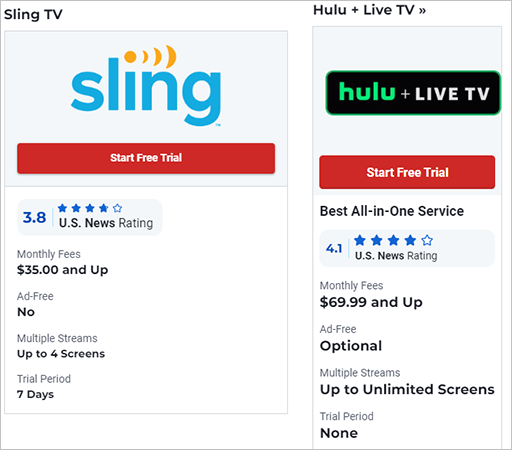 The price of the streaming service is another deciding factor in the Hulu vs. Sling discussion. So, let's compare the price between the two to see which comes easily into the budget of viewers.
Price and Ratings
| | | | |
| --- | --- | --- | --- |
| Streaming Service | Price | Rating (U.S. News) | Trial |
| Sling TV | $40.00 to $55.00/month | 3.8 | 7 Days |
| Hulu + Live TV | $69.99 to $75.99/month | 4.1 | No |
Undoubtedly the price of Sling is lower as compared to Hulu + Live TV, which is a plus point for it, but shockingly the reports show that Hulu + Live TV has more users than Sling TV.
Hulu has gained 48 million subscribers; meanwhile, Sling TV only has 2.3 million subscribers at the end of 2022. The gap between the figures clearly shows that Hulu + Live TV is the popular choice.
Verdict – The subscription fee of Sling TV is low, still Hulu + Live TV has more followers as compared. So, we can conclude that regardless of the prices, Hulu + Live TV is the popular choice.
Hulu Vs Sling- Which Provides a Better Channel Lineup?
With the growing popularity of Sling and Hulu, many people are curious to know who provides a better channel lineup. The channel lineup will provide better insights into the Sling vs. Hulu discussion.
Here we will only cover the channels that don't need any additional hardware or add-ons. It's because the additional hardware leads to extra cost, which ultimately rules out the sole purpose of switching to an OTA (Over-The-Air) live TV setup.
1. Network
Hulu + Live TV covers major broadcast networks such as FOX, NBC, CBS, ABC, Telemundo channels, and many more. In contrast, the coverage of Sling TV is less impressive as it doesn't offer any CBS or Telemundo broadcasts.
2. Sports
Hulu + Live TV is a paradise for sports lovers as it provides ACC Network, ESPN, ESPN2, ESPN3, ESPN College Extra, ESPNews, ESPN Goal Line, ESPN Bases Loaded, ESPNU, BTN, CBS Sports Network, Olympic Channel, SEC Network, NBC Sports Network, SNY, YES, Golf Channel, FS1, FS2, and many other NBC-owned RSNs. Earlier Hulu + Live TV also included the Fox-owned RSNs, but unfortunately, it no longer offers the same.
The sports coverage of Sling TV is mundane because it only features ESPN, ESPN2, ESPN3, NBC Sports Network, Stadium, and FS1. Similar to Hulu, Sling also doesn't include the Fox-owned RSNs.
3. News
There are 10 news channels offered by Hulu + Live TV that include ABC News Live, CNN, CNBC, CBSN, Cheddar, FOX Business, CNN International, FOX News, MSNBC, and HLN.
On the other hand, Sling TV provides BBC America, Local Now, Bloomberg Television, and Newsy, which are missing from the Hulu network. However, Sling TV also has some notable news omissions, including CBSN, CNBC, CNN International, FOX Business, and ABC News Live.
4. Family and Kids
Both Hulu and Sling TV have major family-friendly channels like Disney Channel, Cartoon Network, Discovery, National Geographic, and Freeform. Additionally, Hulu also includes Animal Planet, Disney Junior, Boomerang, Disney XD, Smithsonian Channel, National Geographic Wild, and Universal Kids, which are missing in Sling TV. In contrast, Sling TV includes Nick Jr., which is missing on Hulu.
5. Weather
The subscribers of Hulu + Live TV also get a weather channel. Hulu allows its users to activate weather channels to get news and updates related to daily weather. Sling TV has WeatherNation for weather-related news and updates.
6. Entertainment and Lifestyle
Hulu + Live TV has A&E, Cozi, E!, FX, Bravo, FXM, Lifetime, History, FXX, HGTV, MotorTrend, Food Network, National Geographic, NASA, ID, National Geographic Wild, Oxygen, TNT, SYFY, TLC, TBS, truTV, Pop, USA, Turner Classic Movies, and Vice in its package.
Sling TV has almost all the entertainment and lifestyle channels that Hulu has except Coxi, Bravo, FXM, NASA, Oxygen, Pop, FXX, and Turner Classic Movies. It also features some additional channels such as AMC, Comedy Central, Comet, AXS TV, Epix Drive-In, Paramount Network, and Fuse.
Our Verdict – Hulu + Live TV is the undisputed winner of this Sling vs Hulu discussion in terms of offering channels, as it offers more than 85 channels which is higher than Sling TV.
Channel Add-Ons on Sling Vs Hulu Live
Sling TV offers a vast number of add-ons depending on your subscription. For instance, you will get more add-ons if you subscribe to both Sling Blue and Sling Orange. Sling gives a choice between popular channels like Sports Extra, Comedy Extra, News Extra, and many more. Besides this, every package except the Sports Plus costs an additional $5 per month.
You can get add-ons of premium channels like HBO Max, Showtime, Cinemax, and Starz Premium, along with two package add-ons Entertainment and Español, on Hulu + Live TV. You will be charged an extra $7.99 every month for the entertainment package and $4.99 per month for the Español package.
Verdict – In the Sling TV vs Hulu Live battle for channel add-ons, Sling TV is the victor because it has more channel add-ons that too at less price.
On-Demand Content Library of Hulu TV Vs Sling
The majority of live TV streaming services provide on-demand content from the channel lineups to allow users to watch a movie or series on-demand for some time after it airs. Hulu + Live TV and Sling both provide on-demand content.
Hulu has some advantages over Sling because it has a huge on-demand library of movies, TV shows, original productions, and Sci-Fi titles. The extensive library of Hulu includes animations, comedies, dramas, and many more. However, if you are looking for a particular channel, you should search whether Sling or Hulu has it, if yes, you should subscribe to that channel.
Verdict – The extensive content library that has original productions of Hulu makes Hulu + Live TV better than Sling. Here I will suggest you not to expect the same quantity from the Hulu originals that Netflix and Prime Video provide.
Sling Vs Hulu Live – Do They Provide Free Trials?
Earlier, both Sling and Hulu used to offer free trials but now free trials are not available in either of them. Hulu + Live TV doesn't entertain free trials at all. However, Sling TV allows users to pay just half the price of either Sling Blue or Sling Orange for the first month instead of free trials.
Verdict – Sling or Hulu doesn't avail of the option of the free trial, so it's a tie between them.
Now, you must be thinking that if Sling doesn't provide free trials, what is Sling Freestream?
What is Sling Freestream?
Sling Freestream is a free ad-supported TV service that has 270+ live channels and 40,000 on-demand movies and shows. People can stream the content of Sling for free on Sling Freestream just by navigating to the Sling Freestream website.
Freestream is the redefined version of Sling Free and is different from the paid version of Sling in several terms. I have compared Sling Freestream with my paid Sling account to compare how Freestream is different from the paid version.
| | | |
| --- | --- | --- |
| | Sling Freestream | Sling TV |
| Subscription Fees | Free | $40/mo. Sling Orange$40 to $45/mo. Blue and $55 to $60/mo. Both Blue and Orange |
| No. of Channels | 210+ | 32 (Orange), 42 (Blue), and 48 (Blue and Orange) |
| Free Trial | Not Applicable | No |
| Local Channels | No | Yes |
| DVR | No | 50 hours |
| Ads | Yes | Yes |
The Sling TV is a streamed-down version of regular cable TV. That's why it also has commercial ads. I was able to skip the commercial ads of the paid version of Sling TV with the help of a cloud DVR. What I usually do is record the entire show on cloud DVR and then fast-forward the commercial ads.
Getting back to the discussion of Sling vs. Hulu, let's compare the streaming experience and DVR between them and see who provides better streaming and DVR.
Streaming Experience and DVR of Sling Vs Hulu Live
Hulu's live TV and streaming library supports streaming movies and shows in high definition (HD) qualities, such as 1080p and 4K Ultra HD, at
60 frames per second (FPS). Contrary to Hulu, Sling TV streams movies and shows at 720p, 4K, and 60 FPS.
The cloud DVR of Hulu + Live TV allows its subscribers to record unlimited news, sports, events, shows, movies, etc., as long as they have subscribed to it. Sling TV provides 50 hours of DVR storage which cannot be increased.
Verdict – The unlimited DVR and ultra HD streaming experience make Hulu an incontestable champ of the Hulu Live TV vs Sling debate about streaming experience and DVR.
Sling or Hulu, Which Platform Produces Original Content?
Hulu + Live TV produces original content and has 60+ premium comedies, dramas, shows, documentaries, movies, etc. However, the quantity is not similar to Netflix, but the video quality is superb. Sling, on the other side, doesn't produce any original content because it's more like an upgraded version of cable or satellite TV.
Verdict – Sling doesn't produce original content, which gives an extra point to Hulu Live TV.
Advantages and Disadvantages of Sling and Hulu Live TV
To get a broader view of the Sling vs. Hulu discussion, let's see their pros and cons.
Advantages:
Hulu + Live TV
Sling TV
Unlimited Cloud DVR.
Extensive content library.
Available on almost every streaming device.
Vast live TV channel lineup.
Disney+ESPN bundle gives access to Disney shows also.
Produces original content.
Approximately 85+ live channels.
The ad-free option is available.
Easily customizable and allows you to create your ideal streaming package.
Comparatively more affordable than Hulu + Live TV.
Half price during the first month.
Good channel selection.
Movie rentals are available.
Sling Freestream.
Disadvantages:
Hulu + Live TV
Sling TV
Almost all the base on-demand plan has ads.
Requires a premium account for offline downloads.
Misses some good quality NFL and soccer channels
Doesn't provide a free trial.
After nine months, the recording automatically expires.
No option to remove ads
The price kept on increasing
Offers limited local channels and regional sports networks.
No free trial is available.
Sling Vs Hulu – Who Wins the Battle?
Let's wrap up the discourse on Sling TV vs. Hulu Live and see who is the final conqueror in battle.
If you ask about my opinion, I will say Hulu is better. I started my live TV streaming journey with Sling because it was the talk of the town; later on, I switched to Hulu + Live TV because it has more options and unlimited DVR.
Both Hulu and Sling TV are versatile and different from each other, so deciding on one is quite subjective and difficult. But yes, they are good options for live TV streaming if you are bored with cable TV and wonder how long until streaming takes over wired cable TV.
Hulu + Live TV is undoubtedly good for binge-watchers like me because it has an extensive content library, live channels, a Disney bundle, a local network, and original programming. However, if you are looking for a more customizable option that allows multiple streaming at a lesser price, Sling TV is best for you.
Frequently Asked Questions
Q. Is Sling TV Live?
Ans. Yes, Sling TV is a live TV that offers live TV streaming services at a lower price than other cable TV alternatives.
Q. What is Sling Free?
Ans. Sling Free is the alternative name for the Sling Freestream. It allows users to stream 150+ live TV channels and 40,000 on-demand movies and TV shows.
Q. Does Sling have Live TV?
Ans. Yes, Sling has live TV in fact, it is the first app-based TV streaming service that offers live television and on-demand content over the internet.
Sources
---
Also Read:
---
Related Post