A 101 Guide on What Channel is FS1 on DirecTV
Updated On August 16, 2023 | by Gaurav Kumar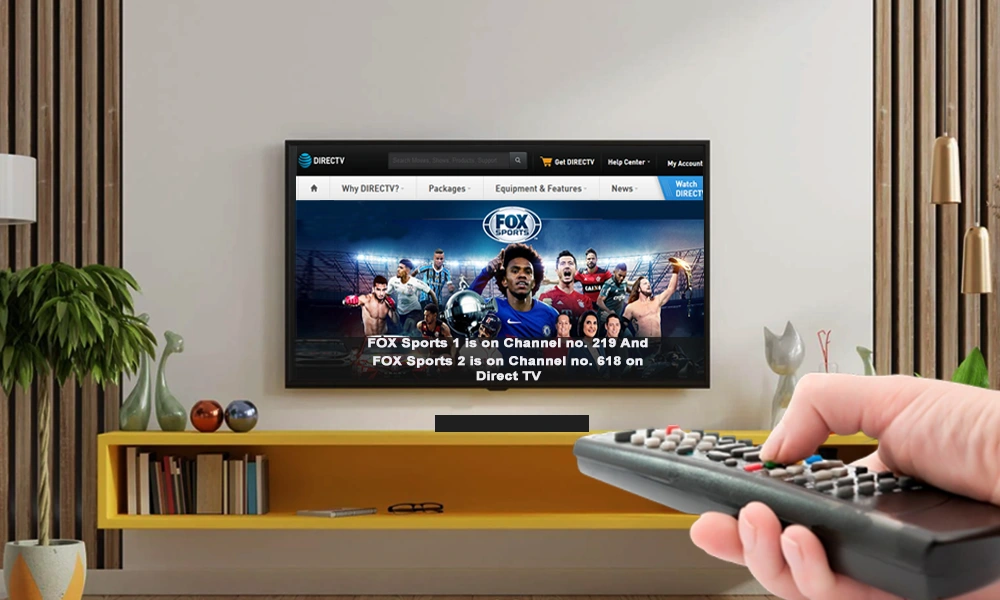 Finding a reliable sports channel that gives precise highlights of events and matches is definitely a tough nut to crack.
There is no shortage of sports streaming sites, take the example of Methstreams and its alternatives, while these sites are good, they aren't legal. Luckily, our generation has Fox Sports, which gives live updates about the scores and other things happening during the match. And the best part about this Network is that you can stream its popular channel, FS1 on DirecTV and other sports networks.
In the article today, I'll be explaining to you how you can stream this network on DirecTV and what channel is Fox Sports on DirecTV. So buckle up to witness NFL Draft, NCAA Championships, and other sports leagues on FS1 DirecTV channel lineups.
Is Fox Sports Available on DirecTV?
Fox Sports is a popular sports network that has an average of 273 thousand viewers in 2022. This network has FS1 and FS2 as its focal channels and is widely appreciated for featuring sporting events. With its comprehensive sports coverage, the channels of Fox Networks are warmly welcomed by many renowned streaming networks, including DirecTV.
Being a sports enthusiast, you'll be content to know that FS1 is a part of all the DirecTV plans because it airs all the mainstream sports matches and events.
However, you'll need to subscribe to the ultimate channel package of DirecTV in order to stream the FS2 channel. Simply put, you will get the FS1 channel even if you get the lowest tier package that costs $65 and taxes a month. But for streaming FS2, you need to get an Ultimate channel package as it'll help you get FS2 channel for as low as $85 and taxes per month. To simplify the package selection process for you, I have discussed the DirecTV packages and Fox channel availability below in the table.
| | | | | |
| --- | --- | --- | --- | --- |
| DirecTV Package | Total Channels | FS1 Availability | FS2 Availability | Monthly Subscription Charges |
| EntertainmentTM | 160+ | Yes | No | $64.99 approx. |
| ChoiceTM | 185+ | Yes | No | $69.99 approx. |
| UltimateTM | 250+ | Yes | Yes | $84.99 approx. |
| PremierTM | 330+ | Yes | Yes | $134.99 approx. |
Do you ponder about what channel is FS1 on DirecTV? If yes, carefully read the next section, as it will help you with the channel number of Fox Sports 1 on DirecTV.
Suggested Read: Top 30+ Mlb66 Alternatives to Stream Your Sports Favourites!
What Channel Number Are Fox Sports 1 and Fox Sports 2 on DirecTV?
DirecTV has all the popular streaming services like Paramount Channel, Cinemax East, Animal Planet, etc. With extensive sports coverage in high-definition quality, Fox Sports is definitely the paradise of sports admirers. It unlocks all the national and international sports tournaments for you. But in order to stream your favorite matches and events, firstly you need to find what channel is FS1 on DirecTV.
Fox Sports 1 is on channel no. 219 and Fox Sports 2 is on channel no. 618 on DirecTV. The huge difference between the two channels can make switching between the two difficult, but with time you'll get used to it. As a tip, to make the navigation between the two channels easy, I'll suggest you mark both channels as your favorite. Now, all you have to do is open the channel guide and move to your favorite channels to facilitate tuning between the channels.
Apart from FS1 and FS2, here are the channel numbers of other Fox networks.
Fox Business Network – 359
Fox News Channel – 360
Method to Watch Fox Sports Channel on DirecTV
DirecTV is a direct broadcast satellite TV service that doesn't require you to invest in any expensive cables. To stream the Sports channel of Fox, you need to set up DirecTV on your device. Activating Fox Sports TV in your entertainment station is very easy and can be done with a few simple steps.
DirecTV is easily available on Google Play Store and Apple App Store. All you need to do is install DirecTV on your device, get its subscription, and live stream all the amazing content of the FS1 channel. You can also download the DirecTV app on your mobile phone to remotely access all the content. Well, if you struggle to find some incredible sports events on Fox Sports DirecTV, the subsequent section is definitely going to be your favorite. If you can activate Netflix on your Smart TV, FS1 should not be a big deal, just do what you've read in this article.
Popular Shows on Fox Sports
Fox Network has a giant suite of programming that has contributed significantly to upscaling the popularity of this network. Here's a fresh list of some amazing programs on America's leading sports networks.
Fox College Football
IndyCar Series
Fox NFL Sunday
NASCAR on Fox
Skip and Shannon: Undisputed
Fair Game with Kristine Leahy
Formula 1
MotoGP
UFC Soundwaves
Rudy
Best in Show
Moving on, let's quickly discuss the alternative options of Fox Network available currently.
Alternatives of Fox Sports
With multiple live sports streaming networks claiming their share in the market, the competition in sports streaming has skyrocketed, that's why, today there are many good alternatives to Fox Network. Here's a list of some amazing alternatives to the Fox channel, in case you want to explore some other streaming networks:-
ESPN
MLB Extra Innings
NBA League Pass
USA TV
NBC Sports
CBS Sports
NHL Center Ice
NFL Network
Streaming sports content with FS1 on DirecTV is a premium experience. For a change, you can also venture into some other sports networks that are good alternatives to the FS1 DirecTV channel. Heading towards the end, let's discuss some frequently asked questions.
Read Next: Top 15 Crackstreams Alternatives to Stream Your Favourite Gaming Sports
Frequently Asked Questions
How can I watch FOX FS1 without cable?

To stream Fox FS1 without cable, you can opt for streaming services like DirecTV, Sling TV, Hulu+ Live TV, Fubo TV, Vidgo, and YouTube TV. All of these streaming services have FS1 channel lineups so depending on your choice you can opt for any of them.
Is the T20 on Fox?

Yes, you can easily stream ICC Men's T20 World Cup on Fox Cricket.
What channel on DirecTV is FS1?

You can stream FS1 on DirecTV on channel number 219.
Sources
---
Related Post