How to Watch the Weather Channel on DirecTV (2023)
Updated On October 23, 2023 | by Gaurav Kumar
DirecTV is a popular American multichannel streaming platform. It is extremely user-friendly and has a wide range of channels. You can easily watch channels like Fox Sports and Paramount Network on DirecTV.
However, in this article, we will talk about the popular Weather Channel on DirecTV. If you are fond of watching daily weather updates, then congratulations! You selected the right article to help yourself.
All you need to do is learn through this article about what it is, the kind of content you can expect here, how to access the Direct TV Weather Channel, and much more.
What Channel Is the Weather Channel on DirecTV?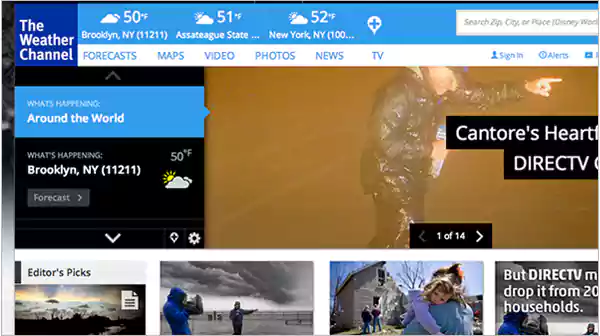 The Weather Prediction Channel is a television network that showcases news, commentary, and other essential meteorological information. It's a division of Allen Media Group, which owns and manages this channel presently.
The Weather Channel on DirecTV has turned out to be one of the most viewed channels in terms of broadcasting through TV or streaming platforms. Remember that you have to choose channel no. 362 to watch the Weather Channel on DirecTV.
Though the channel offers content in a variety of genres ranging from sports to business, the team focuses specifically on providing the best and most accurate weather forecasts, which has earned this platform worldwide acclaim.
Also Read: Watch Movies and TV Shows for Free with Top 30 M4uFree Alternatives
How to Access the Weather Channel on DirecTV?
After figuring out what Weather Channel Direct TV is all about, it is time to figure out how to get it. So, let us get started by going over the following guidelines:
Turn on the television and the DirecTV receiver.
Move towards the "Guide" button on the DirecTV remote and press it.
Now look for the channel menu and continue looking for channel 362.
Click the "Select" button, and you are good to go. Now you can enjoy watching the Weather Channel for much-needed updates.
What Can You Discover on Directv Weather Channel?
I am sure you all will ask this question after learning the answer to "What is the channel for the Weather Channel on DirecTV?" Start reading the following points in this context to find out what you can expect from this channel:
Live Weather Updates: The meteorological team's information keeps you up to date on current and upcoming weather conditions.
Weather News and Analysis: It gives you an in-depth analysis of recent weather-related events including tornadoes, hurricanes, and thunderstorms.
Documentary Programming: The attractive as well as informative weather-related documentaries, the science behind meteorology, and climate change add to your existing knowledge base.
Some Popular Weather Channel Programs
If you are wondering what type of programs will be showcased on the Weather Channel Direct TV, then go through the following heads as I have briefly explained some significant Direct TV Weather Channel programs below.
American Super/Natural
In the America/Supernatural program, the professionals in Geography and Metallography explain some horrendous happenings of the past because of adversities in weather phenomena.
To make it more authentic, experts ask those who have been through such a period to share their personal experiences. This program occasionally takes such a bad turn during narration that it appears to be no less than a superhuman interaction.
Highway Thru Hell
Another thrilling show, Highway Thru Hell displays one of the most dangerous routes, the Coquihalla.
It is believed that crossing this highway in bad weather is extremely dangerous; thus, it is unclear whether the person will make it to the other side or not.
However, as Esme Bianco rightly said, "You can't go anywhere in life without taking risks.", it's interesting to watch how Jame Davis along with his crew, takes such an adventurous risk to play with the severity of the weather.
America's Morning Headquarters (AMHQs)
You must watch AMHQs (America's Morning Headquarters) if you want to start your day with all the weather predictions for that day.
Watching this program, you can update yourself on the day's weather. Furthermore, knowing about these updates will help you plan your day accordingly.
Streaming Weather Channel on Direct TV Without Cable
At times, you may want to access the Channel on your TV without cable. If such is the case, then consider streaming the Weather Channel Direct TV on other streaming devices, and make sure that the device is supported by the channel.
I have enlisted all the available streaming platforms below, using which you can watch Weather Channel Direct TV without cable:
Roku
iOS phone
Android phone
Amazon Fire TV
Chromecast
Android TV
Apple TV
Also read: How to Stream Local Channels on Roku?- [5-Ways to Get Them on Your Roku]
Accessing Weather Channel DirecTV on Smartphone
Starting the day with all the live weather updates seems ideal, but due to highly hectic schedules, it may become nearly impossible to watch these updates on TV daily.
What I am about to tell you will eliminate your current concern, and guess what it is? You can watch all of these forecasts on your smartphone.
It is the one-stop answer to all the issues that prevent you from regularly watching weather updates on television. All you need is to download The Weather Channel app on your phone and start streaming it anywhere, anytime.
Also Read: All-Inclusive Guide to Activate Twitch TV
Local Direct TV Weather Channels
Let me tell you that you can watch many other local weather channels on DirecTV, many of which also offer good weather coverage.
However, keep in mind that due to different countries' broadcasting laws, the availability of local channels will vary, so not every channel will be available in all regions on DirecTV. Therefore, all you need to do is check through your ZIP code and see which local channels are available in your area.
Final Thoughts
Without a doubt, the Weather Channel is a one-stop solution if you want to stay up to date on the latest weather updates regularly. So, whenever you want to get weather updates, news, analysis, or commentary, all you have to do is turn on DirecTV channel 362, and you will have access to the content you are looking for.
Last but not least, if you are aware of the severe weather forecast ahead of time, you can always take appropriate precautions to protect yourself and those you care about. It is undoubtedly one of the top advantages of Weather Channel DirecTV. I sincerely hope you find this helpful article.
FAQs
Q. Can I find local channels on DirecTV?
Ans. Yes, you can find several local channels on DirecTV by entering ZIP codes of specific locations.
Q. How much do I have to pay for the Weather Channel every month?
Ans. Accessing the Weather Channel will cost you $69.99 every month.
Q. Can I watch the Weather Channel on Amazon Prime?
Ans. Yes, you can access the Weather Channel via the TV app.
Q. Can I use the Weather Channel app for free of cost?
Ans. Yes, the app is free to use on TV. However, you have to log in using your TV provider sign-in details to access the app safely.
Sources:
---
Related Post