Demon Slayer Season 3: Story Review, Release Date, Plot, and More
Updated On November 8, 2023 | by Gaurav Kumar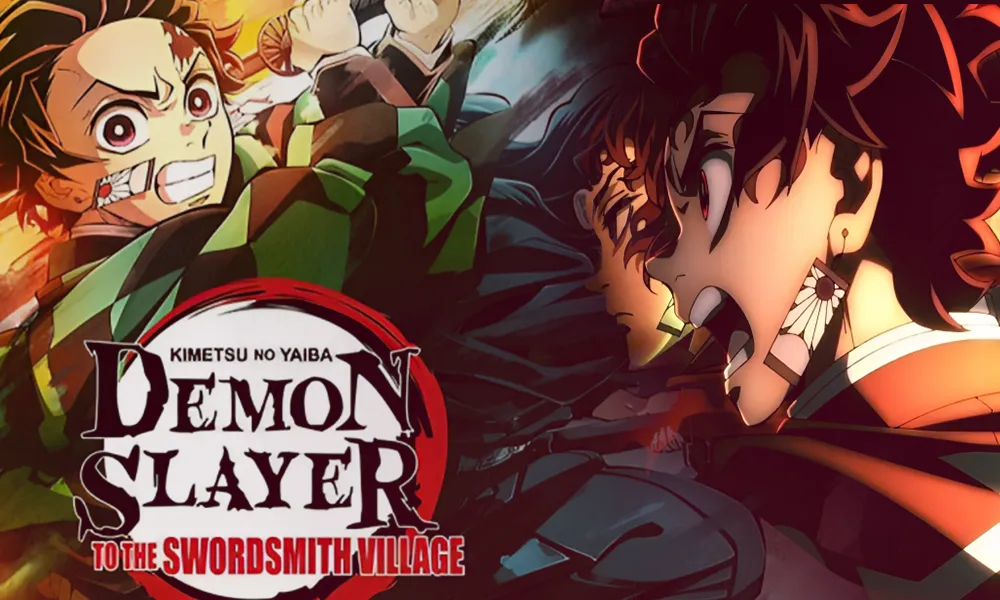 If you are a fan of anime, you must have heard about the new season of Demon Slayer, or Kimetsu no Yaiba. Yes! The blockbuster anime is officially back with an all-new season.
Demon Slayer season 3 was one of the most anticipated anime seasons of 2023, with an insanely high budget and even higher viewership.
The plot follows on from the events of the entertainment district arc, which was another successful season, and it lives up to the hype even in the new season. Read on to learn everything there is to know about Kimetsu no Yaiba Season 3.
Demon Slayer Season 3 Release Date
Kimetsu no Yaiba Season 3: Swordsmith Village, directed by Haruo Sotozaki and adapted by Ufotable, was aired on Crunchyroll on April 9, 2023, with a new episode coming out every Saturday.
Kimetsu no Yaiba Season 3 EP 1 is 50 minutes long and was also released early in February as a movie, just like The Mugen Train. The new season ended on June 18, 2023, with a 51-minute episode that was a literal treat for the fans.
Previously on Demon Slayer
Kamado Tanjiro sets out on a journey to avenge his murdered family and cure his younger sister, who is now a demon. Tanjiro passes the final exam to join the Demon Slayer Corps, and for the rest of the season, he goes to various locations to defeat demons alongside his two friends, Zenitsu and Inouske.
The second season starts with the Mugen train movie, which later gets converted into an extended 2nd season, where Tanjiro and friends defeat a demon on the train. The second half of the season is set in the Entertainment District, where Tanjiro, Zenitsu, and Inosuke disguise themselves as courtesans to discover the location of Uzuzi's (Hashira's) three missing wives.
This expedition soon turns into the biggest fight of Tanjiro's life, where he defeats two Upper 6 Kizuki.
Also Read: Discover Webtoon 2023 – Read Manga, Manhwa & Manhua
Plot of Demon Slayer season 3
!! SPOILER ALERT !!
Season 3 picks up right where season 2 left off, with Tanjiro, Nezuko, Zenitsu, Inosuke, Uzui, and his three wives all surviving the battle. We also get to see the season's first meeting of all the main villains, including Muzan Kibutsuji and the remaining upper five Kizuki.
Later, in search of a new sword, Tanjiro travels with his sister to the Swordsmith Village, where Nichirin Swords are made. Nichirin swords are a type of Katana (Sword) made from scarlet ore that absorbs light and is capable of killing a Demon.
The Swordsmith village is kept hidden to protect it from demons. We also meet two more Hashiras, Muichiro Tokito, and Mitsuri Kanroji, as well as Genya (demon slayer). This season, it appears that Genya is filling in for Inosuke and Zenitsu.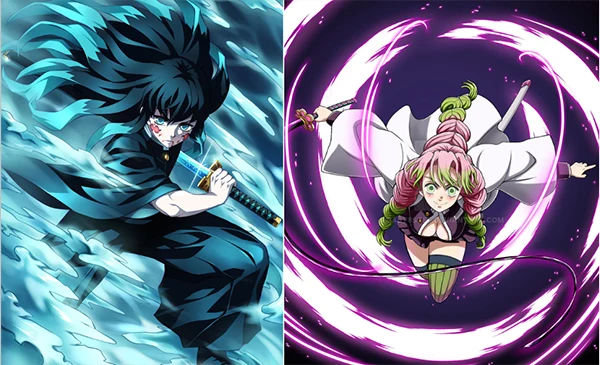 The season advanced slowly at first, with Tanjiro continuing his training in the village. But things soon took a dreadful turn when the two upper-rank demons, Hantengu (Upper 4) and Gykko (Upper 6), appeared in the village out of nowhere.
This fight with the two demons brings down the whole village with many casualties. The upper-rank demons appeared to be nearly impossible to defeat, as expected. Even after cutting their head repeatedly, they were able to transform again.
After numerous injuries and near-death experiences, the Demon Slayer Corps successfully defeats the demons and reclaims the village.
The last episode of the season is about 51 minutes long and includes Muzan's backstory as well as the birth of the first demon.
At the end of the episode, a terrifying incident unfolds as Nezuko is almost exposed to sunlight. In a surprising twist, the writer and illustrator, Koyoharu Gotouge, introduces a solution that allows Nezuko to become the first demon to ever conquer sunlight.
Later on, Tanjiro returns to Wisteria, bearing many wishes from the locals, as well as a new sword and new skills. This marks the end of Season 3. In addition, there was so much action in this brief season that I am not sure if I could fit it all into this condensed plot.
Also Read: Is Kisskh.me Down? Possible Reasons and Best Ways to Fix Them
My Review of Demon Slayer Season 3
The story of this anime's third season is very well-written and beautifully executed. The animation and visuals in all the fight scenes were breathtaking, and you could easily get lost in them.
One thing I like about this anime is that each character has heartbreaking backstories that flash through their eyes when they are on the verge of death. This does a beautiful job of explaining how villains are created, not born.
The story of this season is very simple, and you won't feel lost as you might have in "Summer Time Rendering". Although I miss Zenitsu and Inosuke this season, I believe the other characters have filled their roles.
One thing that bothered me about the season was that the fight scenes were overly long. The entire third season revolves around the two demons being severed in different ways and resurrected. The fight choreography was well-executed, but it felt repetitive.
Nonetheless, Ufotable lives up to its name once more, bringing uniqueness and beauty to each scene. Another positive aspect of this season is that we get to see Nezuko in action more than ever before, showcasing the adorable moments that will undoubtedly make you adore her.
Where to Watch Demon Slayer Season 3?
As previously announced by Ufotable, the season is available to stream on Crunchyroll. This new Demon Slayer Season Crunchyroll is exclusive to premium subscribers.
The first two seasons are also available on Crunchyroll in both subbed and dubbed versions. The premium membership has several tiers and costs £6.50 and up. If you don't want to spend so much money, or when Crunchyroll stops working on Chrome, you can try the following ways to watch this anime –
Watch this new season, along with the first two seasons and all movies, in both subbed and dubbed versions on Gogoanime.
Netflix is another platform where all the episodes of season 3 are available.
What to Expect From Demon Slayer Season 4?
According to what I have heard, the upcoming season 4 of Demon Slayer anime will be the final season. After this fight, all the demon slayers, including Tanjiro and friends, will undergo vigorous training by the Hashiras to manifest the special marks before the last fight.
Although we might not be able to see more of Nezuko, I hope they focus on the story more rather than stretching the fights. Overall, Kimetsu no Yaiba is one of the most popular anime franchises, and we cannot wait to see what happens in the upcoming season.
Also Read: When Does Luffy Learn Haki? The One Piece Question is Finally Answered Here
FAQs
Q. How long is Demon Slayer Season 3, Episode 11?
Ans. Since it's the last episode, the makers have treated us with a spectacular 51-minute episode.
Q. Why are Zenitsu and Inosuke missing from Season 3?
Ans. Both Zenitsu and Inosuke recover after the last fight of season 2 and move on to their individual missions.
Q. How does a Demon Slayer get the special marks?
Ans. The special marks appear when a person drives their body to its extent and unlocks a new level of strength. The place and shape of these marks are different for every individual.
Sources:
---
Related Post