Best Laptops to Stream Sports Events in HD
Updated On June 21, 2023 | by Joseph Williams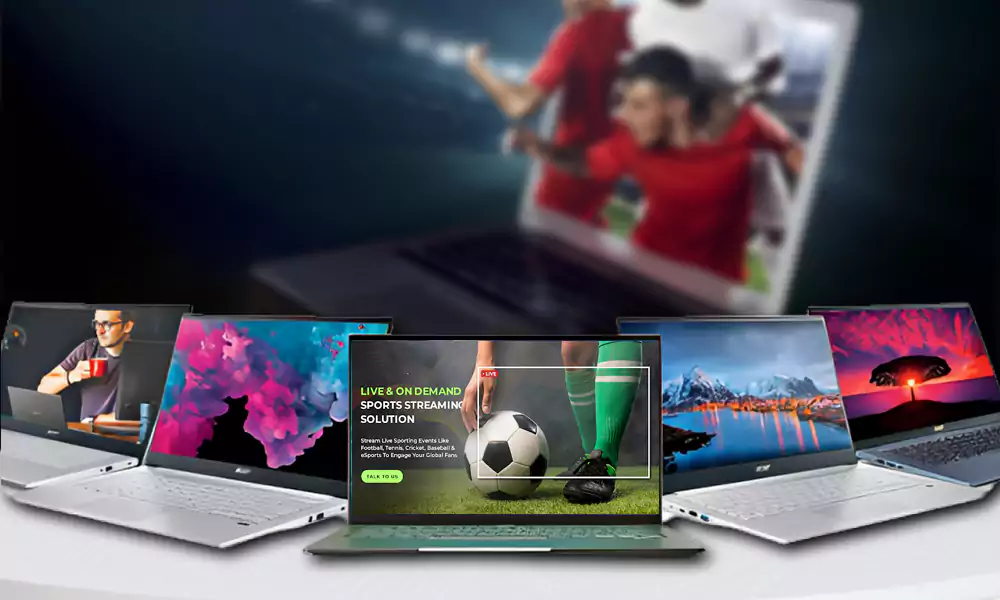 Technology nowadays has made its way too far from its initial point. Now you can do various things that people might never have imagined. Just like that who would have thought that you can watch your favorite live match at home without any cable connection? Yes, we are talking about streaming technology. That too on your laptop.
It is true that new devices are coming up with mind-blowing features and specifications. similarly, laptops have also made their way so far that nowadays they can become a portable TV screen for you. You can stream your favorite league or tournaments on the go without compromising the display.
Even though live streaming doesn't require a lot of computing power, you'll still need it with a good display resolution, powerful processor, and RAM.
This is why in today's article we will take a look at some of the best laptops you should consider streaming sporting events in HD.
Best Laptops for Streaming
Asus ROG Zephyrus S17
The Asus ROG Zephyrus S17 is a streamer's dream come true. This machine is a beast, with lightning-fast GPU and CPU speed that will astound you. The captivating 17.3-inch 4K display with an amazing 120Hz refresh rate ensures that every pixel and action is conveyed with remarkable clarity. This means that the device is also perfect for gaming.
The Zephyrus S17 not only outperforms in terms of performance and aesthetics, but its tough all-metal chassis adds a sense of durability and refinement.
The six-speaker sound system immerses you even deeper in the action, with crystal-clear music that takes your streaming experience to new heights, which is impressive for a laptop. This will make watching sports, unlike any other laptop experience you've encountered. So, if you want to stream the Belmont Stakes 2023, which is happening on June 10th, you can simply go to TwinSpires website and watch the live horse racing event with top quality.
Furthermore, the keyboard is completely programmable, allowing you to customize it to your tastes and gaming style.
Let us now confront the elephant in the room: the cost. The Asus ROG Zephyrus S17 is an expensive investment. If you have a flexible budget and refuse to settle for anything less than the best, this laptop is without a doubt the pinnacle of brilliance.
HP Victus 16 (16-d0097nr)
The second alternative that you can go for comes straight from a renowned American brand, HP. With a great brand like this, comes a great performance.
HP Victus 16 is a complete and sophisticated piece of machinery that can facilitate you with a great display and even better performance throughout your usage. If you want to make a value-for-money choice, you can certainly go for this option.
The 16 in the name denotes its 16-inch full HD 1080p display. It offers you a great 144Hz refresh rate with a mind-blowing and smooth experience.
Don't get discouraged by the smaller screen, after all this means that you'll have more battery life to watch sporting events on the go!
Additionally, the keyboard is designed with comfort in mind, making it a pleasure to use for extended periods. Gamers will appreciate the inclusion of a number pad, adding convenience to their gameplay.
While the HP Victus 16 may not win any beauty contests, its focus lies more on functionality rather than flashy aesthetics.
The design is more understated and practical, appealing to those who prioritize substance over style. If you're willing to overlook the plain appearance, the Victus 16 proves to be a dependable choice that gets the job done without any frills.
ROG Zephyrus G14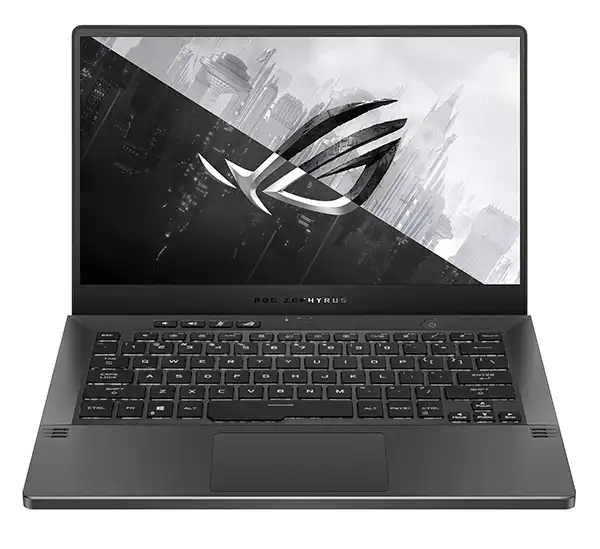 ROG is one of the most renowned brands when it comes to performance-based devices. Its mobile phones are already world-famous for their unbeatable gaming performance. Their laptops are no exception.
However, the device comes with a 14-inch display, but don't let it fool you. it's a boom packed in a small packet. The display comes with high-resolution delivering true yet punchy colors to please your eyes.
Despite not having the best keyboard, this laptop is perfect for streaming for a couple of reasons.
First of all, it is small and compact, perfect for people that want to watch sporting events as they travel.
Secondly, it is quite powerful making it very versatile whether you want to play games, watch movies, or sporting events, it will have you covered.
Acer Nitro 5
The Acer Nitro 5 easily outperforms the competition in terms of streaming capability, with a winning combination of powerful components, affordability, and lightning-quick performance. Its 9th Gen Core i7 processor offers smooth performance while streaming, effectively handling background operations.
This laptop's 16 GB of DDR4 RAM allows you to seamlessly transition between tasks without worrying about system slowdowns. But that's not all—the 256 GB SSD storage allows for quick boot-up times and quick data transfer speeds, boosting your efficiency to new heights.
The Nitro 5 does not disappoint in terms of graphics. The NVIDIA RTX 2060 with 6 GB of VRAM powers the brilliant 15.6-inch display tucked under its slim lid. This professional-grade GPU provides superb AI graphic processing in addition to streaming.
With a refresh rate of 144 Hz and a response time of only 3 ms.
With its sturdy components, low pricing, and fast speed, it's an ideal laptop for streaming sporting events.
MSI Laptops' attention to detail has elevated the immersive viewing experience to new heights.
The 15.6-inch FHD display is complemented by a high-end NVIDIA GeForce RTX 2070 with 8 GB of GDDR6 VRAM.
This powerful graphics card improves every pixel on the screen, delivering breathtaking pictures and ensuring that colors are represented accurately. You can be confident that every hue and shade will be vivid and true to life because the FHD display covers about 94% of the sRGB color range.
With 512 GB of fast SSD storage, you'll have plenty of room for all of your data and media if you want to record and download sporting events to view later. Furthermore, SSDs are critical for streaming since their ability to read and write quickly eliminates the need for buffering live content.
Final Words
Streaming your desired sports in high resolution is everybody's favorite option to kill time. A display can ruin or build your experience to a great extent.
Moreover, it becomes nearly impossible to watch any sports event on a big screen when you're on the go. So, in this article, we covered some of the best options where you can stream your favorite reporting events on a big screen anywhere you want.
These laptops offer a feature of portability and high performance so your experience cannot be ruined by anyone.
---
Related Post