7 Computer Tricks Every Student Knows
Updated On September 15, 2023 | by Louise Simon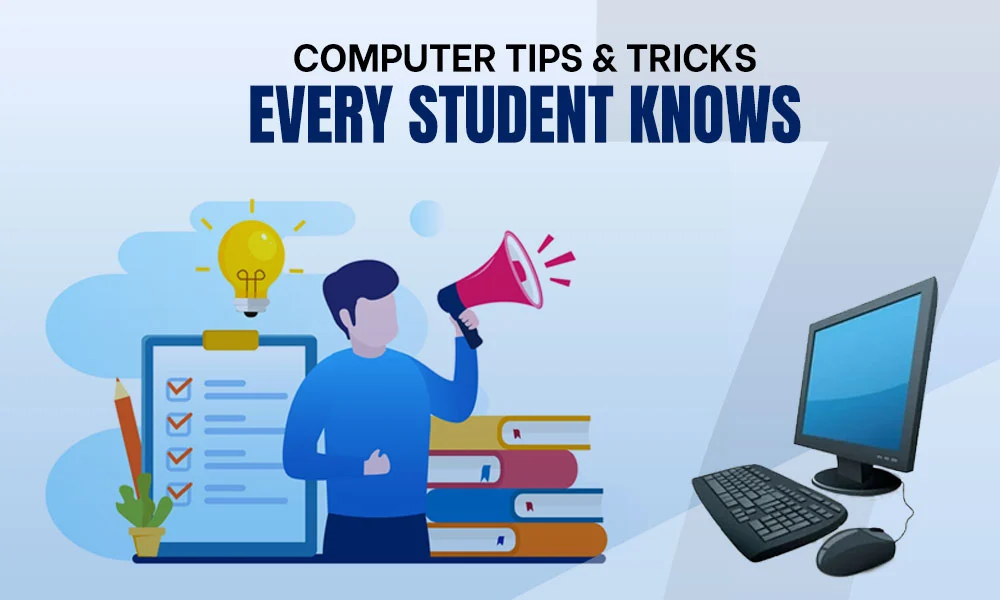 These days, students of all academic levels use a wide range of different gadgets for learning purposes. One of the most often-used and important devices in their arsenal is a PC or laptop. Students use it for many different tasks on a day-to-day basis. So, something every modern student must know is how to use it to the maximum capacity.
In this list below the experts at Theme Scene have helped us gather the top seven computer hacks that every student must know.
Not Only for Studying But for Help Too
Most often, students use their computers for two primary purposes. The first one is studying. They use these gadgets to attend classes, carry out research, type their academic papers and do many other school-related tasks. The second purpose is entertainment. In their free time, young people often use their PCs to watch movies, play games and relax.
But, one more way to use it effectively is for help. Thanks to the Internet, you can use your device to buy essays and hire professional assistants for other kinds of homework assignments. This way, young people reduce the load and stress. At the same time, they get a chance to boost their grades and knowledge. This is a hack many of you should already know. If not, be sure to leverage it because it can change your student life forever.
Starting Fresh is the Best Idea
We bet you know that most models of modern computers don't really need to be shut off at the end of the session. They can go to sleep mode and be used again even after a day or a few. This feature can help you get back to work right where you stopped, with all the same tabs open. But it will also mess with your PC and its performance.
If you don't want to slow down the work of your device, you need to use this super simple hack – always start a new session fresh. Simply put, restart the system. In the process of restarting, your PC will get rid of the temporary files and optimize the work of RAM and other core elements. As a result, the system will work faster and better, so nothing will be holding you back from having a productive work or study session.
Cloud is a Wise Solution
Your computer can have plenty of storage space built into its system. Many users look for more storage space to have the ability to store all their apps, documents, and other files in one place. But what happens if the computer suddenly crashes? – In many cases, you will lose all of your files at once.
Without any doubt, losing all important data from your PC feels disappointing. But this can be avoided. Transferring (or making copies) of your files to a reliable cloud platform like Google Drive or Dropbox can give you many benefits. First of all, your data will be safe in the case of any crashes. And secondly, you will be able to access your files from any other device if you need them when you are away from your computer.
Shortcuts are Your Everything
When having a work session with a computer, a regular user can perform dozens and dozens of different commands. Copying and pasting data, opening new tabs, formatting text when typing your papers – all these commands look so tiny that you would never think how much time you really waste on them if you perform them manually. But, the truth is that we make so many such commands that automating them could actually save us quite a lot of time.
This brings us to the next hack – using shortcuts is a MUST for every computer user. There are short combinations of keys for literally anything you want to do. Find the list of these combinations that work for your specific operating system and keep it at hand when working on your PC.
Turn Mac Into Windows
One of the most common issues facing Mac users is that this OS doesn't support some software they might need to have on their PC. At first, it can feel like something you just have to take for granted and put up with. But it's not.
All students should already know that there is a way to cross enemy lines and run Windows on a Mac. This can be done with the help of virtualization software like Parallels Desktop, VMware Fusion, VirtualBox, etc. But keep in mind that such apps can slow down the system a little.
Remote Desktop
Students who own laptops often carry them around to school to have the possibility to access the programs, files, and functionality of their computers during the day. However, this is not possible for owners of stationary PCs, or is it?
In fact, this statement isn't true. Remote desktop is an awesome feature accessible to everyone that lets you gain remote access to your PC from any other device, let's say, your smartphone or tablet. This feature lets you use your computer if you are not near it at the moment. To use it, you need to get yourself a special app. Some of the best tools are Chrome Remote Desktop, Microsoft Remote Desktop, and TeamViewer.
Slow Start Solution
How often do you get on your PC to perform some tasks quickly and find it launching slowly? This is a common problem for all users, regardless of the type of computer they use. But there is a simple solution that will help you get rid of this. To make your device launch faster, minimize the number of startup programs it launches immediately after turning it on.
The Bottom Line
There are many smart hacks and tips that can help you use your computer to its full potential. The tricks from this article are the most basic and vital ones. These are the hacks that we assume every student knows. But if you happen to find anything new here, be sure to start using it to your benefit too!
---
Related Post