5 Uniquely Styled Gucci Watches For The Flamboyant Fashion In Men
Updated On July 14, 2023 | by admin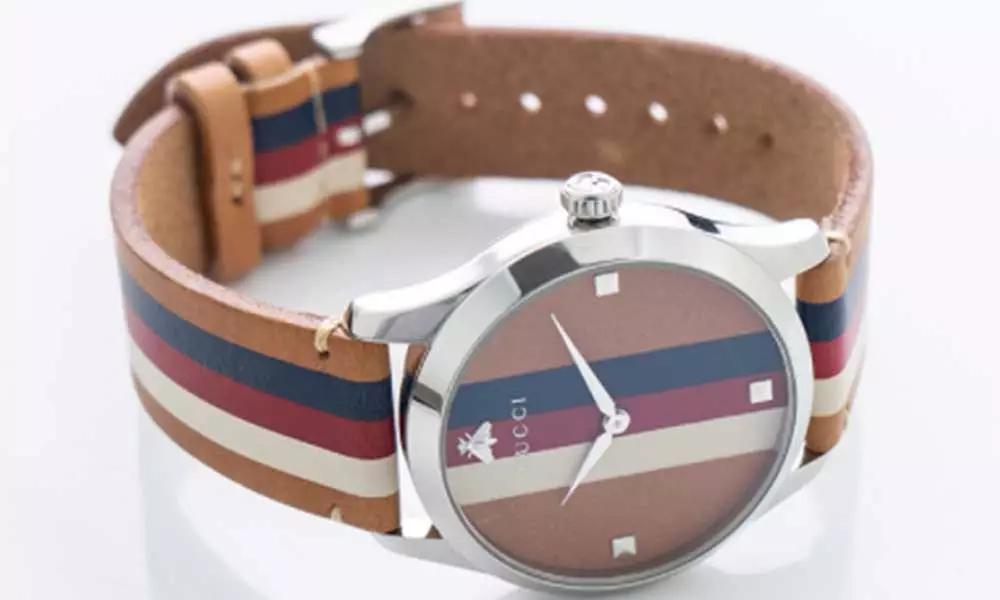 The fashion style in men has immensely traversed to a different level. It has developed from that simplistic, minimalist styling to a more eccentric touch of the flamboyant genre. A fashion that plays around the beauty of colors and prints, unmatched with unique shapes and texture, definitely stands out above the rest.
To add vibrancy to this fashion statement, the creative ensemble of accessories plays a vital role. And watches of superb quality styling effects not only functionality to this look, but it also collaborates to put on the entire aura. Gucci watches made it a mark to create exceptional, uniquely styled pieces to satisfy this flamboyant character in men.
Ultimately known for its unique creativity, the timepieces under Gucci Watch Men create a standout statement. Its vibrancy is stunning in flashy colors, as depicted in this type of watch through its curated combined shades of brown, blue, and red. It gets perfect to the printed and stripes ensemble of a flamboyant styling.
This Gucci type of watch also has a hitch of elegance through its silver-tone hands color, including a soft color hue of blue for its dial. The watch is a complete head-turner as the strap gets built in the texture of leather. It is also given a durable approach with its stainless and solid back casing, adorned in crystal sapphire.
When you want to find a valuable watch in elegant class aesthetic and functionality and unique in an excellent way, Gucci is the brand to speak of. This watch gets durably encased in Resin with transparent character. It gets exemplary with its blue color and translucent rubber flashy in the transparent shades of red and blue.
The man who wants to enhance his creativity gets the beauty of this watch. Its extraordinary character adds to the spiciness of its eccentric loveliness. With a silver-tone in its skeletal hands, this watch also gets more attractive with the additional blue color flow to its dial. This watch also functions well to resist water damage within 50 meters.
This watch in perfect tone color mixture complements the flamboyant classic fashion styling of a gentleman. Its leather strap in the calfskin of a beautiful white blends well to its dial's multicolored red and green ensemble. This watch is made durable with scratch-proof sapphire crystal.
With great precision for functionality, this watch has a water-resistant feature within 50 meters, and its quartz movement assures users of the longevity of use. This watch gets uniquely astounding because of its embroidered bee in gold color inside the watch. A beautiful add on surprise to make this watch a stunning fashion accessory.
This timepiece's unspoken uniqueness is evident in the design of the body of a snake drawn within its dial. This piece of the art design runs through the leather strap of this watch. It gets more captivating because of the vibrant color depicted by blue lightest shade, with a finely curated tone of silver in its hands and index hour markers.
Achieve the colorful styling of flamboyant and make more eyes turned when this watch gets used to accessorize and complete the look. It traverses a magnificent stainless steel design to its casing plus the confidence of a solid back. This watch has a diameter of 38 mm that makes it comfortable to use on a gentleman's wrist.
To stand out from the rest is a different kind of level that exudes complete confidence. From a flamboyant perspective of styling, this type of watch is essential to adorn a gentleman to this fashion escapade. There is no doubt that the tiger's peculiar artistry embroidered in the center is a stunning, eye-catching uniqueness.
The strap of this watch collaborates with the grandeur of colors red and blue. It is seductive with its two-tone definition that defies the ordinary shades of silver, black, or white. This watch indeed celebrates the lush of both functionality and unique character styling.
Takeaway
The aim to be different or unique is a major appeal that a flamboyant fashion wishes to communicate to its audience. A fashion style that celebrates the beauty of colors, prints and defies the ordinary. With Gucci watches for men within reach for the gentleman's liking, the pure satisfaction of styling so unique will not only stand out but also captivate a heart.
Related Post