9 Best Cheap Studio Headphones Under 100 Dollars
Updated On August 25, 2023 | by Alex Smith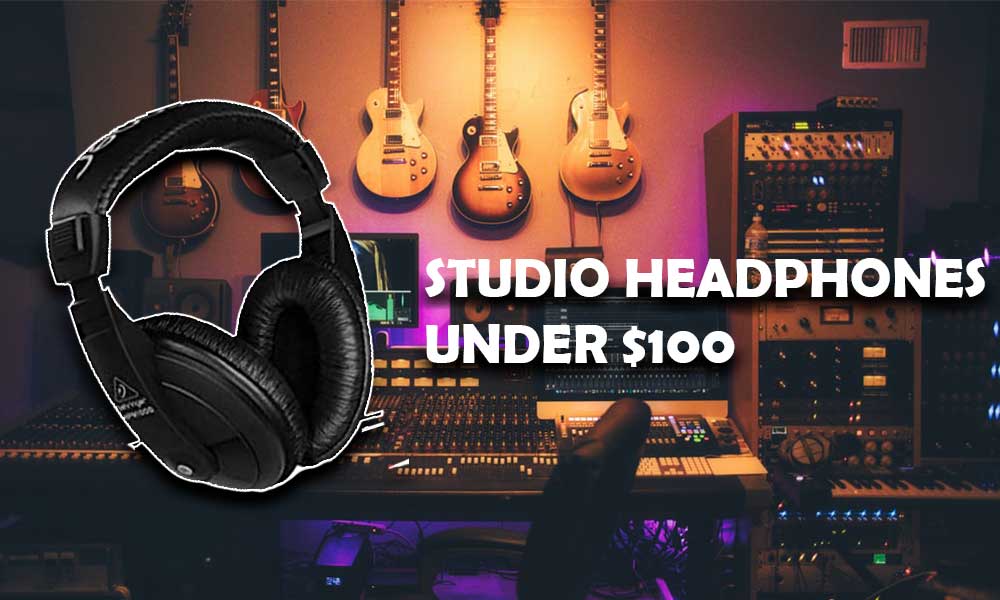 Studio headphones can be pricey, but that doesn't mean you can't get more value for your buck with less expensive alternatives. These headphones are available in two types: closed-back and semi-open or open-back headphones. The former works well for audio recording but tends to be less accurate, while the latter is ideal for mixing and offers some degree of noise isolation. Here's a list of some of the best studio hardware within a $100 budget to help you in the selection of headphones for audio monitoring.  
These headphones offer a foldable design perfect for use on the go. They may look cheap as they are made of plastic, but the ATH-M40Xx are sturdy, something I tend to like. These headphones deliver moderate comfort, implying they may not be the best pick for extended use. Head size adjustment with the help of a metal headband lends extra convenience. Also, the proprietary, detachable cable and removable earcups which extend the life of the hardware are a huge plus.
The SR850 offers some degree of sound isolation, although relatively minimal. The self-adjusting headband and velour earcups ensure a comfortable fit, making these headphones ideal for long recording sessions. Expect punchy, textured bass from this sound hardware. However, for a bass head, they may sound a bit treble-centric. This is not to take anything away from these headphones as they are very reasonably priced and offer good sound depth. As entry-level hardware, they are a smart pick of the bunch.
For such a low price point, HD 280 Pro hardware does punch above its weight. A rugged, modular design makes these headphones a good choice for long-term use. They also sport a single-sided cable that stays out of your way so you can focus on the business of recording. Soft earpads are easy on your ears, ensuring long recording sessions are comfortable. Rotate and fold the earcups after your session, and you are good to go. Expect ample sound isolation with this recording essential.
The HPH-MT5's lightweight construction and closed back make these headphones a faithful companion for extended sessions. Circumaural ear cups fully enclose your ears, ensuring accurate and acceptable sound isolation. Balanced sound delivery means the MT5 headphones are ideal when you need superior sound monitoring.
A folding arm makes portability a cinch, and the three-dimensional construction of the arm pivot makes it easier to fit the ear pads over your head. Grab this hardware if sound fidelity is something you relish.
Accurate bass response and a reasonable frequency response range make the HD9 a reasonable choice for mixing and monitoring. The earcups come padded and wrap nicely over your ears for a pleasurable listening experience.
Expect minimal ear fatigue on extended listening sessions with this hardware. Reduction of headphone bleed is also a strong selling point of these headphones. However, a non-detachable cable makes the headphones a touch cumbersome to transport.
The CB-1 headphones come fitted with an adjustable and padded headband and earpads, making your marathon recording sessions a breeze. Clicking ridges simplify customization for a personalized fit.
50mm drivers are a music producer's or artists' dream, delivering natural and superior audio quality ideal for mixing. A slim frame gives the CB-1 a sleek aesthetic, and a foldable compact design makes these headphones easy to carry.
These headphones are right on the money in terms of sound quality. Padded, large earpieces wrap around your ears for an above-average sound experience with excellent noise isolation. A self-adjusting headband makes fitment a snap, and the semi-open design lets you enjoy the natural sound with deep bass.
The lightweight build of the HD 681 minimizes fatigue during long listening sessions and simplifies transport. These headphones work best for monitoring, recording, and mixing.
If you fancy off-site monitoring sessions, the 240 PRO could be the hardware for you. The headphone's on-ear design, lightweight construction, and padded headband ensure comfort.
Experience reduced sound leakage and superior noise cancelation with the DT 240 PRO. Professional-quality sound tuning for reproduction are also within reach with this hardware.
Hallmarks of the HM5 include excellent build quality for long-term wear despite its low price point. A breathable fabric covers the padded headband for comfort and heat dissipation when it gets hot. The earpads' wide openings allow a good fit over your ears, and detachable cables simplify portability or replacement if the need arises.
Get a neutral and authentic sound signature with the HM5. By sealing the earcups over your ears, these headphones deliver above-average noise isolation, so your music sounds just as it should!
Set realistic expectations while selecting cheap headphones. If you are starting your musical journey or aspire to become a renowned artist, these headphones will work, but you might need an upgrade down the road, or maybe not. In the meantime, enjoy these inexpensive alternatives.
Read This Also: Huawei Online Store South Africa: The Place of Amazing Products
Related Post