Do You Need a Case for Your iPhone?
Updated On November 26, 2022 | by Sophia Andrew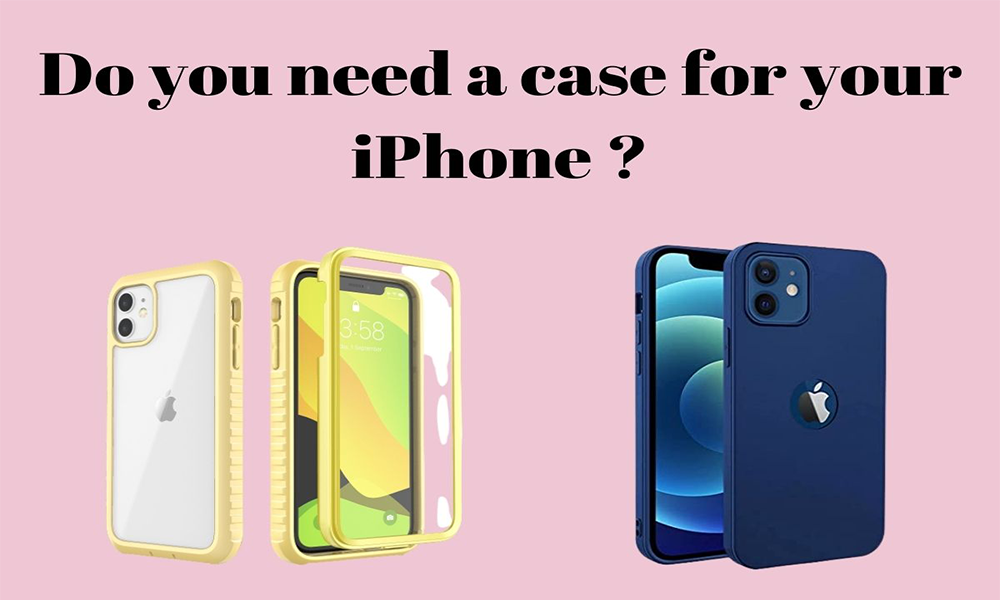 Most people think about iPhone covers first when they purchase a new phone. Buying a smartphone cover is mandatory to protect our expensive phones. Do we really need it? This time we are in a dilemma whether to go with protection or style quotient. Let us think out of the box and discover what to do.
Smartphones are Stronger Built:
Smartphone manufacturers do not think of cases while building the product. Accessories are a huge market and getting more advanced due to market demand and supply. You can make a lot of money through a cellphone case company. No company assures full protection on the smartphone. No company issues a statement that you do not need a smartphone cover.
The phone's internal frame, materials, and glass are made of wear and tear. Any phone can get damaged due to accidental falls. Phones sometimes stay functional when falling from a table or pocket. If dropped on the carpet, it is less prone to damage. Still, we can't assure you that your phone will not get damaged.
Apple has spent millions of dollars for developing better technology, frame, metal, body, and glass to improve the phone's durability. So, adding a layer worth 50$ on top might not be justified.
We do agree that it improves protection, but is it needed? If we sum up all the pros and cons of adding a phone case to an iPhone, it compounds the same damage that the phone may occur with a phone case on.
Cases Ruin Phone Looks and Aesthetics:
Modern phones are customized as per customer demands. It is light, thin, and nice to hold. It is made of premium quality materials to add style and luxury. Nothing shows up if you cover your phone in a phone case.
Even the thinnest silicone cover hampers the looks and does not do justice to the phone owner. We buy iPhones for status and luxury and covering it up with a 500 INR phone case is just not done.
Resale Value Matters or Not:
Many people are quick shoppers who love the latest technology. They love selling their smartphones for a better price when it's time for advancement. You need to protect your phones from cosmetic damage, scratches, and other conditions. It is not sure whether this increases the resell value. You limit yourself to a hypothetical future buyer.
Smartphone value depreciates quickly with the launch of the latest technology phones. After two-three years, it is just 1/4th priced or you may use it as a child or backup phone. Keeping your smartphone in a good state is great but not utilizing your phone for future pristine seems impractical.
Get It Insured:
If your phone is expensive, get it insured. Many smartphone companies offer insurance facilities on nominal charges that ensure your phone's safety against accidental falls. It provides a screen replacement guarantee too. In surveys, we found that screen damage is the most common complaint that was registered with Android and iPhone centers.
There are reputable companies that offer theft insurance, damage insurance, loss insurance, or all of the above insurances. Theft insurance should be availed by everyone but other insurances if bundled together are the best. Always read terms and conditions before investing your money.
Set Your Smartphone Free:
Now you know, if you do not wish to cover your phone in a phone case, you can set it free via backup solutions. Here are a few to follow:
Small and LIGHT: Without a case, the phone feels thin and light. It fits easily in wallets or pockets. It will not accumulate lint.
Better Looks: You purchase a golden iPhone, then cover it in a generic black case. That's not justified. You can maintain the color and beauty of the smartphone without a phone cover.
No Gesture Interfere: Some smartphone cases interfere with phone gestures. The solution is to avoid using phone cases.
Fewer Landfills: Every year plastic covers create global pollution. Millions of phone cases are used and dumped. Check your clearance rack and you will know what we are talking about. If you think wisely, small gestures create big impressions. If people will stop using phone cases, plastic waste will drop consecutively.
No wireless charging interference: Many cases are compatible with wireless chargers but come at a hefty price. With no case, there will be no problem.
When to Use an iPhone Case:
Smartphone cases and covers do make sense to many. For example, if you work in high stake jobs, labor, or manufacturing units. You need a phone case. However, it does not completely assure full protection but relieves you from accidental damages.
Read This Also: Choosing Smartphone Accessories Smartly
---
Related Post