How to Stream Local Channels on Roku?- [5-Ways to Get Them on Your Roku]
Updated On September 15, 2023 | by Gaurav Kumar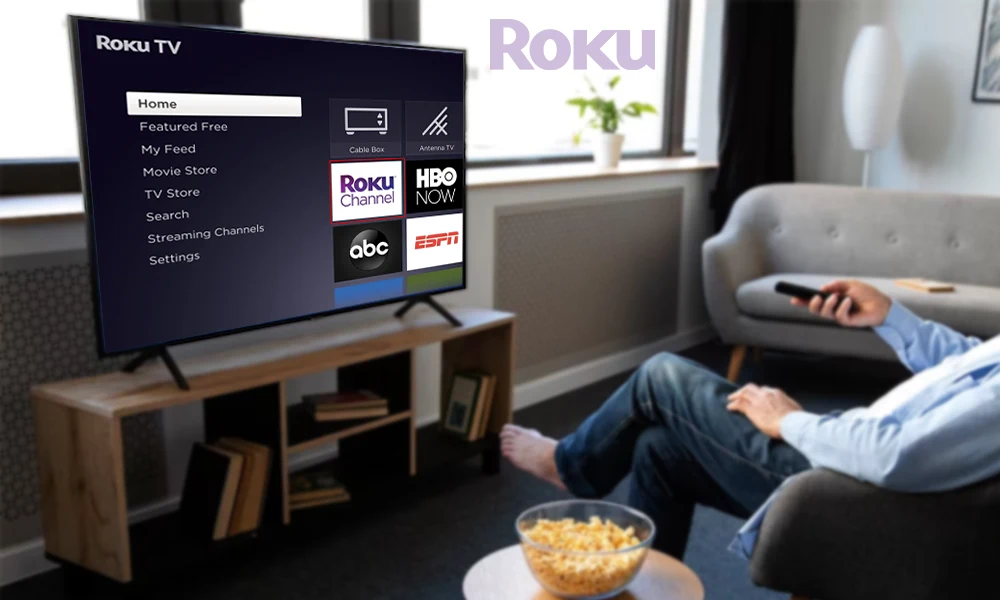 Has your service dropped your favorite local channel? Or have you got cord-cutting done? Whatever the case, you must be trying to find how to watch local channels on Roku. In such scenarios, you can utilize the local TV with Roku using precise methods.
Roku TV offers numerous benefits to its customers. It has many local channels to enjoy Roku Live even when you don't have an antenna or don't want one. However, there are several methods to stream the local channel of your choice on your Roku TV.
Why Watch Local Channels on Roku?
Roku has more than 100 local channels which you can watch for free. These local channels allow its users to enjoy hassle-free entertainment sessions for free of cost. So, if you are figuring out how to get local channels on Roku for now? Well, you can try to opt for free-trial sessions on a few services, such as;
Youtube TV; trial of 1 week
FuboTV; trial for a complete 1 week
DIRECTV STREAM; the trial is available for 5 days only
Let's suppose, one fine day, the local CBS affiliates drop from your live TV streaming service. Watching local news has become impossible now. Still, you can watch all the Amazon Prime Video TV shows when aired.
Meanwhile, deploy these options to stream them with ease.
Local ABC
Local NBC
Local FOX
Local CBS
Fubo TV
In that instance, when your market is out of their coverage, you can check on some services such as;
Paramount+
Sling TV
Vidgo Stream
In the next section, we will discover how to watch local channels using different methods in these channels.
How Can I Get Local Channels on Roku For Free?
When you have already invested in installing Roku in your entertainment station, you can now enjoy its excellent local channel without paying a single penny. There are so many options to watch at its store. In fact, some of them offer 4k content. Execute these instructions for the same:
Jump to The Roku Channel Store to navigate to the channel you are interested in watching such as News, The Weather Channel, etc.
Add the desired ones to your screen.
Stream the content of your choice.
Did you know: There are several other ways to stream these local channels? Keep reading to discover them!
Various Methods to Stream Local Channels on Roku
DIRECTV STREAM, Hulu + Live TV, and YouTube TV are some of the best options for watching local channels on Roku. These broadcasts are available majorly in every US market. However, Fubu TV manages to be also a great choice, but still, there is a drawback of it; it doesn't cover most of the US market. Besides this, Paramount, Sling TV, Vidgo TV, and Paramount+ are some other alternatives in numerous parts of the country.
But, if you are still figuring out how do I enjoy them? Well, these successive methods will support you!
From the Roku Channel Store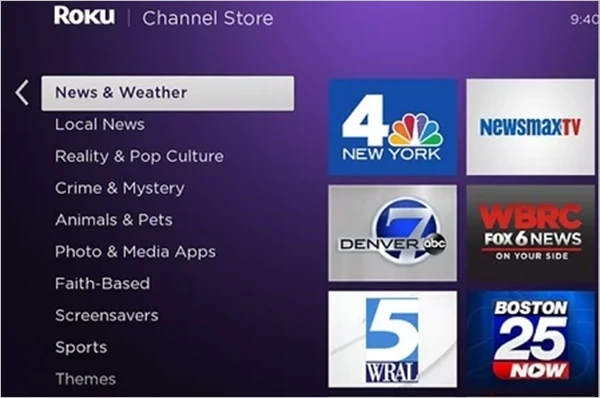 You can decide what to watch on your Roku TV based on your interest. To watch the local channels on Roku, you can explore the Roku Channel Store and download the option of your choice. It has hundreds of free channels according to the locations making it worth a try.
Through Screen Mirroring 
Sometimes it is impossible to access the local channel on your Roku. In such cases, you can choose for screen mirroring. Using this, you can easily mirror local channel (s) from your other device. With this technique, if you are using an Android or iOS device, you can begin to mirror them and enjoy the content on the big screens.
Using an HDTV Antenna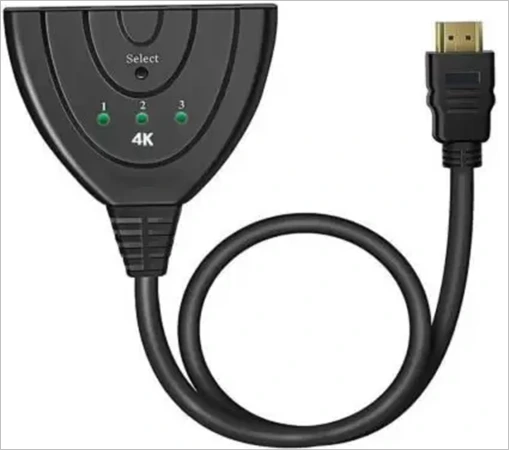 How to watch local channels on Roku? Well, easily. You should feel fortunate if you have a Roku TV. You can connect an Over-the-Air (OTA) to watch Roku Channels. It is easy to connect an HDTV antenna to a TV.
After that, you need to follow some on-screen instructions. Once you have scanned the local network, you can easily watch them as you watch other channels. It provides free channels to watch the news, sports, weather, and much more.
Note: Your location influences the number of local channels you will get access to watch on your Roku TV.
Using Third-Party Apps
You can try to deploy third-party apps such as NEWSON and Haystack TV for your entertainment.
Haystack TV
Do you want to know how to get local channels on Roku and you are a cord-cutter too? Then, watching local and international news on your Roku TV is an excellent choice. Talking about local news, it has partnered with more than 150 local news stations. Some of them are
CBS Pittsburgh KDKA
CBS New York WCBS
CBS Los Angeles KCAL
CBS Chicago WBBM
CBS Boston WBZ
CBS San Francisco KPIX
On the other hand, considering its functionality, it is customizable. As users watch more content from it, it learns about their interests and preferences. Accordingly, it displays the content you might be more interested in. Thus, you can add more options to watch.
NEWS ON
It is a joint project, five of the largest TV station groups in the United States come together in this. This includes
COX Media Group
Hearst Television
ABC
Media General
Raycom Media
The present NEWSON can provide 170+ TV Stations. Hence, as a result, 85% of the US population is enjoying at least one of the channels by NEWSON to stream news.
Using a Live TV Streaming Service 
Subscribing to streaming services such as Hulu, Paramount, DIRECTV STREAM, YouTube TV, Fubu TV, etc., are great options. These add local channels to your Roku TV. You can also add private channels to watch shows or events streamed by them. Suppose you wanted to watch Twitch on Roku; you must use a private network for it. The methods described below will help you to stream local channels at various streaming services such as Fubu TV, DIRECTV STREAM, Hulu, YouTube TV, etc.
Through Fubo TV
FuboTV is something you must consider if you want to watch exclusive international soccer matches or mixed martial arts streams. Its plan starts from $69.99 and offers ample benefits to its users that include:
Streaming up to 10 devices
114 channels access
CBS, NBC, & FOX affiliates are available
With Hulu
Hulu TV is the best alternative to watch local channels without adding up an extra antenna cost. It offers benefits such as
70+ basic cable channels
Unlimited cloud DVR storage.
Access to an unlimited concurrent stream with add-on fees.
It offers extended benefits to its users if they purchase their $69.99 plan.
Live content access
Ad-supported movies & TV shows.
ESPN+ & Disney+ content with no additional cost.
However, to eliminate those annoying ads, you can choose the $82.99 subscription plan and enjoy streaming local channels.
Using YouTube TV
Want to access more network affiliates? YouTube TV can be a savior for users looking for the most out of the local channel on Roku. The price point of $72.99 is worth the investment. You get local PBS channels, and other syndicated channels, with regular ABC, NBC, CBS, and FOX stations. You can also enjoy clips and snippets from the previously aired broadcasts.
Apart from this, it provides
Access to more than 100 channels at this base price.
Six profiles support
Unlimited DVR space
With DirecTV STREAM
After utilizing its 5-day free-trial period, you can switch to its paid subscription which costs $74.99 per month. It gives its users a whole pack of entertainment which can be described as:
Access to 3 devices simultaneously
Unlimited DVR storage
Recording of content for 9 months
The Key Takeaways
If you are a cord-cutter, streaming free channels is a great alternative for you. Whether you are looking for the latest news updates or you want to enjoy your favorite shows, use the above methods. You can also install the Roku Live channel or the Live streaming TV service. Apart from this, you can also choose for screen mirroring or using an HDTV antenna.
So, what are you going to follow? Do you wish to stay consistent in enjoying local channels on Roku, or do you prefer Live TV streaming services? Also, let us know if you know any method to stream that we might miss!
FAQs
Q. What Does Cord Cutting Mean?
Ans. It means removing your cable subscription or removing the satellite. It may force you to explore local TV with Roku.
Q. Can You Get Local Channels with Roku?
Ans. Yes, first, you have to update your Roku TV to its latest OS 12. It will turn to navigate to the Live TV Zone on the Home screen. You can access many local channels there, free or paid according to your choice.
Q. What are The Local Channels on Roku With Free and Paid Services?
Ans. Although, there are many local channels available on Roku for free. Some channels are dedicated and present on Roku, such as; YouTube TV, Sling TV, FuboTV, Peacock TV, Hulu Live TV, and much more. You can watch Bounce Xl, BCC Kids (Till the trial period), Court TV, and LX News (Till the free trial). Else, you can add them using third-party apps. If that doesn't work, you can invest in services to enjoy it.
Q. Can I Get Local Channels on Roku to Get News Coverage?
Ans. The Roku channel store has 100+ news channels from various cities. You can add the channel of your choice to enjoy the free News coverage.
Q. Is It Possible to Have ABC, NBC & CBS on Roku for free?
Ans. ABC, CBS, and NBC are the biggest network apps on Roku. You can watch some episodes for free from these networks. However, you need to sign in by adding the subscription to your account if you wish to watch the latest content.
Q. How Much Does It Cost to Watch Local TV With Roku?
Ans. Watch them for free of cost. You need to ensure you have an HDTV antenna connected to it. Follow the instructions given on your screen to watch free local channels on Roku. There are so many channels that are free on Roku.
Sources:
---