Know Why Isn't Screen Mirroring Working On Samsung TV? Fix with 14 Easy Solutions
Updated On May 4, 2023 | by Gaurav Kumar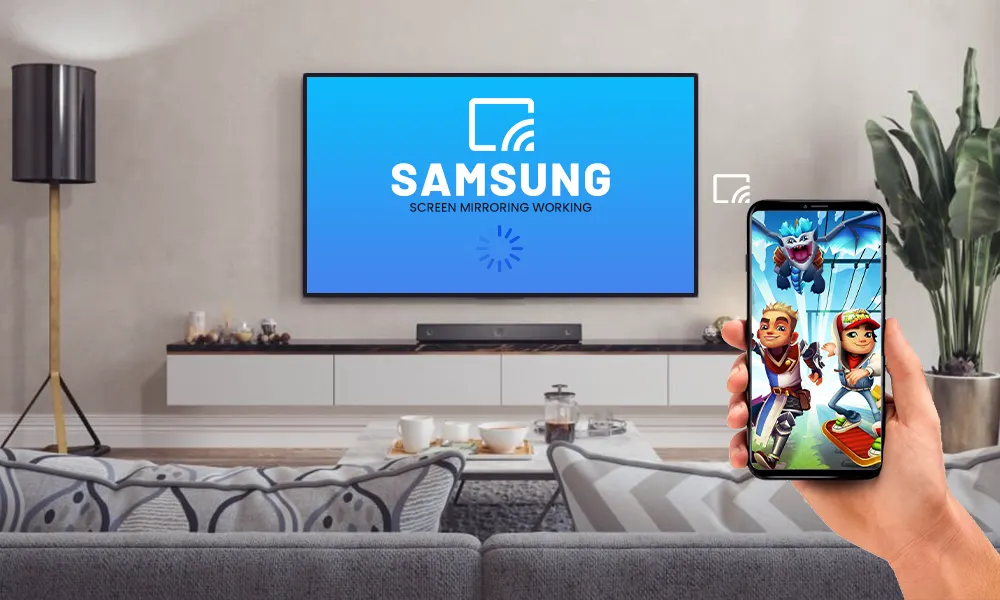 Have you ever wondered about how to show your phone's screen on a big display? The idea seems fascinating because the small visible content of a smartphone can be consumed through a big screen like that of a Samsung TV. Do you know that this technique is known as "Screen mirroring"?
I anticipate that the beginning of my article is provoking you to read what's next. Before jumping into the write-up, let me inform you what I am going to discuss.
I will be explaining Screen mirroring, reasons why won't screen mirroring work at times, and solutions to fix the "screen mirroring not working" error. Continue reading to know it all.
What Is Screen Mirroring?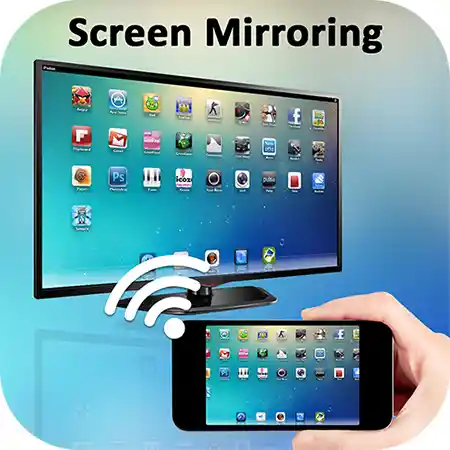 Screen mirroring is used when the screen of a device is mirrored on another. For example, you can watch the screen of your Android, or iPhone on your PC, Mac, Smart TV, and any other device. You can even screen mirror your PC, laptop, and smart TV wirelessly.
This function is used mainly during presentations. You must have given one in your schools, colleges, and offices. Intentionally or unintentionally, you have used this feature on your devices for the same.
In this function, the content of one screen is watched through the screen of another device. The content of the small smartphones is viewed on big screens of the projector, computer, laptop, or TV.
Now, there might be times when there are some issues in screen mirroring, so it's time to understand why won't screen mirroring work. To know the reasons, let's jump into the next section, as it will give you the answers to the "Why won't my screen mirroring work?" query.
Why Won't Screen Mirroring Work?
Below-mentioned are some significant reasons why screen mirroring is not working:
Poor web connection.
Broken HDMI cable.
Incompatibility of your phone model with the TV brand.
Unavailability of support to screen/mirroring/AirPlay by your TV.
Screen mirroring might be disabled through the settings.
The TV could be quite distant from your phone.
How to Solve the "Screen Mirroring Not Working on Samsung TV" Error?
After knowing the reasons, We will now discuss some vital solutions that specifically aid in connecting the phone to a Samsung TV. However, you can also do screen mirroring to the TV via a laptop/PC also.
Moving forward, let's shed light on how to solve the "screen mirroring Samsung tv not working" error.
Solution 1: Verify the TV Input
The very first step is to check whether your TV's input is set to screen mirroring. Let's say you find another input, like an HDMI source; then you will suffer through mirroring issues on your phone's screen. Make sure to buy the best HDMI modulators if you have to.
To change any present input of your TV, head to the settings menu and update the changes. Alternatively, try out other options that are available on your screen.
Solution 2: One Device at a Time
Many screen mirroring devices allow users to use one device only at a time. Therefore, it's highly suggested to check whether your screen mirroring device is also among one them.
If such is the case, ascertain that your mirroring device is connected to one device at a given time. Otherwise, if you try connecting multiple devices to your TV, the latter won't accept the connection because you can't establish it.
Solution 3: Restart Your Smartphone
Sometimes, due to a minor software glitch in your smartphone, you can't mirror your phone to the TV. The interesting part is that you don't have to put extreme effort into fixing the error if you are stuck in this situation.
All you need is to restart both devices; doing so will resolve your issue. Thereafter, simply try to connect both devices again and see the positive results yourself.
Solution 4: Pair Your Device with a TV
You are supposed to connect your smartphone to some particular TV before using the screen mirror function. Otherwise, you will face troubles if you proceed without pairing both of them.
Therefore, pairing is essential in some particular smart TVs to verify that an authorized user is progressing with the task. If you are doubtful of the process, refer to your TV manual. It will guide you regarding every step to be done for pairing your TV to your phone. After you finish pairing both, you will be able to mirror your phone screen on your TV.
Solution 5: Remove Physical Obstacles
Screen mirroring function uses wireless technologies, and hence, when you are trying to screen a mirror on your TV, ensure that no physical object becomes an obstacle.
If any object is present, it will prevent the process from its smooth operation. Therefore, first, remove all of such objects and then try connecting both devices, i.e., phone and TV.
Solution 6: Try Doing the Same With Another Smartphone
You can try diagnosing the problem using another smartphone. Try connecting it to your smart TV. If you succeed in connecting both devices, then the problem is with your previous smartphone. On the contrary, if you can't erase the issue, then another solution has to be looked upon.
Solution 7: Disable Bluetooth on TV
To apply the screen mirroring feature, you are supposed to have a decent wifi connection because this feature works completely via the internet.
However, it may not have positive results if you have enabled Bluetooth on your TV. Turning its Bluetooth on will disturb its smooth connection. It will work when you turn off your TV's Bluetooth feature and then give it a try.
Solution 8: Use a Different Mirroring App
Most smartphones have an inbuilt screen mirroring app that the majority of the users use. But you are not confined to using that one default app.
You can easily download a new app from the app store if the preloaded app doesn't work on your phone. After installing another app, check if it works and proceed ahead with the screen mirroring function smoothly.
Solution 9: Restart Your TV
The problem may be within your smart TV. The most pathetic ones are the minor glitches rather than the most severe ones, as the former may occur frequently. The best option is to restart your TV here.
All you need here is to either pick up your TV remote or switch on the button of your TV so that it turns off. Wait for some time and then switch on the TV again.
Solution 10: Reboot your WiFi Router
As mentioned above, the screen mirroring function is workable in the presence of the internet; your WiFi router must work properly. If you find out that the Wifi router is the cause of the issue and it isn't working efficiently, you should restart the router and then see if it amends the issue.
Solution 11: Disable the Power Saving Mode on Your Phone
If you have enabled the battery-saver mode on your devices, then it either restricts or completely turns off some of the background activities, features, visual effects, and network connections.
Therefore, an enabled battery-saver mode in your Samsung TV won't allow you to perform the screen mirroring function. To correct the settings of your phone, connect it to a power adapter and disable the battery-saver mode. Refer to the steps mentioned below to know how it is done:
Turn Off the Power Saving Mode on an Android
Open "Settings".
Tap on the"Battery and device care" option.
Choose "Battery" and turn off the "Power saving" setting.
Turn off the Power Saving Mode on an iPhone
Open "Settings"
Scroll the screen and locate the "Battery" option. Herein, you have to disable the "Low Power Mode" toggle.
Solution 12: Enable AirPlay on Samsung TV
Your Samsung TV may not have enabled AirPlay while you are trying to mirror the screen of your iPhone on your TV. To screen successfully, you have to turn on the AirPlay setting on Samsung TV.
Go through the steps below to understand how to do it:
Locate the menu and enable "AirPlay" by locating the option there.
Head over to your iPhone and open Settings > Screen Mirroring
Solution 13: Update the Software of Both TV and Smartphone
If you have any obsolete software downloaded on your TV or phone, the screen mirroring function may get interrupted. All you need is to install the latest updates on your iPhone or Android.
The below-mentioned steps have to be followed so that you can install the pending updates on your Samsung TV:
Turn on your Samsung TV. Move to its "All Settings" option.
Select Support > Software Update.
Solution 14: Use A Third-Party Mirror Service
Even after experimenting with every trick, if you still find trouble while screen mirroring, there may occur issues with the protocols. The truth is that you won't get aid from Apple AirPlay.
Don't lose hope here because another service such as Chromecast can help you process screen mirror functioning. You'll be surprised to know that Chromecast can even work without Wi-Fi. Furthermore, the sound issues on the smart TV can also be fixed with the help of these services.
Last Thoughts
To conclude my last thoughts, I will suggest you not get bewildered if your screen mirroring not working on your Samsung tv. Just like everything has a solution, you can also solve your screen mirroring Samsung tv not working error through these 14 solutions.
Hopefully, any one or two of the solutions explained will come to your aid.
Thanks for reading the article. Enjoy your day, and wait till I come up with my next article.
Sources: