Instagram Account Disabled, for No Reason? Just Stick to the Helpbook!
Updated On September 15, 2023 | by Gaurav Kumar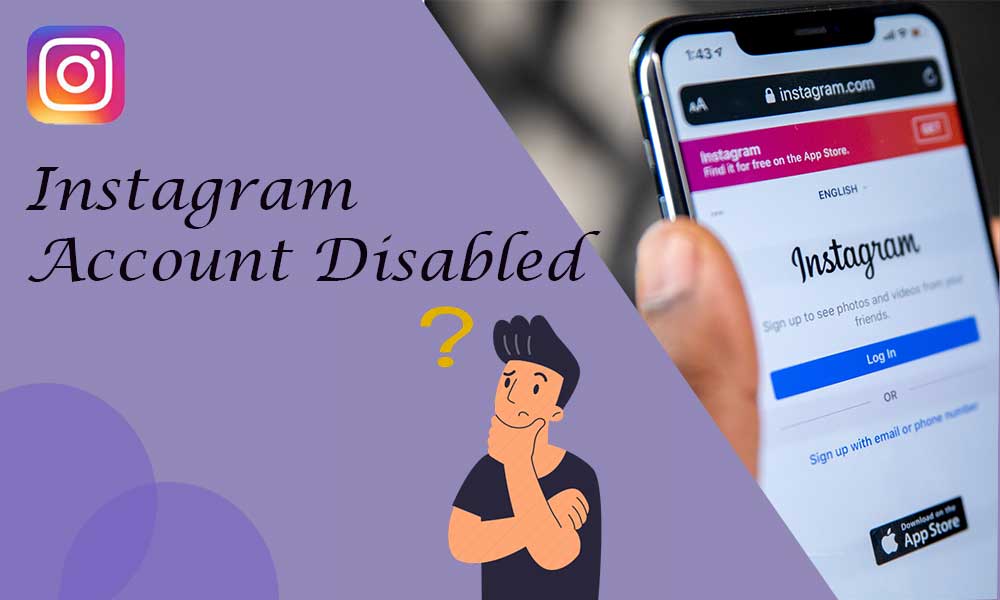 Today's life depends on Instagram. Starting from Morning news till late night non-stop entertainment with Instagram Reels, Instagram never stops.
But what if it stops? If your Account gets disabled suddenly? Or if you aren't able to log into your Instagram suddenly? Or if there are error messages and notifications as follows?
And if you have a Business Account, if your account is verified, or if you are running an Influencer account.
You can not take a chance with Instagram Ban!
But, don't you worry, as we have got you covered for all the situations. So, to be safe, just scroll down!
We will go through the following pinpoint questions-
Let's get you out safely, without losing your followers or data.
How to know if Instagram Disabled your Account?
If your Instagram is disabled, you will automatically receive a message which will guide you about how or when to log in again
You won't be able to log in or access all the features of Instagram
Now, if you are sure that your Instagram Handle is Disabled, won't you be interested to know why your account was disabled? Let's see-
Why did Instagram Suspend/Disable your Account?
Instagram will disable your account without a warning if you violate any Community Guidelines or Terms of Use of Instagram. Check out the major reasons listed below:
Reason 1: Harmful content
Instagram does not allow showcasing any unethical posts, videos, or data on a public platform. If you are found practicing the same, get ready for a disabled account.
Reason 2: Abuse
Instagram is intolerant to misuse or indecent behavior on the platform and can ban your account directly, without a warning.
Reason 3: No nude world
Zero tolerance if you are sharing sexual content involving minors or threatening with intimate images.
Reason 4: Violation of Law
Violation of the law(terrorism, organized crime, or hate groups) is not acceptable under any circumstances 
Other things include: Participating or conducting sexual services online, buying or selling firearms, alcohol, tobacco, illegal goods, drugs, or live Animals.
Reason 5: Fake information or misinformation
It is not allowed to share Fake or copied photos or built-up assumptions and illegitimate rumors to avoid chaos and copyright issues.
NOTE: Instagram can permanently delete your account without a warning if you are violating the guidelines frequently.
Time to crack the deal!
Let us get your Insta Account back.
Recovery Methods for all the major Instagram Situations are listed below-
What to do if:
Instagram Account is Disabled?
Option 1: If it is a small error or if your account is disabled by mistake:
Log in to your account again by entering your email details and password, on the Instagram Login page or through Instagram Mobile App
Is it not working? If so, then you may be experiencing login issues.
Option 2: To resolve the same, directly go to the link- login issue and check about the issue you are facing. Instagram will guide you directly to resolve the same.
Option 3: If your account was deleted by you or someone by mistake. It is suggested to create a new Instagram account.
Note: After creating a new Instagram account, you may like to read about: How to Effectively Get Free Instagram Followers and Likes for which you need to know Secrets to Get Likes On Instagram and that lands you on Insfollowers App: Best App to Get Free Followers on Instagram [100% Authentic]
Option 4: If your Account is disabled, just go to the error message or try again later>>Click on Learn More/Report a Problem>>Appeal/Request Review, follow the instructions, and Submit
Alt: Report a Problem in Instagram
Option 5: You can also, go directly to the Appeal Form
Fill the Appeal Form with the required relevant details as shown below:
After submitting the Appeal form, verify your account by uploading a picture of yourself
After your identity verification, just follow the instructions and you will gain back access to your Account
NOTE: Instagram Ban, Disable, Suspend, or Block is the same. And so, the recovery methods and preventive measures are the same too.
2. Instagram Account is Suspended or Banned?
Instagram bans and suspends your Account for the same reasons as Instagram Disabled, mentioned at the beginning of this Guide Book.
Moreover, you have to follow similar recovery steps as shown above for Instagram suspension and Instagram Ban.
3. Instagram Account is Hacked?
Method 1: If you face Instagram Hack, you will receive a message from security@mail.instagram.com informing you of the same. Just revert this change, you might be able to undo the Hack in one go.
Method 2: In case, it does not work, request to send a login link for your Instagram and try to login with your active Instagram Email and Password
Method 3: Go to Instagram Help and directly resolve your Instagram Issue
Method 4: Verify your identity by providing the email address or phone number you signed up with and the type of device you used at the time of sign up (example: iPhone, Android, iPad, etc.).
NOTE: Keep in mind that the video you submit will never be visible on Instagram and will be deleted within 30 days.
How long does it take to Enable your Disabled Instagram Account?
Usually, it takes 5-7 working days. But, for urgent requirements make sure to be updated on your Email to receive the details of the further process
Or login to your account once in a while, to check about reactivation.
How to Avoid Instagram Disability?
It is very important to be on the safer side. To do the same, have a look at the pointers below:
Do not share irrelevant content(Sexual content, illegal content) on Instagram Stories, Reels, Posts, or Direct Messages to avoid your Account from getting disabled.
Do not sell unprescribed Drugs, Weapons, Liquour, or any illegal Goods as Instagram won't accept these actions.
Do not put any illegitimate data on your Instagram Account. Sharing and claiming unauthorized data is highly Unacceptable.
Participating in or conducting sex trafficking is not accepted, at any cost. So, try not to be involved in any of these activities.
Do not try to Abuse, Harass or Bully anyone on the Instagram platform as Instagram does not tolerate these actions.
---
Related Post