What is a Twitter Interaction Circle? & How You Can Create One From Chirpty.com
Updated On January 30, 2023 | by Janvi Panthri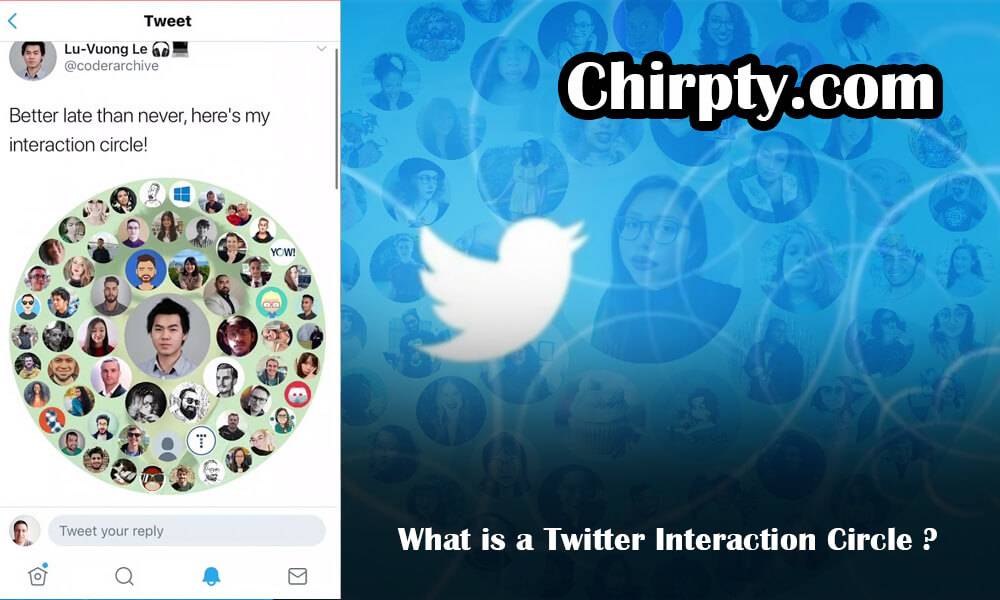 Do you like interacting with users on Twitter and end up spending most of your time on the platform? If yes, then you need to know about the Chirpty wheel. This new social media trend reveals so much about what you do on Twitter.
Chirpty.com is a website that analyzes your Twitter profile and shows you a Twitter interaction circle containing all the accounts which have interacted with the most in the last year.
If you are just finding out about this Chirpty Twitter feature, then don't worry, as by the end of this article, you'll know everything you need to know.
What is Chirpty.com?
Chirpty.com is a website from which you can scan your Twitter account and get a report showing the accounts you engage with the most.
Chirpty is likely inspired by Spotify Wrapped, which shows a personalized stat for the music the user has listened to. The only difference is that Chirpty is not powered by Twitter & is not an official feature of the company. But even if Twitter doesn't provide such a feature, you can easily get your Twitter interaction circle through chirpty.
Before you move forward, it should be clear that Chirpty won't give you a traditional report. Instead, you will receive an image that will be your Twitter interaction circle.
What is a Chirpty Twitter Circle? & Do You Need One?
A Chirpty Twitter circle, also known as a Twitter Interaction circle, is an image with three circles that contains all the accounts you have engaged with the most in the last year.
The first circle on the Chirpty wheel will have 8 accounts, 15 in the second circle, and 16 Twitter accounts in the last one. Profiles will be placed in the Chirpty wheel based on how much you have interacted with them. This will evenly divide your Twitter friends according to how close you are with them, as the first, second, & third circles will properly divide them.
Your profile photo will be at the center of the Chirpty Twitter circle.
Though there is no need to use the Twitter circle maker, you can still create a circle for yourself and see who is the closest to you on Twitter. After you have received your interaction circle, you can share it with your friends; this can be a great way to increase engagement on social media.
All you need to do is follow a few steps, and you'll see what your Twitter Interaction circle looks like. If you are ready to do this, then follow the process we have given below.
How to Create a Twitter Interaction Circle with Chirpty.com?
Follow the steps as they are given:
Go to https://chirpty.com/
Enter your Twitter Username
Solve the Verification Captcha
Click on Generate
Download your Twitter Interaction Circle from Chirpty.
You don't even need to insert your Twitter password during the process; the Twitter circle maker will automatically scan your profile and give you the results.
After the 5th step, you can download your Chirpty Twitter circle with all the accounts you have interacted with the most. Feel free to share it with your friends and with those who are in it.
What to do if Chirpty.com is Not Working?
There is a chance that Chirpty will not work after you click on generate. This is likely because Chirpty.com Twitter has limited resources, as it is still a new website.
Chirpty.com can only handle a limited number of users at a time, so if the number of people is larger than Chirpty can work on, then you won't be able to get your Chirpty wheel.
If you don't want to waste your time on Chirpty, then look at the bottom of the screen and see how many slots are available. You won't be able to finish the process if the number is low.
On the other hand, if the number is high, then there is no issue, and you can go ahead.
The number of slots on chirpty.com resets every 15 minutes; after every reset, the site allows people who were previously unable to finish the process to get their Twitter interaction circle.
So there is always the option of waiting for you to wait for 15 minutes, but if you're not interested in waiting, then you can always use Chirpty Hooper.
How Much Does It Cost to Create Slots on Chirpty.com?
By spending just $0.99, you can bypass the waiting period and get your image immediately.
Though there is always a chance that slots will be available at chirpty.com, if they're not, then using Chirpty Hooper is the right option.
Chirpty Hooper will allow you to skip the 15 minutes reset period and give you a custom slot to generate your Twitter interaction circle.
FAQs
On what basis does Chirpty create my Twitter Interaction Circle?
Your Chirpty Twitter circle will be created based on the accounts you interact with through liking, retweeting & replying to their tweets.
Chirpty.com is not capable of accessing your DMs, so your message history will not be a factor in the result.
Where does Chirpty take its data from?
Chirpty takes its data from the publicly available Twitter API. Chirpty follows the rules of cybersecurity, and it has no need for your data.
Why does chirpty.com have limited slots available?
Since Chirpty is only capable of searching through a limited amount of Twitter's API, it only offers about 150 slots every 15 minutes. Otherwise, users will have to wait for way more than they have to now.
How would I know when new slots are available? Would the screen refresh on its own?
Chirpty offers new slots every 15 minutes, but the screen won't refresh on its own, so you need to refresh the screen and see if new slots are available for you.
Can I create my Twitter Interaction circle if my account is private?
No, sadly you won't be able to create your Chirpty wheel if your account is private, as chirpty.com is not capable of accessing private accounts. If possible, make your account public, and you can see your Twitter stats.
What should I do if I have issues with the payment?
If you have made the payment and still no slots are available, then you should send an email to simone@masiero.io, who is the owner of chirpty.com. You can also contact him on Twitter at @Duiker101.
---
Related Post