Crunchyroll Not Working on Chrome? Here are 7 Fixes
Updated On February 24, 2023 | by Mehak Gupta
I guess anime lovers need no introduction to Crunchyroll, one of the most incredible platforms offering the largest variety of Anime, Manga, Games, and so much more. So when the platform offers you so much, you start to rely on it for your desired content, then it must suck when that platform doesn't respond properly.
The same goes for Crunchyroll; users have often complained about Crunchyroll not working on Chrome. Since there are two ways of getting access to it; via its official website and Google Chrome. So for those who use Chrome, this can be havoc. But not anymore because I have come up with some solutions to troubleshoot this Crunchyroll beta not working issue.
Let's dig in!
Why is Crunchyroll Not Working on Chrome?
Before we move ahead to the solutions, it's important that we understand the reason behind Crunchyroll not working on Chrome. There's not just one but multiple reasons why this may happen. Let's see what those are:
There are chances that the site has issues with some other Chrome extension or program installed on the device.
The Chrome settings might not have been enabled properly, and they may have been causing issues with Crunchyroll operating smoothly.
Or there may be issues with the Crunchyroll website itself, like a glitch or anything.
So the very first thing you should do when your Crunchyroll doesn't work on Chrome is to disable all the extensions and try launching the Crunchyroll website again. Next, make sure that all the Chrome settings are configured properly.
Well, that's not all; there's more you can do to avoid the black screen on the Crunchyroll website. Let's find out.
Also Read: How to Fix Windows 10 Update Error 0x8024a105
How to Fix Crunchyroll Not Working on Chrome
Here are some steps you can undertake if your Crunchyroll won't load on Chrome:

Check Your Internet Connection
The very first step to take is to check if you have a stable internet connection. You may have an unstable internet connection that may create trouble while operating Crunchyroll on Chrome. Try restarting your router or disabling then enabling your internet connection.
Clear Cache and Cookies From the Browser
Try clearing some browser cookies and unused cached data that may hamper your operations on the device. It often happens that Chrome is overloaded with data and can cause some trouble while loading web pages and other sites. This is why it is important to clear this unused data on a regular basis. Here's how:
Launch your Chrome browser and from the top right corner, click on the three vertical dots.
Place your mouse cursor on More Tools and then click on Clear Browsing Data from the appeared menu.
Pick a time range and ensure that both cookies and site data are cleared.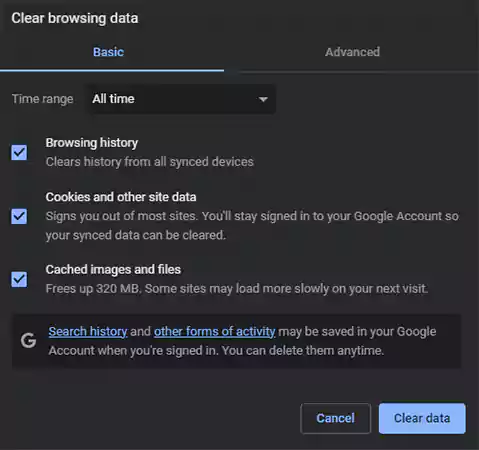 Note: You can also press the Ctrl+Shift+Del keys altogether to launch the clear browsing data page directly.
Check if Crunchyroll is Down
Maybe you are facing Crunchyroll not working on Chrome because the whole website is down, or maybe it's just down for you. In this case, you can simply check its status from Downdetector or DownForEveryoneOrJustMe, there, type www.crunchyrol.com in the box. If the results say 'It's not just you' then it means that the site is down for everyone. In this case, you can just wait for a little while and try again.

Or if it's just you, then you can try operating it with any other search engine and see if it's working.
Turn Off Your Ad-Blocker
If you have an ad-blocker as a Google extension then there are chances that it may have been causing some interruptions in its operations. Plus, Crunchyroll shows ads to unsubscribe users, so most of them have enabled ad-blockers on their accounts. So there are chances that these ad-blockers are the cause of your Crunchyroll won't load on Chrome. Try disabling the ad blocker for once or removing the extension.
Find and Remove Other Harmful Extensions/Programs
If removing the ad-blocker didn't work, chances are there may be some other harmful programs that are creating the issue with the site. Only removing them completely from the system can help now. Here's how:
Click on the three vertical dots on your Google Chrome.
There, click on the Settings option.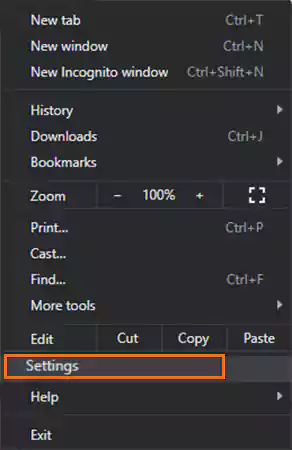 Click on Advanced from the left panel and then on Reset and Clean Up.
Click on Clean Up Computer.
There, you need to click on the Find button to locate the Harmful Software from Chrome.
Wait for a while and once you get the desired results, remove the harmful software and then, finally, reboot your system to get it back to working normally.
Try With Some Other Browser
If none of the above methods worked out for you and still Cruchyroll shows a black screen, then you may try the same with some other web browser. Switch to some other browser and launch Crunchyroll again to see if it's the web browser that is causing the trouble.
Reset Chrome
If trying with another browser didn't help either, then try resetting your entire Chrome; maybe that will lead you somewhere. Here's how you can reset Chrome when your Crunchyroll won't load on Chrome:
Launch your Google Chrome, visit the settings section, and click on Advanced> Reset and Clean Up, just like you did while removing the harmful programs.
There, click on the Restore Settings to Their Original Default option.
Then, you need to confirm your actions by clicking on Reset Chrome.
Once done, finally relaunch Chrome and visit Crunchyroll to see if it's working now or not.
Also Read: Here's How to Fix Facebook Stoppage Issue on Android
So these were seven different methods you can use to troubleshoot when finding Crunchyroll not working on Chrome. If there's no major issue with the website, then chances are that it will start working normally with one of the above methods.
Let's now find out what it is that may cause Crunchyroll to stop working on Microsoft and Firefox.
Why Crunchyroll May Not Work on Microsoft and Firefox?
People may use different browsers like Microsoft or Firefox, but if Crunchyroll isn't working on them either, then it may be because of these reasons:
Maybe your browser isn't up-to-date; make sure that you keep on updating your browser to the latest versions so that there are no glitches.
Just like on Chrome, there may be a faulty error that may have been causing some issues with the working. Try disabling the extension once and see if the website is working now.
And, of course, there are always chances that the website itself is down. So maybe you just have to wait for a little while until it starts working again.
Conclusion
For anime lovers, Crunchyroll is like their savior. So we understand how painful it must be to find out your favorite website isn't working. So try all the above-mentioned steps and see which one works out for you. And if none of them works out for you, you can just call Crunchyroll's customer support and find out what the issue is.
---
Related Post