Top 9 Apps That Make Your Phone Vibrate (For Android & iOS)
Updated On January 5, 2023 | by Gaurav Kumar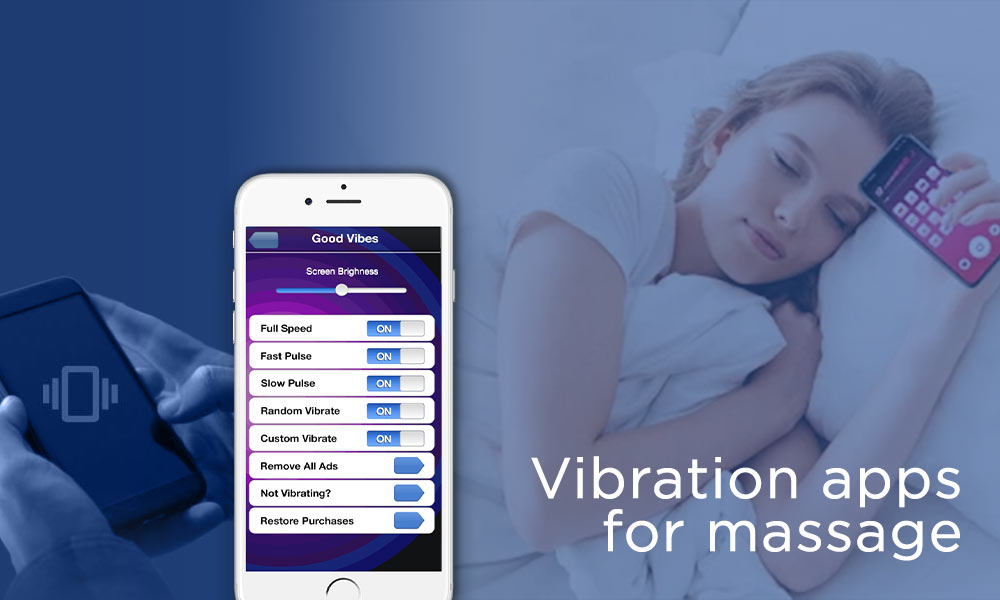 You will be glad to know that your phone can act as a vibrator for a massage that can help you heal from physical and mental discomfort thus providing you relief.
You neither have to go outside nor purchase any heavy equipment to relieve yourself from the constant discomfort you are suffering through.
There exist worthwhile vibration apps which support both iOS and Android smartphones. Through this article, you will get to know the best vibrating apps, their usage, and their benefits.
Why Do You Require Vibration Apps?
In the race of achieving unlimited success, you struggle daily to make your goals accomplished to the earliest. Today's fast and furious life, which is full of infinite responsibilities, barely leaves you with the time to take care of your well-being. It leads to ignorance about self due to which your physical and mental health are compromised.
Increased workload in today's personal and professional life has resulted in posture deformations, weakened muscles, depression, stress, anxiety and much more. To overcome these hazardous conditions, visiting a spa or a massaging parlor may seem a perfect solution but managing time is surely the most tedious task for you.
Hence, here comes a one-stop solution which is to use phone vibration apps in smartphones to give a therapeutic massage to your body. Instead of going to a relaxation center or a spa, you can claim the same benefits through your smartphone without leaving your home. Sounds interesting? Let's continue reading to know how this is possible.
Can I Make My Phone Vibrate Continuously?
The answer is yes. Your phone indeed can vibrate for as long as you want it to. The volume of intensity varies and can be adjusted also based on how much you want.
Since vibrators are strong, they hold the core functionalities of a massager also. You can easily get rid of body pain, stress and anxiety by getting relief through a massage given by your vibrating phone.
9 Best Phone Vibration Apps For Massage (Android & iOS)
If you haven't come across such an idea before, then you have reached the right place because now we will discuss the leading 9 useful free vibrating apps which can convert your Android and iOS phones into efficacious vibrators and massagers. Let's get started.
Massager Vibration App: Strong Vibrator 4 Relax
The app is suitable for females. Being sentimental, most women and girls stress more than males. Though the notion is normal generally, however, what if that stress starts bringing substantial dysfunctions in life?
Hence, females should take care of themselves by relaxing their minds. To do this, they have to be involved in some alleviating activity. To make it easier for females who run short of time, Massager Vibration App is extremely useful. You can download this vibration app for massage which will give you solace and repose. Let's examine its enthralling features:
The app supports various devices.
Being a user-friendly app, it has an impressive user interface.
Apart from massage, the app is perfect to be used for relaxation and meditation.
Once downloaded, you don't need a web connection because it works disconnected.
You can find four modes in the app with the help of which you can alter the settings anytime.
For a restful and comforting sleep, you can try listening to natural sounds such as rain, the chirping of birds, water sound, wind sound, and much more.
Time feature in the app can also be used. On the basis of a set time, your phone turns off as soon as you sleep.
GVibe: Strong Vibrating Massager App
GVibe is another phone vibration app that can also be used to reap the benefits of curative massage. For being more intense, this app has come out to be a vigorous massager and vibrator.
To regain liveliness, you can put your vibrating phone on your head or overall body. Let's have a look at what its special traits constitute:
The app involves:
Screen brightness
Password protection including lock feature
Different variations such as slow, medium, and full speed of heartbeat vibration, random vibration, bouncing ball, and much more.
A wide range of choices between different sets of vibrations and massage available in the app makes it versatile and hence the best option among all.
Earlier the app was compatible with the iOS version only. Its download count has been counted over more than 2M by iOS users. Recently, the app started supporting Android devices also and thus Android users can also find the app in the play store from where they can easily download it.
Vibrator Phone Massager
This is a vibrate app for iphone. Therefore, only iOS versions are compatible with Vibrator Phone Massager App. It offers more pleasing benefits than any other vibrating app. Being multifaceted, it benefits in plenteous ways. To justify a few, the app
gives you relief and peace of your mind after struggling with a tough day.
helps your baby sleep easily.
heals your muscle pain after difficult physical training.
brings a strong concentration power when you meditate.
Initially, the Vibrator Phone Massager was facile and truly based on an elementary level, however, its functionality has been advanced recently to satisfy the users' needs in a more refined manner.
To get unlimited access, you can take a subscription to reap its incredible benefits. Since the current pricing is not terribly unreasonable, you can easily afford it. It is one of the best vibration apps available on iOS devices as it has received 4.6 stars out of 5 In the Apple store.
iMassage U Vibrating Massager
This was the first vibration app used by Apple watch users. This app is a combination of both a vibrator motor and a taptic engine.
The taptic engine is a type of specific technology used by Apple through which it offers sensations to the users of Apple Watch, iPhones, iPads, and Macbook laptops. This unique blend is able to create stronger vibrations than usual.
Let's have a look at its special features:
The 10 different vibration patterns are available from which you can choose any one and set accordingly.
Its strong vibrations are quite helpful in giving body massage which helps decrease your neck and other muscle pain.
Besides, it aids in getting a peaceful sleep. Your baby will be able to engage with the sleeping sounds of the app and he/she will be able to sleep well.
Furthermore, a separate on/off button helps you to use the app more effectively. You must have seen that some vibration apps turn off automatically anytime. To avoid this issue, another related feature is its two-finger tap, i. e, a turn-off option that stops the app to turn off accidentally in between. This button permits you to turn on/off the app whenever you want.
Extreme Vibration App
After a bustling day, you may want to loosen up or would like to unwind after being done with the heavy household chores. In addition to what has been said, if you have an infant then pacifying your baby is another task so that he/she may sleep well.
To all these difficulties, the Extreme vibration app may be the one-stop solution. All Android devices support this app and it functions in the following ways:
You can set the interval levels based on the 4 modes available in the app.
Furthermore, it's completely free and the developers promise to keep it free in the future as well.
Additionally, it doesn't need any wifi or internet to get started. You can use it offline easily.
The user interface is also oversimplified and thus is the best option for any tech-savvy person to use it.
Since the app doesn't consume much battery, you don't have to stress about the low battery warning when you wake up in the morning.
Body Massager Vibration App
This Android-based app is another fine recommendation. In this peculiar classification, you can set the type of vibration you want to be based on built-in vibrator settings. Following are the unique benefits you can reap with its usage.
To get better sleep, massaging your body and neck area through the app would be quite helpful.
The developers also say that the app will help treat several significant problems including cellulite and wrinkles, sore muscles, and many more.
Furthermore, it helps in the growth of your hair and building strong bones, raising metabolism, and boosting fat-burning potentials by energizing the production of helpful hormones.
The app can also work when you turn off your phone. Thus if you are in search of a massager app to heal physical body deformations, download the app, and start using it without any further delay.
Perfect Mobile Massager+
Perfect Mobile Massager+ is compatible with both Android and iOS devices around the world. Being new in the field, app developers are continuously trying to improve by working on app performance, function, and power.
The major difference seen in this app is that it offers comparatively softer vibrations as compared to others. Hence, those seeking soft vibrations for massage should prefer using Perfect Mobile Massager+ over any other application.
Though the app is currently equipped with several shortcomings, you can expect its improvement in the future as it was promised by its developers. To see whether any update has come, you are supposed to check the regular updates available for the app if any.
Best Vibrator PRO
More than a mere vibrator, this Android-based app is a personal massager that helps treat numerous body-related complications such as backache, headache, and tight and tensed muscles. Its other vital benefits are as follows:
Unlimited modes of vibration are accessible through which you are free to choose any tempo according to your requirements.
Additionally, the length of vibrations can be altered anytime. To pause any vibration in between, you get access to that particular feature as well.
Other apps can also be operated when this app is functional because it solely operates in the background. Hence, even if the screen of your phone is turned off, the vibration will continue.
Vibratize: Body Massager Vibration App
This app is extremely simple to use and access, the only thing you have to do is download the app from the Play Store on your smartphone. Let's explore its miraculous perks:
Using this app will help eradicate your depression. Gradually you can forget your worries and you are able to relax your body and mind.
You can listen to soothing music in the app which helps create the required aura to make you feel calmer and more peaceful than before. The foremost advantage is that you enjoy the massage to the fullest.
Hence, by listening to music through the app, you can pacify yourself by massaging the parts of the body which felt tense before.
Final Thoughts
These are some of the useful recommendations to download free vibrating apps for a massage that are compatible with both iOS and Android. Now you can easily analyze which one will suit you perfectly.
You may have several trials and errors before you find an appropriate app useful for you according to your requirements. As soon as you find the right app, you should stick to it to reap long-lasting benefits.
Additionally, suppose you found only a paid version that suits your needs. In that case, it's suggested that you use that app irrespective of the premium plans because the benefits will be equally reasonable when compared to its costs.
Though it's a subjective concern and individualistic requirements vary, hence, think about your needs on priority, analyze the features of apps, and then decide which one should be preferred over the others.
Let's explore some other relevant articles:
---
Related Post