Know Entrepreneur and Digital Marketing Expert for Celebrities 'Ramneek Sidhu': Owner of Digital Kings 
Updated On January 13, 2023 | by Samara Davis
In this competitive digital age, entrepreneur Ramneek Sidhu's name has been trending on social media pages in recent times for his unconventional entrepreneurship journey.
So, for those who are curious to know in detail "Who he is? What has he done? Why he is the current internet sensation" – here's everything you need to know about Ramneek Sidhu.
With that said, let's read on to get some dose of inspiration, especially if you're a young aspiring entrepreneur.
Who is Ramneek Sidhu? A Brief Intro!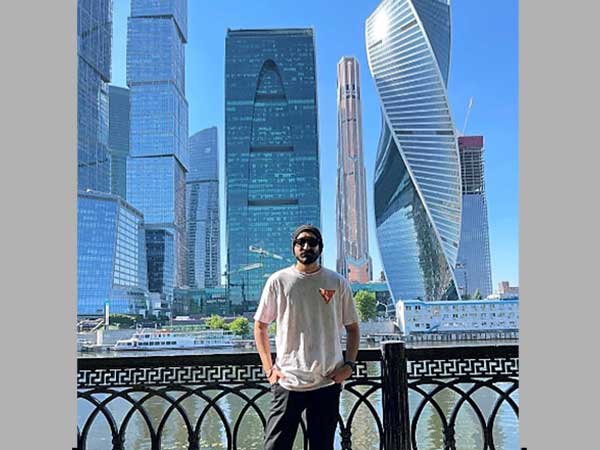 Ramneek Sidhu is a (27-year old) young pioneer in the digital space who is the brain behind a first class digital marketing company called "Digital Kings", where he and his team help various brands to increase their online visibility.
Basically, he is helping his customers grow their business by showing them how to manage their audience and potentially increase their sales.
He has also collaborated with a number of well-known personalities from around the world, assisting them to increase their digital presence and promote content ranging from movies to songs and merchandise.
Additionally, Ramneek Sidhu is well-known to share inspiring life stories on Twitter. He also writes very often for Forbes, Entrepreneur, and The Huffington Post, among other publications!
Ramneek Sidhu Early Life
Ramneek Sidhu was born on 2 January 1995 in Mohali. It is a small city in Punjab, India known for its cricket grounds, shopping and historic houses.
When he was a child, he was known to be different from other children as he was a person with a very innovative and promising thinking process.
He went to school in Punjab at Golden Bells Public School and after completing his formal education, he moved to Chandigarh to pursue his higher education at the Rayat Bahra Group of Institutes. His LinkedIn profile also states that he has done B.Tech in Computer Science from Rayat and Bahra Group of Institutes.
Ramneek Sidhu Career
Soon after Ramneek completed his education, he started off as a businessman and an entrepreneur. He worked as the 'Head of Digital' for a local company before taking the risk of starting his own digital marketing agency at such a young age.
Working as a freelancer, he gradually learned different parts and strategies of digital media marketing as he was more interested to know how digital marketing could help him change people's minds.
Thus, when he turned 20, he opened his first office in the United Arab Emirates, using what he learned from working for several small companies.
Ramneek Sidhu—Founder of Digital Kings
Rameek is the creator and successful businessman of Digital Kings, which is based in Los Angeles. He founded Digital Kings in 2015 at the age of 20, when teenagers can barely understand what they want to do with their lives.
Talking about the company, let's tell you that Digital Kings help businesses grow their online presence and reach their target audiences.
When Ramneek and his team first started Digital Kings, they focused only on Search Engine Optimization (SEO) and Pay-Per-Click Advertising (PPC). However, they very quickly became experts in these areas and helped their clients achieve results.
After that, as the company grew, it added more services such as web design, branding, film marketing, development, SEO, and social media marketing. All of these are provided under the direction of CEO Ramneek Sidhu to assist clients in developing their digital assets.
Now, Digital Kings is one of the most successful digital marketing firms in the country due to Sidhu's vision and leadership. It deals with clients across the globe and assists multiple brands, Bollywood celebrities, Hollywood celebrities and famous singers to maintain their social media presence and growth on various platforms like Facebook, Instagram and YouTube.
Ramneek Sidhu Biography
| | |
| --- | --- |
| Full Name | Ramneek Sidhu |
| Date of birth | 2nd January 1995 |
| Age | 27 years old (as of 2022) |
| Place of Birth | Mohali |
| State | Punjab |
| Education | B.Tech (Computer Science)B.Sc. (Business Management) |
| Religion | Christianity |
| Nationality | American |
| Ethnicity | Mixed |
| Profession | Founder of Digital Kings |
Physical Stats of Ramneek Sidhu
| | |
| --- | --- |
| Eye color | Black |
| Hair color | Black |
| Height | In feet – 5 feet 11 InchesIn Centimeters – 182 cmIn meters – 1.82 meters |
| Weight | 67 Kg |
Ramneek Sidhu Net Worth
| | |
| --- | --- |
| Source of Income | Digital Kings |
| Net Worth | $3 Million (as of 2022) |
| Net Worth (Indian Rupees) | INR 21 Crores |
| Monthly Income | INR 32 Lakhs |
| Yearly Income | INR 3.6 Crores |
Ramneek Sidhu Favorites
| | |
| --- | --- |
| Favorite Actor | Akshay Kumar, Salman Khan |
| Favorite Model | Pia Wurtzbach |
| Favorite Singer | AR Rahman |
| Favorite Place | Italy |
| Favorite Food | Mexican Cuisine |
| Favorite Color | Blue |
| Favorite Song | Everywhere Popularized Fleetwood Mac |
| Hobbies | Traveling, Exercising, Photography & Blogging |
Ramneek Sidhu Social Media Profiles Link
Ramneek Sidhu Entrepreneur Instagram Handle
When Ramneek Sidhu moved to the United States at the age of 18 to pursue his dream of becoming an actor, he started by doing odd jobs and stand-up comedy gigs before getting his big break on the reality TV show 'Bachelor in Paradise.'
Since then, Ramneek has become a popular social media personality with a huge fan following on social media platforms especially Instagram.
"Social media platforms have imbued every aspect of our lives, and with over 4 billion active users across various online platforms, it has become an essential tool for success" believes Ramneek.
Currently, Ramneek's profile has 94 posts and around 772k followers. His profile is filled with pictures of amazing and lovely places he's been! This shows that he is living his dream life after years of hard work and dedication to make his dream (of becoming a successful entrepreneur) come true.
Entrepreneurial Journey of Ramneek Sidhu
There are a billion examples of middle class people who worked hard to achieve their dreams and of them, Ramneek Sidhu is not unique.
He has made his career with years of hard work and dedication. While studying in college, he prioritizes his passion by setting up his own digital marketing firm.
Soon, after founding Digital Kings in 2015, he became a leader, a top successful entrepreneur and a digital marketer in this competitive digital age.
And, why not, when within such a short span of time, Digital Kings has grown rapidly and become one of the leading digital marketing companies in the world.
The scale of success achieved by Digital Kings is indeed tremendous and ambitious. And, guess what! This has increased his popularity on social media platforms as well.
However, Ramneek was well aware by now that being and staying famous on social media is never easy. This is because the music and entertainment industries primarily depend on numbers, and as a celebrity, digital marketing is essential to grow your audience and your fame.
So, to help a customer understand how to build a solid online brand, digital marketing expert Ramneek Sidhu came into the picture to share his insights. He started by sharing valuable tips and lessons learned from living in the digital space for over 6 years.
Not only this, he also teaches the importance of consistency in social media posting and brand stories. To this, he explained that "Celebrities use different online platforms, from Instagram to Twitter and Facebook, but, because the audience is different for each of these platforms— it's consistency in your brand story which helps ensure that everyone is on the same page and aware of your upcoming projects." "It helps the audience to form a special bond with you and persuade them to be deeply involved in your content" added Ramneek.
How Rameek Remains Focused Throughout His Whole Journey & Reach Great Height of Success?
Needless to say, it can be challenging to build your place in an ever-changing market where new trends are constantly emerging. However, that didn't stop Ramneek from reaching the top. Now, as already mentioned, 26 years old Ramneek has been in the digital space for over six years, focusing on building his brand.
To this, he says that one thing that has helped him reach where he is today is "keeping up with the trends."
The Motivation Behind Ramneek Sidhu
No wonder every affluent business entrepreneur draws inspiration from a range of role models. Similarly, Ramneek Sidhu was also motivated by the success and inspiration tips from people like Bill Gates, Jeff Bezos and Mark Zuckerberg. They are all highly successful businessmen in their specific fields. Ramneek has grown up seeing these worldwide popular, successful entrepreneurs who not only helped him set his ambitions high but also encouraged and motivated him to fulfill those ambitions.
So despite facing various obstacles and not having anyone to support him, Ramneek did not give up on his dreams.
What Is Ramneek Sidhu's Success Mantra He Relied On?
Learning and growing is the mantra of success that Ramneek used to rely on. He is highly determined to achieve his goal and growth.
Having been in the digital space for a long time, Ramneek Sidhu has developed his own approach, which includes his set of solutions developed by extensive market research and reading the minds of consumers.
He has immense ability to research all the current trends but follow only the right trends in the market which, in turn, helps him attract the right people and increase not only the brand awareness but also the engagement in the social accounts of its customers.
On this, Ramneek highlighted his thought that it is your brand that says a lot about you as he notes that your image in front of the public is directly related to your success, and to rise to the top, it all starts with building your brand.
What to Learn from Ramneek Sidhu?
Like other self-made personalities, Ramneek too proved that regardless of your family background or the school or college you went to, you can still design a career around your interests and pursue your aspirations.
His advice to entrepreneurs is to stick to your plan, be persistent and never give up. He firmly believes that the road to success is never easy and there are always different challenges ahead of you. However, don't let it get in your way or stop you from pursuing your dreams.
Most importantly, he also focuses on the importance of investing in your brand and always striving to be better at what you do. According to him, "The business world is changing, and over the years, there has been a lot of innovation. Therefore, to be successful, it is important that you stay ahead of trends while staying up-to-date with the latest changes in marketing."
Where Does Ramneek Sidhu See Himself in the Coming 10 Years?
Despite that Ramneek Sidhu has reached the pinnacle of success, he is still hustling hard to learn new things every day and expand his knowledge to shine more in the digital industry.
Talking about his future plans in an interview, he highlighted that "following ten years I saw myself working and designing novel ideas like Jeff Bezos, Bill Gates, Mark Zuckerberg and more as a productive enthusiast." He also added that "in the coming years he aims to help more and more brands find their way in the industry and help them grow their venture."
Above all, since this young man from a middle-class family has already expanded his venture "Digital Kings" to Dubai, he is currently aiming to open a branch in Canada as well.
So, on Ramneek Sidhu's entrepreneurial journey and recent social media hype, all we have to say is that his perseverance, consistency and grit have brought success to his feet. After years of hard work and dedication, he is now living the life of his dreams.
He is an excellent inspiration for any entrepreneur aspiring to start their business journey. While there are many things to learn from him, the most important is that— No matter where you live, what language you speak, how your family has performed historically, or whether or not you have a solid financial base, none of these factors matter. What matters is your goal and determination to achieve it. Overall, he is proving to the world that you can be successful no matter what!
FAQs
Ans: Ramneek Sidhu is a 26-year-old Instagram influencer, digital marketer, and entrepreneur. He is the founder of Digital Kings, a digital marketing and advertising company that works with Bollywood actors as well as Hollywood celebrities and musicians.
Ans: Ramneek Sidhu hails from Mohali, Punjab.
Ans: As per the Instagram profile of Digital Kings Company, Digital Kings has to offer web design, movie promotion, and branding among other things.
Ans: He is famous because he's the founder of UAE's leading digital marketing company called "Digital Kings."
Ans: On 2 January 1995, Ramneek Sidhu was born.
Ans: Ramneek Sidhu is American.
Ans: He is trending right now as he garners attention from the many YouTube videos that showcase his career and life. This is because he becomes an entrepreneur at such a young age.
Ans: You can meet Ramneek Sidhu on social media. His Instagram handle is Ramneeksidhu01 where he has an incredible fan base of 772k followers.
Ans: His brand aims to maintain and improve their customers' social media presence and also help them grow their social media (such as Instagram, Facebook and YouTube) accounts.
Ans: To be successful, know your target audience and understand what kind of content they like!
Ans: Ramneek Sidhu is 5 feet 11 inches tall.
Ans: Ramneek Sidhu's weight is 67 kg.
Ans: As of 2022, Ramneek Sidhu is 27 years old.
Ans: Capricorn is the zodiac sign of Ramneek Sidhu.
Ans: As reported, the estimated value of Ramneek Sidhu's net worth and salary is $5 million.
---