How Does EHR Software Improve the Efficiency of the Medical Facility?
Updated On March 6, 2023 | by Manpreet Kaur Sandhu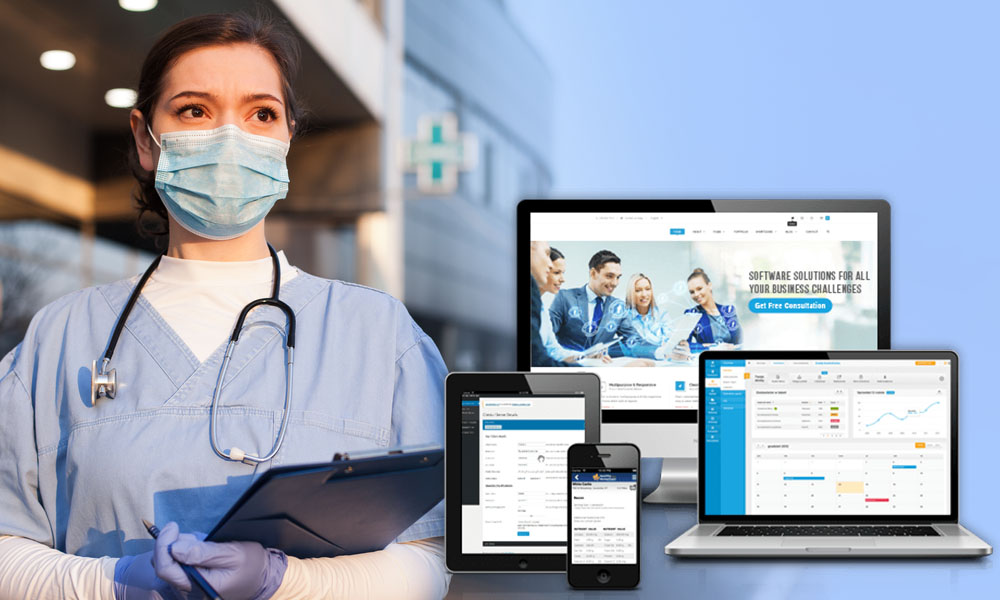 EHR software development is a new direction in the provision of development services and software. The system is unique and not as developed as compared to other areas, which allows you to get a significant advantage in the market. EHR allows doctors to make more accurate diagnoses and frees the hospital from bureaucracy. This is precisely the impact of EHR on the healthcare system, and the only caveat is the fact that this practice is used most often in non-state hospitals.
What is EHR Software?
An electronic health record is a digital version of a traditional paper patient record. Such medical cards can be used both online and offline. The data is stored in the cloud, which allows you to securely manage your medical history data. In turn, doctors receive all the data about the patient, which makes it possible to make a more accurate diagnosis referring to previous illnesses. Only authorized persons have access to the medical history, which allows you not to worry about the safety of the decisions made about the diagnosis. The EHR system is a future capability that is being rapidly developed due to its convenience and reliability.
The Role of EHR Software for Healthcare Organization Workflow
EHR software began to develop quite recently, which gave rise to the development of various companies that provide this function. The EHR system aims to make doctor visits faster and more accurate diagnoses. In a relative sense, EHR is something that needs to be implemented everywhere, which in turn shows the statistics of non-federal hospitals. According to the American Hospital Association (AHA), 96% of non-federal hospitals have implemented EHR in their work. But if we consider public hospitals, then this one is significantly lower. The situation is to install an EHR system. You need special equipment and a stable Internet connection. It is the lack of equipment that makes the implementation of EHR difficult and costly.
Based on the presented data, the role of the EHR for ordinary people is minimal. If we consider this situation globally, then EHR system development can significantly simplify the system of medicine. But this requires appropriate action from the state. With the help of the EHR system, doctors will be able to make more accurate diagnoses. Nurses will be able to know which drugs they are intolerant to, and quickly process the data of admitted patients at registration. The medical system will not have so much bureaucracy, which allows vital decisions to be made much faster.
What is the Impact of EHR on Improving the Quality of Care
The high-quality level of healthcare software development has allowed innovations in IT to influence the quality of medical services provided. Some improvements in the provision of medical services have already been mentioned earlier. This mainly concerns the accelerated procedure for treatment and identification of information.
All Information in One Place
EHR software development services allow you to create a single system that can collect all patient data in one place. It stores data about previous illnesses, prescribed medications, allergies, and surgeries. This allows the doctor to make a more accurate diagnosis. Also, if necessary, any doctor connected to the system will be able to withdraw information. And this will allow in an emergency to make a decision on treatment based on previous experience.
Less Bureaucracy
Bureaucracy takes a lot of time for the medical staff, which in turn has an awful effect on work productivity. Doctors must not only submit patient data within the hospital but also enter data into the insurance. If you integrate it into the EHR, the possibility of automatic synchronization between hospitals and insurance companies. It also has the advantage that patients will know exactly what they are paying for and what is covered.
Workflow Improvements
The workflow in hospitals consists of many stages that are intertwined with each other. This in turn complicates the work, because the coordination of treatment is carried out between different specialists. To get a prescription for a diagnosis, you need to bypass each doctor, and this is quite a long time. In EHR, all appointments from doctors are in one place, which optimizes the work of all hospital staff.
If the EHR system makes it possible to keep records of medicines, then the medical staff will help to order medicines on time. And this in turn will affect the effectiveness of treatment, it will also free up nurses to keep track of medicines. It is important to understand that such systems must work smoothly and error-free. Therefore, when developing, they often use the services of the software testing company and automation testing services. Testing services allow you to find all the errors, and can also work 24/7. This allows updates to be released to the system more quickly. Against this background, the chances of hacking the system due to an outdated update can be minimized.
Conclusion
EHR system allows you to reach a new level of the healthcare system. Doctors will be able to receive data about patients, and patients will know that they will receive high-quality treatment. The system allows doctors to work with less bureaucracy. Therefore, physicians will place more emphasis on patient care and research.
---
Related Post