5 Essential Steps to Launch Your Own Coworking Space Business
Updated On November 8, 2023 | by Victoria Steur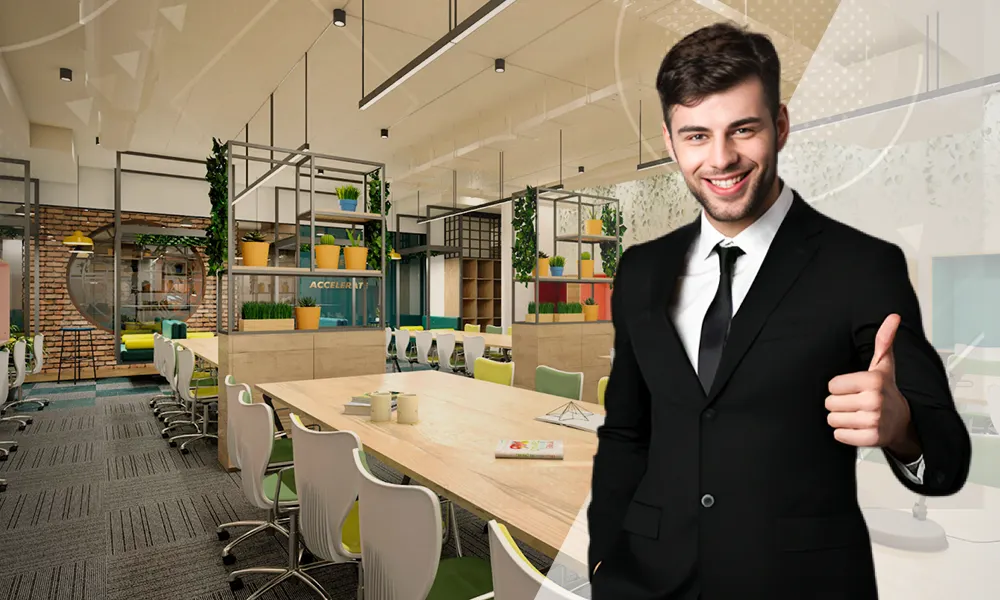 The rise of remote work and digital nomadism has led to the proliferation of shared workspaces known as coworking spaces. For entrepreneurs and small business owners, launching a space can be a profitable endeavor if done right.
In this article, we will thoroughly explore the five indispensable steps needed to start your own brand from the ground up. From scouting locations to attracting members and managing day-to-day operations, we will outline key factors to consider at each phase.
Research the Market Thoroughly
Conducting comprehensive market research is the foundational step when embarking on the journey of how to start a coworking space business.
As you delve deep into your local market, you'll gain major insights into the demand for shared workspaces. Analyze existing coworking businesses and franchises and identify any gaps in their services or amenities.
Survey potential members to understand their preferences regarding location, office layout, and special facilities. This data will help you tailor your space to meet your target members' needs and validate your business opportunity.
It's a vital first step to ensure that you can create a shared working space business that stands out and thrives in your specific market.
Interesting Fact:
Here is the graph showing the number of coworking spaces in the United States of America. As we can see the scope of this type of business has only been flourishing over the years.
Find and Set Up the Right Location
Picking the ideal location for your co-working space is pivotal. It can significantly impact your venture's success. Consider factors like accessibility, proximity to public transit, parking availability, and the distance from major business districts.
Determine the required square footage based on your projected membership growth and plan for flexible spaces, both for collaboration and private offices.
Factor in renovation costs, necessary furniture, and equipment. Pay close attention as well to lease terms and operating costs to ensure they align with your financial projections. Remember, the right location is the foundation for attracting and retaining members.
Outfit Your Coworking Space
No two shared working spaces are alike – the environment and amenities set them apart. As you launch your own coworking business, provide the requirements, for instance, desks, chairs, whiteboards, and office supplies.
Comfortable lounges and casual spaces encourage community. The build-out and design directly impact the member experience.
You may also invest in specialized equipment such as 3D printers if they suit your niche. Don't forget the professional flourishes of signage and branding that reflect your culture, although these are commonly taken care of if your franchise is from a company similar to VTX.
Build a Strong Community
A thriving member community is the heartbeat of a successful coworking space. With that in mind, focus your initial marketing efforts and strategies on attracting a core group of members who resonate with your mission and values. Onboard new members thoroughly to make them feel becoming part of the community from day one.
Host community events and activities that facilitate networking and socializing among members. Regularly solicit member feedback and offer value-added services that enhance the member experience.
Ultimately, your goal is to foster meaningful connections between members, leading to high retention rates and referrals, which are necessary for growth.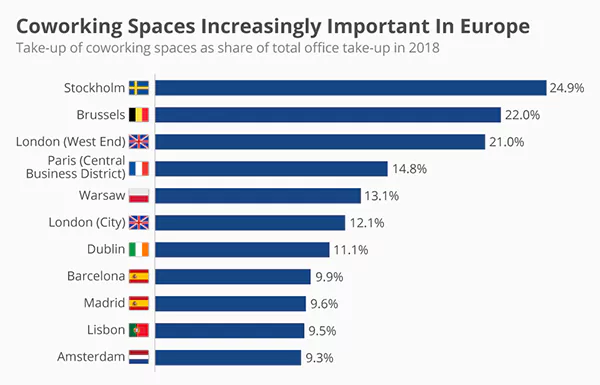 DID YOU KNOW?
Here is the graph showing the take-up of coworking spaces as a share of total office take-up.
Handle Day-to-Day Operations
Finally, running this business involves managing numerous moving parts. In this case, you need to establish efficient systems for membership management, billing, accounting, and overall space operations and maintenance.
Consider hiring competent staff who can handle the demands of a shared environment. You might even opt to outsource specialized tasks such as accounting.
Provide responsive IT support to ensure members have a smooth experience. Communicate rules, codes of conduct, and general operational procedures clearly to avoid conflicts.
Be prepared to address challenges associated with sharing office resources and amenities among all members, and maintain a proactive approach to day-to-day operations.
In a Nutshell…
Starting a thriving coworking space takes careful planning, sustained effort, and adaptability. By following these key steps, you can turn your passion for community-oriented workspaces into a rewarding and profitable business venture.
With dedication and focus, you'll be on the path to launching a coworking brand that stands out from the crowd.
One thing that might motivate you is the growth and revenue that it will offer to you. As you must have seen in the graphs above, the trend has only risen over the years. You can also be a part of the industry and sharpen your business skills.
---