Your Love is Online, Find it with These Best Dating Apps for 2023
Updated On January 11, 2023 | by Austin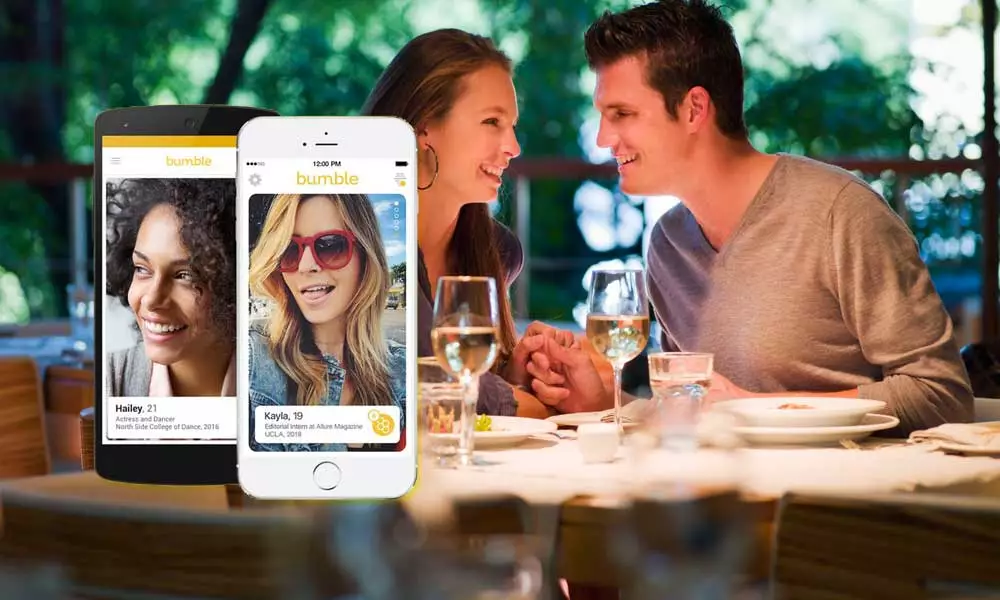 Can't find love in the air?? Well, love has also become digital and may be chilling on the internet. Your love may also be looking for you on the internet but you are sitting and waiting for him/her to appear from the sky. You need to stop daydreaming about your soulmate or perfect match as there is much more you can do. We are here talking about dating apps; you need a dating app if you are done being single or need to add fun to your life.
The market is flooded with dating apps and even some fraudsters are making such apps to con you. So, to find out which app is perfect for revamping your dating life, we tried using some of the apps for a while and created a list of best free dating apps 2023. All the apps are secure, but make sure you don't fall for any trap and check whether your date is there to steal your heart or your money.
Check the List of Best Online Dating Apps:
This dating app is something where women rule. They choose the guy and send him the text first, the guy got only 24 hours to reply, or else he will be out of the list of potential matches. So, if the time limit is not followed and you don't send or receive the message within 24 hours, you may lose the love of your life.
Are you concerned about the timer? Well… The timer has its own role- It keeps the excitement intact and encourages people to connect rapidly than waiting for days to reach the right person. Hesitation has no place on Bumble, neither the shyness. Though, the women choosing men creates insecurity among men as they yearn for acknowledgment and hence end up looking over-confident and desperate. Apart from dating, there is the "BFF" feature that lets you save contacts as your friends.
With Bumble, you get the opportunity to pick dates residing near you, so that the physical meeting could be pursued later on. However, Bumble makes every woman feel like a queen bee who chooses her partner as per her own parameters. The men who receive a message, need to rush if they are kind of interested in the profile of the lady. You won't believe it, but Bumble does include a separate section for business contacts. The premium accounts range from $2.99 to $8.99. The premium accounts also include video and voice calls, to make your connection stronger with the person you like.
"Tinder" has always been on the top when it comes to free dating apps. But by the time, it gained the position as a hook-up app because more people use it to make physical connections than the emotional ones-but it is up to you how you want to use it. It currently has 8 million users, more than that of any other dating app. The best thing is; Tinder matches the people really well as it works on the interest-matching algorithm. If you are not attentive, there is a meager chance that you meet a person who doesn't match your profile. Before enabling the "swiping left or right" option for a particular profile, Tinder's background process does a lot before.
Tinder is a trend-setter in the world of hook-ups and online dating. Scroll and swipe, Just two actions are required to meet your potential partners; dating had never been this easy before the introduction of Tinder. Even if there are no strings attached to a person, you can be with him/her just for fun-time; this is what Tinder wants you to know. Just add a few lines describing your personality, add some appealing pictures, and let Tinder find latent matches for you. You get the list of single and ready to mingle people living in your area; check it and swipe right for the profiles you like. If they right-swipe back, you can start your conversation.
The newly added Safety Center feature, that works in collaboration with "Noonlight" app, offers you an emergency button that you can use when you feel unsafe on a real date, this button will immediately wind up the date. So, it is an ideal online dating and hook-up app for free.
Sarcasm has now got a place; it's Hinge. If you boast your witty social skills and know-how to carry dark humor, Hinge is a must-try dating app for you. Have you ever used Instagram? Hinge is quite similar to that. This platform of dating is doing well, as it is setting a new date every four seconds and this is really rapid. There is no doubt, the future is all about Hinge, but it will still take time for Hinge to uncover itself from the veil of Tinder and shine like a star.
People often trust Hinge more than Tinder because it works hard to find the right match. The profiles are not only a warehouse of pictures but it contains questions and quotes that allow you to make a precise judgment and then make the choice. There is the trick: Sound funny and Hinge people will love you.
Once your profile is all set, Hinge will take care of everything afterward. You will be only served with the profiles who are likely to become your partners and the matching-algorithm of Hinge works 8 times better than any other dating app. The app will let you know who liked you and what they liked the most so that the further communication-process can get easier and smoother. You at least have a topic to talk about as you have an idea about the person's likes and dislikes.
Sometimes you cross a path by a guy/girl regularly and your heart starts pounding whenever you see them; you immediately want them to ask out, but your courage gives up. Talking with a stranger in person is always hesitating first, this when Happn comes to the rescue. This app allows you to connect with the people you meet on your commute. This app works on the location-based algorithm, unlike other top dating apps. You will be linked with the profiles of people you cross by, if you like them, you can connect with them, but the other person should also be interested in making a connection with you, just as "Facebook", you send the request and the receiver has the authority to accept or delete it. Furthermore, the premium version lets you send a "Hi" and go through the profiles that have liked you. But the app only works when both of you are on "Happn".
This app is being used a lot because it gives freedom to reach the people whom you actually meet on a daily basis and not those fascinating profiles, which have high chances to be fake.
OkCupid is not a very fancy tool but a very simple and straightforward dating app that is all about finding you the right mate. Keeping the simplicity intact, this app keeps adding new features and options to advance the platform in terms of performance and stability. There is the "flavor" system included in OKC; it allows you to view the "flavor" category of the person you like, such as flower-freak, travel-lover, beard-beast, and bookworm. This helps a lot to choose people with similar interests and hobbies. Apart from this, it also offers messaging tools, personality quizzes, Instagram integration, and more.
If you purchase the premium subscription, you will get various additional features such as search tools, and a list of people who have liked your profile. The premium plans start from $9.95 per month.
OKC asks you a series of questions before matching you with other people, and the matching-algorithm works on the deepest layers of interests. It is more or less like Tinder, where swiping is important. If your profile doesn't match with the person you have just sent a message, the text will never appear in their inbox. This is a very great feature, that can control the offensive messages to a great extent.
Match.com allows you to enjoy the free online dating experience with plenty of features. You can create your profile, set it up with some pictures of yours, and start experimenting with your flirting skills. You will have a list of matched profiles on a daily basis. Apart from that, you get the authority to view the profiles that have liked yours and unlock them for free. You get a lot for free and this is why Match is booming extensively.
The match is consistently improving its range of features and has lately added features like a Tinder-like Mixer, and Apple Watch integration, Android Wear, as well as the addition of voice and video snippets to your profile. Another, the highlight of the app is its "safety feature" that enables you to alert your friends about feeling unsafe on a date. Above all, it allows you to describe the political opinion that can help other people to know you more deeply.
Gays and Bisexuals men now got a platform to find like-minded people. Grindr is the most progressive dating app that allows you to celebrate your sexuality without any fear. There is no fancy element, your profile will be quite basic with your photos, username, some personal questions and finally your "tribe" means the type of men you are interested in. This will let the men know about you and make it easy for them to contact you.
Though Grindr is free it includes advertisement; the source of making money for the developers. But there is Grindr Xtra the paid version is also available that will let you add various "Tribes" and offer a refining & search tool. Well, the push notification option cannot be accessed by the free users- the only downside of the app.
Coffee Meets Bagel is totally for those who want quality over quantity, and serious about dating, and not ready to meet people below their standards. If this app was a person, it would be a noon-person because it sends notifications of potential matches to men during noontime. And, the women are notified with the number of men who have shown interest in their profile. Now, it's up to ladies whether they want to make the move or not; ladies are the real players of this app. Once a duo is ready to interact, the app will set a chat-window of seven days along with the icebreaker.
The improvised version of the dating app has a great focus on the profiles of users. The users can comment on each other's profile and pictures, this is also a way to generate a connection between people. However, some people find this app a "little extra" because of a large-line of features and gimmicks that often confuse them.
With an extraordinary power to provide you a perfect match, Badoo is now being used by 370 million (approx) users in more than 190 countries. You can find your match on people from various corners of the world and see what you have in common. It has shrunk all the boundaries of distance, language, and region. You can even make a search for the people living near you. There is no rocket-science about this app, all you need to know is right and left swapping.
Though Badoo has a fully-equipped free version, the premium version can bring something extra to your table. The paid version only provides the actual and verified profiles that ensure the legitimacy of the profiles. The premium version costs you around $2.99. The premium users are crowned with better visibility and "superpowers" which means extra features.
Her is the dating and social network app mainly for lesbian and bisexual ladies. This app allows you to sign-in through your Facebook or Instagram accounts. Once your profile is verified as per the community standards, you can find your likewise partner from your nearby area or internationally. The process starts from liking the pictures, if you like the photo of someone you like and the person likes you back, you will be allowed to start a conversation through chat.
LGBTQ is the main theme of the app and hence it not only works as a dating or social app, but it also has a lot more to offer such as various articles on LGBTQ issues, events, questions, and more other things. The app has free and paid versions, and the premium version is obviously more feature-rich than the free one. So, ladies find your soulmate, she might be waiting for you for years.
---
Related Post