What Makes Ford Broncos So Popular at Online Auctions?
Updated On April 7, 2023 | by Alan Biles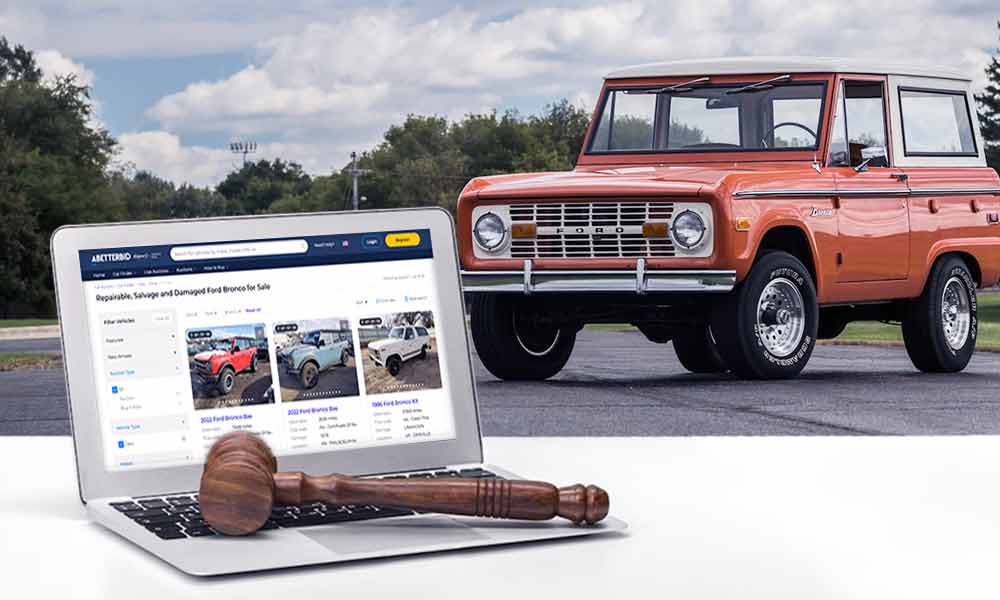 You may know the Ford Bronco as an iconic symbol of the 1970s, with its classic boxy design and rugged appeal, but did you know it's also become popular at online auctions?
Whether you're looking for a restoration project or just want to own part of Ford history, buying vintage wrecked Ford Broncos at online auction like ABB can be a great way to get your hands on a unique vehicle if you go into it prepared.
Read on to learn all about why buying an old-school vehicle like the Ford Bronco is such an attractive option!
Overview of the Ford Bronco and its Iconic Design
The Ford Bronco first began production in 1966 as a two-door, four-wheel drive SUV. It was designed to provide rugged off-road capability in a relatively small package and quickly became an iconic vehicle for adventurers and outdoorsmen alike.
The original body style of the Bronco was carried through until 1977 when it saw a minor redesign. This included a slightly longer wheelbase, a new interior and exterior design, and an optional automatic transmission.
The Bronco continued to be produced until 1996 when it was retired from production in favor of the larger Ford Expedition.
What Makes the Ford Bronco So Popular at Online Auctions
The Ford Bronco is a timeless classic that has aged gracefully, and as a result, it continues to draw buyers from all walks of life. There are several reasons why the Bronco remains a popular choice for online auction shoppers. Here are a few of the main benefits:
Affordability
Ford Broncos are generally much more affordable than their full-size counterparts. This makes them a great option for budget-minded buyers who want to get behind the wheel of a classic SUV without breaking the bank.
Simplicity
With its simplistic design and construction, the Bronco is relatively easy to repair. This makes it an attractive option for those looking to restore a classic vehicle without spending too much money.
Versatility
The Bronco is capable of handling just about any terrain, so it's perfect for off-roading enthusiasts or anyone who wants a reliable vehicle that can handle anything thrown their way.
Iconic Design
The classic look of the Bronco is timeless, and its status as an icon of American auto culture only adds to its appeal.
The Benefits of Buying a Vintage Ford Bronco
Buying a vintage Ford Bronco can have many benefits. Here are the top benefits it has to offer:
Easy and Simple to Fix
The Ford Bronco delivered an appealing package with its unique body design and drivetrain, yet it still managed to keep its costs low by using several parts taken from other vehicles in their lineups. This served as a major cornerstone for the Bronco's ultimate success, as easy-to-fix parts made servicing the vehicle more accessible while ensuring that prices stayed affordable.
Despite all of these changes between each generation, one thing that remained constant was the basics of its mechanics, proving that Ford had put a huge emphasis on keeping this powerhouse of a machine simple and functional. From engine to transmission and body styles, the Bronco kept up with the times while staying true to its established roots.
Comprehensive Restoration
Old Broncos are the stuff of legend in the Resto-Modding community. Their classic design, combined with a wide selection of Ford-certified companies dedicated to retromodding, gives buyers a canvas to create one-of-a-kind dream cars.
Unmatched Ground Clearance
The Bronco packs a lot of punch. It has impressive ground clearance at 11.6 inches, that's more than the Wrangler Rubicon. If that wasn't enough to make you take a second look, then know that the vintage Bronco had an incredible 13.3 inches of ground clearance. With this height and capability, it's no surprise this classic off-roader is high on everyone's list, no matter how long it was in production.
The impressive approach and departure angles allow drivers to confidently navigate rocks and steep terrain with ease, while the Bronco's tall ride height allows drivers to have better visibility of their surroundings.
Exquisite Design
The Bronco has always had an edge over its competitors. On the road, it was more driver-friendly and comfortable than the Jeep, offering a smoother ride and higher overall satisfaction for those behind the wheel. But even off the road, it had certain advantages that were difficult for its rivals to beat.
With a shorter wheelbase, a narrower body, and an impressive turning radius, situations that required tight maneuvering or tricky navigation were nowhere near as challenging in a Bronco as they could be in Jeeps, Blazers, Jimmies, or Scouts.
Final Thoughts
It's no wonder Ford Bronco models remain so popular at online auctions. With their reputation as a rugged and dependable vehicle, its popular features, and a wide range of models and styles available, there is something to be said for these classic Ford Broncos. But that's not all; the support from special interest clubs, motorsport competitions, and custom parts manufacturers also add to the vehicle's appeal.
For anyone looking to find an affordable classic vehicle that checks off all the boxes on the 'want' list, a vintage Ford Bronco deserves a good look. If Ford Broncos fit your driving style and have caught your eye, why not consider visiting ABB's online auction and placing a bid? There, you can get all the details about current models up for auction, including vehicle history reports (for Pro and Premium members). With A Better Bid, you'll definitely get a good deal on a classic vehicle!
---
Related Post